How To Spend 5 Days in Bandung, The 'Paris' of Indonesia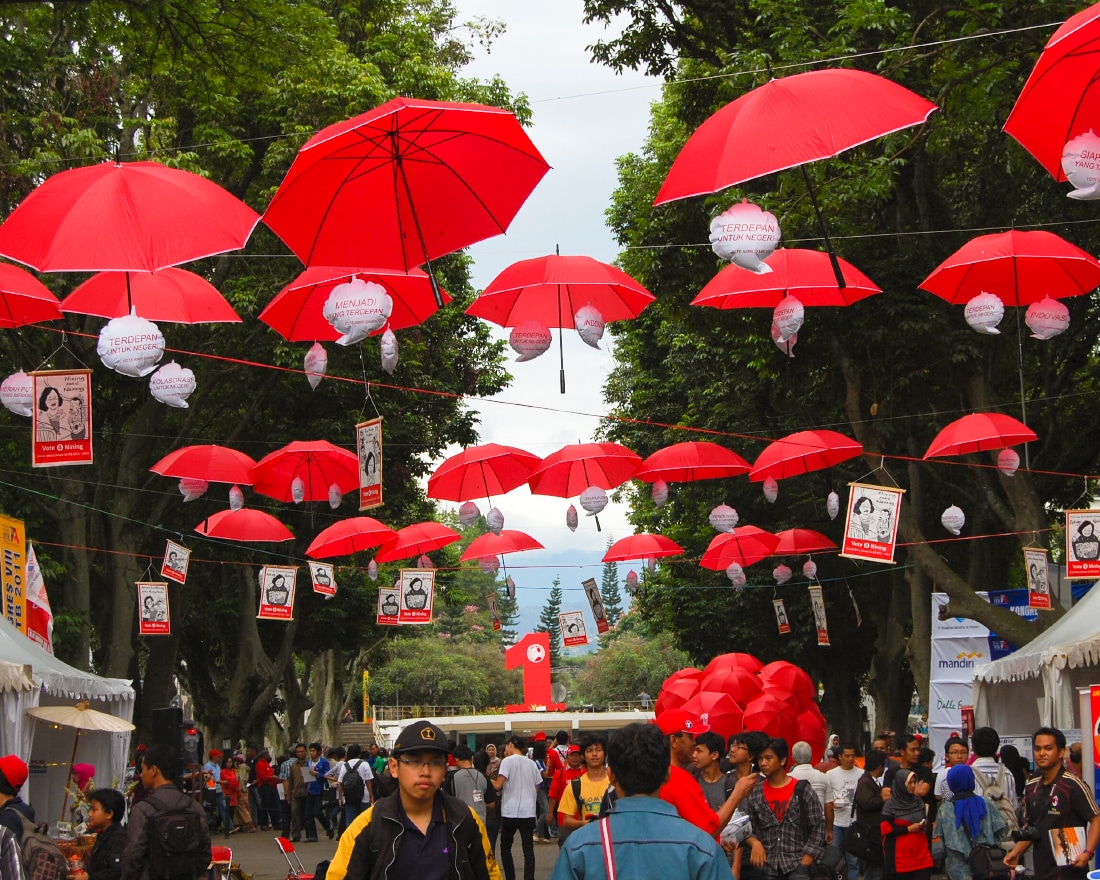 PUBLISHED April 25th, 2018 06:30 am | UPDATED November 13th, 2019 11:44 am
High up in a river basin and surrounded by the lush Parahyangan mountains, the pleasant weather in Bandung makes it easy to forget that you're in fact in Southeast Asia. The third largest Indonesian city after Jakarta and Surabaya, this is one well known for its natural attractions, clothing shops, and cafes, making a hit among domestic tourists both young and old. So if you're planning to visit Indonesia for the first time, this is as good a place as any to start.
Day One
At the time of writing, most flights into Bandung's Husein Sastranegara International Airport from Singapore are scheduled for the morning. Once you've settled in at your hotel (a taxi ride to the city costs between Rp. 50,000 to Rp. 80,000), dive straight into local cuisine for lunch. The satay, or sate in Indonesia, at Maulana Yusuf Satay, are reputed to be the city's best, and this is where you will find extraordinary beef, mutton, and chicken skewers from Rp. 4,000 (US$0.30) a stick. Our advice? Order the tahu pletok and lontong for a jolly feast.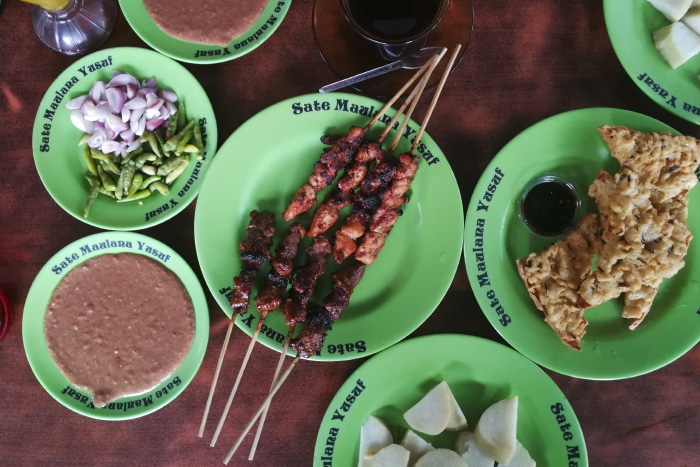 If you are in Bandung to get some shopping done, check out the many factory outlet shops dotting the city. Popular ones include Heritage The Factory Outlet and Rumah Mode Outlet, which stock anything from obscure local brands to names like Hugo and Ralph Lauren at a relatively cheap price – caveat emptor. Alternatively, Cihampelas Street (pronounced "chiam-plus"!) boasts some 25 denim shops with competitive prices (from as low as 100,000RP) and designs. You can also find military-inspired garb, t-shirts, and jackets, alongside random paraphernalia like nunchuks and BB guns. Those who prefer the comfort of a shopping mall, Bandung Indah Plaza and BTC Fashion Mall will have you covered.
At night, a meaty dinner at Se'i Sapi Lamalera awaits. Known for serving amazing smoked beef in various styles on long wooden boards, this spot is a bit local, so don't hesitate to point to the photos on the menu if you're unable to speak Bahasa. Call it an early night, or if you're feeling wild, go to Bandung's red district neighbourhood of Braga. Here, you will find many karaoke pubs, bars, and clubs, as well as spa and massage parlours. It is a university town after all, so if there's any chance of meetings fellow international travellers and backpackers during your trip, this is it.
Day Two:
A visit to Bandung isn't complete without a trip to the White Crater (Rp. 50,000 for admission), better known as Kawah Putih to residents. Three hours and 50km out from the city centre, this striking crater lake is a favourite for Indonesian tourists – which also means that you should start off from your hotel as early as 6am to avoid the infamous Bandung traffic, especially during weekends. Along the way you will see plenty of tea plantations and strawberry farms, making for a particularly scenic ride. Set aside at least half a day for this, and engaging a driver from one of the various tour agencies around the city is relatively easy.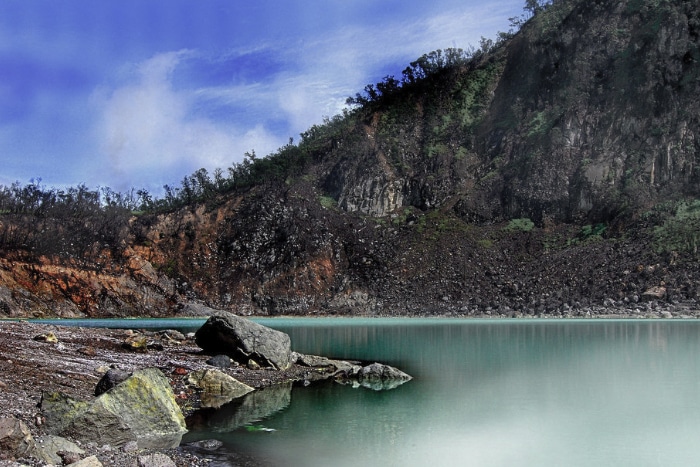 When you're back, spend the rest of your day at one of Bandung's many cosy independent cafes (Two Hands Full, Blue Doors, and Two Cents) offering high-quality hand brews and espresso-based drinks prepared from fresh, locally grown beans. Plus, they usually stay open until 10pm every day to cater to students, because who wouldn't want a huge cuppa joe at night? Most of these cafes also serve some decent cafe grub, from grain bowls to sandwiches and eggs benny-s. By now, you're probably exhausted from your volcano trip – get an early rest.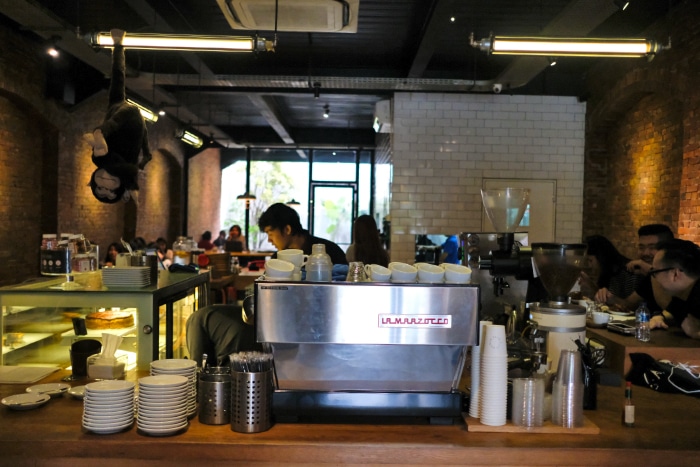 Day Three:
You might have been to the floating markets in Bangkok; the Lembang Market (Rp. 20,000 for admission) in Bandung is something similar, albeit more touristy. Here, more than 30 hawkers dish out local delights like batagor (fried fish dumplings) and tahu susu lembang (fried tofu curds) on their boats. Activities such as rabbit feeding, and flying fox are also available in this park.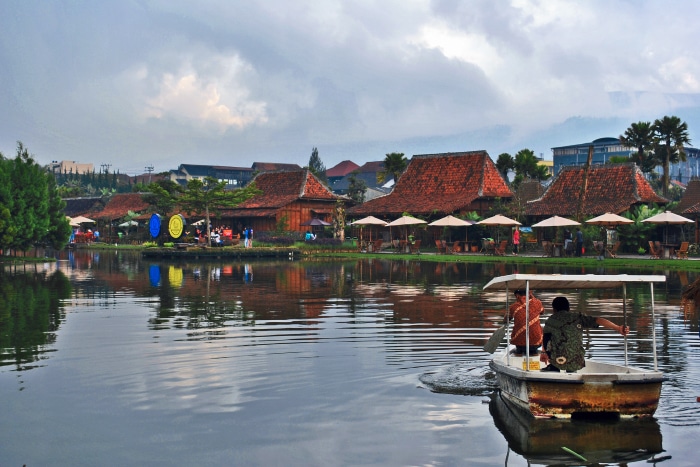 Are you into the arts? If so, there are two art spaces in the highlands of Dago Pakar that are definitely worth a visit. Selasar Soenaryo Art Space is a famous gallery constructed by Sunaryo Sutono for his own exhibitions, as well as for young artists. Besides his permanent exhibition of paintings, stone crafts, and digital glass works, there is a small library for enthusiasts to read up. Nearby, the Lawangwangi Art Gallery holds contemporary exhibitions every month featuring both national and international calibre artists. You can also visit the cliffside Rumah Miring, just a few blocks down, to enjoy a glorious view of the mountainside over pizzas and beers.
While you're in Dago Pakar, the next most logical place to visit is the famous Tangkuban Perahu (Rp. 300,000 for admission), a stratovolcano several kilometres up north that resembles an upside-down boat. Past eruptions have led to lava flowing into the valleys of Bandung, forming large cliffs over which waterfalls leap. Needless to say, this is a visual spectacle that shouldn't be missed.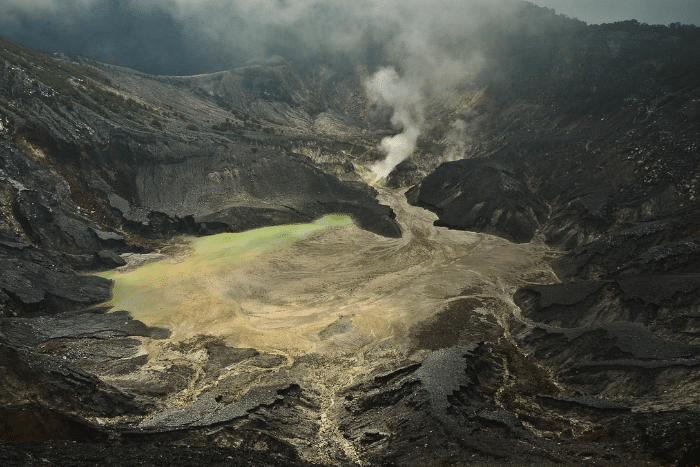 Back in the city, check out local favourite Soto Boyolali for piping hots bowls of chicken or lamb soto (soup), which you can relish with traditional sides of boiled quail eggs, vegetable fritters, and steamed rice. Each night, there will be a band strumming out Indonesian songs and radio hits to add to the atmosphere.
Day Four:
For your last full day in Bandung, you can spend it catching up on shopping or hopping around cafes. The Trans Mall is one of the city's largest malls, and boasts tenants like Charles & Keith, Birkenstock, and The Body Shop. It's also home to Trans Studio (Rp. 150,000 for admission), one of the world's largest indoor theme parks – complete with a rollercoaster and a musical theatre for a family day out. If you're into streetwear, don't miss out on the numerous shops (Wellborn, Public Culture, Widely Project, United Hart) dotting the Citarum vicinity. During the weekends, this is a good place to observe the local subculture scene.
For lunch, make your way to Mie Rica Kejaksaan for good ol' spicy Indonesian noodles with juicy homemade prawn meatballs. Do note that this spot is not certified halal, as they top their noodles with minced pork. There are also more coffee shops worth checking out, such as Ngopi Doeloe, Kopi Progo, and Roemah Kopi which serves all kinds of coffee beverages from fresh Indonesian beans. Alternatively, Kineruku is an independent library that caters to Indonesians looking for English books. With a cosy cafe and outdoor garden, this is an idyllic place to while away the afternoon.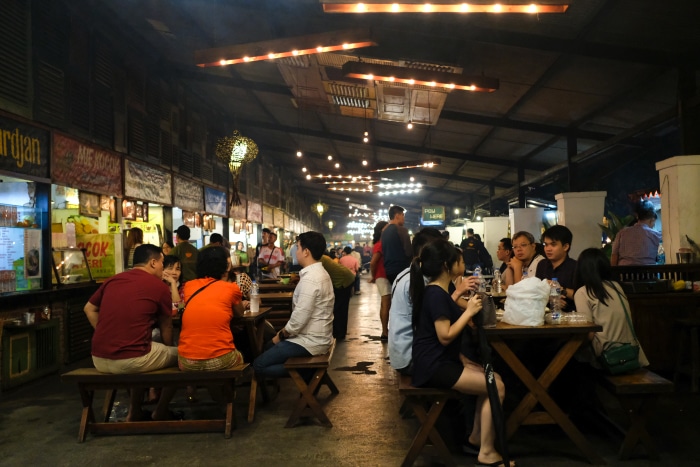 For dinner, that are spots like Paskal Food Market along Pasir Kaliki Road, a food court of sorts that offer all kinds of Indonesian international fare, including must-try supper dishes like es cendol (iced sweet dessert with jelly, coconut milk and syrup) and roti bakar Bandung, a local variant on a grilled ham and cheese sandwich. At night, the market comes alive with fairy lights and live music. Hedonistic nightlife seekers can move on to clubs like Shelter and Southbank, but note that these are mostly frequented by locals rather than tourists.
Day Five: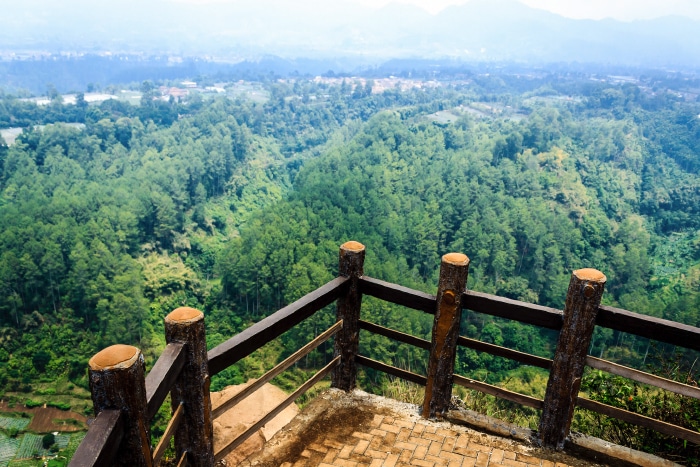 If you can wake up early enough, get a car to Tebing Keraton for the city's best sunrise view, as sun rays burst out from the cloud-like fog and make their way down to the majestic pine forests. Do note you will need to be there by 5.30am, so you might consider camping overnight. As you prepare to leave Bandung, you can bid farewell to the cosy city with a big Indonesian brunch at Dapur Dahapati, which serves up a mindblowing oxtail soup, prepared with a secret recipe passed down for generations – and yes, it's quite possibly the best in town. You won't go wrong with some gado gado (a traditional salad with crunchy vegetables, tofu, and chilli peanut sauce) and buntut goreng (fried oxtail) either. And with that, you can go home satisfied.
General tips for travelling in Bandung:
The primary language spoken here is Bahasa Indonesia. English is not used very much, even amongst the younger generation, so come equipped with a local phrasebook or dictionary app on your phone.
Grab is widely used in Bandung and relatively affordable as well, which makes getting a ride easy. The local alternative is GO-JEK, which also offers motorbike-hailing services. When using a regular taxi, be sure to negotiate the price in advance.
Unless you are highly confident in your driving or riding skills and have a valid license, renting a car or motorbike in Bandung is not advisable due to the haphazard traffic and number of single lane roads.
Always bring cash in small denominations as many shopkeepers and vendors will not be able to accept large notes. Most shopping malls have at least one money changer, and you can also change money at the local banks.
Do not drink water from any tap – bottled water is cheap and widely available.
This post is written in collaboration with SilkAir.
---
SilkAir, the regional wing of Singapore Airlines, currently operates about 400 flights a week to 53 destinations in 16 countries. The destinations SilkAir operates to are within a six-and-a-half-hours flying duration from Singapore, with the furthest destination being Cairns in Australia. Come October 31st, SilkAir will be operating to its newest destination, Hiroshima, Japan. At the moment, the combined Singapore Airlines and SilkAir network covers over 100 destinations in 36 countries.
SilkAir's positioning as a premium, short-to-medium haul regional carrier gives it a unique appeal amongst leisure and business travellers in Asia. Whilst offering carefully selected meals, a full bar service and complimentary in-flight entertainment, SilkAir places great emphasis on providing attentive, friendly and relaxing service. The carrier's regional flair is expressed through both its cabin crew and its cuisine – ensuring that your experience of the destination you're heading to begins when you step onto our plane.
For more information on flights to Bandung, click here.
Top Image: Photo courtesy of Ikhlasul Amal