Hotel Review: Viceroy Bali Is Ubud's Most Romantic Villa Resort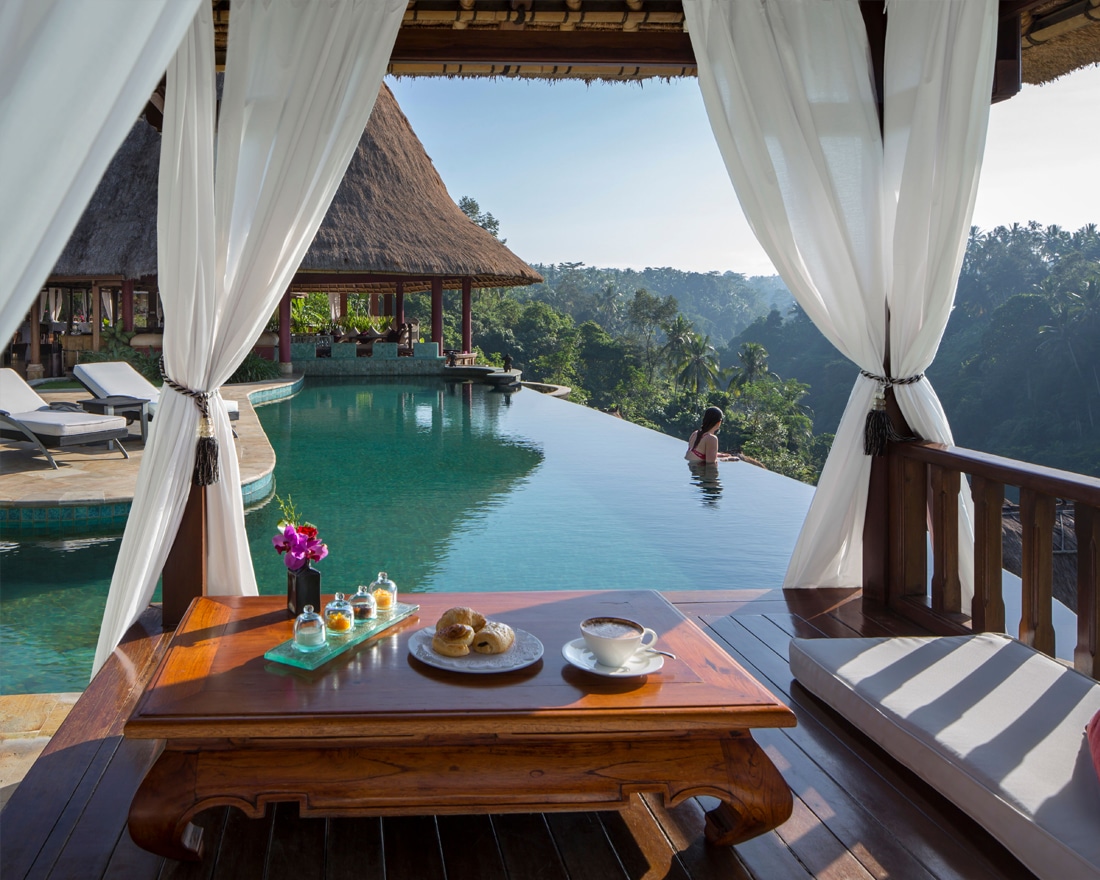 PUBLISHED July 20th, 2019 07:00 am | UPDATED May 18th, 2020 05:34 pm
When I think of Ubud I envision wide cascading paddy fields and lush mountainside jungles — a green haven of colourful birds and waterfalls that casts a spell over its visitors. This comes from a person who had never been to Bali prior, so when we headed down last month and saw all of that, my breath was promptly taken away. Of course, staying in a place like Viceroy Bali, a secluded getaway for romantics and adventurers, made all the difference.
Space & Location
The property, just a few minutes drive from the town centre, is family-owned and operated, which is rare for luxury resorts in Bali. It's perched on a steep mountainside overlooking the Petanu River gorge, and we can see mist rising from the forest depths in the mornings. Elegant yet discreet, Viceroy Bali is richly adorned with old-world Balinese furnishings and alang alang-thatched roof buildings from its open lobby to its glamorous bar, where you can enjoy a welcome cocktail. Oh, and nothing like carefully-placed palm trees to complete the resort look.
Rooms
The accommodations here are more than just a room — these are villas that provide a luxurious experience the moment you step in through the hand-carved timber doors. Our 150 sqm Deluxe Terrace Villa is one of 25 villas (in contrast there are about 50 staff in the property), and takes its design from traditional Balinese architecture.
It's an incredibly large space, even by Bali standards, boasting a 'walk-in' marble bathroom with a full soaking tub, shower, dual sinks, separate toilet, and amenities made right on the island. The bed is something from a dream, and afforded us some of the best sleep we've gotten away from home. There is an espresso maker as well as a Bowers & Wilkins Wireless speaker, though we wish the latter was compatible for guests not using iPhones. Outside, a heated infinity edge pool and Balinese balé comes with an expansive valley vistas. Needless to say, we felt wonderfully pampered.
Facilities & Services
Viceroy Bali has a lot going on for a small hotel, and it's easy to lose track of time during your stay — we certainly did. The main hilltop infinity pool has a swim-up bar so you can get your mojito fix on balmy Bali days. There's also a fairly spacious and well-equipped gym, a shop selling clothes and crafts made by artisans around the island, as well as a two-storey spa. Aside from traditional wellness therapies like Balinese massage (say goodbye to knotted muscles), the Lembah Spa has its own steam room, hot tubs, and a lounge area with valley views.
The concierge is able to arrange numerous activities for you, from day tours to national reserves or the local market to cooking classes and Balinese dance lessons. Feeling adventurous? Viceroy Bali is the only hotel in Ubud with its own helipad, and you can book a helicopter tour to see the town from the sky.
F&B
We take breakfast at the all-day dining restaurant CasCades. During breakfast, you get a superb and seemingly endless a la carte spread: avocado toast, dragonfruit and chia seed smoothies, Indonesian-style porridge, Mediterranean ratatouille — and that's just scratching the surface. By night, a Belgian chef prepares locally-inspired creations and classic European dishes like foie gras, gado gado (Indonesian vegetable salad) with quail eggs, and bebek betutu, a Balinese spiced confit duck leg. CasCades is reputed as one of Ubud's top dining venues, and we surely agree.
The second restaurant, Apéritif, is more of a fine dining affair, and sees Executive Chef Nic Vanderbeeken dishing out a sophisticated degustation menu of global cuisine peppered with Indonesian influences and herbs grown from Viceroy's own greenhouse. There is also a bar on site, and we might have spent a couple of hours pouring over drinks like the Tamarillo Negroni, a decidedly local take on the bittersweet cocktail classic. The food programme is very impressive, and you can read about it here.
Viceroy Bali is a sublime lover's retreat that's uniquely Balinese, and you'll be hard-pressed finding a better base to explore Ubud from. Where else can you feel like a king or queen?
Viceroy Bali is located at Jl. Lanyahan, Br. Nagi, Kec. Ubud, Kabupaten Gianyar, Bali 80571, Indonesia, p. +62 361 971777. Rates start from USD640 per night.