Restaurant Review: Apéritif Sets Ubud's Dining Scene Alight With Contemporary Global Cuisine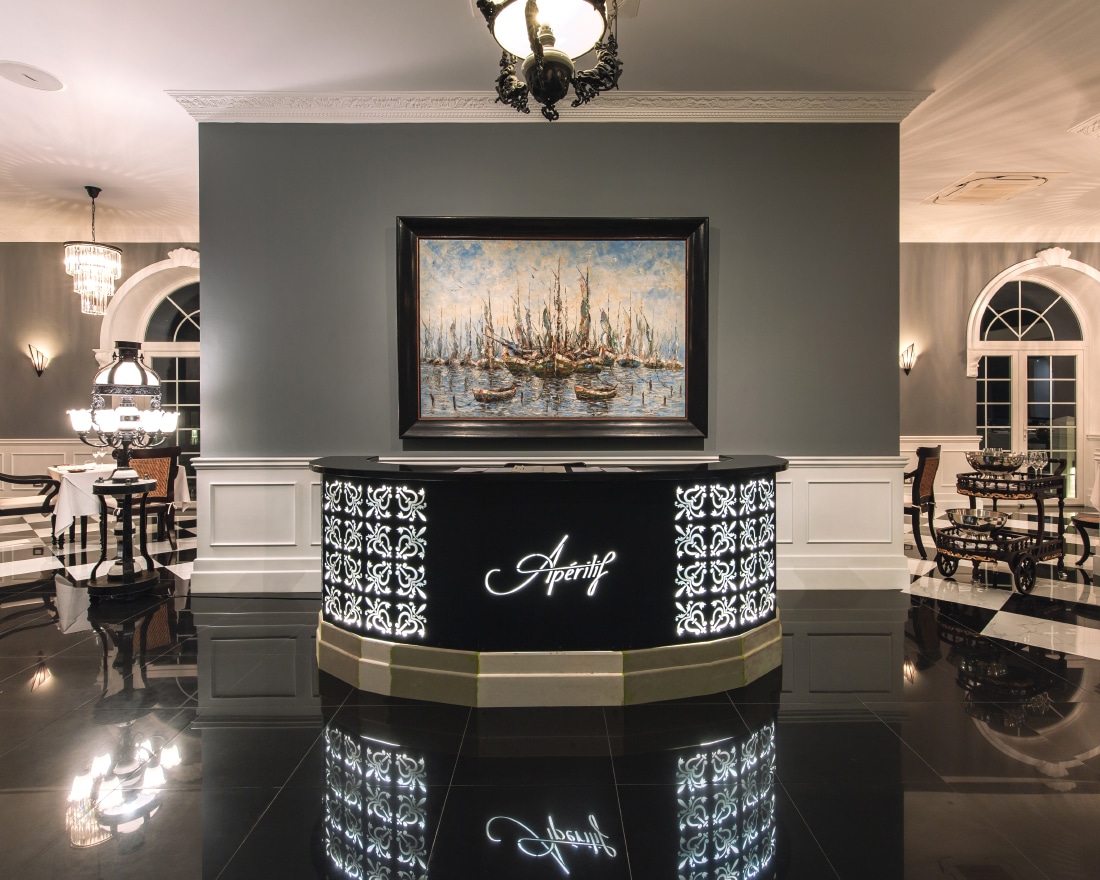 PUBLISHED May 17th, 2019 07:00 am | UPDATED May 18th, 2020 05:34 pm
It's quite simple to find restaurants in Ubud, the cultural hub of Bali. The thing is, they are mostly the same, serving up healthy plates of roast chicken and grain bowls in all colours of the rainbow. But from time to time, something unique like Apéritif pops up. And make no mistake about it — this is one to remember.
Apéritif is housed in the compounds of Viceroy Bali, a luxury resort that's both a sublime lovers' retreat and a scenic family getaway. The restaurant occupies a white one-storey building next to some paddy fields like some kind of lone colonial outcrop, and it's an enchanting space decorated with marble, dark wood, and bronze.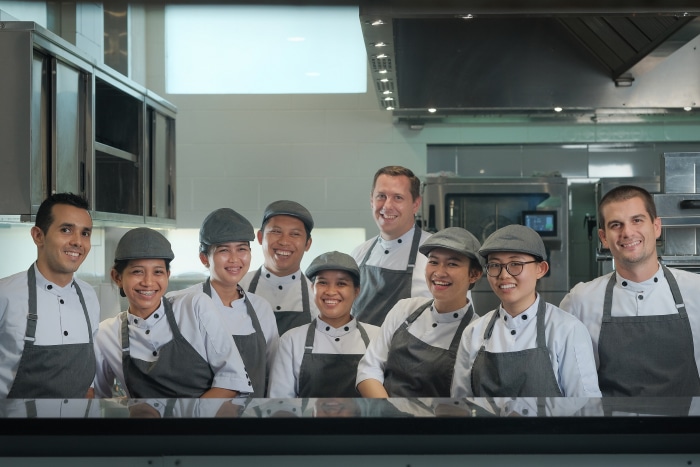 As its name suggests, we start with an aperitif at the bar, inside a spacious 1920s-inspired room dotted with old period photographs. I order a beautifully-presented Tamarillo Negroni, which pairs the bright tang of housemade tamarillo (think a mix between tomato and guava) cordial with the floral notes of gin. Then, a refreshing Kemangi Cooler with elderflower liqueur, vodka, and a concentrated kemangi extract with zesty lemon accents.
Appetites piqued, we retreat back to the main dining space to meet Nic Vanderbeeken, the Belgian executive chef who starts talking about his country's chocolates — and rightly so, because they are delicious. His style is to combine the best of contemporary global cuisine with Indonesia's ingredients and culinary heritage in a fine dining format — particularly, an eight-course degustation menu that's priced at RP1,350,000, or roughly USD$95. It's a fine price to pay for such mastery.
A Ceviche of parrot fish is presented on a Gaya Ceramic plate that's glazed with gold lustre, which as it turns out, is not the most beautiful thing we see that night. Dusted in subtly sweet seaweed powder, the lightly-cured fish is finished with a citrusy leche de tigre, coconut milk, and kaffir lime oil.
The West Java traditional salad Karedok comes as a flower of beautifully rolled vegetables — at least 15 layers of pickled kale, daikon, and eggplant sitting on a bed of kemangi and peanut sauce, topped with tofu cream. Then there's Pumpkin, a zero-waste ode to the yellow fruit that comprises petals of pumpkin fermented with koji and pickled in piccalilli, roasted pumpkin cream, marigold-pumpkin skin oil, and pumpkin seed and edamame ice cream. No one spends this amount of time just to have a token vegetarian item on the menu.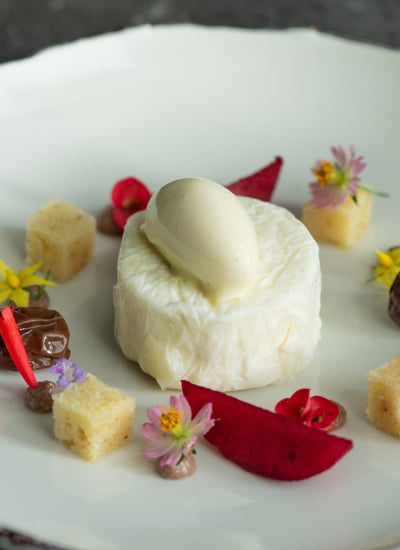 Apéritif's cuisine can feel like a journey, and it's one that gets better and better. Canadian Lobster is served with a wild salsify emulsion and Kaluga Imperial Caviar. It's a scrumptious dish that relies heavily on the quality of produce, and the umami-rich salsify is from Bedugul, which is north of Bali where the soil is richer.
We taste a new dish that Nic plans to launch: Tuna Tataki that's been cured in Balinese miso and paired with sesame and radish. He finishes the dish table-side with a wheel of frozen foie gras that he shaves on top.
When it feels like nothing's going to top that, out comes the crowd-favourite of Venison Wellington, marrying the succulent game meat with the region's unmistakable rendang in a butter pastry crust that's rolled with king oyster mushroom and black garlic truffle mash. Oh, there's foie gras in the middle of all that too.
Alexander McKinstry, who heads the pastry kitchen, makes a mind-blowing cheese dessert that's like nothing I've tasted. A wheel of trompe l'oeil Goat's Cheese is made with milk skin to resemble the outer casing, and the interior has a consistency like burrata. He plates this with cheese sponge cake, brown butter ice cream, as well as rosella-infused pickled apples. The combination is otherworldly.
Our meal concludes with a spread of petit fours cleverly concocted after the kitchen team's varied childhoods and culture, be it Belgian, American, Indonesian, or South American. We won't spoil the surprise, but just know that they are every bit as brilliant as this restaurant. Keep an open mind and walk through the door — because the adventure starts immediately.
Apéritif Restaurant & Bar is located at Jl. Lanyahan No.Br, Nagi, Ubud, Kabupaten Gianyar, Bali 80571, Indonesia, +62 361 9082777.