Keeping fit goes tribal with Tahitian Dance Fitness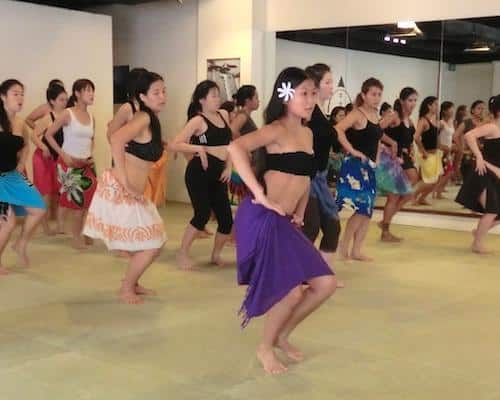 PUBLISHED May 8th, 2014 01:00 am | UPDATED May 18th, 2020 07:24 pm
Listen up ladies, we live the city life—full of meetings, manicures, and manic Mondays—and sometimes, we just need to let our hair down and go a little wild. No, I'm not suggesting a new nightclub—I'm talking about going back to your jungle roots and joining the 'tribe' at Tahitian Dance Fitness.
This dance class is so ridiculously fun and original—complete with tribal music, shaking hips, sexy hair flips, and even a few chants. It left me feeling womanly, sweaty, and out of breath which is just about a perfect workout.
The three classes offered for adults, Tahitian Fitness, Tahitian Toning and Tahitian Dance, are led by the Tahitian-born owners, Lila and Beatrice. The classes compliment each other and students often do two classes in a single session.
Tahitian Fitness is fast paced aerobic class incorporating dance and Tahitian movements. It's fun and it works muscles you're not normally working. With all those hip swings and rolls, it's a great workout for the tummy and obliques.
The dance class itself involves some basic warm up dancing, before moving into a traditional choreographed dance. A new dance is introduced to the class every 11 weeks, and the learning curve is steep, especially if you're new to dancing.
I found it difficult to coordinate my hands and my hips, but definitely had a lot of fun and laughing at myself. All the dancers are at different levels—some have been there for a few years and are participating in the upcoming Tahitian Dance Fitness annual charity gala and some started a few months ago, and first-timers are always welcome. No one is judging and the atmosphere is very loving and encouraging. The women all cheer each other on for their moves, whether they're perfect or not.
The Tahitian Dance Fitness annual charity gala which will benefit the Singapore Red Cross will showcase over 25 different dances this year, featuring 30 different dancers. They handcraft the costumes and put over a year of preparation into their shows, so I can bet it's going to be pretty spectacular.
To book a free trial dance class at Tahitian Dance Fitness or to buy tickets for their annual charity gala visit the Tahitian Dance Fitness website here.