Never Too Late to Shop in Bangkok: Night Markets to Visit in the City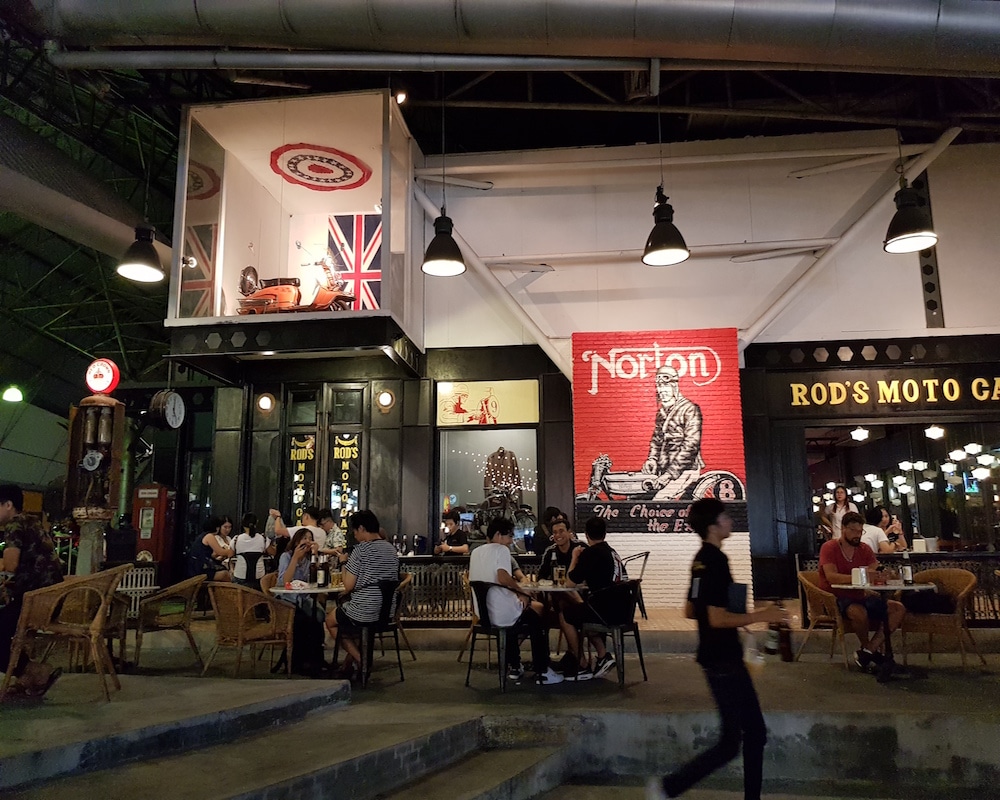 PUBLISHED February 14th, 2018 06:00 am | UPDATED May 18th, 2020 06:43 pm
One of the many reasons we love Bangkok is that the city is prime for shopping. The selection is immense, and anything is possible if you're willing to pay for it, or hunt it down. While the department stores have air conditioning and good deals with VAT refund, you'll find the more eclectic at vibrant night markets scattered across this sleepless city. We take you to the best three, where real locals go for good late-night bargains.
Chatuchak Friday Night Market
Chatuchak, also known as JJ or Jatujak Market, is famed for being the best weekend marketplace in Thailand. Unless you are looking to buy high-end, this gigantic place has everything to offer from local art pieces, furniture, and clothing, to spices, plants, and even puppies. Most products sold here are unique and are proudly made in Thailand.
While the market has always been opened on weekends only, Bangkok shoppers have been somewhat impatient, and decided to show up late on Friday nights, so shopkeepers also come in to their stores with their newly picked inventories for the upcoming weekend. This nighttime trading has been kept low key for a few years, and the best part? You get to dodge the daytime heat and choice pickings of what's available.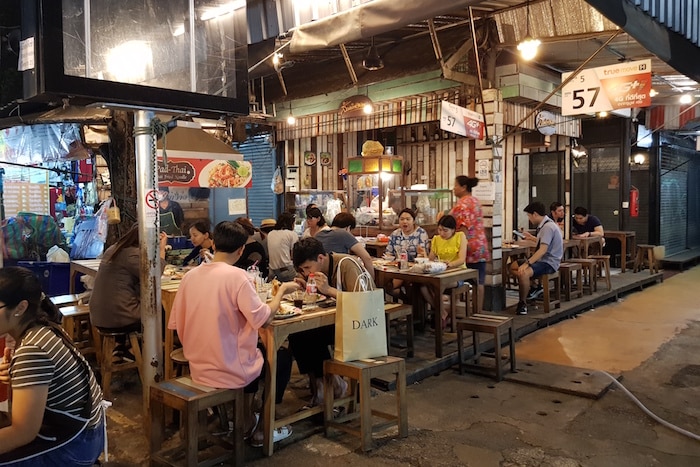 Open from 9pm till 6am the next day, the night market is a mini version of what goes on in the day. Stalls are set out on both sides of Chatuchak's main road, showcasing Thai street food, fashion, and handmade crafts. Some shops inside the rabbit warren also open, and that's where you'll find yourself digging in the trunks for some rare vintage finds.
The night market might not be as exhaustive as it is in daytime, but shopkeepers usually offer better bargains. We spotted a shop selling cute mini dresses for just 90 baht (US$3)! Just mind that the number of shops open during these hours vary from week to week, so your luck does count.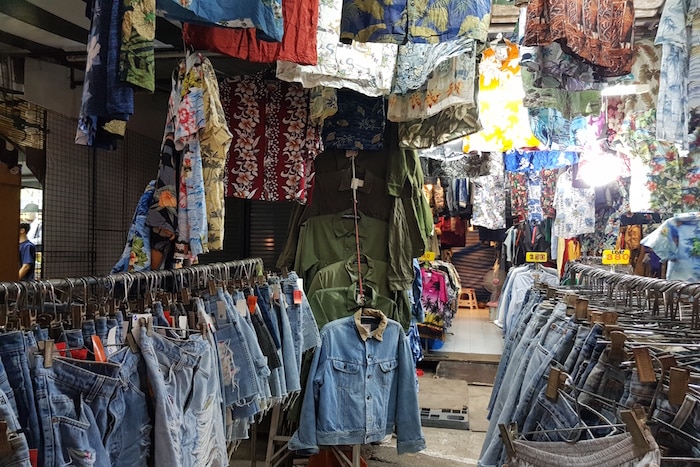 Getting There: Hop on the MRT and get off at Kamphaeng Phet station. Hailing a cab back to the city is easy after the subway closes at midnight. Parking is available inside the market, but traffic can get quite awful.
Ratchada Train Market
Originally set up on land belonging to the Thai State Railway near Chatuchak Weekend Market, this night market is well known among Bangkokians for its retro touch and endless offerings of cheap street food and rare secondhand home decors. When news of its closure – due to the permanent termination of the lease – was announced a few years back, many shoppers were heartbroken. Its popularity has driven the organiser to put up similar shopping events until they found their new long-term site in Srinakarin, on the east fringes of Bangkok.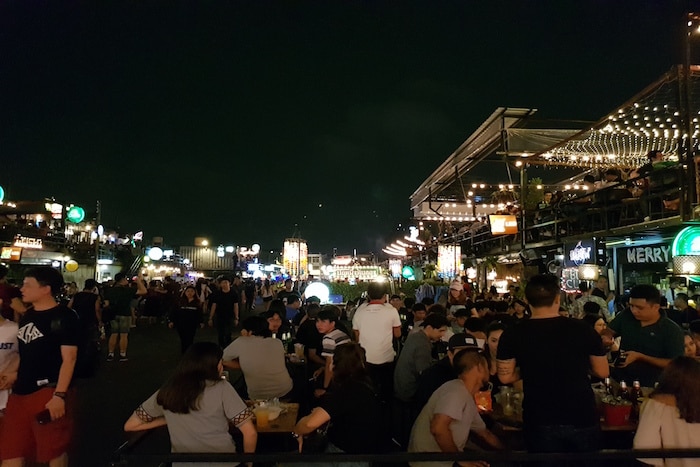 Th market's success led them to open another market in Ratchada, closer to Bangkok's city centre. The Srinakarin market does feel more original, but we prefer the Ratchada Train Market simply because it's a heck lot more accessible. Open 5pm to 1am, this artsy, outdoor market boasts over hundreds of stalls hawking street food and clothing. Traveling in a large group? Be sure to share a giant platter of fresh cooked seafood or an extra-large bowl of egg noodles with lobsters.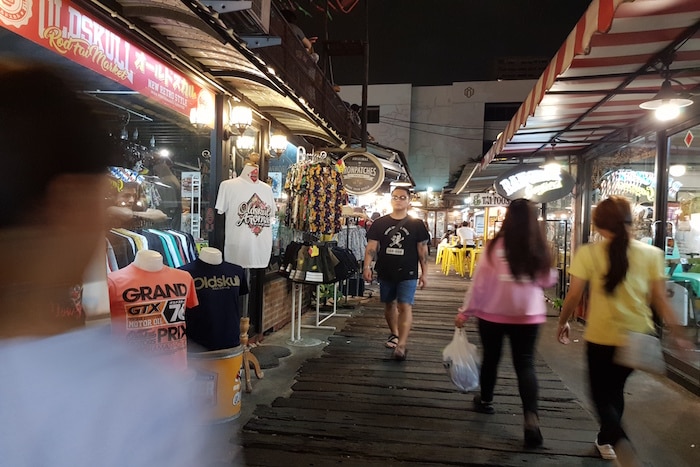 Locals love coming here mainly because things here are comparatively cheaper. But you're paying for what you get so don't expect too much on quality. Once you're done with shopping, head to the back of the market for the hipster container bars, serving local bar grub and alcohol, along with entertainment by local live bands and DJs. Two things to note: the market gets busy 9pm to midnight on Friday and Saturday nights and if you enjoy techno and house, "Sorry I'm Gay" (despite its name) is the bar to go to.
Getting There: Take the MRT to Thailand Cultural Centre Station and leave by exit 3. The market is located just right behind Ratchada's Esplanade Cineplex.
Corner Market & More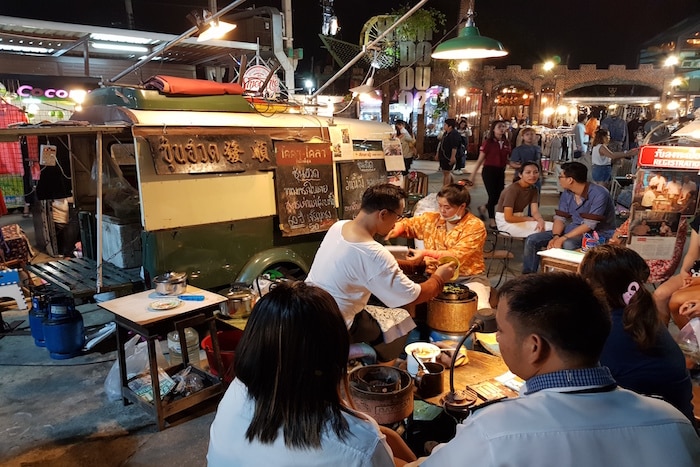 Having been to numerous night markets, this is our top pick when it comes down to satisfying our late night cravings. Corner Market & More, (or "Talad Hua Moom") first caught our attention when we got caught in bad traffic, which was because all the cars were queuing up to get in. Set on a corner of Kaset and Ram Indhra- At Narong Expressway (hence its name), this outdoor night market is a bit further away from the city center, but definitely deserves a trip if you love food.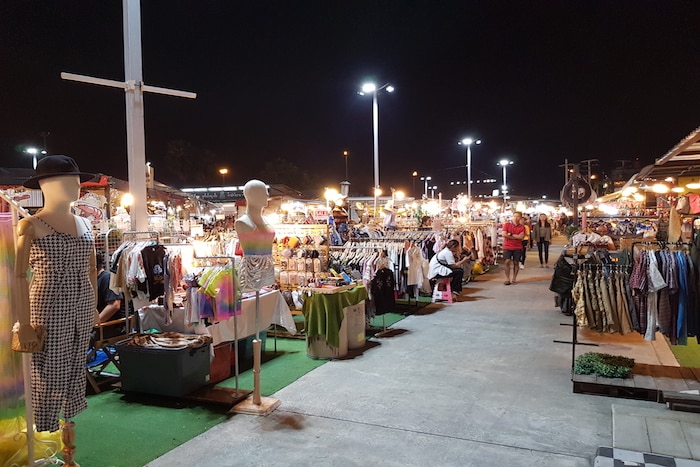 Soon as you're in, you're surrounded by an endless lineup of stalls offering local and international street food, vintage home accessories, and even haircut services. Our favourite treat from Corner Market is the 50 baht (US$1.60) deep fried chicken skin available in five flavours – cheese, larb, tom yam, herbal mix, and original. The Corner Market & More is open every Tuesday to Sunday, from 5pm to midnight.
Getting There: Take the MRT to Lad Prao station. From exit 4, and grab a taxi to Ta Lad Hua Moom.
Top image : . All images by Narisa Pokunchanan