Odette – Contemporary French Fine Dining At It's Best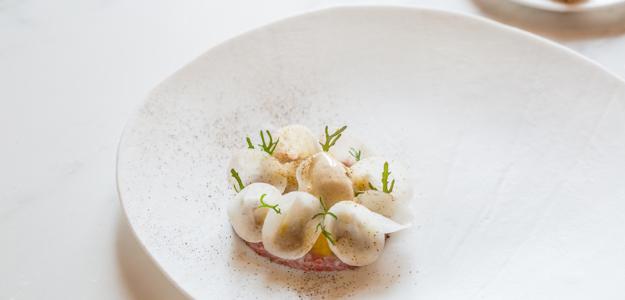 PUBLISHED January 8th, 2016 04:00 am | UPDATED June 19th, 2020 03:23 pm
For the restaurant opening of 2015, it was with searing anticipation that I wove through swathes of National Gallery gawkers, stumbled upon wrong turn after another, before I was face to face with the giant courtroom-inspired wooden doors of Chef Julien Royer's latest berth, Odette. Two burly men stand guard before the spacious 32-seater – Restaurant Manager Chris Krismer and General Manager Steve Mason – but when they break out in smiles and chaperon you in, it's a wispy cloud nine you're on from this point on.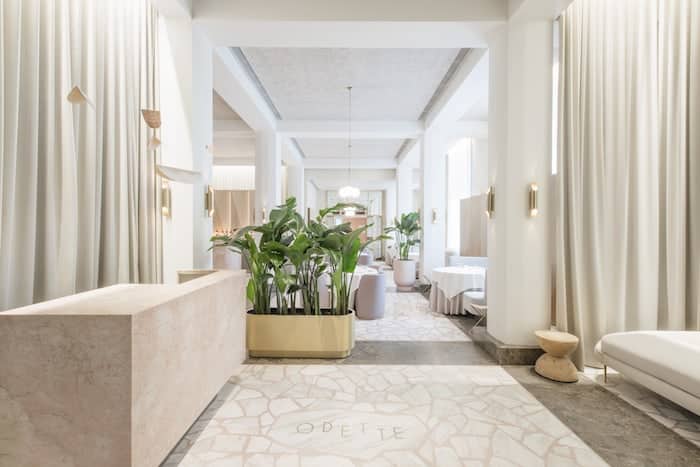 Odette's Reception Area
There're lots of curves in Odette's effortlessly elegant dining room – arching grey banquettes, wide round tables, an oblong marble bar, pendant bulb spheres, racy socialite busoms, and food geek potbellies. Even the pride with which the servers swerve from the glass-enclosed kitchen to your eager-eyed dining party, the confidence with which they recite the list of artisanal ingredients on your plate, and their constant unsolicited smiles, adds a certain grace to the dining experience.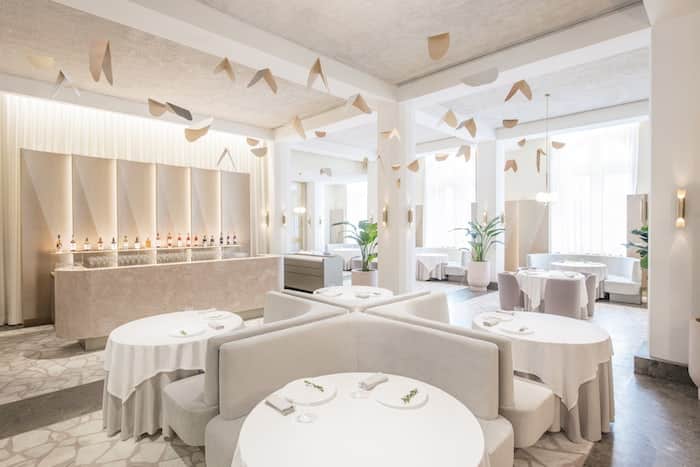 Odette's Interior
But the Modern French venture by Lo & Behold is no pompous Robuchon or stuffy Les Amis. Odette embodies the global ethos of fine-dining today which Singapore has been slow to latch on – faith in locally-sourced ingredients, minimal cooking, maximal heartiness, without letting go of classical techniques and impeccable presentation.
For instance, there's an irresistible brightness to the coming together of Mushroom Sabayon and Mushroom Tea – creaminess pit against umami, puffy buckwheat against nutty walnuts. It's a balanced, heart-warming amuse bouche, as comfortable in a (potentially) two-Michelin-starred restaurant as it is in the backyard of Chef Julien's home in Cantal where he forages.
You'll be reminded of the fundamental pleasures of eating, when you dig into tender Challan duck breast and fatty Loire Valley foie gras, which meet their classic foils of orange, currant and pear, all on one plate. A bite seems to ignite an invisible fireplace somewhere, the next summoning snowfall outside, in between sips of imaginary mulled wine flowing from your designer glass. A side of truffle chestnut pasta seals the deal with its springy, oily noodles enveloped lovingly with the fungi's earthiness.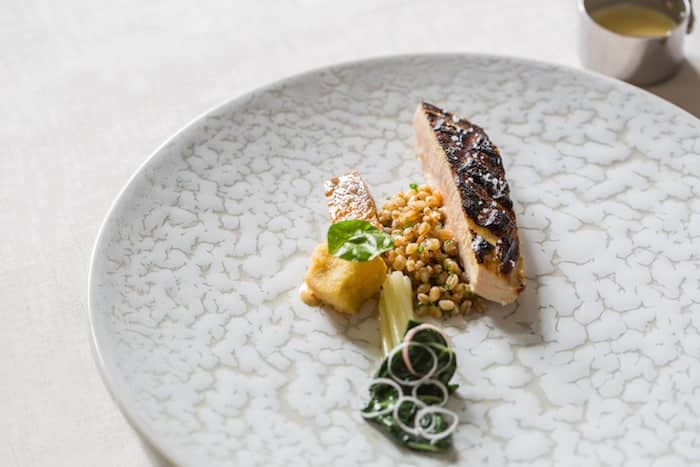 Challans Guinea Fowl 'A La Braise
Yet terroir-to-table, heart-to-plate cuisine (as termed in Odette's minimalist menu) doesn't have to lose sight of technique, and Chef Julien proves this with his variation of beetroot. A whimsical cascade of gels, meringues and sorbets allows one to take in the heights of flavour that the humble root vegetable can conjure, each engineered to either trigger a systemic dilation of the eyes or the involuntary licking of the lips. Our favourite component remains the palate-boggling salt-baked beetroot. A flourish of creamy stracciatella cheese is just about the best accompaniment you can find to complement the predominantly sour and sweet profiles of the beetroot dish.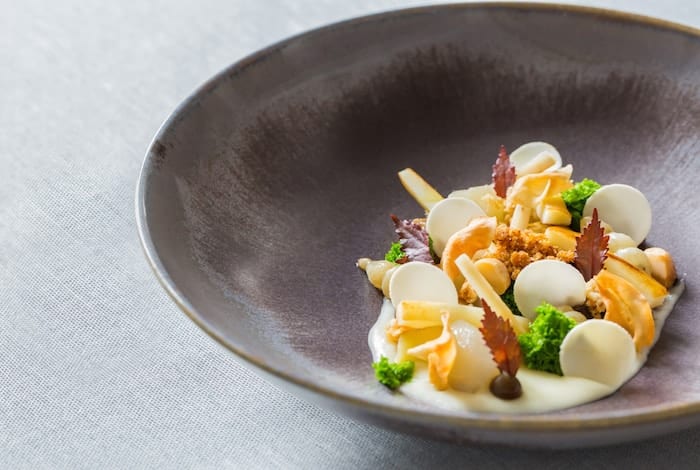 Forest of Forgotten Vegetables
If the beetroot variation is Chef Julien on a plate – grounded but playful, detailed but gentle – then his main of Oven-Roasted Rockfish manifests the influences Asia has had on him. A lemongrass velouté and a chiffonade of kaffir lime are separate nods to the delicate flavour of the fish, whose crispy scales pair marvellously with swooshes of luscious kuri squash puree. Another pre-meal snack of a chilli crab kueh pie tee is raw in execution–a tad one-note–but nevertheless a laudable experiment in texture and in showing that Odette is no one-trick French pony. The menu changes almost everyday, and with the restaurant's reservation books filled weeks in advance, it's likely that your next meal at Odette is going to be yet another new culinary adventure.
There are of course a few nagging glitches. A spurt of lime gel sharing the same plate as the Rockfish throws us way off – it must have been accidentally swapped with a piping bag of key lime pie filling. A Cevennes Onion soup with a Parsley Royale and Truffle Chantilly sounds and looks promising, but its overwhelming creaminess obliterates any flavour. Balance also goes helter skelter with a Pear Mille-Feuille with salted caramel ice cream, especially hefty and cloying on the palate after a spritely guava granite pre-dessert.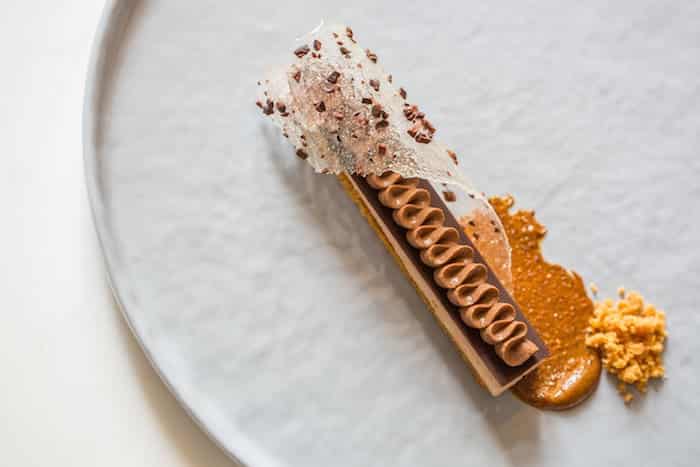 Choconuts Gallery
But perfection to a tee was never Odette's starting point. The fact that it's named after Chef Julien's grandmother is no excuse for slip-ups. Yet above all, it's the warmth of good food, good wine, and good service that's both welcoming and charming, a vague reminder of what had made JAAN, where Chef Julien used to be, such a true gem. It's of eating well, of knowing where your food comes from, and of discovering what makes eating a pleasure, not an exercise. This is an abode you just have to visit – not just because it's on everyone's to-eat list, but because it truly draws you in.
Lunch at Odette is priced at $88 for four courses and $128 for six courses while dinner will set you back $208 for six courses and $268 for eight courses. Reservations are recommended.
Top Image: North Highlands Beef Tartare