Private Islands Near Singapore For An Intimate Beach Getaway In Southeast Asia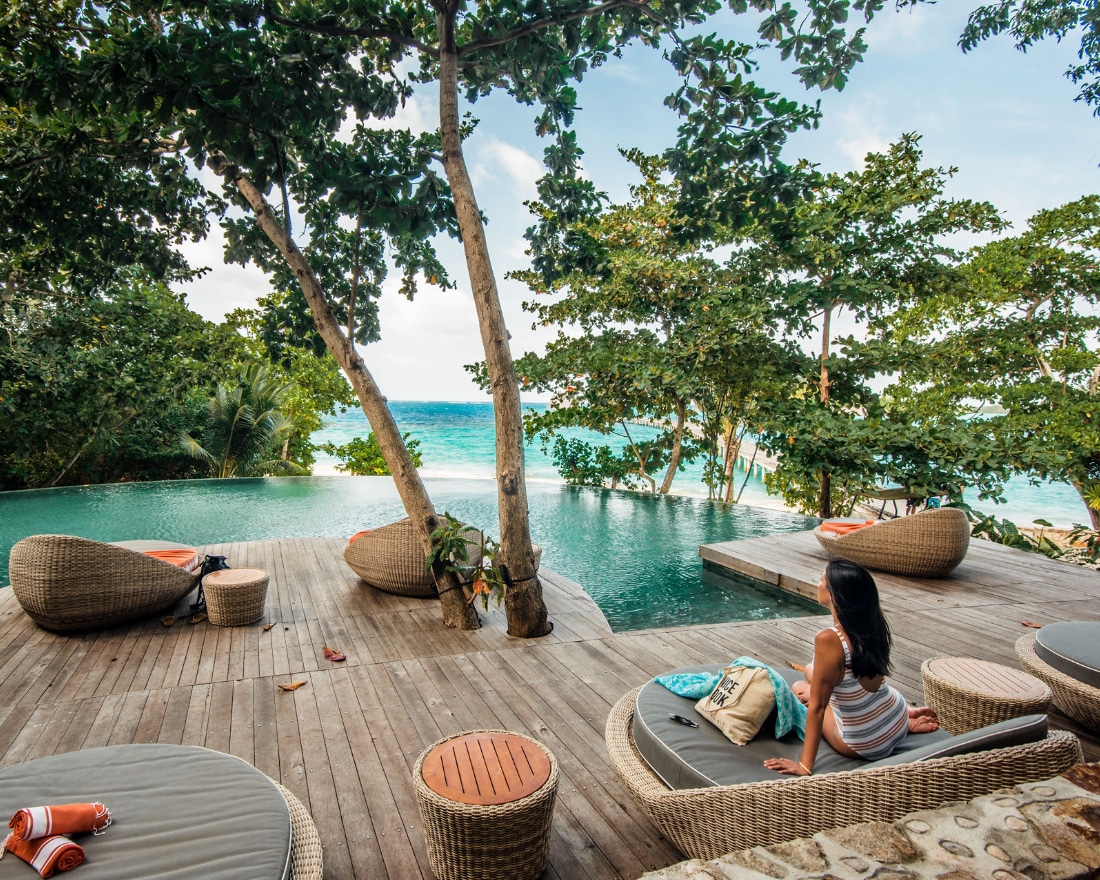 PUBLISHED August 16th, 2019 06:30 am | UPDATED August 28th, 2019 08:06 am
If we had all the money in the world, a private island resort will definitely be on our to-buy list. We'd want a beach escapade filled with verdant greenery, crystal clear waters, and pearl white sand. Until then, a girl can dream, or she could head to the numerous private island getaway within a four-hour radius of Singapore. From exclusive weddings to intimate getaways with your significant other, these spots can guarantee the utmost privacy you need for a price!
Bawah Reserve, Indonesia
Located in Indonesia's remote Anambas Archipelago 300 kilometres northeast of Singapore, Bawah Reserve is the closest to sheltered carefree seclusion you can find. You'll be collected from Singapore and escorted to Bawah via ferry and seaplane, so don't worry about having to Google for directions.
With four room categories ranging from the Garden Suite to the romantic Overwater Bungalows, the luxury private island spans six islands, three lagoons, and 13 beaches – an ecological utopia visually and in reality. Now a designated marine conservation area teeming with sea life and with infrastructure designed to  prevent damage and erosion, this is the island for those worried about the ecological impact of their holiday making. Oh, and the world class Aura Spa & Wellness onsite doesn't hurt either.
Rates: From US$1,980 for two guests per night in a Garden Suite, inclusive of full board with soft beverages, one spa treatment per person per day, water activities, and laundry
Bawah Reserve is located at Bawah Reserve, Anambas, Indonesia, p. +62 778 416 3937 or +65 6322 3132. Every fifth night free for stays of five nights in the off-peak season, with complimentary round trip transfer.
Rebak Island, Malaysia
Situated off the coast of Langkawi, Rebak Island offers a slice of heaven that oozes intimate charm intertwined with modern aesthetics in its exclusive Vivanta By Taj holiday spot. Boredom is never an issue as there's a range of activities available, from workouts such as tennis and yoga to underwater sports like snorkelling. You'll be able to embrace nature by taking a walk along its remote beaches and lush forests. For couples looking for a honeymoon getaway, look no further as the property's Moon Deck is a hot spot for romantic dinners overlooking the Senari Straits.
Rates: From MYR575 to MYR1,600 per night
Vivanta By Taj is located at Rebak Island, 07000 Langkawi, Kedah, Malaysia, p. +60 4 966 5566. 
Koh Rang Noi, Thailand
If you're ever visiting Phuket, make sure to stop by the luxury private island Koh Rang Noi. This tropical paradise offers everything that Thailand is famous for: white soft sand and clear waters, but without the hordes of tourists. Excellent service is ensured as you're greeted with cold towels and a coconut upon arriving. Since the prestigious Royal Phuket Marina is just nearby, be prepared to witness a line-up of stunning yachts parked along its shores.
Rates: Click here to enquire
Koh Rang Noi is located at Ko Kaeo, Mueang Phuket District, Thailand. Visit the official website here for more information.
Cempedak Island, Indonesia
Cempedak is the sister island to the famous Nikoi, with a similar objective too: to be an outdoor sanctuary filled with inspiring nature, food, and wine. Explore the deep depths of its tropical rain forest and rustic bamboo villas, all of which are inspired by the local customs and community. With a reverence for sustainability, this is one eco-friendly getaway. Besides, no kids are allowed in the island, making the place ideal for those looking to get some peace and quiet.
Rates: From S$475 per night
Cempedak Island is located at Air Gelubi, Bintan Pesisir, Bintan Regency, Riau Islands, Indonesia, p. +62 811-7008-040. 
Moyo Island, Indonesia
Moyo Island takes pride in protecting its environment, particularly the vibrant marine life residing in the all-encompassing Flores Sea. Prefer the lush greenery? Amanwana is the only resort on the island,Go where you'll find cool jungle tents for accommodation. Or opt for the ocean tent so you'll never have to wander away from the breathtaking sea views. Be sure to hop on the Amandira, a sailing ship manned by a 15-member crew that'll take you to the Komodo National Park, all as they massage your shoulders and saddle you with craft cocktails along the way.
Rates: From S$1,245 per night
Amanwana is located at Pulau Moyo, Labuhan Badas, Labuan Aji, Sumbawa Barat, Kabupaten Sumbawa, Nusa Tenggara Bar, 84351, Indonesia, p. +62 371 22233. 
Amanpulo, The Philippines
There are not many places better than Amanpulo for experiencing the best of luxury travel. The island is only accessible through private plane, and once you've landed on the airstrip, get ready to be enamoured by the emerald-green hues of the ocean and stylish cottages. When it comes to food, all ingredients are locally-grown so freshness is never an issue. Sip on coconut water any of the day, as you try your hand at diving or settle down with a relaxing meditation.
Rates: Prices start from US$1,090 per night
Amanpulo is located at Pamalican Island, Sulu Archipelago, Palawan, Philippines, p. +63 2 976 5200. 
Macleod Island, Myanmar
Most people would associate private island retreats with Indonesia or Thailand, but are you aware that Myanmar boasts an estimated 800 uninhabited islands? Yes, you heard that right. Macleod Island is just one of the many out there, and Andaman Resort has transformed the area to a place of tropical solitude. What makes Macleod unique is that you can experience first-hand the way of life of native tribes, including  culture learning about Mergui culture and exploring the Gypsy villages.
Rates: From S$694 per night
Macleod Island is located at Mergui Archipelago, Myanmar, p. +95 1 377 891.
Top Image: Bawah Reserve