Heritage Walk In The Neighbourhood: Chinatown & Raffles Place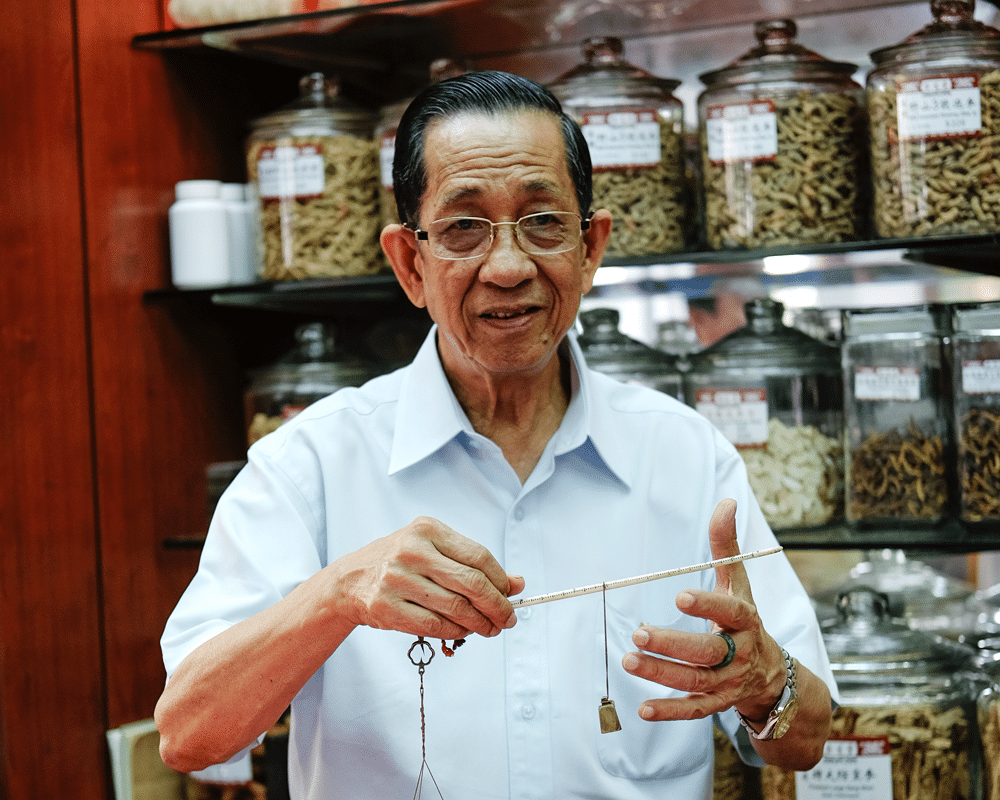 PUBLISHED August 29th, 2016 07:00 am
Singapore's downtown core may be home to some of the business world's largest movers and shakers, but that doesn't mean everything is all new and shiny. In collaboration with the American Express Member Favourite programme, take a heritage walk down Chinatown and Raffles Place with us as we discover the old world charm and history of the neighbourhood.
Wang San Yang Tea Merchant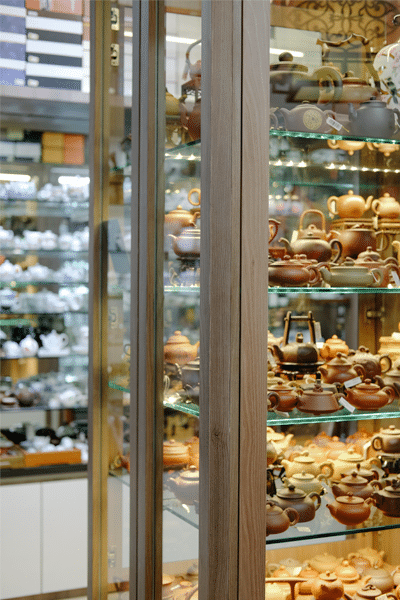 Anyone with the slightest interest in Chinese tea culture will find Wang San Yang to be quite the spectacular tea haven. Now in its third generation, the family business started out in 1947 along Telok Ayer Street, peddling nothing but tea leaves. Today sees a new space – the shop moved to its current location in 1978 – and a much larger range of products for sale. Available in 'cakes', pellets, and looses leaves, some few hundred tea varieties are up for purchase, most of them from China and Taiwan, with the occasional blend from Japan or India.
Here, you can learn the art of gong fu cha, or the traditional Chinese tea ceremony, that can be conducted one-on-one or with a group of friends. It's a beautiful and delicate experience really, only we weren't quite as graceful as our instructor was. As it turns out, each classification of tea has its own optimum temperature (85 degrees celcius for some types of Oolong, for example) for brewing.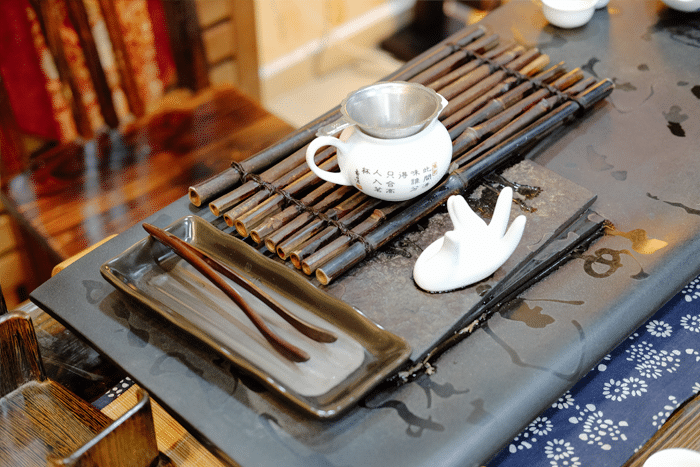 Here you can find the basic tea ware as well as some valuable collectible tea sets, ranging from $50 to a few thousand. The price is dependent on the tea ware's material quality, workmanship and their potters' reputation. The owners make their selections directly from the tea plantations overseas to meet customer's demands and expectations.
Wang San Yang is located at 531 Upper Cross St,#01-61 Hong Lim Complex, Singapore 050531, p. +65 6532 2707. Open daily 10am – 8.30pm.
Beng Thin Hoon Kee Restaurant
Finding this restaurant isn't the simplest of tasks, but you're in for a real treat when you do. Tucked away on the rooftop carpark of OCBC Centre, Beng Thin Hoon Kee serves up traditional Fujian cuisine to a loyal customer base, some going as far back as the 40s (the restaurant was officially registered in 1949).
Now in its second generation, the dishes here have barely changed since then. Why? The co-owner, Mrs Chew, tells us that customers want a taste of the olden days and crave dishes from the past. People can always head somewhere else if they want something modern, but Beng Thin Hoon Kee is all about heritage – even the chefs are all trained by the family rather than hired externally.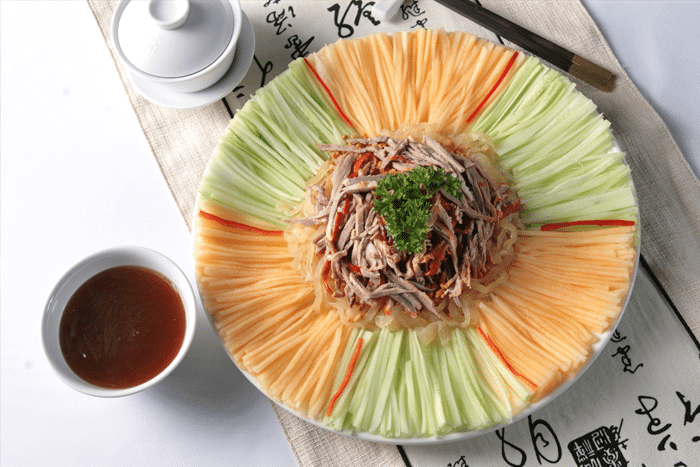 Think dishes like the cold Fujian Style Duck Salad ($20/small), made with hearty sliced duck meat, cucumber, honeydew, jellyfish and a refreshing sweet sauce; classic Crabmeat Fishmaw Soup ($18/small); and the Fujian Style Fried Noodles In Thick Gravy ($22/medium) – this is basically what we know as Hokkien Mee, topped up with chunks of fish, pork, and shrimps that goes really well with green chilli.
You can't go wrong with the Fried Oysters with Egg ($16/small) either. Unlike your usual or luak, the egg-flour mixture is fried thinly giving it a very crispy texture, surprisingly addictive with the fresh and tasty oysters. Beng Thin Hoon Kee is a great place for homely family meals, birthdays, and weddings too.
Beng Thin Hoon Kee Restaurant is located at 65 Chulia St, #05-02 OCBC Centre, Singapore 049513. Open daily 11.30am – 3pm, 6pm – 10pm.
TJ Tailors

If you work around Raffles Place, chances are that you've heard of TJ Tailors. After all, this is where many corporate workers – C-suite and associates alike – go for their suiting and shirting needs. Established more than 40 years ago at Change Alley (itself an old Singapore icon), the shop has over the decades developed a reputation for quality products and fantastic service.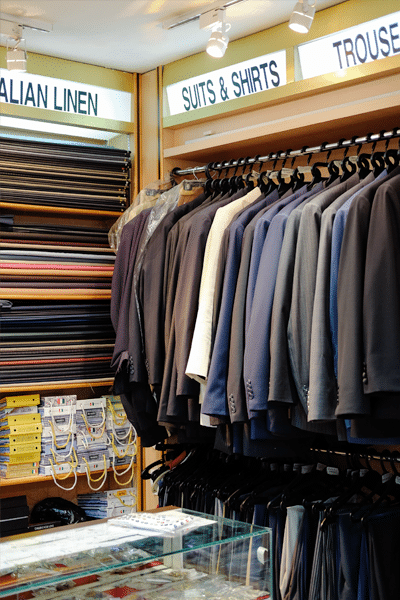 The owner here is Des, who took up the trade after his father's tutelage. In fact, some of his best cutters have been in the business for over 50 years under his father. The business is all about excellent service, even it it means late hours or hotel deliveries for tourists; precisely what makes TJ Tailors so well-known.
Step into the store and one of the first things you'll notice are the name cards stuck onto the glass displays and on the wall, bearing the names of his biggest customers. Get your measurements done, and proceed to choose from the large spectrum of fabrics.
There are no luxury fabrics here, just quality and timeless pieces such as John Ford ($500 to $750 for a two-piece suit); shirtings include Venatia and Di Lusso ($90 to $120, with mother of pearl buttons). TJ Tailors offers the best standards of classic tailoring while maintaining the mark of heritage, but if you want your slim cuts and whatnot, they can do it too.
TJ Tailors is located at 24 Raffles Place, #01-23 Clifford Centre, Singapore 048621, p. +65 6534 0301. Open Mon-Fri 10.45am – 7.30pm, Sat 10.45am – 5pm. 
Heng Say Tong Medical Hall
At Heng Say Tong – situated in People's Park Centre since the 70s –  you'll find over 500 types of herbs and related products, most of them from China and Hong Kong, where there are higher quality processing centres. Now in its third generation and second location (the shop used to be along Merchant Road in the 30s), the family-run business has its fair share of loyal customers both old and young.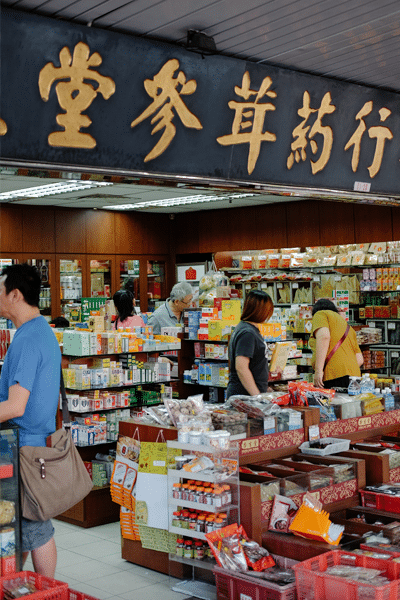 Their trade is 'Traditional Chinese Medicine', which is often viewed as some sort of quackery: "How are scorpions and snakes supposed to be good for you?" Personally, we think of it more as an alternative medicine; a different school of thought. Lee Hiang, a physician at the shop explains to us that compared to the empirical and scientific approach of Western medicine, TCM is based on several thousand years of history observing nature and how our bodies mirror and relate to changes in the natural world. This is why he recommends consuming Chinese herbs only two hours after taking pills from your commercial doctor – to make sure any potentially-conflicting chemicals have run their course.
Unlike more modern medical halls, Heng Say Tong maintains the same traditional feel in its space, the same medicine formulations, and the same methods employed by its earliest founders. Interestingly, the shop doubles up as a Chinese Physician Clinic (Lee Hiang's father and younger brother are also certified physicians), offering comprehensive consultations before dispensing you the appropriate medicine at the storefront. Expect to pay about $30 for five days worth of treatment, more or less depending on the severity of your condition and the herbs required – from the common yin qiao and powder capsules to more expensive items like cordyceps and tonic wine infused with specific medicinal herbs.
Heng Say Tong is located at 101 Upper Cross St, #01-29 People's Park Centre, Singapore 058357, p. 6533 1178. Consultation hours daily from 10am – 8pm.
Spring Court Restaurant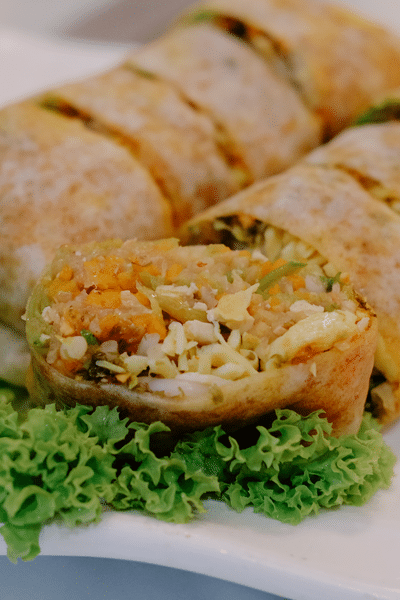 The iconic white facade of the Spring Court Restaurant is surely a familiar sight to visitors and residents of Chinatown. Step inside the massive building and you'll find five floors of dining space, private dining rooms (min. $700 spend/table) and special rooms that incorporate projector screens and even karaoke machines.
Considered the oldest family-run restaurant in Singapore, Spring Court – then known as Wing Choon Yuen – was first opened by Ho Loke Yee in 1929 at the now-defunct Great World Amusement Park, serving up traditional Cantonese cuisine for some 50 years before starting to infuse its menu with local elements.
The signature Traditional Popiah ($7.50) – huge, flavourful and rich with well-simmered vegetables and shrimp – is one example of a newer dish, and we can tell you it's one of the best we've ever had. Some have been around since the earlier days, such as the Deep Fried Soon Hock Fish ($8.00/ 100g), crispy on the outside, tender and meaty on the inside, and topped with a fragrant special sauce infused with ginger and spring onions.
There are also winners like the crispy Yam Ring with Mixed Vegetables and Prawns ($32/large), cut to reveal a beautiful soft and creamy yam interior, as well as the tender Roasted Chicken Stuffed with Minced Prawn ($22/small) that goes fantastic with the in-house chilli.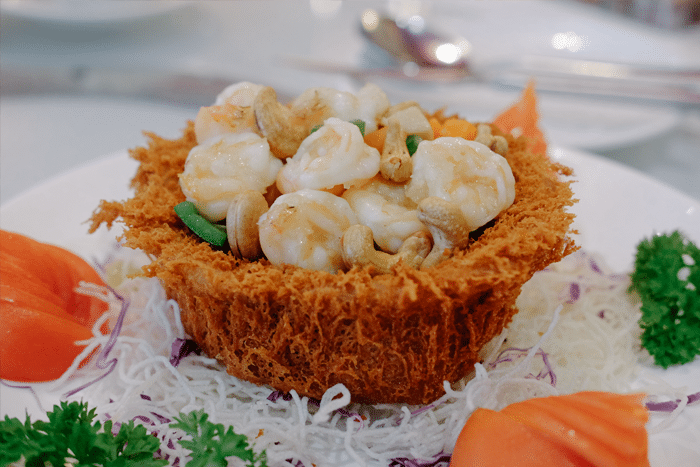 Spring Court is all about service from the heart, which means you can make special orders for custom dishes or old items that are no longer in menu, such as Bird's Nest Stuffed in Chicken and Lotus Seed Braised Duck. And don't leave without trying the exclusive Lychee Tie Guan Yin tea!
Spring Court Restaurant is located at 52-56 Upper Cross St, Singapore 058348. Open daily 11am – 2.30pm, 6pm – 10pm.
---
From July to December 2016, City Nomads will be partnering with American Express to release a series of neighbourhood guides on the best places to shop, dine, and play for AMEX Card Members – basically, what's good in the neighbourhood.
The American Express Member Favourite programme recognises select small merchants that are the most popular – identified through spending patterns by AMEX Card Members. Find other popular merchants by looking out for the American Express Member Favourite decal on shop windows, or by clicking here.