Recap: Vietnam's EPIZODE Festival Is About To Become One Of Electronic Music's Elite Events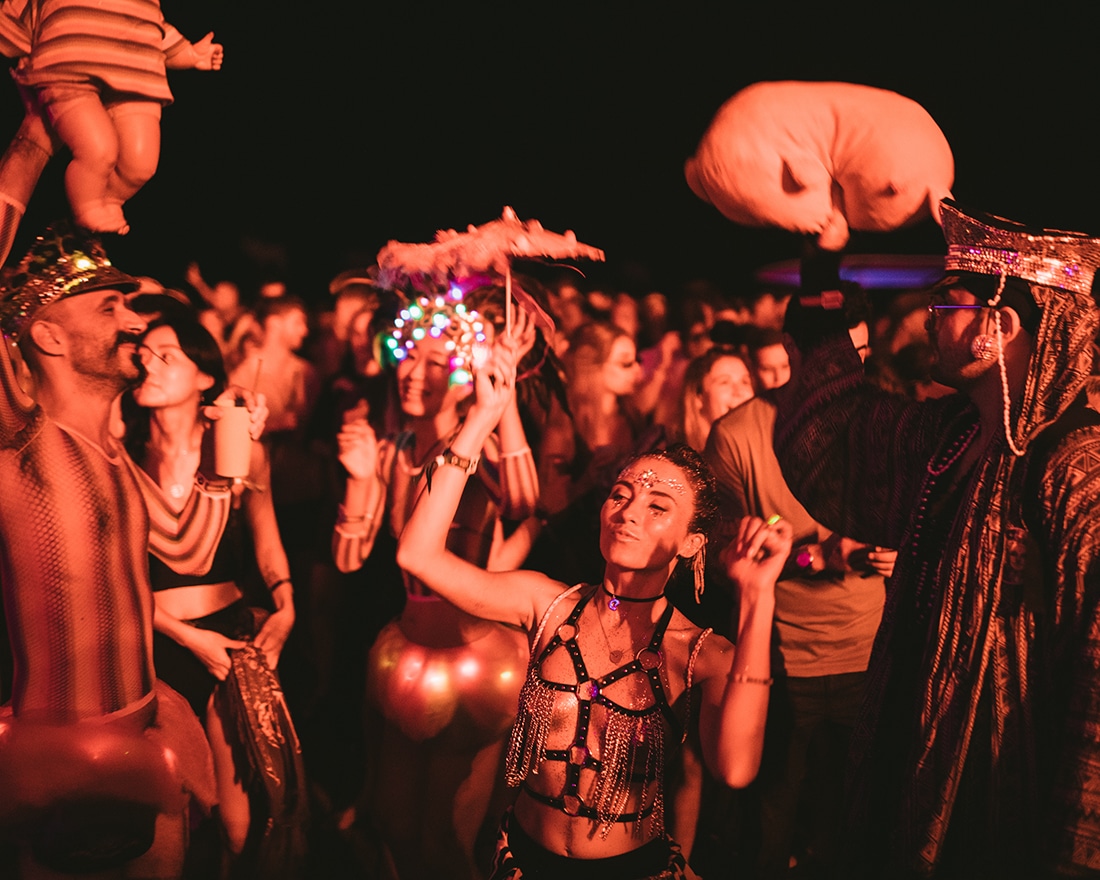 PUBLISHED January 11th, 2020 06:30 am | UPDATED May 18th, 2020 06:33 pm
EPIZODE is the electronic music festival that rocked our world. It's also the festival that we haven't quite recovered from — turns out that three consecutive nights of partying until sunrise isn't the best for your body. It makes us wonder how some people tanked through the entire 11 days last week, over one particularly boisterous New Year's night, no less. As one festival organiser puts it, "The energy was unreal. I've been doing events like this for 20 years, but still, the energy was unreal!"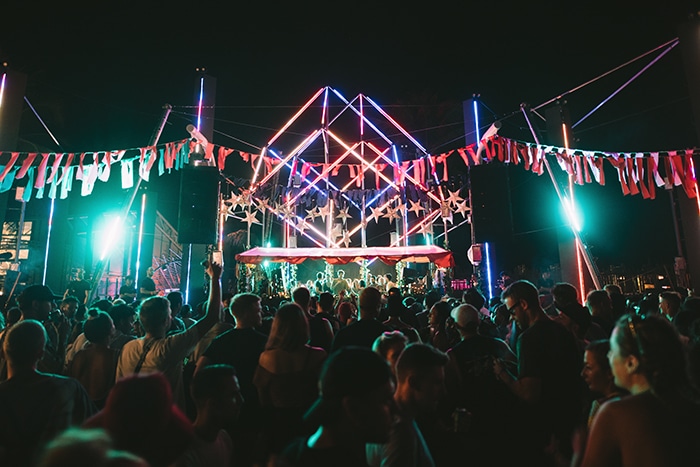 Like in previous years, the fourth edition returned to Phu Quoc, one of Vietnam's most paradisiac island destinations where the weather is mostly great — a mix of occasional balmy skies and mostly blazing sunshine. The exact venue, Sunset Sanato Beach Club, is best known for its enchanting sculptures and art installations, like elephants on stilts and a massive face that's great for Instagram — things that the electronic music festival have become synonymous with. Here's what we loved about the whole shebang.
[button color="red" size="normal" alignment="none" rel="follow" openin="samewindow" url="https://accesstra.de/000pvo000ao5″]Book your accommodations in Phu Quoc from S$30/night[/button]
Non-stop music from over 130 artists on four stages
Typhoons in October might have wrecked the original festival venue and structures, but a quick rebuilt brought back all four of the beloved stages from last year, along with more than 120 techno and house artist bookings, including big guns Agents Of Time, Loco Dice, Christian Löffler, and Nicolas Lutz among those invited onto the main stage. Many DJs played multiple sets, like Copehangen producer Alvaro Suarez with his melodic tracks inspired by classical music, first on the imposing Main Stage and again at the more intimate Frisbee Stage. Crowd favourite Ricardo Villalobos hit the decks during a jubilant sunrise session at Frisbee with two hours of his signature sonic hits, causing a an impassioned frenzy among those who stayed up to catch the German legend, who returned for the third year running.
YouANDme, from the techno capital Berlin, hyped up the dance floor with his original productions and powerhouse remixes leading up to New Year's, passing on the deck to Lehar soon after the strike of midnight (and a swirl of hugs, kisses, and balloons) to curate his deep atmospheric beats.
More regional representation
We also noticed a stronger Asian contingency than last year set up on the intimate Eggs stage. ALINEP from Manila took the crowd through spectacular sunrise on the first Saturday with his unique blend of different genres, and other regional representation include local DJs Di Linh and Ouissam, Tokyo's Masda and Kabuto, and Sunju Hargun from Thailand. But if there's one thing we learnt, it's that there's really no need to name-check the schedule. All the acts are talented, and we moved from stage to stage based on what sounded good rather than what we saw on the app. Plus, checking who's coming up next can be exhausting when the music goes on for 24 hours non-stop.
And a more diversified audience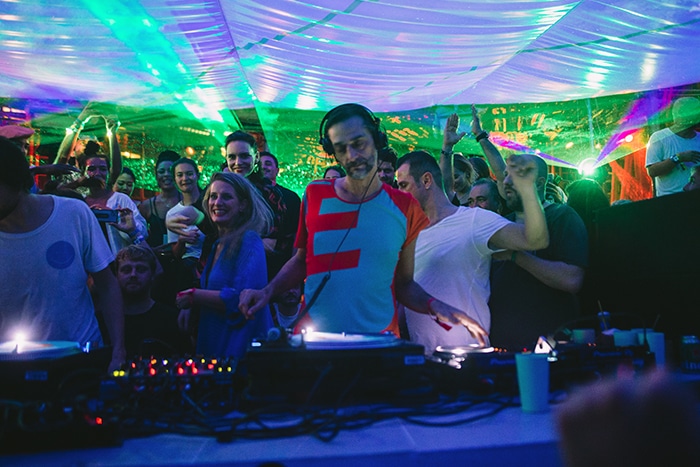 The artists aren't the only one that's diversified quite a bit. EPIZODE might have seen mainly Russians in the first two years, but the attendance this time comprised 10% from Vietnam and over 50% from the rest of Asia, Europe, and other countries. It's an important stat considering EPIZODE is run by Sagrado Corp, a Moscow-based entertainment company. The crowd turned up in all sorts of festival garb, from glowing bubble costumes to silky lounge robes, making this a tad more eclectic than your usual fete.
The switch to a better sound system
Having been lucky enough to attend EPIZODE for the past years, one of the most important improvements we noticed this year was the switch to the German d&b audiotechnik loudspeakers, which is a highly-respected sound system often used for festivals and rock concerts. The result was amazing, and it sounded great, like watching HD for the first time and being wowed by all the details and clarity.
The festival went eco for the first time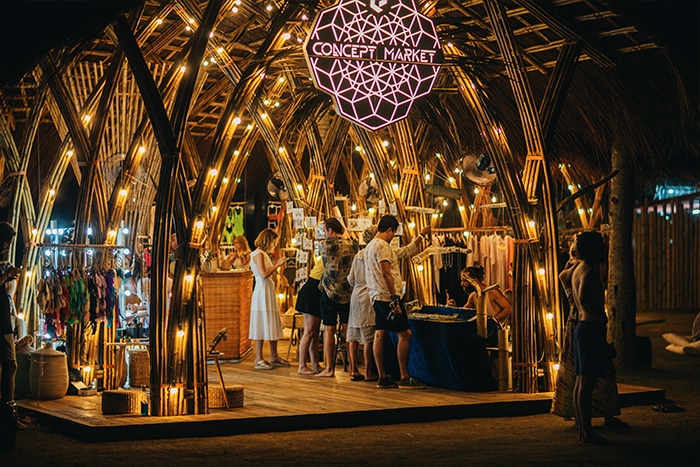 EPIZODE's eco policy was another new thing, from bamboo ashtrays and water fountains that guests could fill their own bottles with, to wooden cups (that could be returned for a token) and recyclable aluminium cans. There was also an artwork which saw 500 chip bags folded inside out and made into a glorious installation. Oh, and a massive beach clean-up that we sadly had to miss!
Holistic vibes all around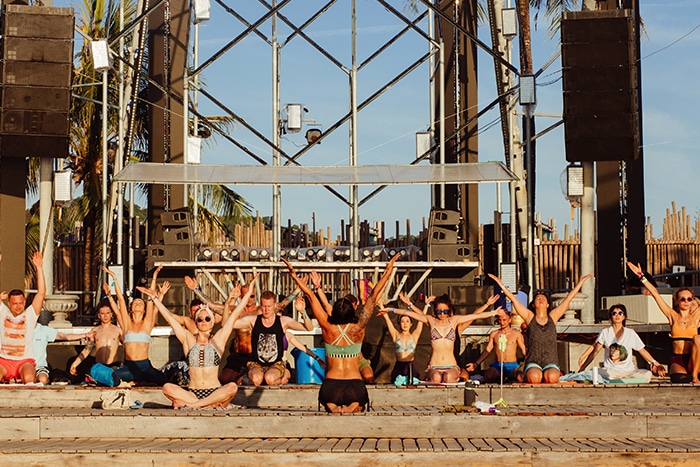 The inviting aroma of palo Santo permeating the Concept Market (which featured 15 art fashion projects from around the world) was a huge draw, as were the recurring gong healing, meditation, and sunset yoga sessions on the main stage. It helps that Long Beach is one of the most beautiful beaches in Vietnam, let alone Phu Quoc. The white sand lapped by the Gulf of Thailand's blue-green waters make the ideal backdrop for the festival's demographics: hippy backpackers, techno freaks, and cosmic ravers across more than 70 countries, we are told. Arms flailed and feet shuffled as we all swayed in agreement: EPIZODE is going places in the world of dance music, and a screwed up body clock is a small price to pay for something this special.
EPIZODE4 took place from 27 December 2019 – 7 January 2019. Stay updated with EPIZODE news on their official website and Facebook page.