Restaurant Ibid Singapore: MasterChef Asia Winner Woo Wai Leong's Nanyang-Style Cuisine is Food that We can Relate To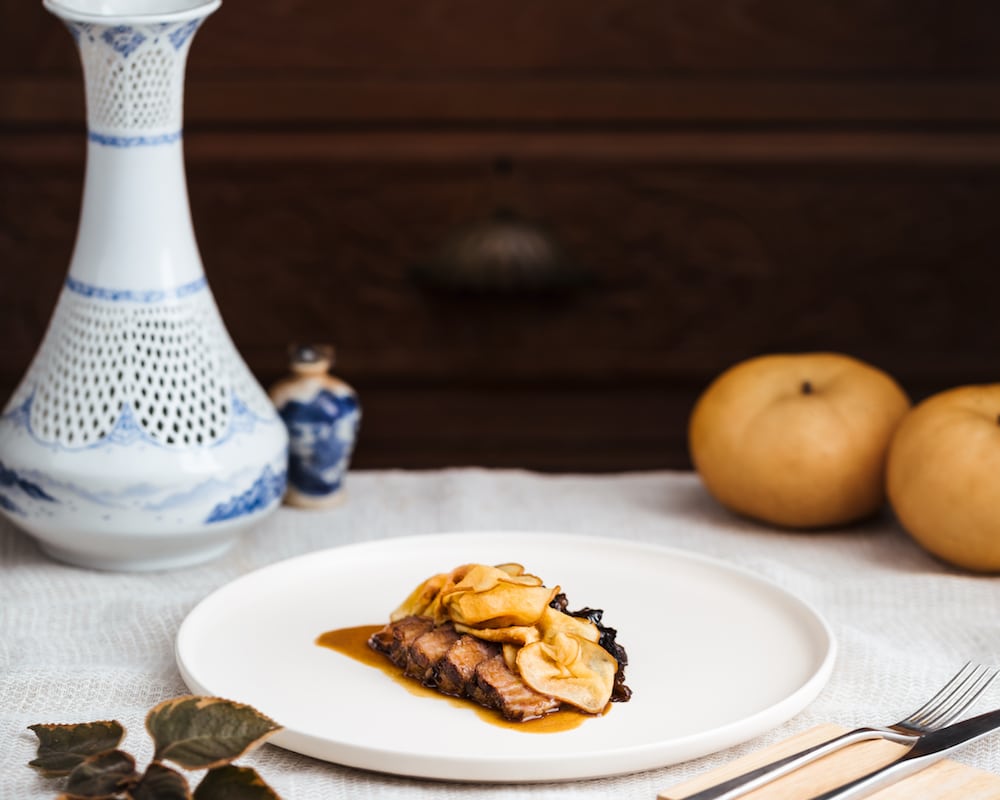 PUBLISHED May 28th, 2018 12:00 pm | UPDATED May 29th, 2018 06:07 pm
There were plenty of surprises at Woo Wai Leong's month-old Restaurant Ibid on North Canal Road. For one, the affable chef was doing service on the floor (as opposed to being in the kitchen) – be it answering the telephone or explaining the tasting menu, making the wine recommendations, and even clearing our dishes. And in spite of the man's inability to speak his mother tongue fluently, it's clear that he's loud and proud about his Chinese heritage, since he's staking his debut restaurant (almost three years after his win) on it.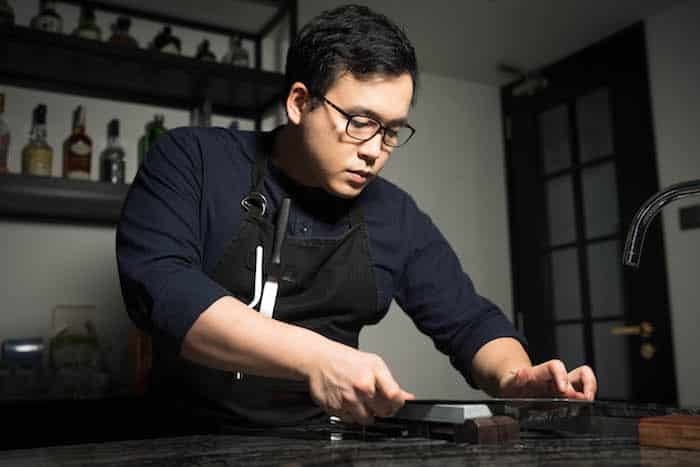 Amidst the simple but refined Chinoiserie-inspired interiors, chef Woo's exposition of Nanyang-style cuisine as an exploration of his Chinese heritage while applying Western and modern cooking techniques is fairly easy to grasp. Nanyang is a sinocentric term that refers to the region with warmer and fertile geographical region south of China – ie. Southeast Asia – and to the Chinese diaspora that now inhabit that region. Coming from a similar background (my Mandarin is also not great), the storyline and the name Restaurant Ibid (meaning "from the source") also surprisingly dredged up a classroom memory where I learnt 饮水思源, a Chinese idiom that means "when one drinks water, one must not forget the source".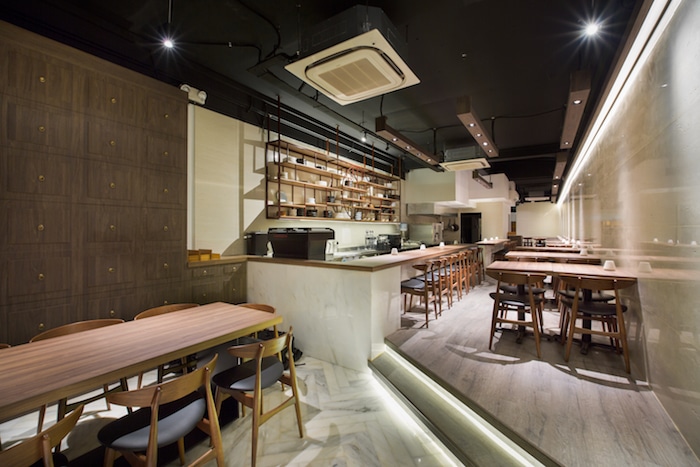 Currently only open for dinner, we went for the six-course omakase ($88++; $78++ for four course and $118++ for eight), which really turned out to be more like eight courses because the snacks were as thoughtful as the main menu. It was incredibly difficult to not reach for the last piece of the Spring Onion Shao Bing stuffed with spring onions, mozzarella cheese, black pepper, and sesame oil. Pan fried till golden brown, these yeasted dough gems are also accompanied by a moreish butter whipped with a yeast paste, a drizzle of laksa leave oil, and a topping of deep fried laksa leaves.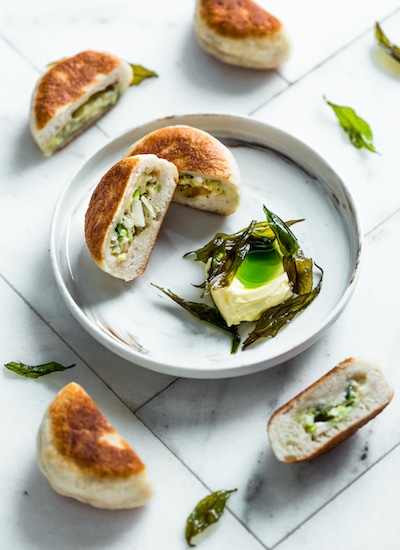 The second amuse bouche of Escargot Skewers is brushed with doubanjiang (fermented chili bean paste), the skewers are grilled over charcoal and covered in bawang goreng (caramelized shallots), then wrapped in betel leaves and grilled again.
If that sounds like a lot of work, at least you can be assured that there are as many layers of flavours as there are steps to getting these skewers on the plate.
The first actual course is a reimagining of a childhood snack, the Tea Egg. A sous vide organic egg yolk with a jam-like consistency sits in the middle of the bowl on white onion cream, in a gentle broth of kelp, pu-er tea, crystal rock sugar, and aged mandarin peels.
Fried in brown butter and salt, the fresh shitake mushrooms and gingko nuts give texture while the garnish of fennel fronds adds a herbal aroma that the broth lacks (but is present in the actual tea egg).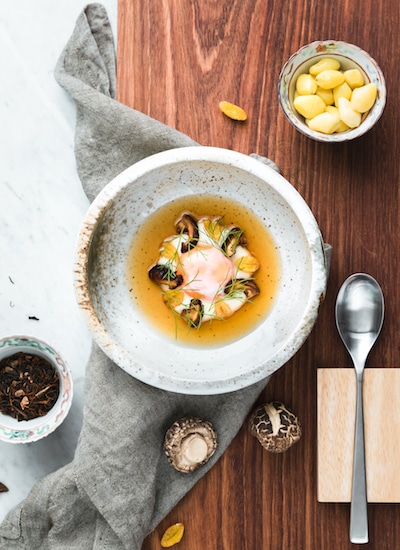 Something more to the point is the Lamb Tartare. Inspired by spiced lamb skewers that are a fixture in Chinatown, chef Woo's twist uses lamb rump that's charred, chilled, and hand chopped before being mixed with celery, white onion, and a spice mix of cumin, dried chilis, and Szechuan peppercorn.
The dressing of roasted garlic yoghurt and mint leaves alleviates some of the heat and makes for richer mouthfeel with the lean cut.
The dining experience was peppered with anecdotes from the chef, which was how we learnt that the White Radish Porridge was a result of his sister's request for an indulgent vegetarian dish. Some may not be a fan of the texture of the main component of the dish that's made with boiled white radish trimmings, overnight rice, and soy milk – but I enjoyed it with the pickled radish that tastes like chye poh (preserved radish) and the battered bamboo shoots, though the addition of century egg yolk powder doesn't seem to enhance the dish in any way.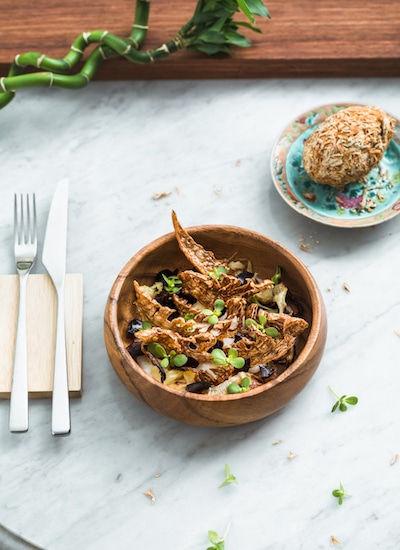 When it came to the meats, I much preferred the charcoal-grilled Momoiro Collar to the signature Short Rib, perhaps because the latter is a lot heavier. The former felt like a play on sweet and sour pork with the glaze made of caramel glazed with Chinese black vinegar, red fermented beancurd and red rice wine lees, enriched with butter. It works well with the twice-fried sweet potatoes and Savoy cabbage sautéed with butter, garlic, and shio kombu.
Having undergone countless revisions, the short rib has followed chef Woo throughout the years and different pop-ups. All the components are robust, from the 48-hour sous vide short rib to the black garlic mash, the angelica root infused chicken jus, and the charred black fungus. The acidity, then, comes from the Chinese pears that are more chewy than crunchy. The last savoury dish is a twist on the familiar Lotus Rice. Although ingredients like chestnuts and dried shrimp are removed, the steamed glutinous and shortgrain rice come with caramelized dried shiitake mushrooms, foie gras, and grated preserved liver sausage – certainly one for the offal lovers!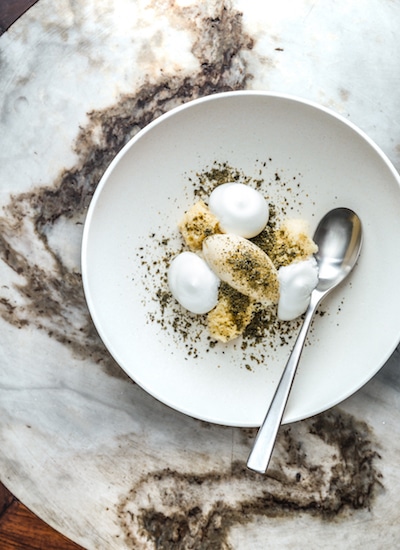 Finishing off the meal are two desserts of contrasting flavour profiles. I have never been a fan of Soy Milk Ice Cream and while I haven't changed my mind about it, I loved the Asian cookies and cream vibe going on in the dessert with the black sesame crumble, sesame oil cake, and the pepper meringue. A dessert closer to my heart and home is the Red Bean; the rosella tang yuan (glutinous rice balls that have no filling) sit on ginger crumble and are served alongside yogurt ice cream, cherry gel, sour hibiscus leaves, and house-made red bean jam.
For most part, eating at Restaurant Ibid on a Monday night (read: no crowds) was an enjoyable experience. The alcohol selection is not fully complete, but there's wine and beer that ring in the range of $14 to $20 a glass or bottle, and we hear there might be cocktails soon. I'm not sure how a diner who doesn't eat with rose-tinted glasses of Nanyang nostalgia and heritage might see chef Woo's offerings, but I guess we'll find out soon enough.
Restaurant Ibid is located at 18 North Canal Road, Singapore 048830, p. +65 9151 8698. Open Mon-Sat 6.30pm-10.30pm (last order 9.30pm).
Top Image: Angelica Root Short Rib