Blue Lotus Chinese Grill House: Contemporary Chinese Fare on the Grill at Tanjong Pagar, Singapore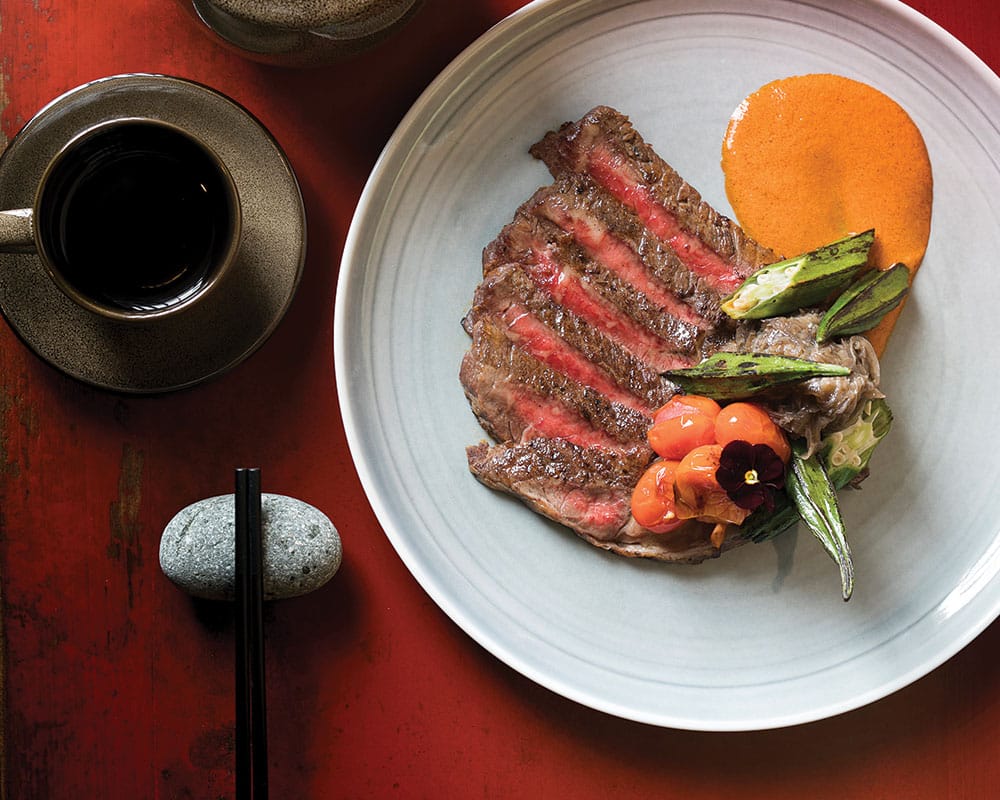 PUBLISHED September 25th, 2017 06:00 am

Chinese restaurants dishing out chilli crabs are a dime a dozen in Singapore, but none are quite as unique as the marriage of pomelo and the spicy local signature at contemporary Chinese cuisine brand Blue Lotus's first restaurant, Blue Lotus Chinese Eating House. Following an expansion into a further two outlets, owner Ricky Ng brought their signature chilli crab to Blue Lotus Chinese Grill House – with an interesting twist.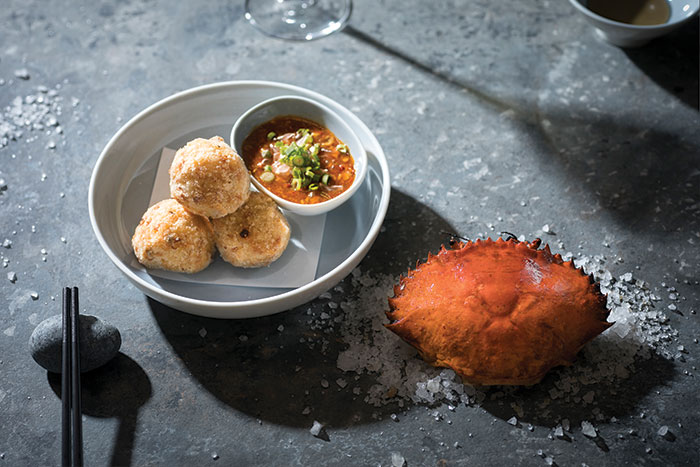 Situated in the heart of Tanjong Pagar and with easily accessible to the station, Blue Lotus Chinese Grill House is a draw for both lunch and dinner crowds for its affordable set lunches ($18++), extensive a la carte dinner options and handy selection of cocktails, beers and house pours (the latter two with a 10-hour Happy Hour promotion of $8 to match). The brightly lit space, a standalone spot unattached to other buildings, features both alfresco and indoor seating, as well as a private dining room to entertain guests.
A clear appeal is the open-concept kitchen – a first for Chinese restaurants, where most of the cooking happen behind closed doors. Here, chefs prepare and serve up food in full view of the diners, with the aroma from the Josper charcoal oven giving us a tantalising teaser of the dishes to come.
First up was the crispy Chicken Skin, Chilli Yoghurt Dipper ($9++), a platter of five pieces of skin artfully arranged on a salt pebble beach and resembling a Chinese sail boat. The skin was not deep fried as served in other eateries – rather, all the fat was meticulously scraped off, and the skin was then dried and crisped in the oven. The result? A chip-like texture with a hint of smoke from the oven, and the crunch as you bite down is utterly satisfying. Have them with the yoghurt dip and spring onions served, which uses the same chilli oil as Blue Lotus' signature crab, for a little more heat without being overpowering.
Of the brand's signature crab, a rendition at the Chinese Grill House is the Crab Balls ($22++) with chilli pomelo sauce, a less heavy, tapas version great for sharing in a group during both lunch and dinner. The crab meat is held together using only egg white and coated in crumbs, creating a ball chockfull of crab meat and fried to a crisp on the outside. And the dipping sauce is what gives this the signature Blue Lotus name – liquid chilli sauce for you to pour over your crab, with pomelo to give the sauce some more oomph. It's chilli crab without the need to use your hands – and definitely something we could come back for.
And what's a Chinese meal with char siew? Blue Lotus Chinese Grill House's interpretation puts their Josper oven to great effect – the Hickory Smoked Honey-glazed Kurobuta Pork Belly ($16++). Served with grilled lime and pickled daikon, the pork is not as sweet as its traditional cousin with a much stronger smokey taste. Squeeze the lime over the meat and let the pork belly soak in the juice for a bit – the sour tang makes for a crescendo of flavour in your mouth with the smoky meat.
We also enjoyed their grilled 140g Australian Wagyu Beef Ribeye (MBS 3-5) ($48++), with caramelised onions, grilled ladies fingers and red pepper chilli puree. The onions enhanced the medium rare beef's rich flavour, particularly when indulged with the warm chilli puree served with the meat.
An exquisite finish to the meal was the Durian Crème Brulee ($14++), a custard pudding created with D24 durians and served with fresh fruit. Upon cracking the torched surface, the strong smell from the king of fruits was unmistakeable, but the taste of the durian was not overwhelming – the cream mixed with the fruit made the dish light and not too sweet.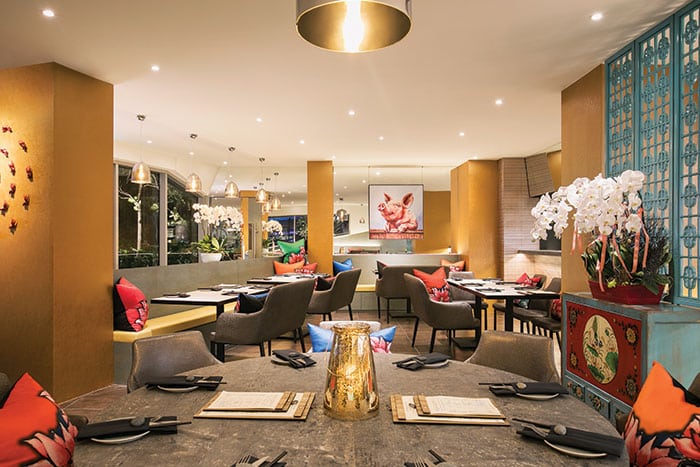 Not your usual Chinese cuisine with its decidedly modern take on the grill and their signature Pomelo Chilli Crab getting an all-new look, Blue Lotus Chinese Grill House is sure to be a culinary experience for diners looking for something new in authentic Chinese food. With its long Happy Hour promotion, knock back a few as you wait for your meal – after all, the smell from the open concept kitchen alone is sure to leave you salivating.
Blue Lotus Chinese Grill House is located at 5 Wallich Street, #01-13 Tanjong Pagar Centre Singapore 078883, p. +65 6910 0880. Opens Mon-Sat 11.30am – 10.30pm. Closed Sun.

Cover image: 140g Australian Wagyu Beef Ribeye