Restaurant Review: Clos Pasoh Delivers a Casual French Dining Experience in Chinatown, Singapore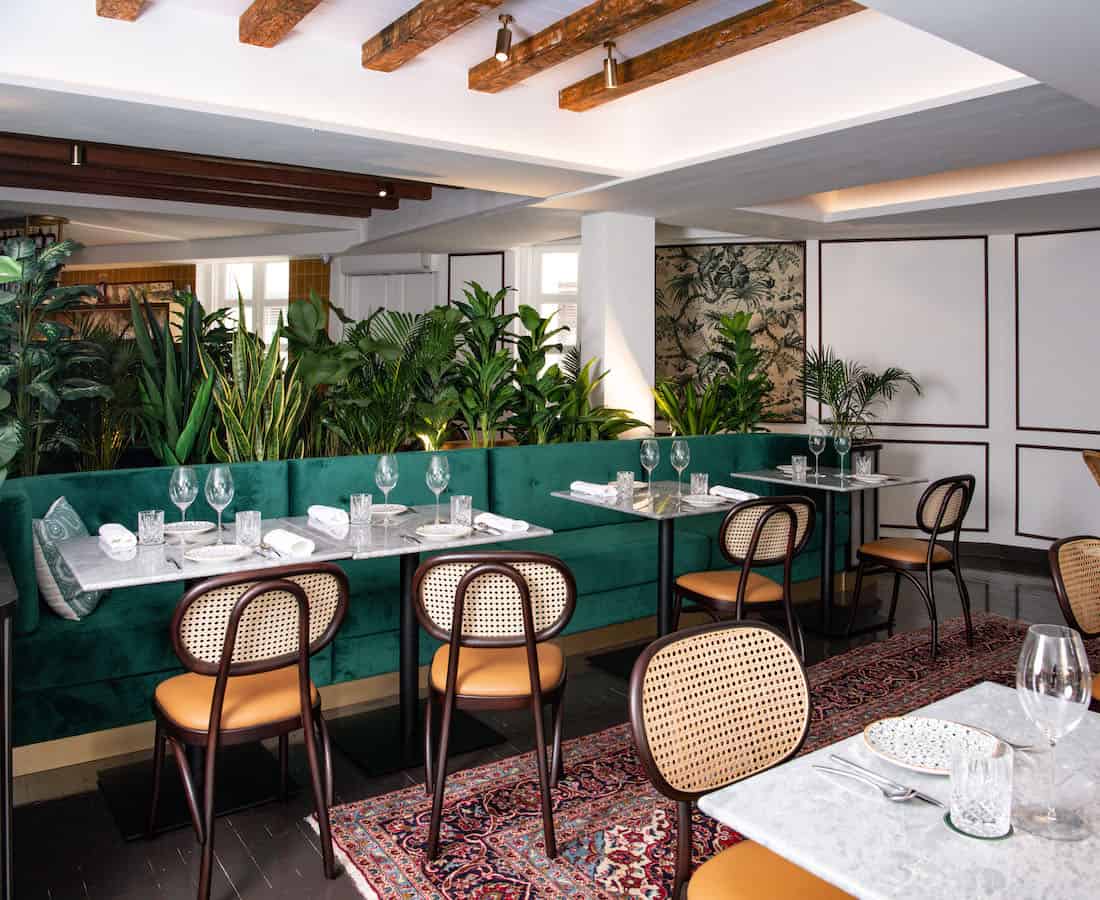 PUBLISHED March 23rd, 2021 05:00 am | UPDATED March 29th, 2021 02:52 pm

A sub-district of Singapore's Chinatown, Bukit Pasoh is known for being home to solid restaurants and vibrant cocktail bars – as well as fitness studios to work it all off. Joining this excellent bunch is a new kid on the block this month: Clos Pasoh, a contemporary French restaurant that's got the goods with an extensive wine selection (up to 1,500 labels!) and a refined menu of brasserie classics.
Named for the clos (walled vineyard in French) and the pasoh (a nod to the location and the Malay named for earthen pots), Clos Pasoh is the brainchild of entrepreneur Jean-Christophe Cadoret – who also owns Gaston on Keong Saik – and Chef Louis Pacquelin, a protégé of celebrity chef Alain Ducasse. A veritable oasis with lush greenery encircling the main dining hall that seats 50, the restaurant also boasts an outdoor terrace that boasts a charming view of the neighbourhood and an eight-seater Chef's Table.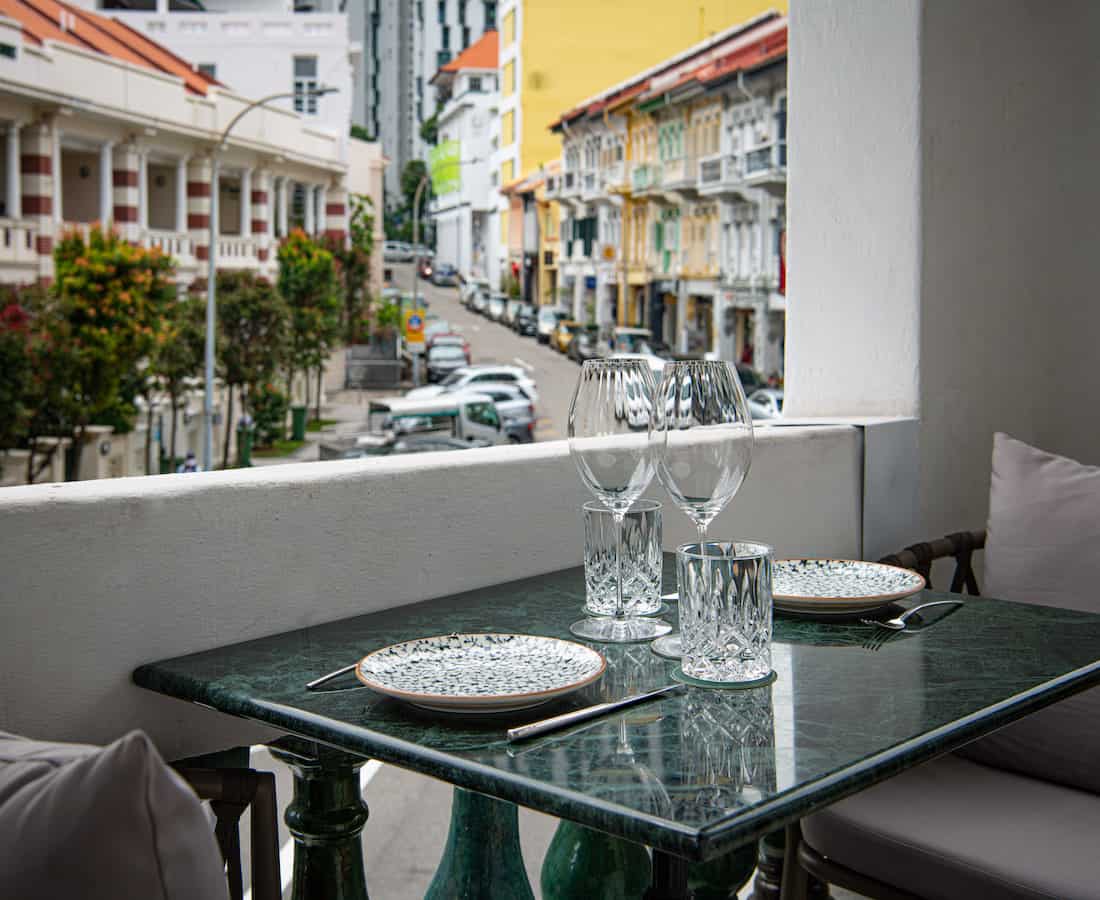 Our evening commenced with an elegant, sparkling
Eric Bordelet Poiré "Granit" Cider
from the Loire Valley, made with fruit from 300-year old trees. Its delicate yet complex flavours make it an intriguing substitute of champagne, but more importantly, whetted our appetite for the
Cervelle de canut (
S$12). A traditional herb-flecked fresh cheese from Lyon – 
Chef 
Pacquelin's culinary training ground –  it's drizzled with vinegar for acidity and walnut oil for a 
touch of earthiness.
Imagine our astonishment at the next starter, for the
Tête de veau (
S$12) arrived looking like the deep fried 
wantons
 we know and love. Instead, these 
crispy bite-sized morsels contain a soft, gelatinous calf's head filling
 that take between four to seven hours to make. Don't miss the accompanying "wasagote" sauce, where fresh wasabi's heady punch cuts through the richness of the filling nicely. Our wine of choice of maximum enjoyment? The full-bodied, high acidity 
2014 Riesling Grand Cru Albert Boxler
 that perfumes 
your palate with white fruit, citrus, and floral notes.
Another plate of dumplings follow – the
Bisque Coco-homard
(S$29). The flavours of the steamed lobster ravioli and Maine lobster medallions stand out as the usual cream in bisque has been swopped out for coconut milk here. Thai basil and kaffir lime are also added, further enhancing the lightness of the flavourful soup. 
The pairing wine, 
Jerome Dehours Chardonnay Coteaux Champenois
, is a still white from Champagne, one varietal that you'll be hard-pressed to find on the wine lists of Singapore.
For our main, Clos Pasoh served its pièce de résistance, the traditional French beef stew 
Pot-eu-feu
 (S$128). The broth is cooked thrice, then infused for one minute with dehydrated kitchen vegetable trimmings and fresh herbs in a syphon at the table. Poured over tender cuts of Angus beef short rib, oyster blade and cheek, this wholesome 
dish is best shared between two to four. The best part? It comes with a small dish of poached foie gras to be enjoyed while waiting for the consommé to infuse.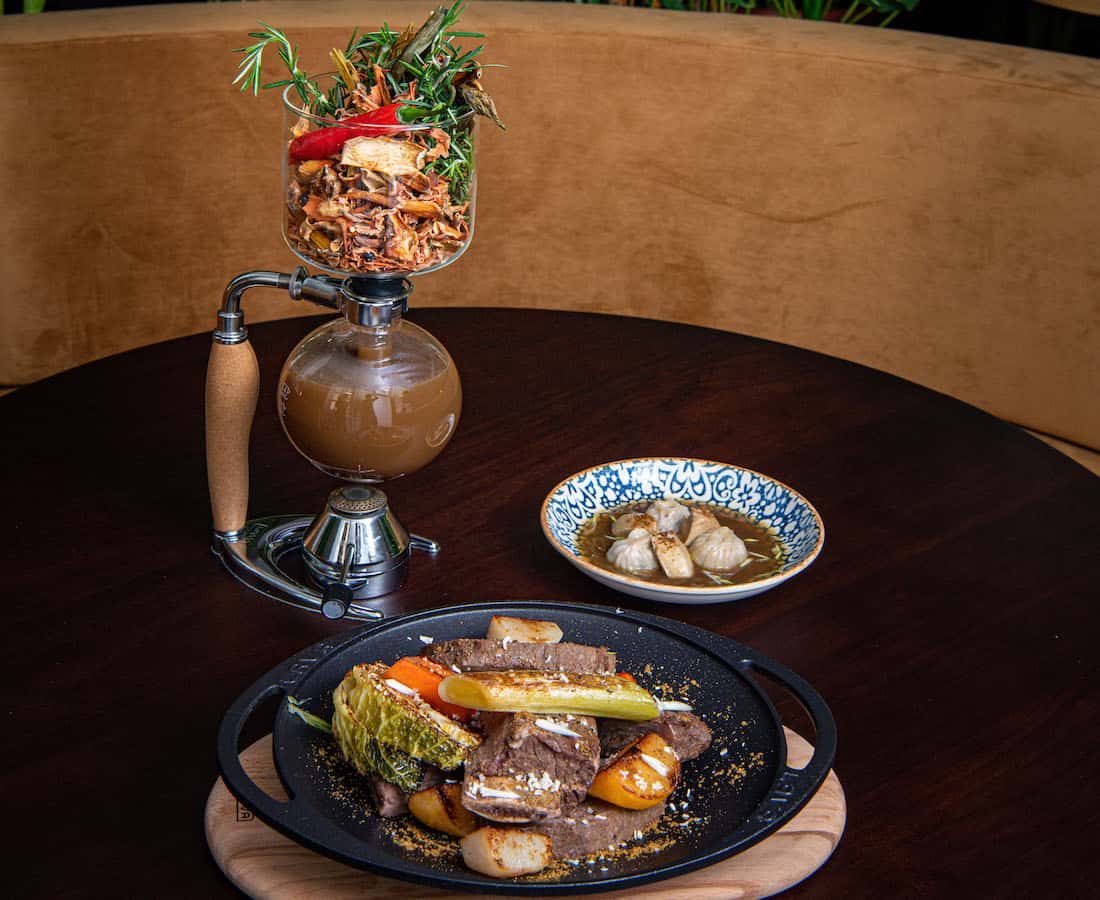 Maximise your enjoyment with a glass of 2001 M.Chapoutier Sizeranne Syrah Hermitage from the northern Rhône valley. Rounded and well-balanced with gentle tannins, notes of red fruit and pepper pair well with the vibrant broth and fattier beef cuts.
Before our stomachs could protest, desserts arrive, and oh, how glorious is Chef Pacquelin's
Mousse au chocolat Guanaja, façon grand-mère
(S$13). Borrowing his mother's recipe, the
Valrhona Guanaja dark chocolate mousse
 is perfectly bittersweet and served with a side of biscotti, a throwback to how he used to enjoy the dessert as a little boy living in Italy.
Instead of petit fours, we get Rhum Baba, definitely a great way to 'cheat' after 10.30pm. Served complimentary after every meal, the small yeast cake saturated in a syrup made with rum might just be the thing that'll prompt you to make your next reservation at Clos Pasoh.

Clos Pasoh is located at 48A Bukit Pasoh Road, Level 2, Singapore 089859, p. +65 6980 0672. Open Tue 4.30pm-11pm, Wed-Sat 12pm-11pm. Closed Sun & Mon.