Restaurant Review: Fat Prince Offers Fatter Menu Of Mezze And Meats In Tanjong Pagar, Singapore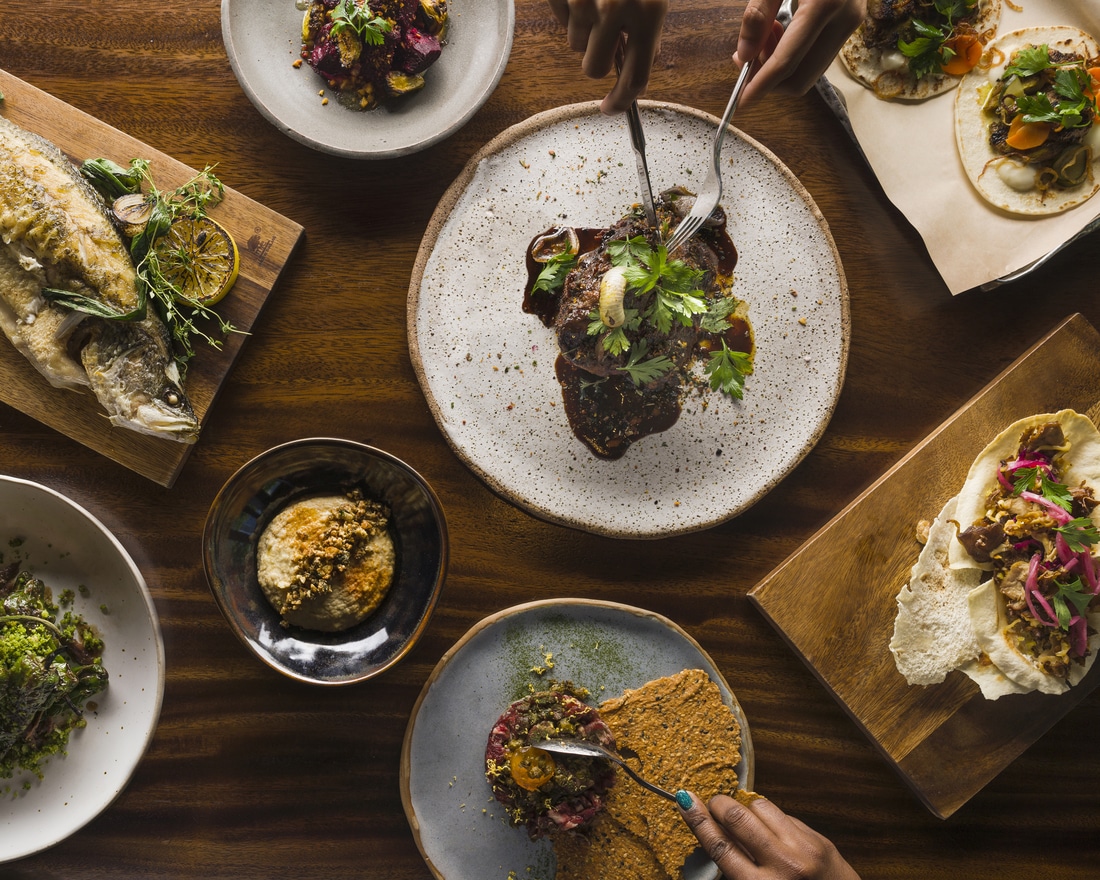 PUBLISHED October 8th, 2019 06:00 am | UPDATED February 7th, 2020 06:38 pm

No roll call of Middle Eastern joints in Singapore is complete without Fat Prince, the buzzy kebab cafe-bar on Peck Seah Street, a stone's throw from Tanjong Pagar MRT. If you've ever hit up this intimate spot on weekends or even weekday nights, you'd likely have found it thronged with tipplers. The bustle of funky beats and boozy cheer was audible through the archway linking it with its sister restaurant, The Ottomani.
Thanks to its recent venue revamp, Fat Prince now has more room to spread out and a fatter menu to boot. Fat Prince takes over The Ottomani's premises, with the expanded space now accommodating 90 diners. Don't worry, the latter isn't gone for good – it's currently looking for a new home.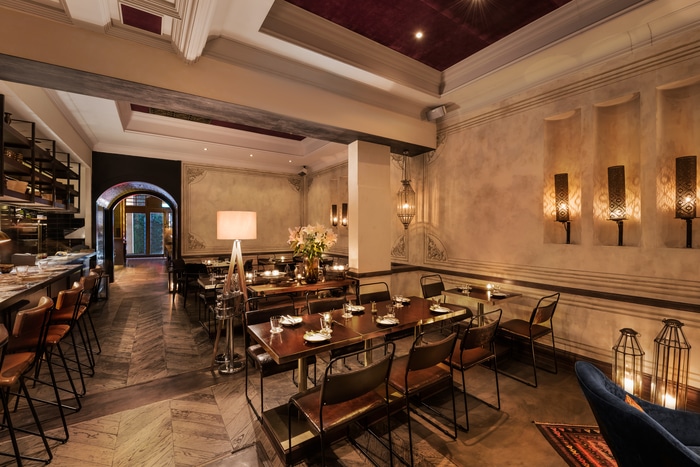 Little has changed of this restaurant's opulent, old-world vibe. The plush settees, intricately-patterned walls, and dusky candlelight glow of The Ottomani remain, though gone are those iconic hanging oil lamps. A lovely addition is the dining counter − a stunning mosaic countertop of turquoise and red Turkish tiles − which commands front-row views of the open kitchen.
The drinks menu, too, has dashes of something old and something new. Playing with Middle Eastern flavours like zhoug and herbed yoghurt, Head Bartender Shallum Recto has created an adventurous range of cocktails (or 'koktails', as they charmingly call it). For apéritifs, we have the Morning Star (S$20), a fizzy number of Aperol, Prosecco, and ginger beer with zesty grapefruit. Light and refreshing, it whets the appetite beautifully, as does the Gimlet 100 (S$20), a citrusy gin concoction with Japanese cucumber cordial. Fat Prince regulars will be pleased to see the signature Negroni Rouge (S$22) and Negroni Blanc (S$22) on the menu, as herbaceous and well-balanced as ever.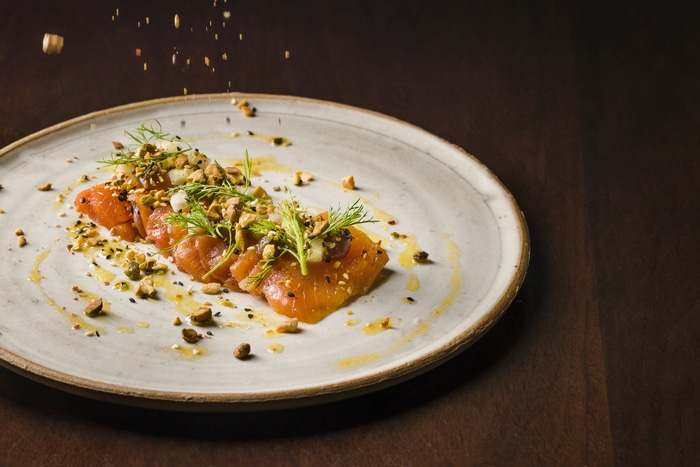 But the food is what you really need to head down for, since the new Fat Prince features an expanded selection of mezze that incorporates creative dashes into Middle Eastern cuisine. We start off traditional with a dip − Eggplant Meet Yoghurt (S$12), a vibrant mix of eggplant, burnt almond, and tangy sultanas. It tastes extraordinary atop a piece of Turkish flatbread (S$4), house-baked to soft, thick perfection. The Cured Salmon Crudo (S$18) makes another refreshing starter, with the smooth chewiness of sashimi and a pleasant tartness from pomegranate molasses.
The Tagine Jus Couscous (S$17) is ode-worthy, because it takes you into a whole new world of dazzling tastes you never knew. Forget the sad, dry couscous you find in salad bowls − Fat Prince's hand-rolled rendition is divinely moist, fluffing up in light, fragrant clumps on your fork. An unusual touch, chicken skin dukkah, lends it an alluring smokiness, cut through by tangy sprinklings of lemon and green olive.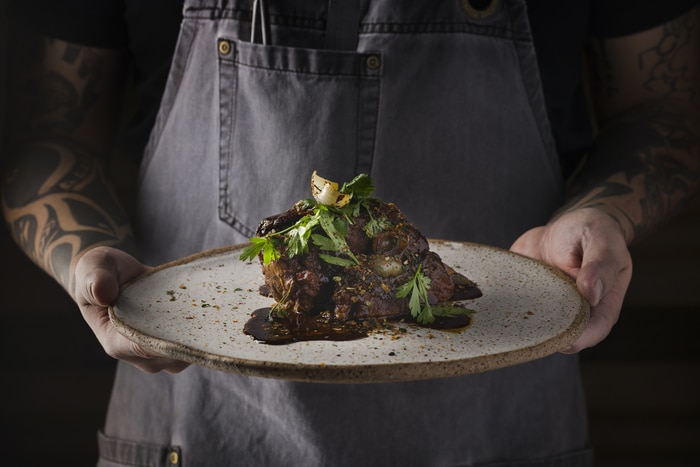 One heavier dish imported from The Ottomani is the Slow Cooked Lamb Shoulder (S$32 per 100g). This crowd favourite requires a labour of love, inspired by Istanbul's famous Büryan kebabs − lamb is rubbed with a heady blend of spiced molasses, sumac, and chili, before being buried in Fat Prince's custom earth oven and slow-roasted for 24 hours. An exceptionally tender lamb emerges, with a depth of flavour that masks any hint of gaminess.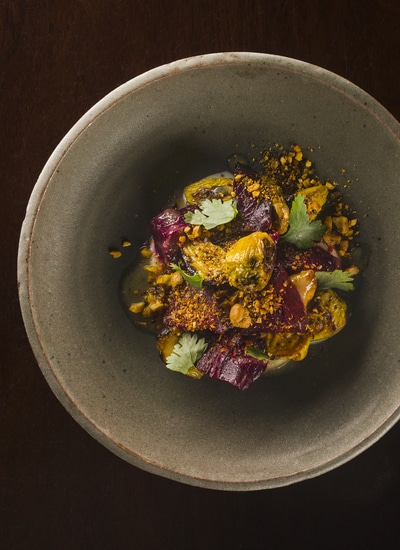 Small plates keep arriving thick and fast, bringing robust explosions of flavour. The flaky pastry of the Duck Pastilla (S$18) melts in the mouth, releasing tender duck filling (an apt replacement for the traditional pigeon) along with roasted carrot and almond.
Whether or not you're a veggie lover, the Roasted Candied Beetroot (S$16) makes a delightful accompaniment to the savoury meats − a sweeter version of the usual roasted beets, infused with mulled honey and smoked yoghurt.
We finish up with a decadent take on halva – the Chocolate Halva (S$12). This traditional pumpkin-based dessert is deliciously amped up with chocolate cream and cacao nibs, with the spiced pumpkin cubes unfolding darker, richer notes in the chocolate.
It's a brilliant way to freshen up Middle Eastern flavours – and the same can be said for all else in Fat Prince's revamped repertoire. This is one expanded menu that's certainly worth the risk to our expanding waistlines.

Fat Prince is located at 48 Peck Seah St, Singapore 079317, p. +65 6221 7794. Open Mon-Sat 11am − 12 midnight. Closed Sun.