Bottomless Brunch of the Month: Middle Eastern Plates at Fat Prince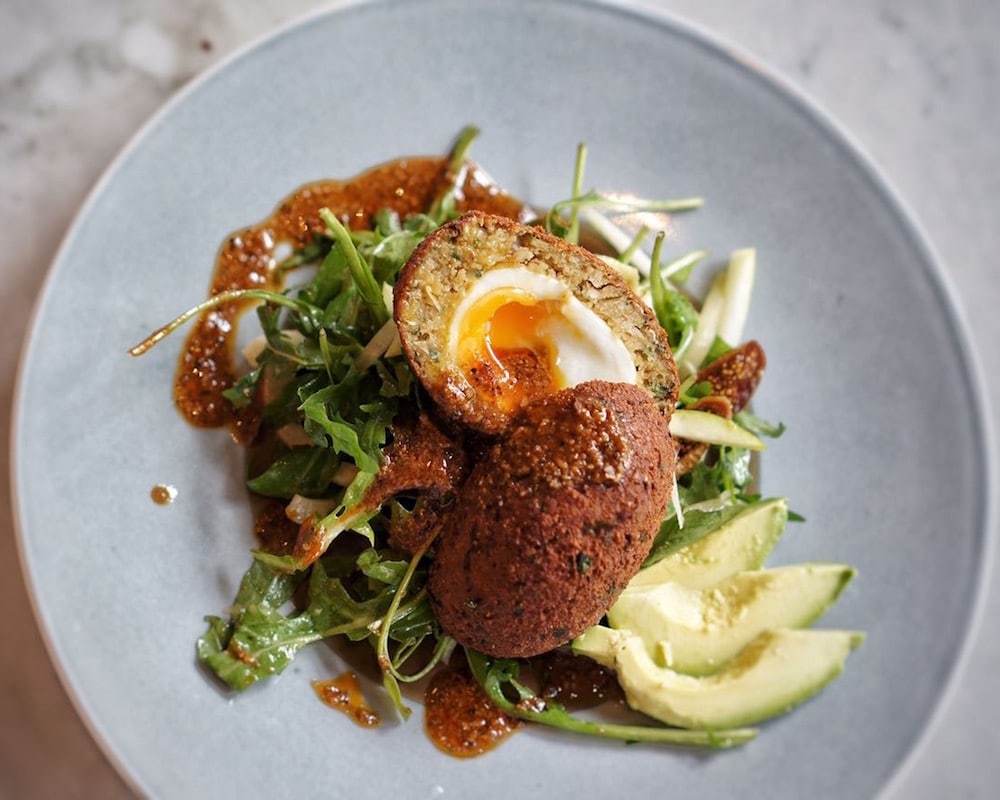 PUBLISHED April 18th, 2017 02:37 pm | UPDATED May 18th, 2020 04:26 pm

Brunch might be everyone's favourite meal but it's hard to think outside the usual bacon and eggs, full English breakfast, eggs benny and so on. So if you're looking for something more adventurous for the palate, consider Tanjong Pagar kebab joint Fat Prince for your next weekend treat.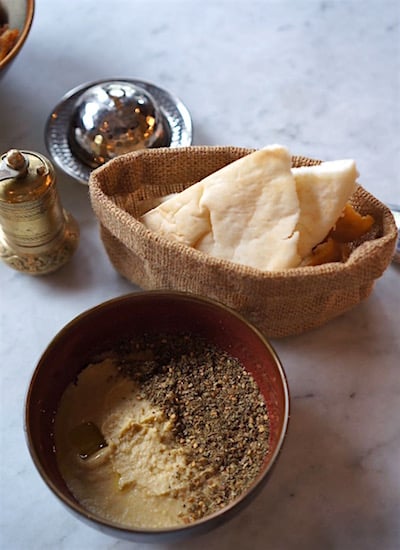 The a la carte brunch menu is not large by any means, but they've got all the bases covered by the three sections: shared plates, individual brunch plates, and sides. The drinks menu covers everything from coffee – do try the Pistachio Latte ($6) – and housemade sodas to wine, and cocktails. While you have the option of ordering drinks a la carte, the free flow option is priced at $68++ per person for two hours, including beer (Peroni), prosecco (Col Vetoraz Brut), and wines (Gladstone Golden Goose Sauvignon Blanc, NZ, and Barone Ricasoli Sangiovese Chianti).
For food, we started with the Fat Prince Hummus ($11). Both the pita bread and the hummus were drier than the sort we were used to, but the latter is to be expected since Chef Hunter Moyes (previously of Vancouver's Tacofino and reality TV series Chopped: Canada) blends the chickpeas, lemon, and garlic with duck fat instead of tahini, a staple sesame seed paste in Mediterranean and Middle Eastern cuisine. The result is a hummus that's more of a spread than a dip. While it could have used a little more olive oil to help it spread more easily, the flavours and additional creaminess and aroma from the duck fat were on point.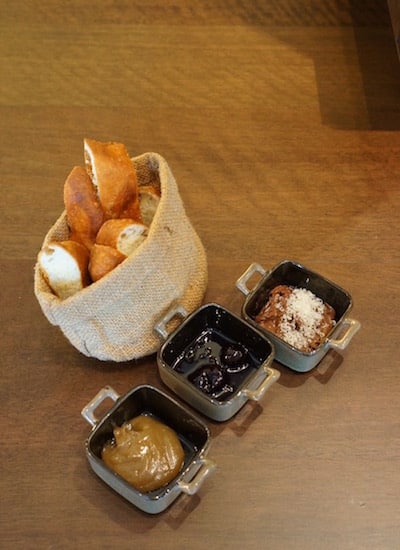 The Turkish Fried Dough ($14) brings to mind the Chinese fried dough fritters that were a frequent childhood snack, except that Fat Prince's version is a lot denser. Served with sour cherry jam (our favourite of the lot), soft maple halva (a traditional Middle Eastern sweet turned into a spread), and hazelnut chocolate (read: Nutella), it's perfect as a carb-heavy starter or as a substantial dessert if you still have space.
Sitting on a bed of fig, fennel, and pistachio salad dressed with avocado and preserved lemon cardamom, it was nice to see that the Falafel Scotch Egg ($22) coming to us with a oozy, runny yolk. The crispy falafel shell of the egg was a little dry but flavourful and nicely spiced. Paired with the fresh crunch of pear, creaminess of the avocado, and jamminess of the figs, this vegetarian plate definitely packs a punch.
It wasn't a deliberate choice to go entirely meatless with brunch at Fat Prince, but we seemed to have done it anyway with the Roasted Mushroom Menemen ($23) as our last dish. Menemen consists of spiced pan-cooked eggs (similar to curried eggs), flavoured with peppers, tomatoes, and onions. In Fat Prince's case, the scrambled egg skillet also featured candied fennel, batata harra potatoes (Arabic dry spiced fried potatoes), crispy kale, and shaved Antep cheese. Though the candied fennel was prepared well and really yummy on its own, its addition to the scrambled eggs mean that your protein tastes slightly sweet – which probably isn't for anyone. You might fare better with the meatier menemen, such as Cyprus Pork Sausage, Lamb Kofte, or the Beef Adana Kebab.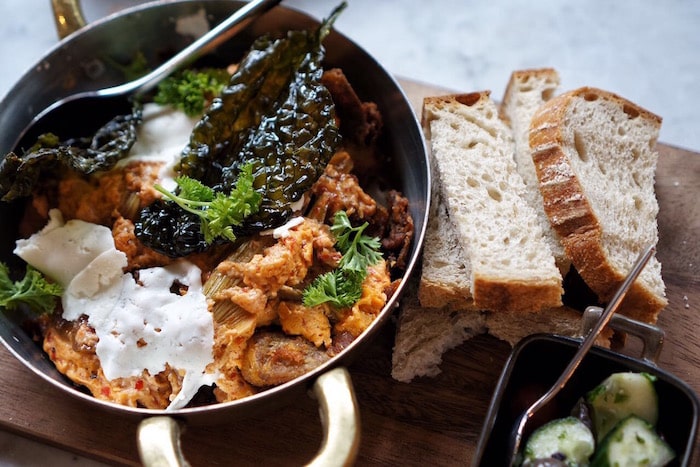 We've also noticed that they've added Raki cocktails to the list at Fat Prince since the last time we visited. This unsweetened spirit made from grapes and flavoured with aniseed is Turkey's answer to absinthe. Definitely an acquired taste on its own, it's much more palatable in cocktails like Phoenician Dreams ($21). The egg white and lemon tempers the intensity of aniseed, making it a gentle introduction to Raki, for those intrigued enough to try it anyway. Other cocktails worth trying at Fat Prince includes the Beirut Negroni ($20) featuring pink peppercorn and rose infused gin and Hard Turkish Coffee ($20), a luscious concoction of gold rum, chocolate and coffee liqueur, and Turkish espresso.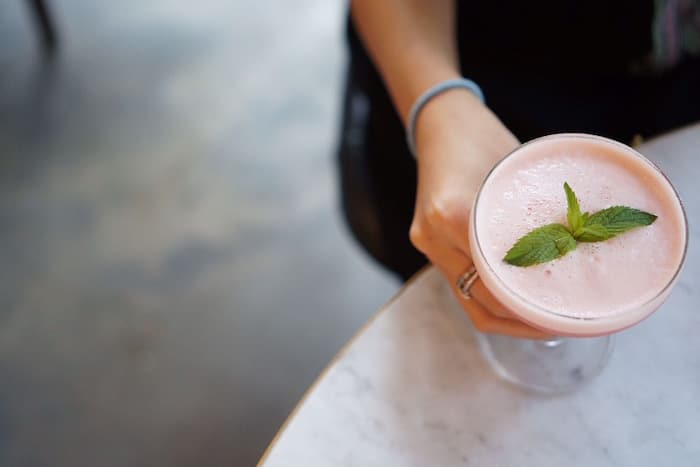 Frankly, the only drawback to our bottomless brunch was the price of the free-flow package. $68++ for two hours is quite pricy, considering the wines – sparkling or otherwise – cost about $14-$15 per glass on the a la carte menu. Trying to drink four to five glasses in two hours is definitely at odds with the idea of a lazy afternoon over good food and drink. The total damage per person is expected to come up to $100 after taxes; so we hope they either lower their price of the alcohol package, or perhaps increase the value by including cocktails in it. Otherwise, places like Senso or Kinki offering a semi-buffet or a la carte all-you-can-eat might offer a lot more value for brunch with free-flowing booze.
Fat Prince is located at 48 Peck Seah Street, Singapore 079317, p. +65 6221 3683. Weekend brunch is available Saturday and Sunday 11.30am-3pm.

Top Image: Falafel Scotch Egg
All images courtesy of Sylvester Fedor.