Restaurant Review: Folklore at Destination Singapore Beach Road Hotel Celebrates Local Heritage Flavours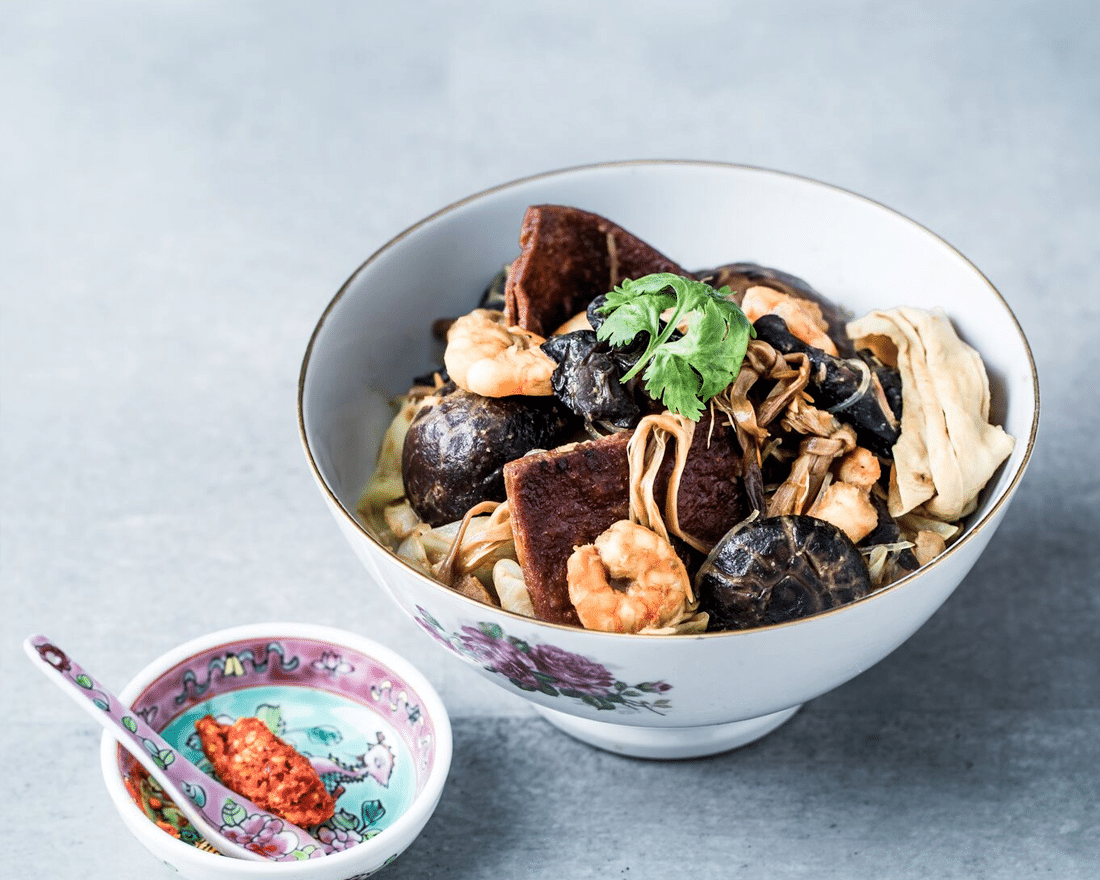 PUBLISHED September 19th, 2017 07:00 am

There's no denying that it's a great time for celebrating local cuisine. We've been seeing plenty of chefs revamping their menus with dishes inspired by Singaporean flavours – Xiao Ya Tou's Abby Lim impresses with her beefy take on the classic chee cheong fun, while Nixon Low whips up a whole slew of gourmet tze char plates, including a har cheong gai roulade of sorts, at his newly-opened joint Jiakpalang.
One might argue that these examples aren't truly Singaporean cooking – at least, it is not local heritage cooking since families don't put these dishes on the dinner table at home. Well, at Chef Damian D'Silva's new restaurant Folklore, these flavours came courtesy of his Peranakan grandmother and Eurasian grandfather. He tells us how he'd help his granny in the kitchen, and while picking up certain ingredients from the side, he'd quickly lose track of whatever was thrown into the pot. As a result, he soon developed a hawking observation skill that led him, decades later, to master the various tastes of Singapore, from Chinese and Malay to Indian, Peranakan, and Eurasian cuisines.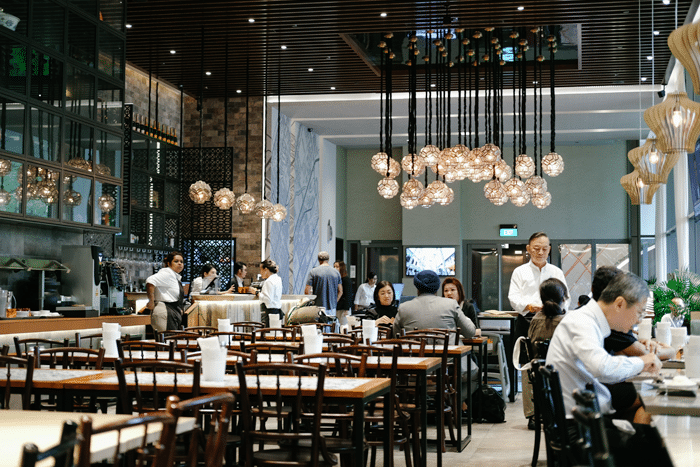 The one-month-old restaurant at Destination Hotel Beach Road celebrating Singapore heritage food comes after several ventures that have since served their last meal, including Soul Kitchen at Purvis Street and Immigrants, a gastrobar in Joo Chiat. While the business side of things has never been his forte (a fact he himself admits), the man is a proven master chef.
We sit down to a range of dishes that Damian grew up with. He brings out a Four-angled Bean Salad ($12), an appetising blend of four-angled bean, green and red chillies, ginger flower, kaffir lime leaves and dried shrimp tossed in sour sambal belachan. It is also shockingly spicy, which made me thankful for his much-raved Chilled Tofu with Pidan ($12) to take the heat down a notch. The cold tofu with century eggs, local pickled lettuce, ginger, and radish, spring onions, and Kikkoman soy sauce is simple enough, and very rich.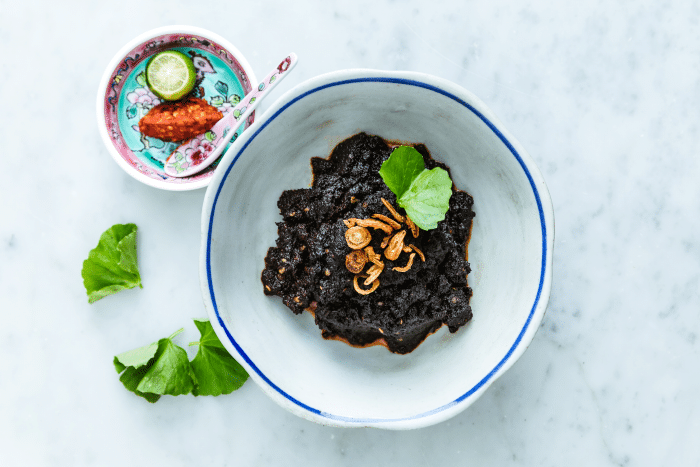 There are other familiar dishes like the Ngoh Hiang ($14), a classic Hokkien meat roll made with water chestnuts, minced pork, and prawns marinated in Damian's own blend of five-spice and deep-fried on order. His version of Peranakan Chap Chye ($16), a mishmash of glass noodles, shiitake, cabbage, black fungus, two types of tau kee, fermented beans, prawns, and two types of stock that takes four hours to prepare is particularly heartwarming on white rice.
The black nut keluak is a staple in all Peranakan restaurants, so it makes sense to find on Folklore's menu what could well be the star of the meal – Sambal Buah Keluak Fried Rice ($22). Fruity with hints of cocoa, the fragrant keluak meat is cooked with housemade sambal paste, coconut milk, and minced pork, before being fried again with rice.
There is also the unfamiliar, like the Singgang ($20), a long-lost Eurasian dish of deboned wolf herring (fun fact: deboning enough fish meat for five people usually takes about 45 minutes) that Damian cooks in a rempah (spice paste) of fresh chillies, galangal, tumeric, and touch of bruised lemongrass until all the ingredients amalgamate. The result is a mildly spicy mixture that's tender soft, meaty, and exquisitely tasty. Thinking back, it's texture is not dissimilar to otah, but why not just go for the Otah ($22) – a steamed parcel of minced fish meat – instead? Damian makes his with prawns, squid, and Spanish mackerel to up the oomph, so it is unlike any you've tried.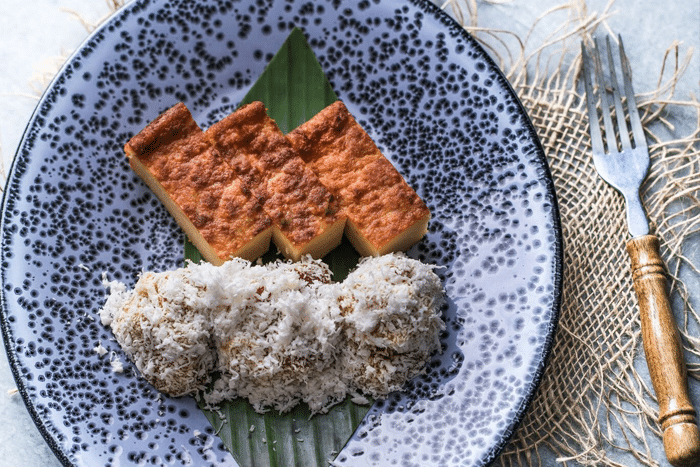 Kuehs for dessert is very much a Peranakan thing, and they work. The Kueh Kosui ($6) here is freshly made with tapioca flour and gula melaka, brought to boil with pandan leaves and then steamed. Topped with grated coconut and salt, every bite is wonderfully aromatic and sweet. Depending on how many people you're dining with, you are going to want at least two portions of the Kueh Bengkah ($10), baked tapioca cakes served with vanilla ice cream. Are they small in size? Not really, but they are that good.
Dining at Folklore is like being guests at Damian's family dinner – hearty, warm, and nostalgic in sentiment. That said, you might not want to head over every single night, if only for the sake of your belly.
Folklore is located at Destination Singapore Beach Road, 700 Beach Rd, Singapore 199598, p. +65 6679 2900. Open daily 12pm – 2.30pm, 6pm – 9.30pm.