Restaurant Review: House of MU Showcases Affordable European Food and Collectible Burmese Teak Furniture on Mohamed Sultan Road, Singapore
PUBLISHED July 16th, 2018 06:15 am
Taken out of context, House of MU can lead one to make some pretty bizarre inferences as a restaurant. But rather than having a penchant for cows, milk, or mustard, the owners' use of "MU" is as straight forward as the hanyu pinyin (the official romanisation system of Standard Chinese) of the Chinese character that means wood.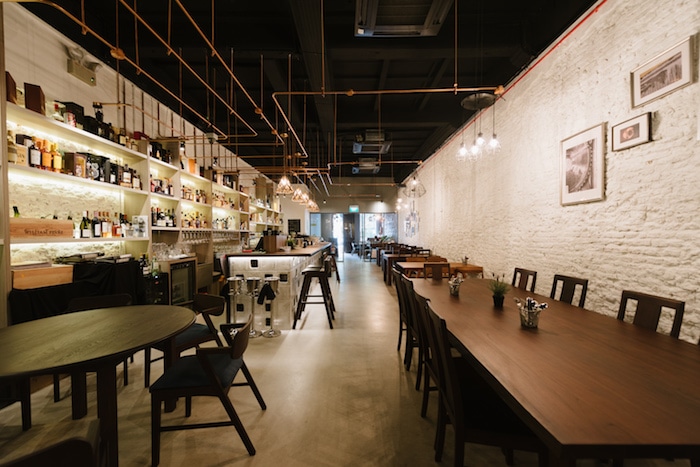 And no wonder, because the high ceilinged space on Mohamed Sultan Road is entirely furnished with Burmese teak pieces (we're no furniture experts, but we hear these are highly sought after). From wooden dining tables to bar chairs, pieces showcased in the aptly named restaurant are up for purchase. The exposed pipes, bare beams, and visible ducts gave the  industrial-designed restaurant a raw, edgy look as compared to its more polished neighbours along the same stretch.
Leading the kitchen team at House of MU is Chef Tyrell Joon, who has made his mark in Singapore in the circle of French cuisine. Alumnus of Michelin-starred Les Amis and the now-defunct Sky on 57 by local celebrity chef Justin Quek, his refined French technique is reflected even in the simplest of dishes. The Soup of the Day ($9) – Cream of Mushroom – defies the expectation of a hearty, chunky stew-like bowl that most in Singapore might imagine. Made wtih shiitake and button mushrooms, milk, cream and butter, the soup is thin but flavoursome, and all the more appetising with a slice of Spanish Cristal bread.
Chef Tyrell also uses French scallops as opposed to the more popular specimens from Hokkaido in the Pan-seared Scallops with Cauliflower Puree and Fresh Apple ($19). Eaten together, the deliberate interplay of the juiciness of the scallops and the acidity of the julienned green apple, and the texture of the cauliflower puree is clear. The flavour of the cauliflower puree, however, is a tad too mild for any real impact.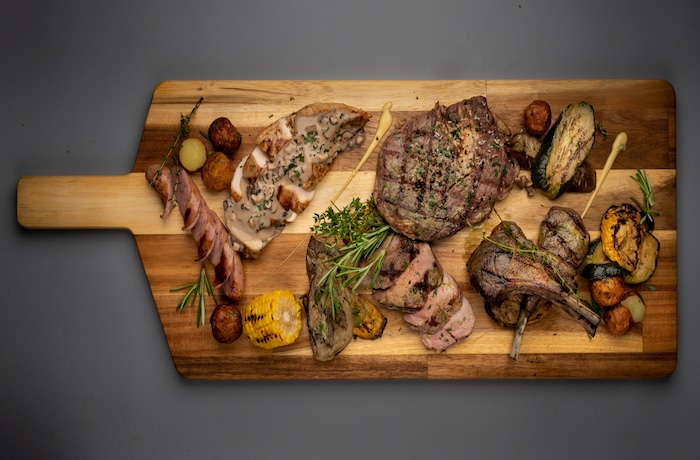 Carnivores can plunge into the MUnster Platter ($78, feeds two), a tantalising selection of meats grilled in the Josper oven over binchotan and smoked with logs of apple wood. Think New Zealand lamb rack, US pork tenderloin, roasted chicken topped with a creamy mushroom sauce, smoked cheese sausage, and roasted veggies and baby potatoes. Though we also added on the US black angus ribeye steak with bearnaise sauce for $32 (300g), the lamb was the star of the platter, followed by the tender and juicy pork. There's almost no real need for the black pepper sauce that accompanies the hefty meat board.
Pasta lovers, you're not left out either. House of MU's build your own pasta and risotto (from $14) has many possibilities that might just keep you coming back for more. We tried Chef Tyrell's recommendation of Truffle Cream Risotto with Crayfish ($26) which was a little too wet for our liking, but the crustacean was succulent, the grains of pearl rice had a good bite, and each mouthful was well perfumed with truffle.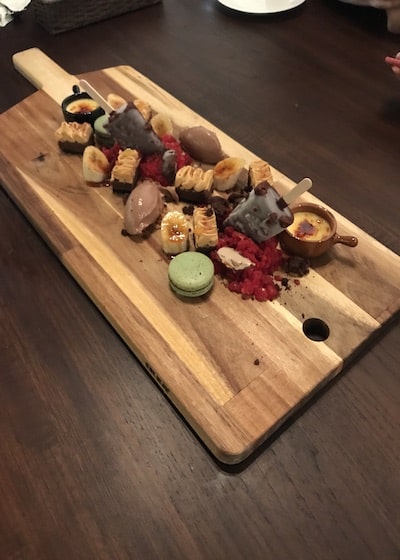 Give into temptation with House of Mu's Signature Dessert Platter ($48), a culinary masterpiece that intertwines flavour and texture. The platter is generously topped with a  decadent variety of sweet treats, from fresh raspberry granita and green-tea macarons to quenelles of dark chocolate ice-cream.
In addition to indulging in the different types of desserts,  the platter is beautifully presented with splashes of colour – perfect for that Instagram shot!
House of MU might not be presenting anything revolutionary to the Singapore food scene, but it's honest and earnest, at least, with bistronomy offerings at pocket-friendly prices. However, the next time we visit will also be for a closer scrutiny of their alcohol retail corner and their boozy beverage menu that appears well-stocked with gin and whisky. Did we mention the better-than-average housepour wine at $10? Yes, please.
House of MU is located at 11 Mohamed Sultan Rd, Singapore 239010, p. +65 6732 1011. Open Tue – Thu 12pm – 10.30pm, Fri – Sat 12pm – 12am, Sun 12pm – 10.30pm. Closed Mon.
Top image: House of MU