A Foodie's Journey Across China's Underrated Cities: Nanning, Xi'an, Guiyang, Chongqing & Beyond
PUBLISHED July 17th, 2018 06:00 am | UPDATED March 26th, 2019 12:58 pm
Oh, how easy it is to classify China as just Beijing and Shanghai, and Chinese food as just pork buns, steamed dumplings, and fried rice. But where's the fun in that? If you're planning a trip to the country to eat, we say skip the usual suspects and check out one of these underrated cities across Northern, Western, Eastern, and Southern China instead. Because if we're talking Chinese cuisine, trust us when we say you've been missing out so, so much. And more importantly, Changi Airport is giving away 10 pairs of air tickets to these featured cities! Check out the giveaway deets here.
Northern China
Shenyang, Liaoning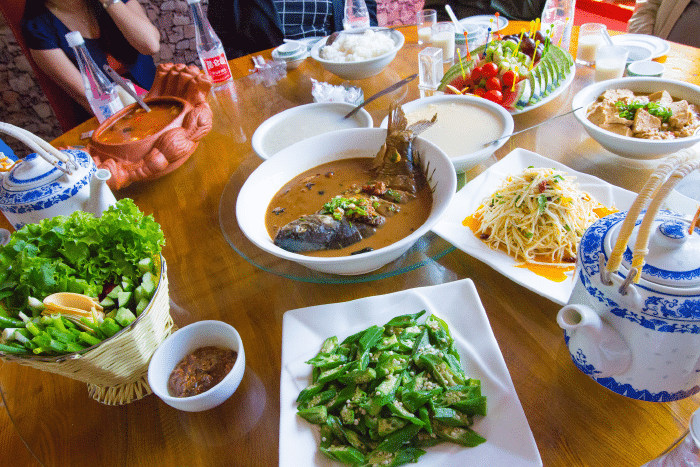 In the melting pot city of Shenyang, what dish would be representative of the local cuisine? Well, with its unique shape and overflowing fillings, Laobian Dumplings have become a calling card of sorts for Shenyang since its creation some 160 years ago. Baked or fried, they can be found at Zhongjie Road's Laobian Dumpling Restaurant. Elsewhere, the tasty and fragrant Liaoshanji Haicheng Stuffed Pie is difficult to forget – crisp outside and tender inside, and even more delicious with crushed garlic, chilli oil, and mustard sauce.
Don't leave without trying the refreshing Xita Cold Noodles (xita liang mian), a famous snack with a Korean flavour consisting of chilled rice noodles and a special soup with a taste like no other.
Find the best food at: West Tower Street, Heping District, Huihui Ying
Shijiazhuang, Hebei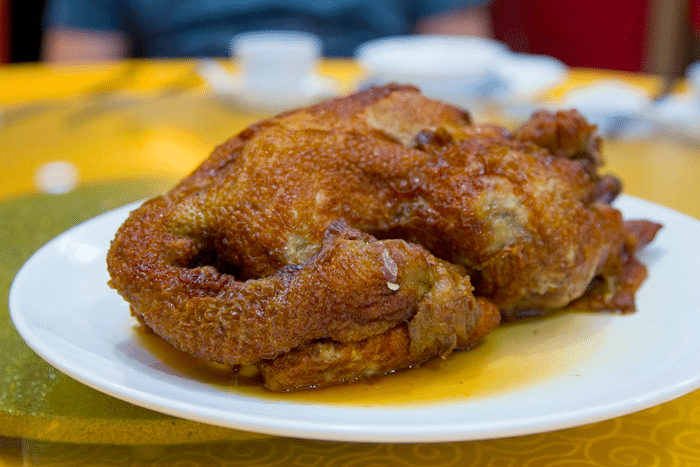 A relatively young city that is currently the main economic centre of Hebei, Shijiazhuang is not particularly known for many local delicacies. What it has, however, is done well. Look out for the Clay Oven Roll (ganglu shaobing) made from wheat flour. The method of baking is interesting, as the roll is stuck on the inside walls of the oven, resulting in a crispy crust with a strong fragrance of wheat and sesame.
You might also like the unique Gaocheng Noodles, unique for its hollow centre and shiny appearance through a special process, and is especially nutritious with soup. If you must only try one thing, it's the Hui Braised Chicken (huimin baiji), cited as a 'Good Quality Product of Hebei Province' since 1980. Made by the Muslim Hui people, the dish is popular for its golden colour, delicate taste, and tender meat that falls easily from the bone.
Find the best food at: Zhonghua St, Yuhua District, Xinhua District
Western China
Yinchuan, Ningxia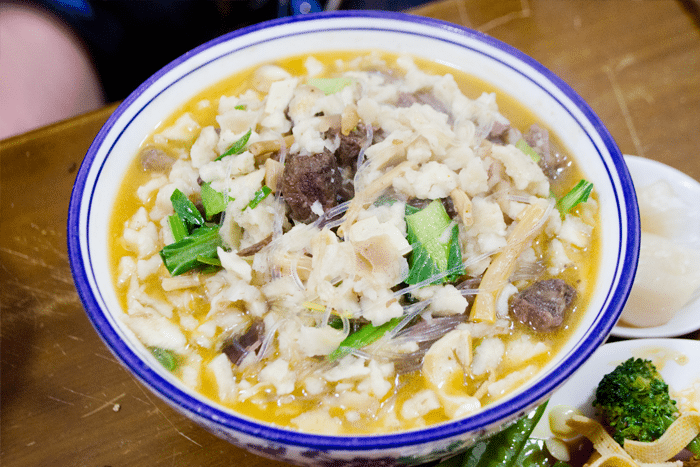 With Yinchuan being in Ningxia, where there is a significant Muslim population, it is common to find halal food all over the city. Pork, donkey, and horse meats are forbidden, while lamb, beef, and chicken are much more commonplace. The tender Steamed Young Lamb (qingzheng yanggaorou) is ubiquitous, often eaten with a special wine made with Chinese wolfberries. Some restaurants serve them roasted and braised as well.
Another dish, brought by the Arabs through the Silk Road, is the Lamb Paomo (yangrou paomo), made with lamb soup and shredded flat bread and best eaten with pickled garlic and chilli.
Find the best food at: Hubin East Rd, Shaokao St, Xinhua St, Xingqing District
Xi'An, Shaanxi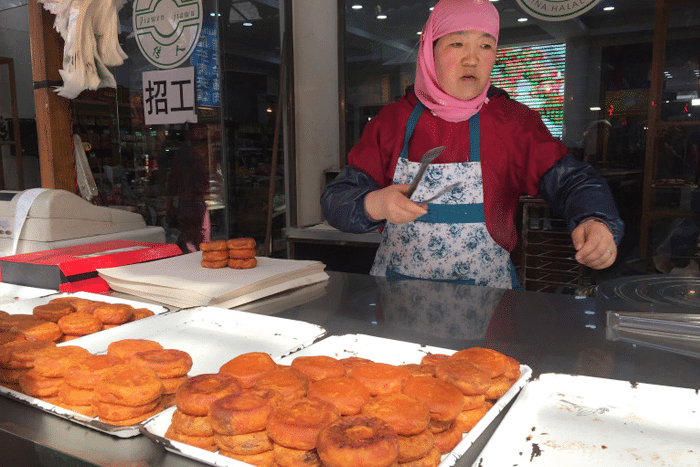 Xi'an might be famous for its Terracotta Army, but the Shaanxi capital in central China has an equally well-known array of unique dishes that deserves some attention too. Sweet and fruity with a springy bite, the colourful Persimmon Doughnuts (sometimes pumpkins are used instead) has a chewy texture much like Japanese mochi. Fans of noodles will enjoy the cold Lianpi Noodles – thinly sliced rice ribbons tossed with cucumber, beansprouts, black vinegar, aromatic sesame paste and roasted chilli oil.
If you're lucky, you will come across the city's unique Hammered Candy, a sweet made by repeatedly folding and stretching hot sugar across a hook, a task often undertaken by teenage students earning some pocket money. Meanwhile, the best Xi'an Meat Burgers (rou jiamo) can be found in the Muslim Quarter, crispy and fresh off the furnace.
Find the best food at: Muslim Quarter, Lianhu District, Beilin District
Chongqing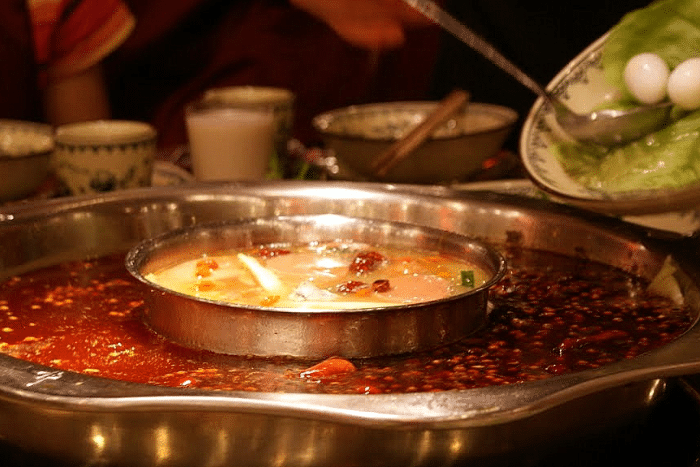 There's a Chinese saying that "People make food their heaven" and where better for it to apply at Chongqing? Thousands of restaurants are scattered all over the city, many of them specialising in the claim-to-fame of being China's birthplace for Hotpots. There's no better smell than a boiling pot full of spiced soup, fish, meat, and vegetables, which you can later dip in an assortment of special sauces.
Other local specialities include the spicy Dandan Noodles that are sure to tantalise your tongue with the addictiveness of Sichuan peppercorns and fragrant Mapo Tofu ladled with a chilli oil and fermented soybean sauce, which you'll be able to find everywhere around Chongqing. One of the most interesting dishes it has to offer is the Mung Bean Jelly (chuan bei liang fen), a cold starchy jelly served with chilli sauce in the summer.
Find the best food at: Chongqing 5-star Harbour Plaza, Jiefangbei CBD, Nanbin Rd, Bayi St
Guiyang, Guizhou
Beef Noodles are far and aplenty in China, but Guiyang (an increasingly cosmopolitan city that's the capital of Guizhou) has some of the most tasty ones out there, boasting a strong mix of herbs, spices and most importantly, Sichuan pepper. Another thing to try are Silk Babies, which despite their name, are quite delicious. Found mostly on the roadsides, you're given a stack of thin rice pancakes and bowls of both raw and pickled vegetables, along with chilli sauce. Simple, like a vegetarian taco.
If you like beans, you might enjoy the city's speciality of Bean Hotpot, a glorious stew-like pot of kidney beans stewed with cured pork in bone broth. Similarly, the Miao minority has its own version of hot pot – Suan Tang Yu is a sour and hot broth with a large whole fish chopped up inside.
Find the best food at: Qianling East Rd, Hequn Rd, Shaanxi Rd
Kunming, Yunnan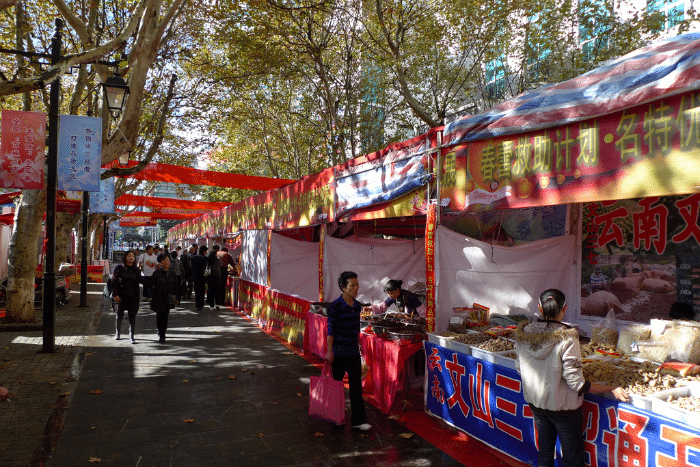 Yunnan's capital of Kunming, aside from being beautiful, has a unique food culture that brings together the best of the province's specialities. But the one symbolic dish that embodies the city? It's the Over-The-Bridge Noodle, which involves a large bowl of hot broth served with separate ingredients like chicken, lettuce, eggs, and rice noodles (like the pho of China). There's also Xuanwei or Yunnan Ham, one of three famous hams in China – sought after for its intense flavour and smell.
Have you heard of smelly tofu? At Kunming, they up the ante with a Smoked Stinky Tofu by further smoking fermented tofu over charcoal fire for an extra depth of flavour. Alternatively, some of the century-old restaurants in the city do a heartwarming Steamed Pot Chicken loaded with ginger, shallots, and pepper.
Find the best food at: Xiba Rd, Guanshang Rd, Beijing Rd, Xishi District
Eastern China
Quanzhou, Fujian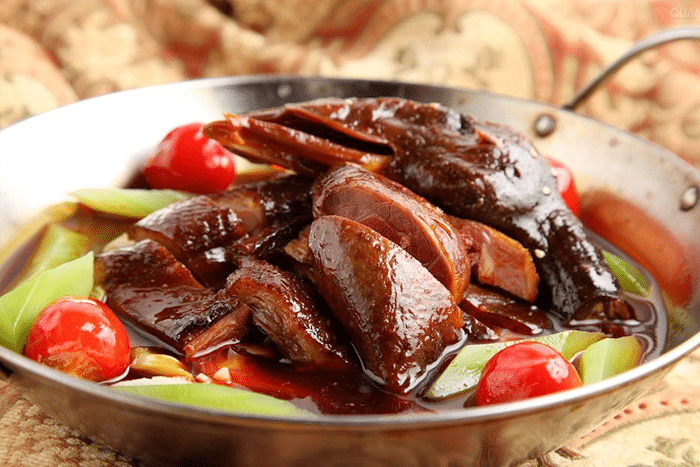 Quanzhou was once the largest port in Asia over a millennium ago, and now remains an attractive seaside city with plenty to show for it, food-wise. Big fleshy oysters are cooked together with fresh leeks in a Fried Oyster Omelette (kezai jian), then sprinkled with sweet potato powder, lard, soy, and vinegar. Healthy it's not, but it is tasty.
One of the local specialities is the traditional Ginger Braised Duck (jiangmu ya), a traditional dish that marries duck with ginger, spices, and herbs. Needless to say, it's incredibly delicious and especially welcome in the cold winters. Likewise, you might like the umami-heavy Mianxian Hu soup noodles prepared with shrimps, oysters, mussels, and mushrooms on a slow fire – thin noodles are later added and cooked till mushy.
Find the best food at: Jinhuai St, Wenling Food Street, Fengze District
Southern China
Nanning, Guangxi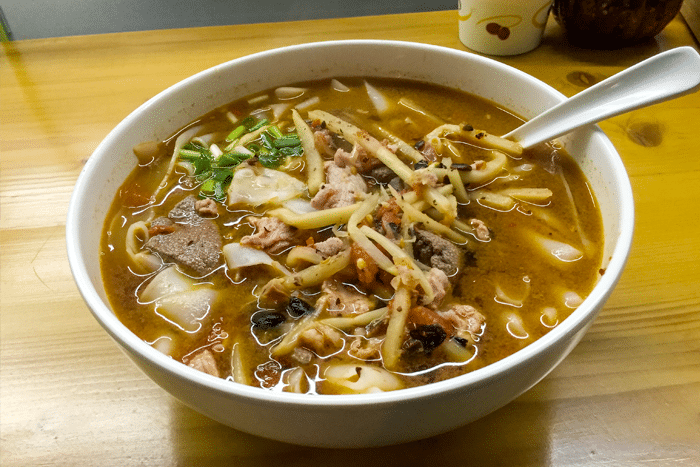 Nanning, the capital of the Guangxi, has a cuisine that shares a lot of similarities with the Cantonese – particularly the tenderness and nourishment that goes into its dishes.
The city also loves rice noodles, as seen in the Eight Treasures Noodles (ba zhen fen), a fanciful dish with eight land and sea ingredients, and roots in imperial cooking. Let's not forget the flavoursome Old Friend Noodles (lao you fen), which is believed to have cold-busting abilities.
One thing to eat is the Nanning Lemon Duck, regarded as an acquired taste due to its strong sour taste. The duck is crisp and spicy without being too oily, and makes for an excellent accompaniment to steamed rice.
Find the best food at: Nanning Night Food Market, Huoju Rd, Nongyuan Rd, Qixing Rd
Sanya, Hainan
Sanya is a gorgeous beach destination that's been compared to as the Hawaii of China, as you might expect, there is no shortage of seafood. The Hele Crab, though small and scrawny compared to Sri Lankan or Alaskan King crabs, has a delicate flesh that's both sweet and salty at once and is best eaten when steamed. Sea cucumber, abalone, and countless sea creatures can be found in any of the city's abundant 'seafood squares'.
You will also enjoy the crisp-skin Wenchang Chicken, a poultry indigenous to Hainan Province that is prized for its fleshy and fatty meat, or Dongshan Lamb, famous for its pitch black skin and tender meat. The mutton is typically cooked in coconut juice and boiled as a soup or stew, accompanied by rice. In addition, Korean cuisine (or some variation of it) is aplenty in Sanya due to its large Korean population.
Find the best food at: Hexi Rd, Huo Che Tou Seafood Square, Chunyuan Seafood Square
---
Ready for your food journey across China? Changi Airport is making it easy for you by giving away 10 pairs of air tickets to these featured cities – simply head here to participate!
This article is sponsored by Changi Airport Group.
Top Image: Photo courtesy of Terence Koh