Restaurant Review: Modern European Restaurant Mia Works Style and Substance in Phrom Phong, Bangkok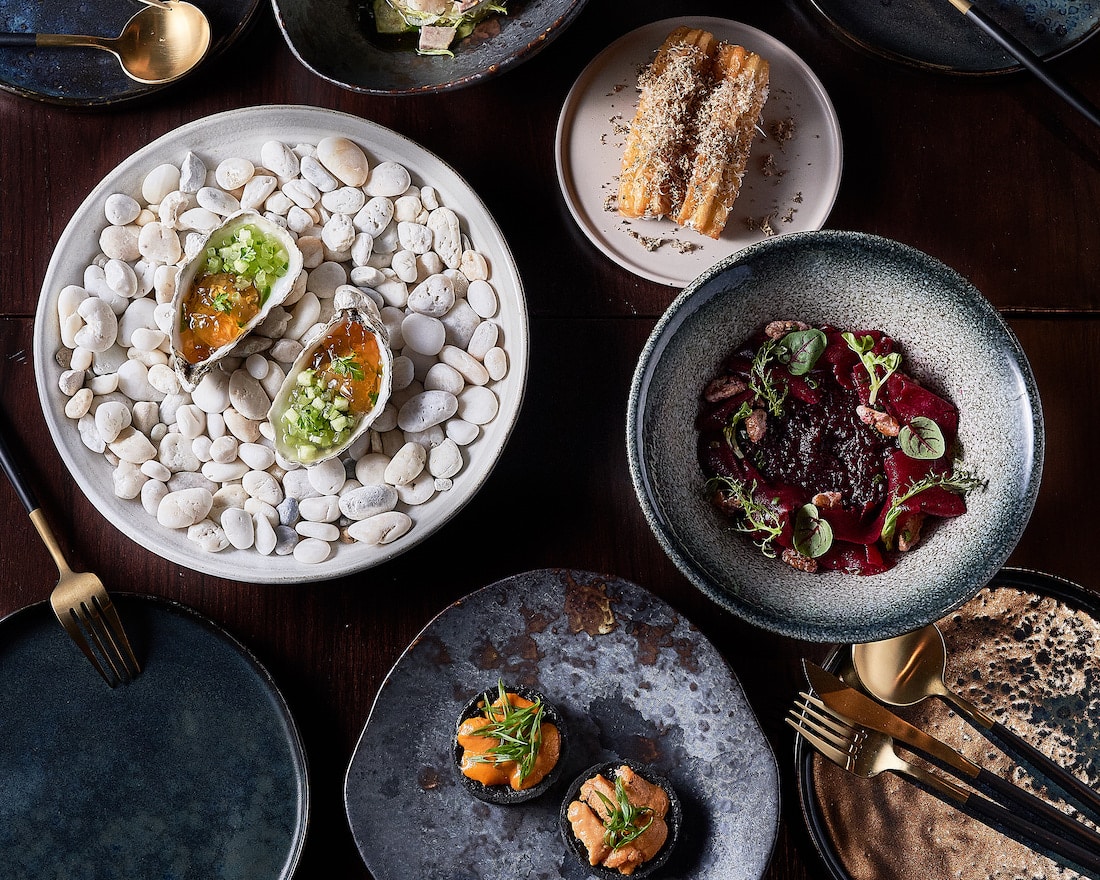 PUBLISHED March 11th, 2020 06:00 am | UPDATED May 18th, 2020 07:10 pm
You can tell a lot about a restaurant by the way it looks, but you know what? The way it smells is a much better gauge. Walking into the stand-alone building that houses Mia Restaurant located off Phrom Phong's Sukhumvit Soi 26 in Bangkok, the seductive aroma of roasted pineapples permeated the air while on our way out, the fragrance of caramelised apples from its signature Tarte Tatin (THB620, for sharing) accompanied us out. I can almost still smell it a week later.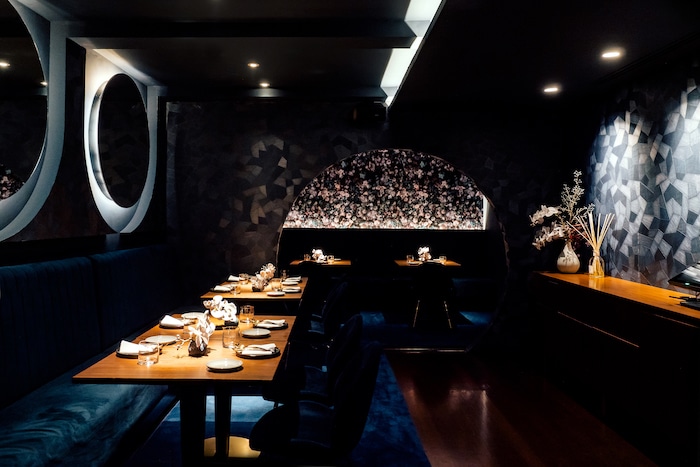 The Bangkok-based duo responsible for all these delicious bouquets are Chefs Pongcharn 'Top' Russell and Michelle Goh – both of whom have worked at the now-defunct Freebird and fine-dining German restaurant Sühring. With the support of co-owner Julien Imbert, who honed his craft in iconic London establishments including Sketch and Dinner by Heston Blumenthal, they've created a modern European restaurant with substance and style – and enough of the latter to continue drawing Bangkok's high society since its opening in July last year.
For one, there are three thematic dining rooms to choose from on the upper floor – the bar and dessert counter take up the ground floor. The floral wall-papered Colour Room features semi-private dining pods with plush seating and straw mesh dividers while the Dark Room comes across more intimate and masculine with dimmed lighting, grey walls, and thick blue carpets. The Floral Room, we reckon, is the most popular with anyone with an Instagram account with its dramatic flower display suspended from the ceiling, and strong dusty pink hue mixed with marble table tops and golden metallic accents.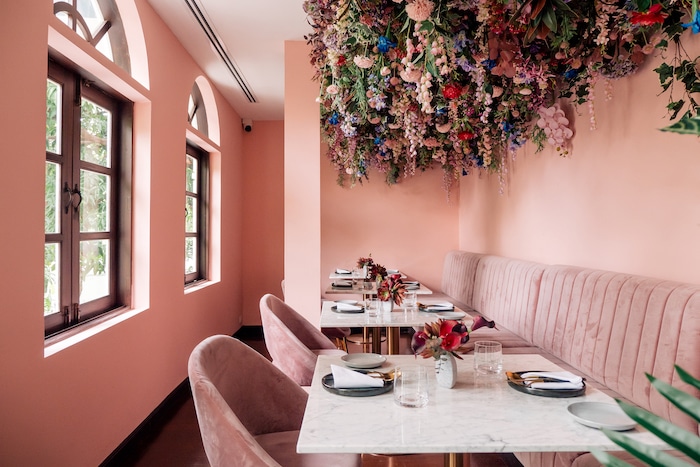 Our first impression of flavours at Mia set the bar pretty high; their sourdough is actually sour (we kid you not that this is a problem in Bangkok), and the smoked charcoal butter topped with sea salt is completely lovely. We also enjoyed the umami that deep fried shallots bring to the Compressed Watermelon (THB100, two pieces) lollipops with yogurt granita, and the sweet-and-savoury Foie Gras Donut (THB360, two pieces), where prune jam nicely bridged the bread and the port wine-marinated foie gras torchon.
The flavours of the briney Fine de Claire Oyster (THB150 each) – our last snack – was accentuated by the ponzu gel and textures of apple and cucumber, but perhaps a Pacific Northwest shellfish would be better in whetting the appetite before the appetisers, like the Scallop Carpaccio (THB520), arrive. However, the star here is the refreshingly tart green mango ice cream, which complemented the creamy Hokkaido scallops whilst cubes of cucumber and green mango provide bursts of acidity.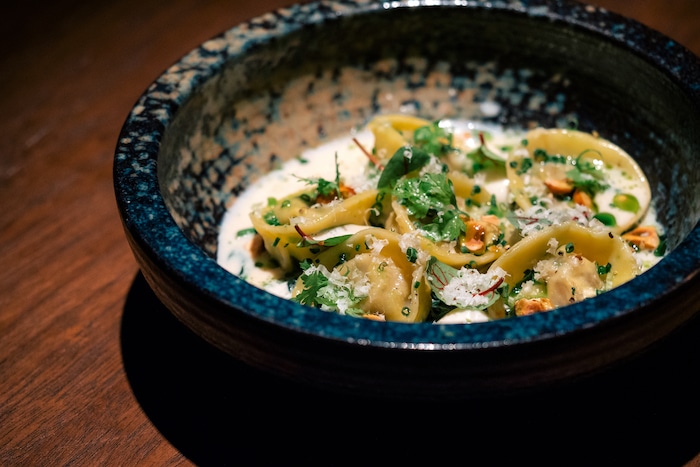 Simple but balanced and flavourful, the Mushroom Tortellini (THB440) was one of the unanimous favourites of the night. The sweetness of caramelised hazelnuts and funkiness of Gorgonzola blue cheese play off the earthiness of the mushrooms perfectly well; add a savoury parmesan broth and we've got a winner.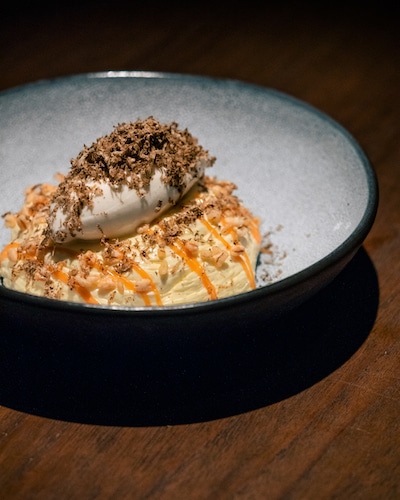 For main courses, the local Grilled Pork Chop (THB590) served peppercorn sauce, chorizo jam, and piperade (a Basque dish made with onion, green peppers, tomatoes, and red Espelette pepper) was cooked perfectly – but the Southeast Asian in us wished there was some Thai influence in the sauces and garnish for spicier kick, rather than being just slightly spiced.
The Hot Smoked Salmon (THB620) didn't fare as well. Topped with an ikura salsa of tofu and cucumber, the fillet of salmon was smoked well enough to stand up to the stronger flavours in the salsa and the potato veloute, but although the latter was velvety enough, there wasn't enough of a potato flavour for my inner carb monster to be satisfied. Thankfully, things went back onto the right track with the Crème Diplomate (THB320), which is honestly one of the best truffle desserts I've ever had the pleasure of eating. Think vanilla infused pastry cream topped with a slightly nutty roasted barley ice cream, caramel, and shavings of earthy black truffle. Delicious AF.
For beverages, there's a list of signature drinks following the restaurant's philosophy of Thai and Japanese influenced European style cocktails. The wine list at Mia Restaurant is mostly Old World, with a couple of bottles thrown in from New Zealand and Argentina thrown in for variety – prices by the glass start from a friendly THB250. Bottles start from THB1,250.
Mia Restaurant Bangkok is located at Sukhumvit Soi 26, 30 Attha Kawi 1 Alley, Khlong Tan, Khlong Toei, Bangkok 10110, p. +66 98 862 9659, e. reservation@miarestaurantbkk.com. Open Tue-Sun 6pm-12am, last order 10.30pm. Closed Mon.