Restaurant Review: Relish.Sg Introduces Delicious Themed Dinners To Singapore's Private Dining Scene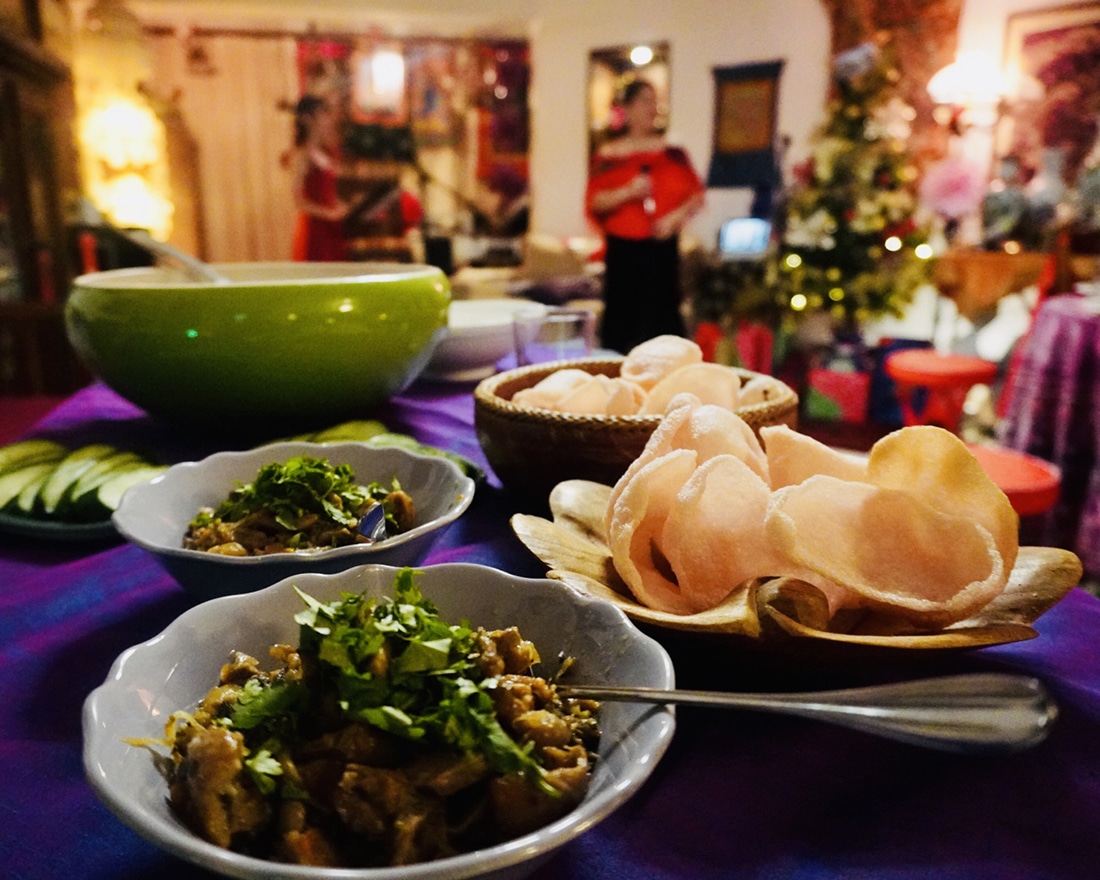 PUBLISHED March 12th, 2020 06:30 am | UPDATED May 16th, 2020 11:45 am
Private dining has seen a surge in popularity over the recent years in Singapore and there are various reasons as to why one would prefer it over a regular sit-down meal at a posh restaurant. It could be the intimacy of the experience or simply the utter uniqueness of the dishes that are served, which cannot be recreated elsewhere. Relish.Sg is one such private home dining experience that aims to check all of the above boxes.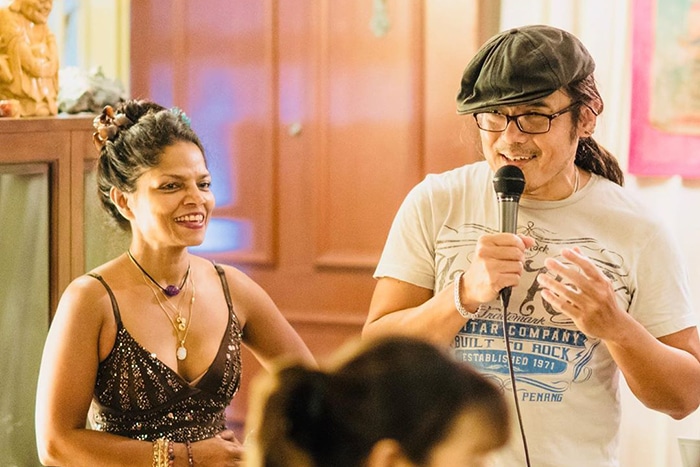 The moment you step into the humble abode of award-winning TV producer Dr Rose Sivam and musician-chef extraordinaire Chris Choo – the brains and brawn behind Relish.Sg – you are transported to a different realm. Best described as a melting pot of culture (rare antiquities like a 2000-year-old Gandharan sculpture and authentic Ming dynasty ceramic vases adorn every nook and cranny), the HDB unit can comfortably accommodate up to 50 patrons.
Relish.Sg offers dine-in reservations with an omakase menu and the occasional ticketed themed events with entertainment to match the cuisine. We are talking Spanish Nights with toothsome tapas and a whole lot of flamenco dancing, and funky Afrobeats Nights that get your feet tapping. For a more customised experience, Relish.Sg is more than willing to personalise the theme to the liking of you and your posse. Can't get enough of their food? The ongoing Take Home Relish Promotion (min. order of S$45) allows you to devour their dishes from the comfort of your homes.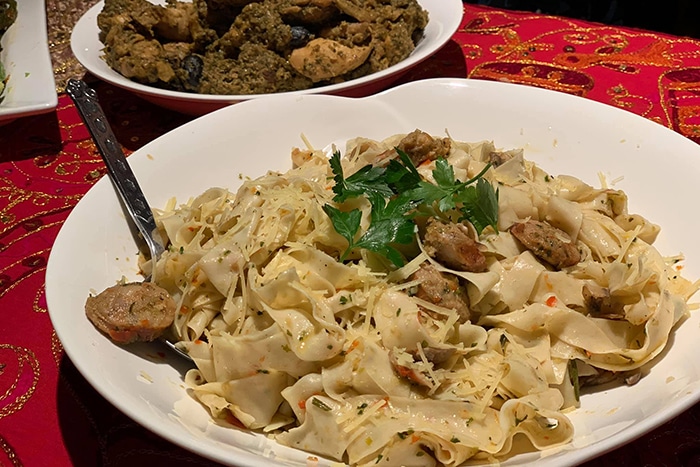 Our tastebuds were ready to explore the world with the eight-course (six-eight courses, S$88 per pax) Taste the World menu prepared for us. After munching on crackers with a dollop of handmade spreads to whet our appetite, we took on the first dish — a comforting bowl of Harira, a traditional Moroccan soup with bite-sized pieces of succulent lamb and chickpeas with hints of coriander peeking through. Straight off a page from Chef Chris' Grandmother's recipe book, Por Por's Turmeric Chicken is tangy and aromatic, characteristic of typical Peranakan grub, and pairs beautifully with the fragrant Basmati Nasi Lemak.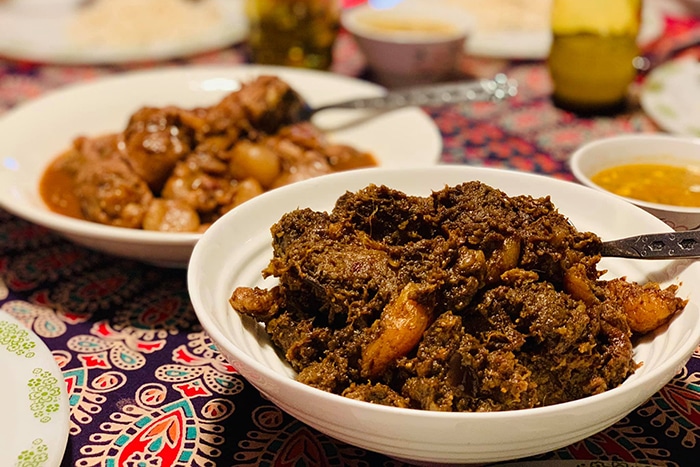 The deceptively simple-looking, Duck and Pineapple is the result of braising the duck in a master stock for hours so as to tenderise and saturate it with flavours of different meats, Shaoxing wine and dried mandarin amongst other "secret ingredients". Sounds complex? Well, then the arduous process of making the next dish will have you floored. Lamb Rendang Tok, is the dry variant of the usual rendang that we are all familiar with.
The lamb is simmered and painstakingly stirred for four long hours in coconut milk and kerisik (fried coconut paste) prepared from 20 coconuts, till the gravy has been completely reduced and absorbed by the lamb. We could not stop reaching out for more — the meat was extremely succulent and coated our tongues with the creamy richness of the coconut milk.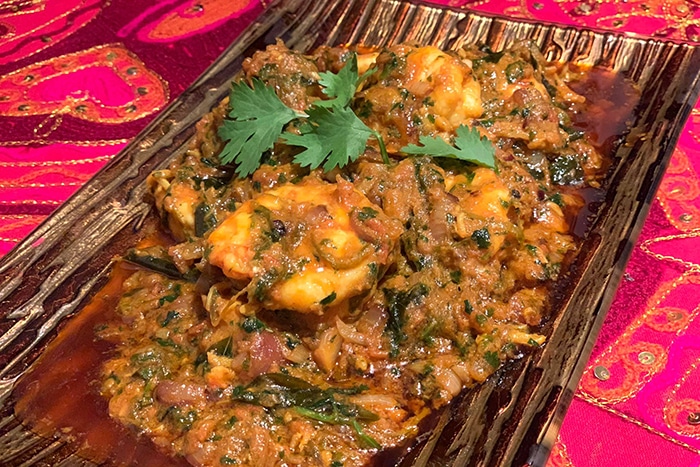 Maharajah Prawns takes on Indian cuisine with flawlessly cooked king prawns immersed in a moreish blend of tomato puree, aromatics and spices. Straying a little further away from home, we dug into Spanish Meatballs. Although the meatballs were a little on the drier side, the luscious sauce smothering the meatballs compensated for it, with tones of red wine and brandy. The velvety Zaalouk (Moroccan eggplant salad) was a welcome light accompaniment that helped to balance the heavier meat dishes. The one of a kind dinner concluded over brandy layered Fruit Cake and live Indian folk music by Chef Chris himself.
At Relish.Sg, you get to experience the passion and dedication that Chef Chris puts into each of his creations firsthand – something you miss out on when dining at commercial restaurants. If not for the flavoursome food, you will find yourself coming back for the chill ambience and warm hospitality of the hosts.
Relish.Sg is located at a private venue, p. +65 8161 6090. Visit their website for more information and reservations.