A Travel Guide to Bedugul, Bali: A Magical Lake District in the Mountains of Tabanan Regency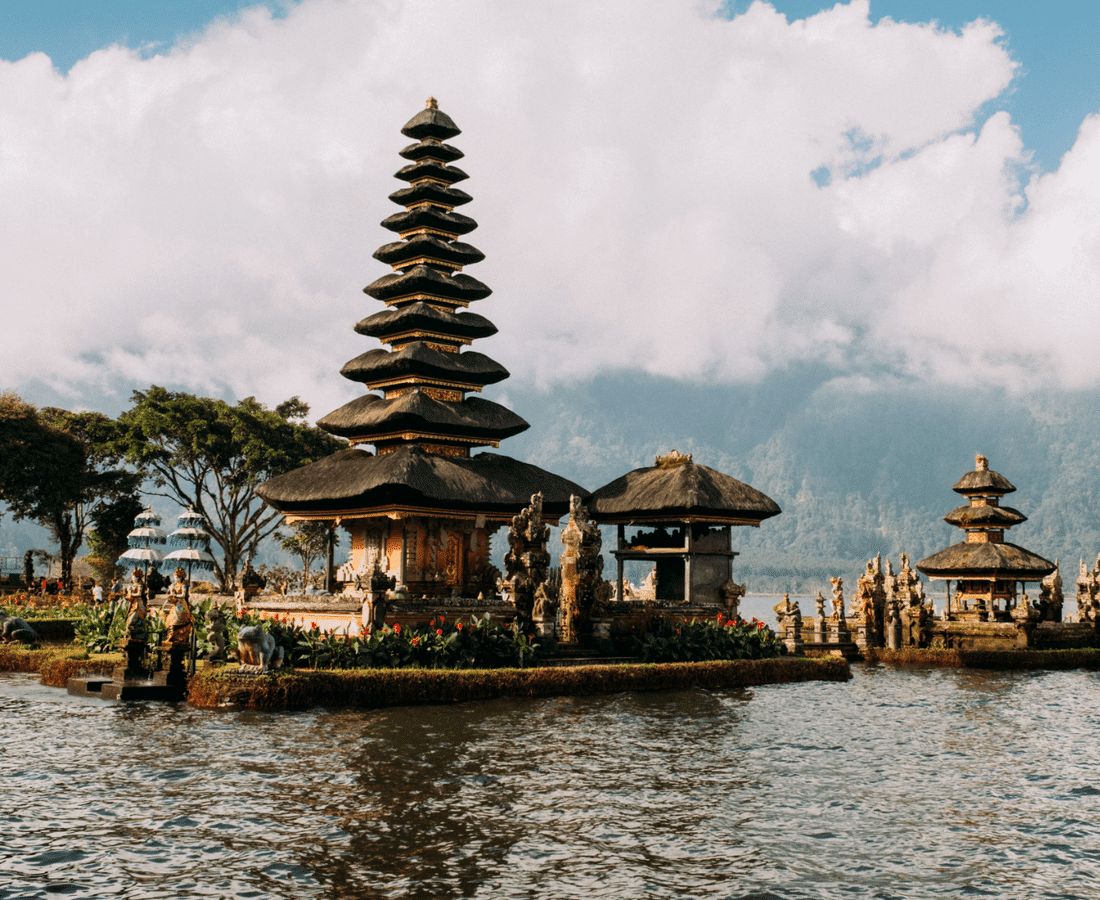 PUBLISHED March 13th, 2020 06:00 am | UPDATED May 18th, 2020 11:29 pm
The north of Tabanan Regency is home to Bedugul, a gorgeous, mountainous lake area surrounded by temples, waterfalls, and even strawberry farms – making it one of the most attractive places to escape Bali's hustle and bustle (no, the irony that Bali is supposed to be the ultimate getaway destination is not lost on us). Despite the rurality, there have been an increasing number of yoga retreats and eateries popping up in misty landscapes and by temple-graced lakes makes. Here's what to do, eat, and visit in Bedugul, whether you're going on a day trip or an enchanted weekend out on the lake.
See
Pura Ulun Danu Beratan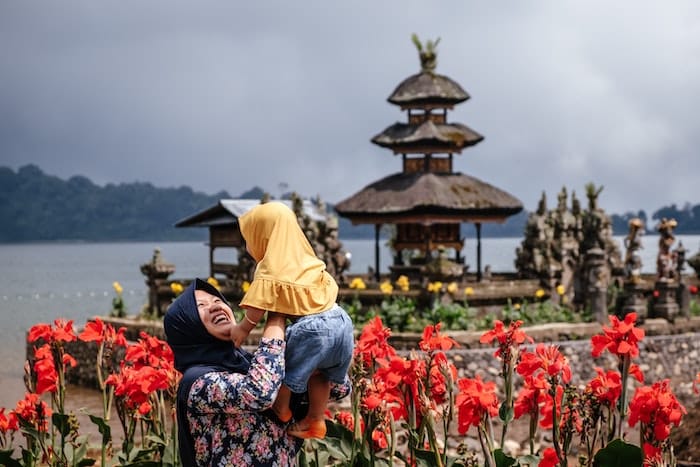 The first thing you'd notice upon your arrival – and the first stop for most visitors – is Ulun Danu Beratan in Bedugul is a Hindu Shaivite water temple situated on the shores of Beratan lake since 1633. Dedicated to the the Balinese water, lake and river goddess Dewi Danu, it's known for looking like it's floating on water when the Beratan river rises. Entry is IDR30,000 per adult and IDR20,000 per child; you can also rent a speedboat to go around the lake and enjoy the misty landscapes of Beratan lake or have lunch at Mentari Restaurant, a local eatery within the lake area serving tasty Indonesian buffet daily.
Pura Ulun Danu Beratan is located in Beratan Lake, Candikuning, Baturiti, Tabanan Regency. Open 7am-7pm daily.
Danau Tamblingan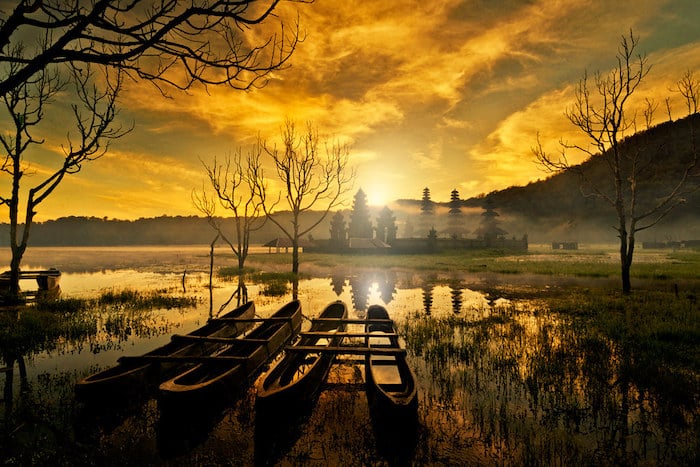 Head in the southwest direction from Beratan lake to see Tamblingan Lake, which itself is north of Mount Lesung in Munduk Regency. The Hindu temples surrounding the lake – Pura Dalem Tamblingan, Pura Endek, Pura Embang, and Naga Lokaare – are the stars here, but there are also several waterfalls in the Munduk area that travellers enjoy visiting. There's an entrance fee of IDR10,000 per person if you'd like to take photos by the canoes and camp around the lake.
Danau Tamblingan is located in Munduk Village, Munduk Regency. Open 9am-5pm daily.
Kebun Raya Bali and Bali Treetop Adventure Park
This 157-hectare space is Indonesia's most expansive botanical garden. Highlights include Bali's largest display of wild orchids, the world's biggest Begonia collection, carnivorous plants, about 100 species of bamboo, as well as a leading research centre of plant biodiversity and conservation in Indonesia. Besides exploring this lushly massive floral kingdom, the Bali Treetop Adventure Park also operates on the garden's grounds for more fun and family-friendly outdoor activities.
Bali Botanic Garden is located at Jl. Kebun Raya, Candikuning, Baturiti, Tabanan Regency. Open 8am-6pm daily.
Eat
Rumah Makan Saras
Bedugul is certainly not swarming with restaurants with Western cuisine or cafe food on par to what you'll find in Seminyak, so we'd highly recommend you go for local delights in the region. Opt for local cozy warungs such as Saras Restaurant, a local joint serving Indonesian fish, prawn, squid and chicken dishes with a variety of Indonesian marinades. Order their Gurami Bumbu Bali (Balinese-Styled Freshwater Fish), Udang Saos Tiram (Prawn in Oyster Sauce) and Sate Ayam Bumbu Plecing (Chicken Satay with Plecing).
Rumah Makan Saras is located inside Penginapan Saras (Saras Cottage) at Jl. Raya Bedugul, Candikuning, Baturiti. Open daily 7am-9pm.
Bali Strawberry Farm & Restaurant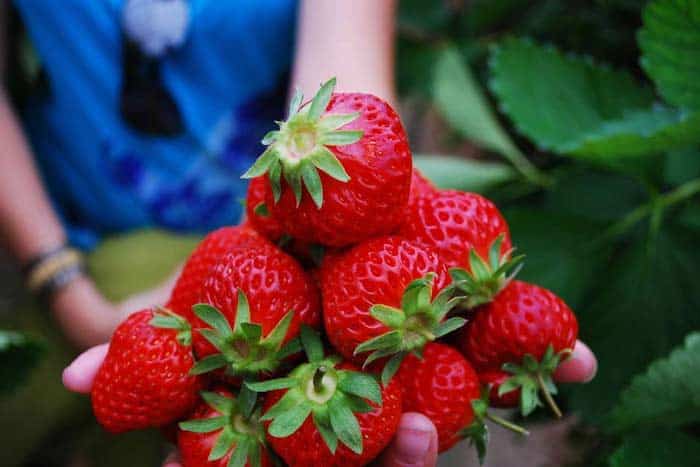 Bedugul's cold weather and higher altitude means that agriculture is the community's main source of living. From fresh vegetables that make their way to the traditional market and delivered across Bali to strawberry farms that now allow visitors to pick their own fruit, this is another side to Bali's produce outside of the ubiquitous rice fields and terraces. Bali Strawberry Farm & Restaurant is the pioneer of the latter, and their strawberry-infused sweet and savoury treats are delicious.
Bali Strawberry Farm & Restaurant is located at Jl. Raya Baturiti Bedugul, Br. Taman Tanda Baturiti. Open 9am-6pm daily.
Shop
Pasar Candi Kuning
Go local and head over to Pasar Merta Sari Candi Kuning (Candi Kuning Wet Market) to get your hands on crafty souvenirs and some of the freshest organic produces that were harvested from the farms all across Bedugul. Try to you bargain like a local too!
Pasar Candi Kuning is located in the heart of Candikuning, Baturiti, Tabanan Regency. Opens Monday – Sunday, 6 AM – 6 PM.
Stay
Taman Negari Villa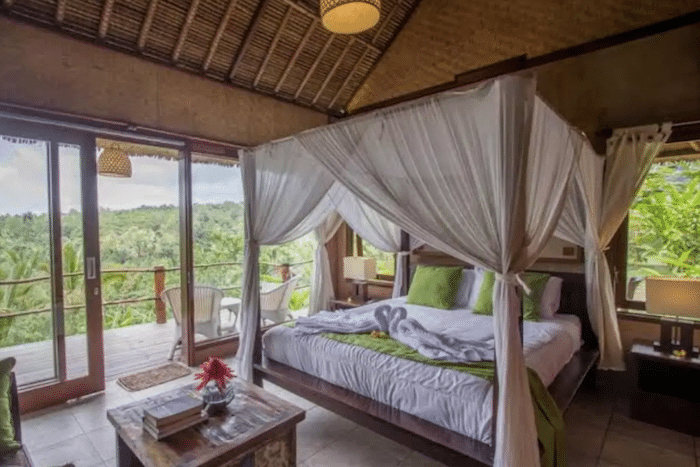 This 2,500 square metre villa with a peaceful fish pond, private big garden is suitable for families or larger groups who'd like some tranquility and privacy, as well as spectacular sunrise mountain views during their stay in Bedugul. It has a kitchen and dining/coffee area that are accessible at any time of the day, and the villa offers a fair range of activities you can book through your stay, such as cooking classes, wood carving experiences, trekking, and hot spring tours.
Taman Negari Villa is located at Jl. Raya Buruan, Penebel, Bedugul
Atas Awan Retreat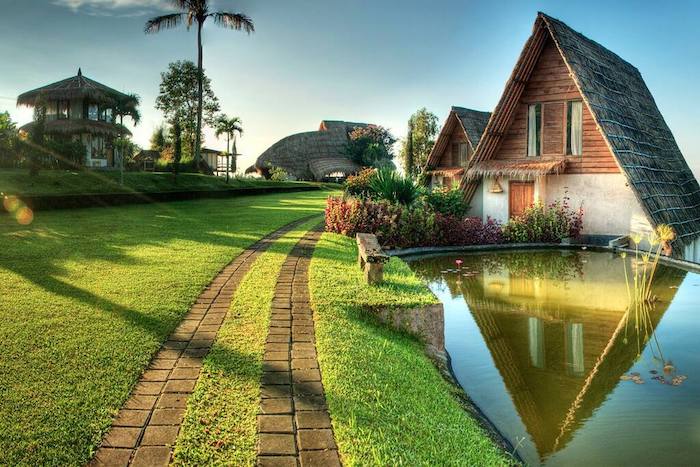 An eco-boutique hotel located in the Munduk valley countryside, Atas Awan Resort gets rave reviews for its view of volcanic mountains and paddy fields, plus its free yoga classes in Bedugul. The resort consists of 6 traditional wooden bungalows and 2 private rooms, each with individual semi-outdoor bathrooms.
Atas Awan Retreat is located in Banjar Munduk, Andong Kelod, Angseri, Baturiti
Top Image: Photo by Luiz Guimaraes on Unsplash