Singapore Staycation Spotlight: Hotel Soloha Is The Jungle-Chic Boutique Concept In Keong Saik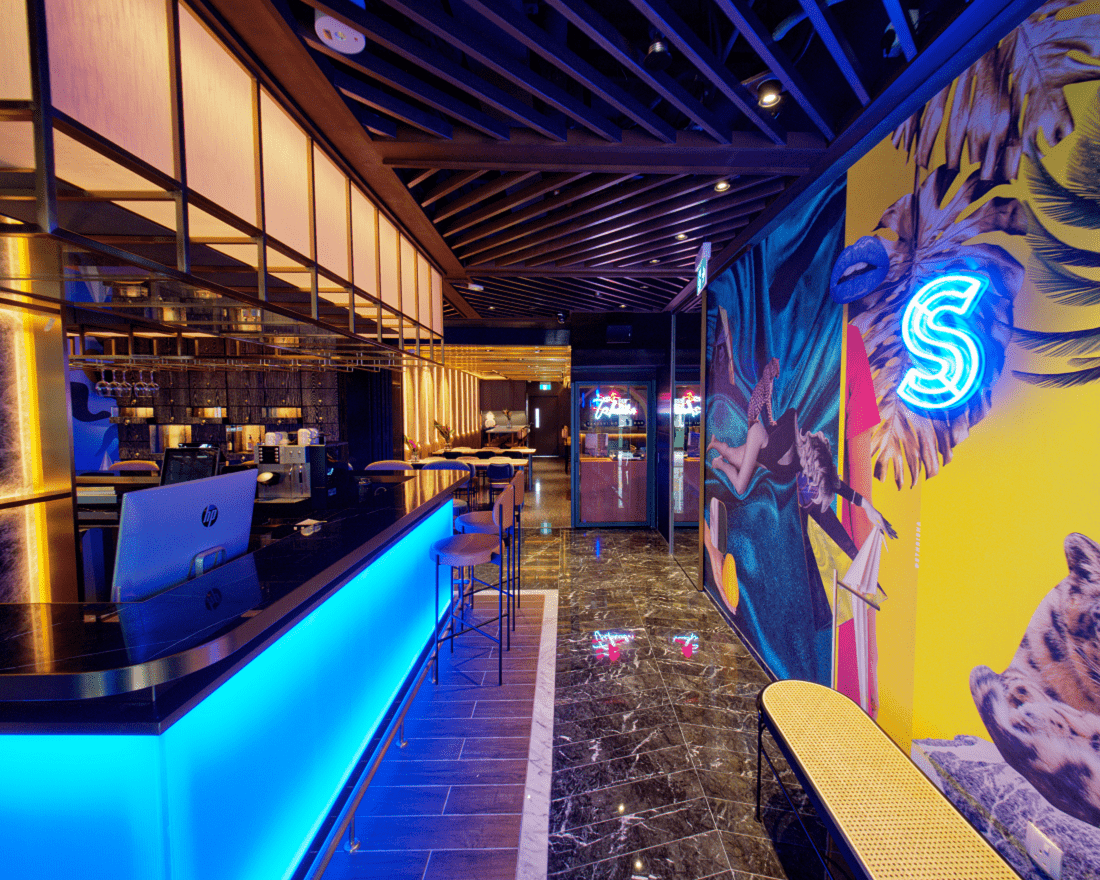 PUBLISHED September 23rd, 2019 08:00 am | UPDATED February 6th, 2020 05:01 pm
Adjacent to bar-beset Keong Saik, Hotel Soloha finds its footing along Teck Lim Road. Blue and white panelled shutters that single-out the boutique hotel's façade, with equally vibrant interiors to match. The name is a portmanteau, accentuating the concept's 'so aloha', urban-chic aesthetic. Every inch is decked out in contributions from Singaporean architects, designers, and artists – making it a great medium to show off some local talent, and a lovely staycation option nearby Chinatown.
Location & Space
With the likes of  Kok Sen, Potato Head Folk and Kafe UTU just steps away, there's no lack of things to eat, drink, and do in Singapore's most vibrant district. The first thing you'll see upon entry won't be the bar reception, but Ethrisha Liaw's bold mural work splayed across the wall opposite.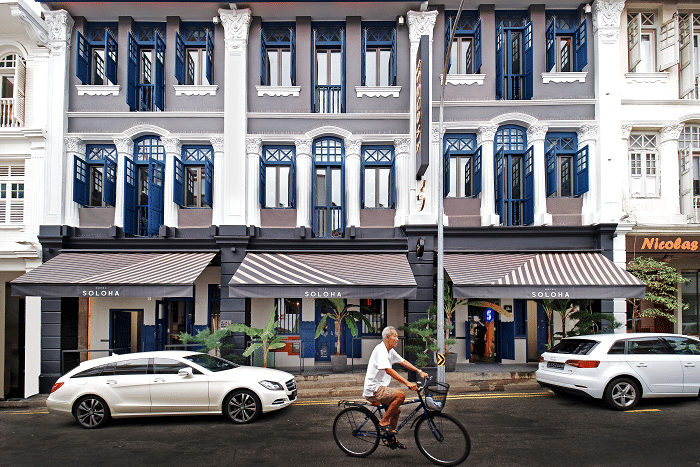 The mural, along with the artist's artwork in the guest rooms, revolve around the central theme of 'play', exploring tropical sensuality through the use of pop gradients and uncanny visual textures to create a sense of dynamic movement. Contemporary visual artist Danielle Tay also lends her talent in the form of a thirteen-metre tall painted piece, the Spirit of the Forest. It continues to tie in the look, and is visible only through the building's clear-walled lift.
Rooms
How do you squeeze forty-five rooms into the space of a few shophouses? With creativity, smart design, and lots of lofts. The hotel's compact living quarters come in eight different categories along four Technicolour floors, each themed by their own 'spirit animal'. Neon signs, complementary custom-made printed carpets and ambient rainforest sounds add to the immersive experience.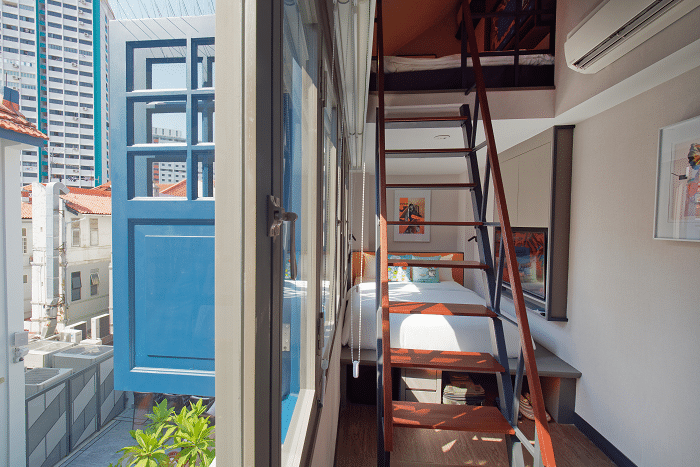 While Soloha's total rehaul of the original shophouse essentially stripped it down to the bones, they bring back elements of nostalgia as a hat tip to the 60s. Against Ethrisha's brightly-coloured pieces, you'll find veneer wood panels, cosy wallpaper, and classic rattan furniture that give the rooms a little kick of culture.
Room amenities include lush 30cm-thick mattresses, in-house shower soaps and a Hansgrohe Raindance sealed shower cubicle. Smart Room Control Units control the temperature, lighting, and even ambience of the room, greatly reducing any need to clamber up and down the loft stairs.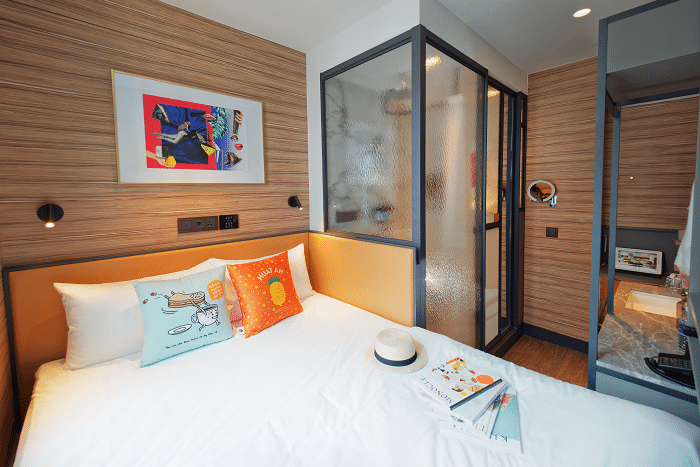 And with Smart Cable TV armed with cable and paid channels, access to YouTube, Netflix and Spotify, HDMI outlets on the headboard and a generous number of universal sockets, there's really no need to leave your bed at all – I was plugged in on digital life support and loving it.
With Deluxe rooms starting from S$185++ per night, and ranging anywhere from 11 to 13 square metres, they'll suit business travellers or young couples well enough. Families would prefer the Suite options that start from S$355++ per night, but with the steep stairs and hidden corners, parents might want to keep a firm eye on the kiddos.
Facilities & Services
Across the bar, event spaces are also available for booking and usage for hotel guests. A snack bar and co-working space offer decent WIFI for on-the-go professionals, while the games room, equipped with its very own table tennis table, doubles as a meeting room. To cater to large group events, the suites surrounding the courtyard on the second floor can also be booked out as a private event area.
Food & Drink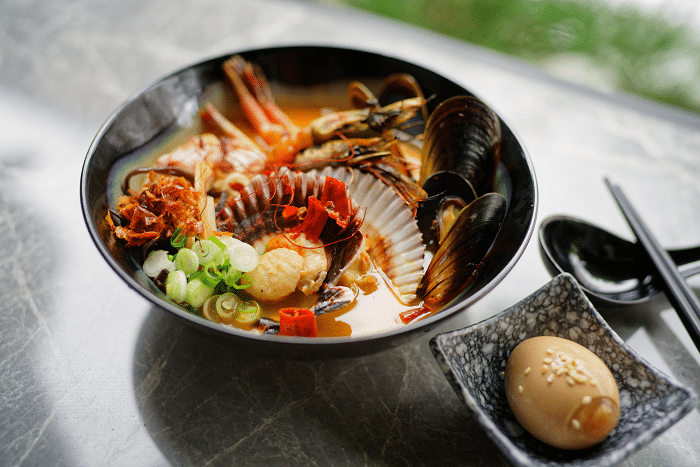 Takeshi Noodle Bar is the resident F&B stop at Soloha. It's decked out with comfy indigo, blush pink velvet and rattan sofas, terrazzo tables and fresh flowers that work the same vibe as the rest of the hotel. The fusion ramen establishment offers a range of umami-packed bowls, which include the Honey Roasted Iberico Pork with Burnt Miso Iberico Tonkotsu (S$15.90++), and Seafood Szechuan Mala Iberico Tonkotsu (S$21.90++). There's also a build-your-own option, and sides such as mentaiko oysters, char siew and grilled sirloin beef strips.
Takeshi Noodle Bar is open Mon 12pm-3pm, 5pm-11pm, Wed-Fri 12pm-3pm, 5pm-11pm, Sat-Sun 12pm-11pm. Closed Tue.
Hotel Soloha is located at 12 Teck Lim Road, Singapore 088387, p. +65 6222 8881