Steamroom with The Pillar and Stones: Orchard Central's New Trinity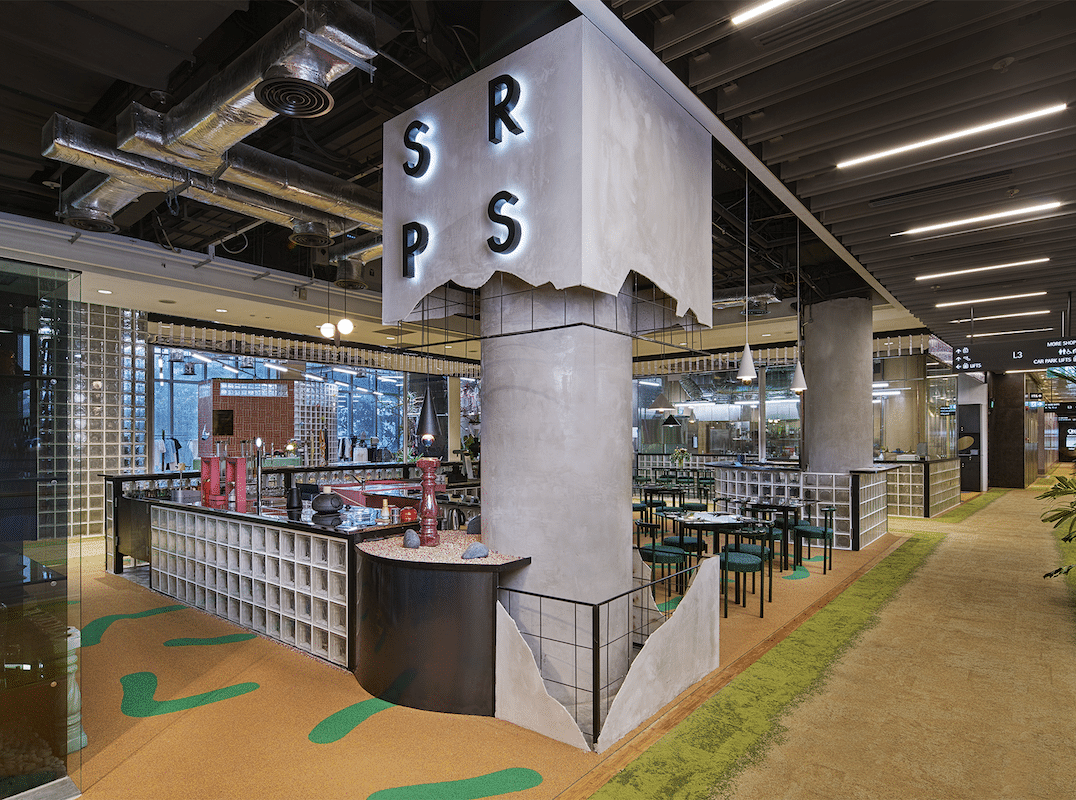 PUBLISHED June 5th, 2017 06:00 am | UPDATED May 18th, 2020 04:44 pm
The brainchild of local artist Wong Lip Chin, Steamroom with The Pillar and Stones (SRPS) is a feast for the senses, just as its name is a feat for the tongue. As both Managing Partner and designer of the space, Wong's influence is apparent in all aspects of the experience, from the eye-catching art movement-inspired interior design to the Asian-focused, heritage-embracing tea menu. A multi concept lifestyle space made up of the Steamroom, Pillar, and Stones, SRPS aims to be a triple threat to the sea of one trick ponies of today.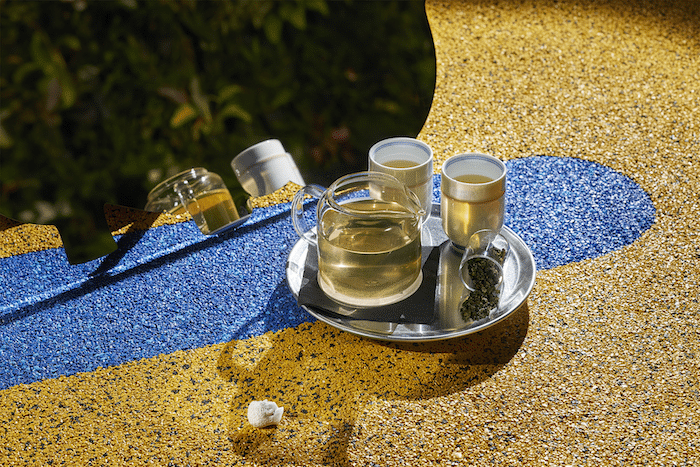 Locating the space isn't easy with Orchard Central's notorious winding corridors, so taking the lift to the third floor is the easiest way to reach Steamroom, an open concept tea room serving up Asian teas. Their Green Jade Spring (Bi Luo Chun) ($7.50), a green tea from Suzhou, China, is a refreshing, light infusion with a mild aroma and a grassy, earthy aftertaste. Conversely, the Ying De (Big Leaf Variety) ($7.50), a black tea hailing from Guangzhou, China, packs more of a punch with its nutty, caramel finish.
Both teas are brewed in the two steampunk machines that make up the centrepiece of the Steamroom- custom-fitted behemoths that are automated to brew each pot with precise temperature, time, and water volume. Coffee addicts can also get their fix here, albeit sans the complicated machinery, with a choice between the House Blend or single origin beans Ethiopian Guji Shakiso, Kenyan Top Asali Peaberry, and Alice Estate Brazil.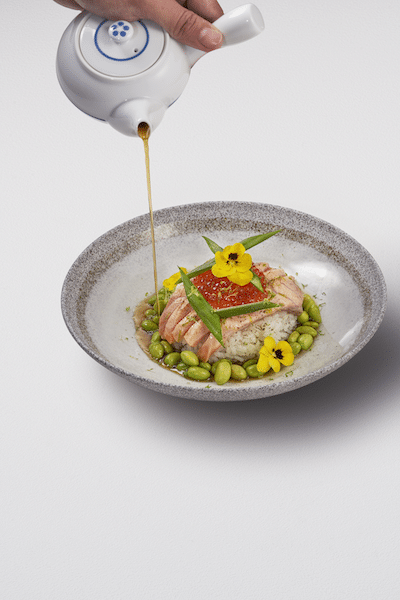 Adjacent to the Steamroom lies The Pillar, a restaurant helmed by Austrian chef Stephan Zoisl (who concurrently runs Chef's Table by Chef Stephan on Tras Street). With experience in Michelin-starred restaurants including Alinea and The Fat Duck, Zoisl brings a well balanced, ingredient-focused contemporary menu to the table. The Angus Beef Tartare ($16) is a classic starter, pairing tender, roughly chopped chunks of beef  and crunchy sourdough chips with a creamy, slightly acidic dijonnaise. The Burrata Cheese Salad ($15) is also worth a mention, with mild burrata serving as an excellent base for the punchy flavours of sundried tomatoes, quinoa, and caviar.
The Salmon Ochazuke ($24) tasks you with the responsibility of adding smoked tea dashi to the Japanese rice, Norwegian salmon, and salmon caviar. Served in a beautiful stone bowl, this social-media worthy entrée delivers fully on flavour, with the lightness of the dashi stock melding perfectly with the starchy rice and flaky salmon to make for a comforting, familiar dish. Also scoring high on comfort food meter is the Lobster Fregola Sarda Pasta ($28), a soupy dish of lobster, crab, and onsen egg enveloping the uncommon Sardinian pasta.
To end off the meal, Inspired By Red ($14) provides both a textural adventure and photo opportunity, with strawberry mousse, raspberry sorbet, meringue, freeze-dried and fresh cut strawberries and raspberries artfully arranged to form a vision in red.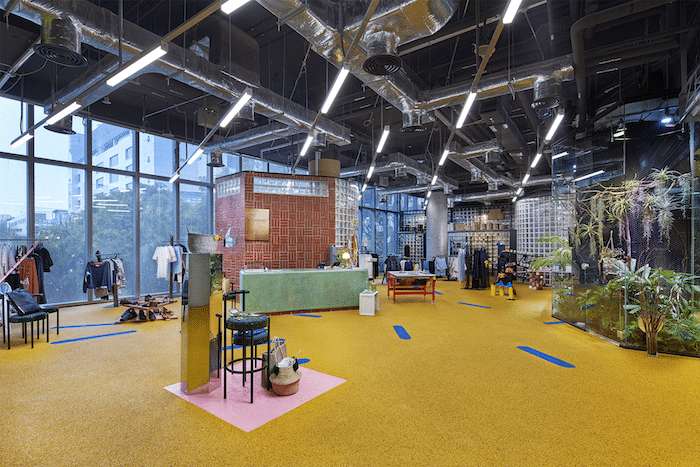 Completing the trio is Stones, the retail store and art lab. Boasting a Klimsch Lithographic Press and a conducive environment for artists to create, Stones is an ideal location for SRPS's daily art jamming sessions, weekly workshops, and weekday evening masterclasses.
Shoppers can also expect to be satisfied with the venue's curation of unique and varied lifestyle brands, ranging from Portuguese men's grooming label Musgo Real to Japanese knife maker Banshu Hamono. Apart from the interesting labels on sale, the layout of the space itself is an intrigue, with clashing colours and strong geometric motifs reflecting Wong's inspiration by the Memphis Milano art movement.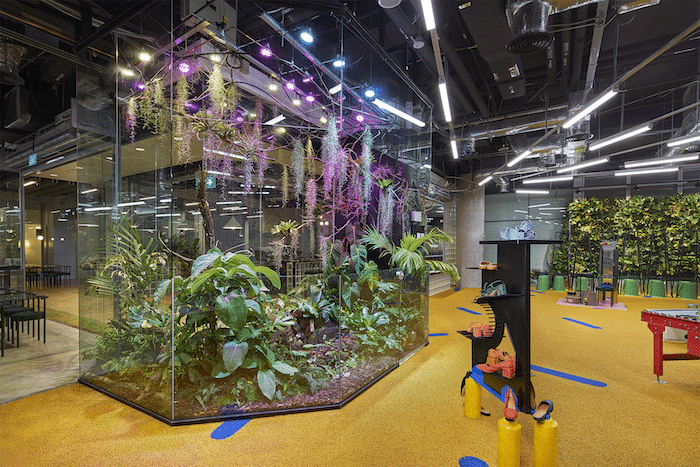 With its unique concept and immersive experience, Steamroom with The Pillar and Stones is an urban escape unlike any other on the Orchard strip. The lush feature walls and the edible wall garden where herbs are taken from for Pillar combined with the soothing nature-inspired soundtrack makes it an oasis for harried shoppers seeking respite from the madding crowd.
Steamroom with The Pillar and Stones opens daily from 10am–10pm at 181 Orchard Rd, #03-08 Orchard Central, Singapore 238896, p. +65 6592 0571.