The Best Burgers in Bali: Where To Go For The Hottest Buns in Town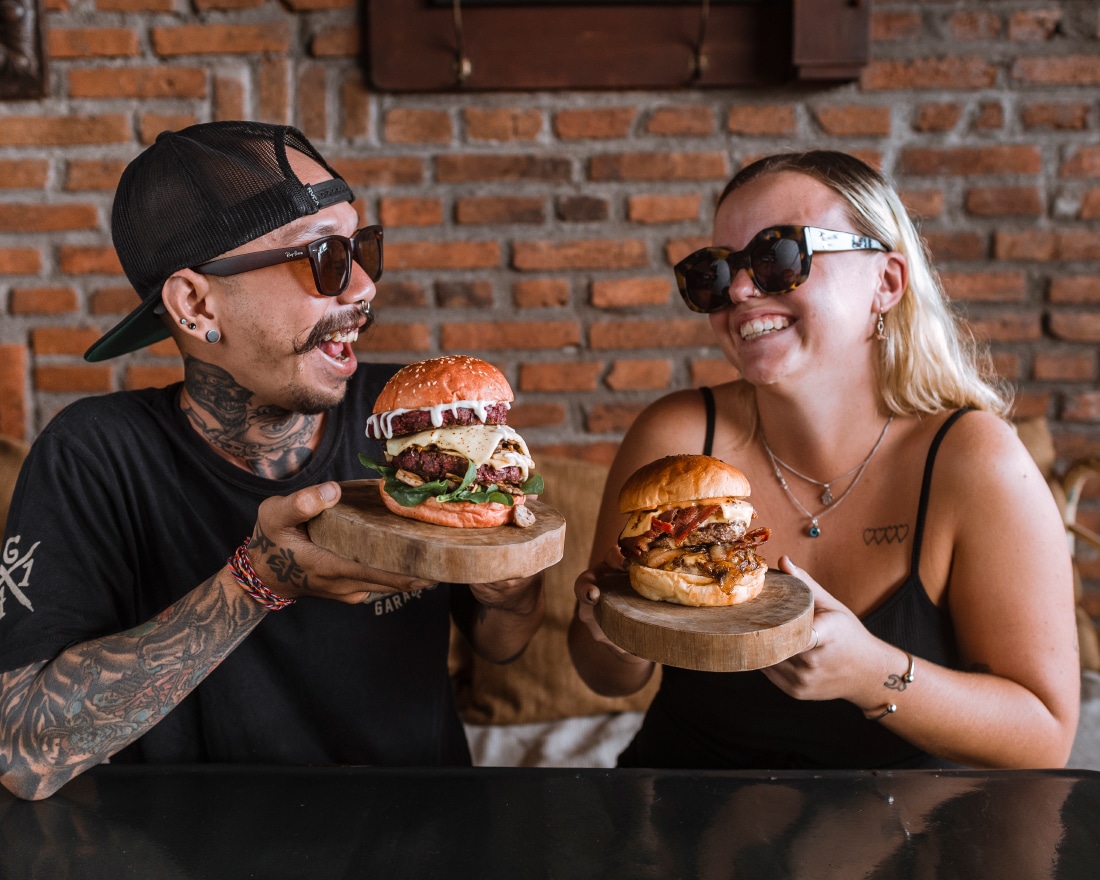 PUBLISHED December 11th, 2019 06:30 am | UPDATED May 19th, 2020 12:09 am
You'd best believe the burger hype in Bali. While there're plenty of things to do – like glamping in Ubud or scouring the craft districts for art, make room in your schedule and your belly for the meaty (or meat-free) patties that truly hit the spot.
BB52 Burgers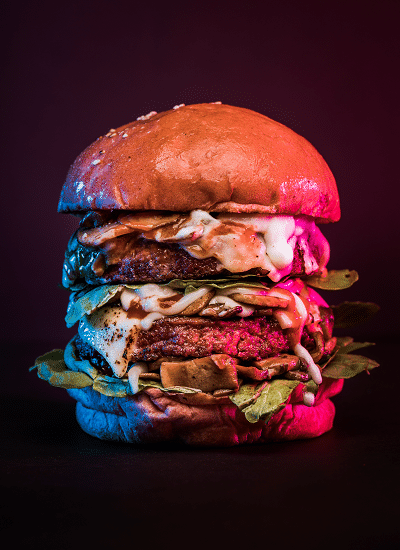 From burgers and craft gin, to dirty fries and sexy times: the folks at BB52 know the way to our hearts. This is the perfect haunt to get high on good cocktails and saucy burgers. If you're into the classic stuff, BB52's house specialty satisfies with bacon, cheddar, and onions on a juicy beef patty, slathered in BBQ sauce – but the Basic Not Basic's quinoa patty is also a breath of fresh air to those thriving on a plant-based diet.
BB52's 100K Burger & Gin Saturdays will take your weekend by storm – try one of their fantastic housemade gins and spice up your G&T with a splash of rosebud and cucumber in Tumin's Gin.
And with Parmesan Truffle Fries, Mac N Cheese and Chilli Con Carne grace the menu, there's really no reason to leave till closing.
BB52 Burgers Berawa is located at  Jl. Raya Semat, Gang Mengkudu No.1 Taman Tamora, Tibubeneng, 80361 Indonesia, p. +62 821 4758 1606. Open Sun-Fri 5pm-11.30pm, Sat 5pm-12am. BB52 Burgers Canggu is located at Jl Tanah Barak No.52, Canggu, p. +62 812 3843 3287. Open daily 5pm-11.45pm.
Habitual – Quench & Feed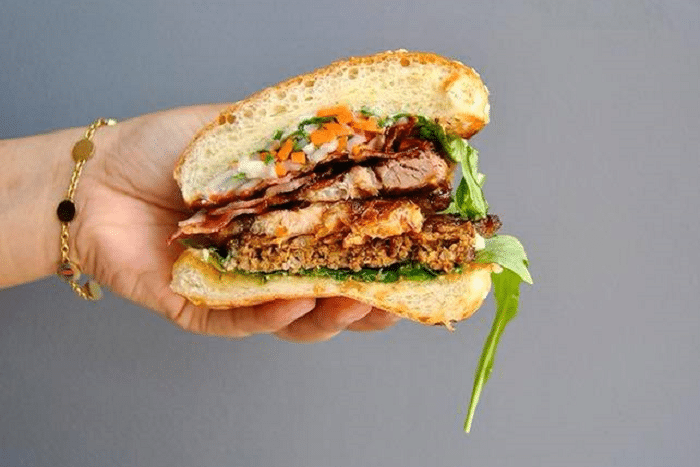 We said it once before (here) and we'll say it again – Habitual's burgers are the ones to beat in Seminyak. Looking for a pick-me-up brunch? You'll have to beat lunch-hour crowds at Umalas 1 to fix that. Though their burger menu is that of excellent variety, you'll want to hit up their authenic American renditions, like the Americana, or the Cubano for something fool-proof, paired with a handful of hand-cut fries and a refreshing craft beer to go with.
Habitual Quench & Feed is located at Jl. Umalas I No.12B, Kerobokan Kelod, Kec. Kuta Utara, Kabupaten Badung, Bali 80361, Indonesia, p. +62 851 0018 1801. Opens Tue-Sun 9am-6pm.
[button color="blue" size="normal" alignment="none" rel="follow" openin="samewindow" url="http://www.tkqlhce.com/click-9211920-13787505″]A hand selection of luxury Bali villas with customised personal service. Book now.[/button]
La Bandida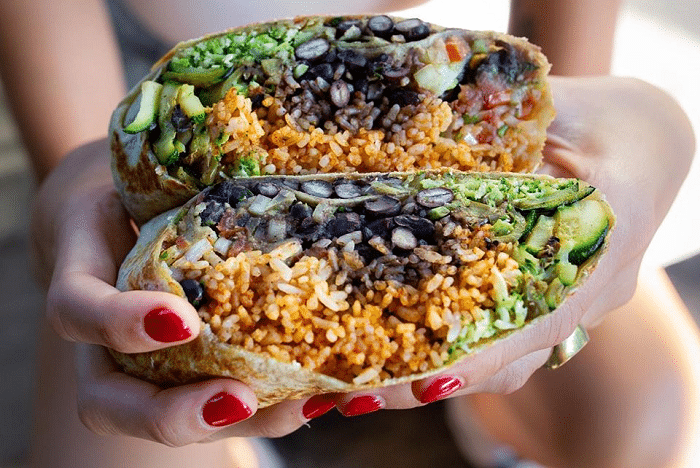 For a dash of Tex Mex in your next meal, La Bandida steps up to the plate with dribbles of hot sauce and marinated pulled pork burgers. Get your hands on La Matriarca – a sinful medley of bacon, cheddar, and Mexican chorizo salsa on a 160g beef patty. With Tuesdays seeing all burgers going at 55,000 RP, you'll want more than one trip to blue cheese heaven with La Reina del Pacifico's sinful sauce and caramalised onions.  Good for the waistline? Who cares! Good for the soul? Definitely.
La Bandida is located at Jl Tanah Barak No.6, Canggu, p. +62 821 4547 4530. Open daily 5.30pm-12am.
The Shady Shack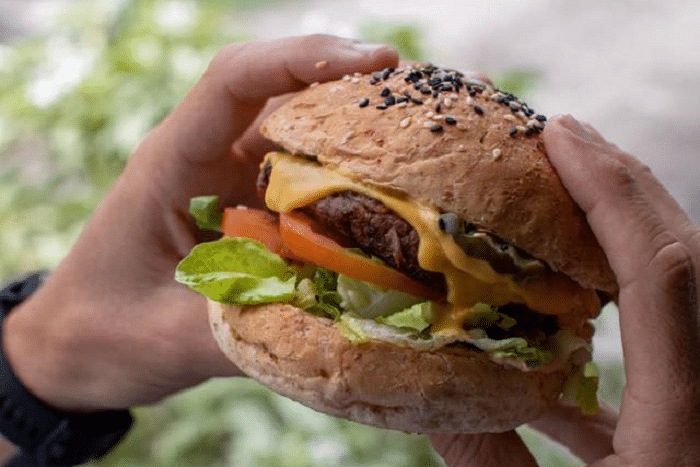 While tons of places on this list have veggie options for die-hard green folk, Shady Shack's huge selection of delicious vegan and vegetarian alternatives slay the leafy green game. Take the Gyro Jack Burger (90,000RP) for example: marinated pulled jackfruit, grilled eggplant, kalamata olive tapenade and roasted peppers give conventional burgers a run for their money, as does the ever-popular marinated Tempe Burger (75,000 RP), with grilled pumpkin, red onion and a homemade BBQ sauce.
The Shady Shack is located at Jl Tanah Barak No.57, Canggu, p. +62 819 1639 5087. Open daily 7.30am-10pm.
Wahrung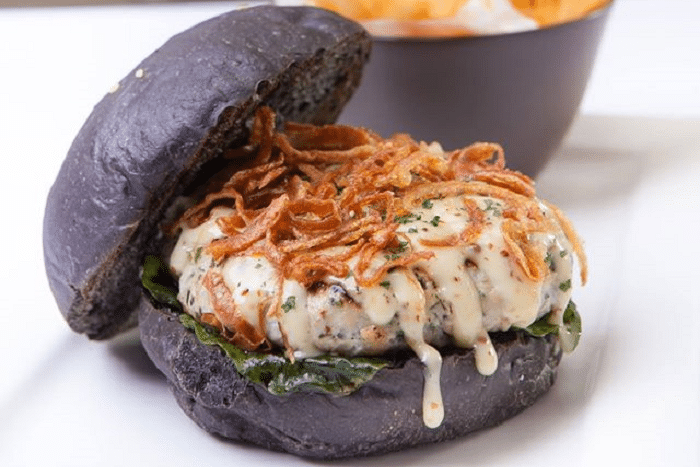 From the owners of Seminyak's WahWah Burger, Bali's gourmet burger bosses take to street food with Wahrung, named after traditional roadside eateries. An array of mouth-watering favourites and home-styled comfort foods are made from scratch, using local organic herbs with no artificial seasoning and preservatives (read: perfect for health nuts). House favourites include the Aged Aussie Sirloin Steak Burger (110,000RP) features hand-chopped never-frozen steak and the fresh, flaky Butter Fish Fillet Burger (80,000RP).
Wahrung is located at Jl. Kayu Jati No.8, Seminyak, Kuta, Kabupaten Badung, Bali 80361, Indonesia, p. +62 361 738097. Opens daily, 10am-10pm.
Omburger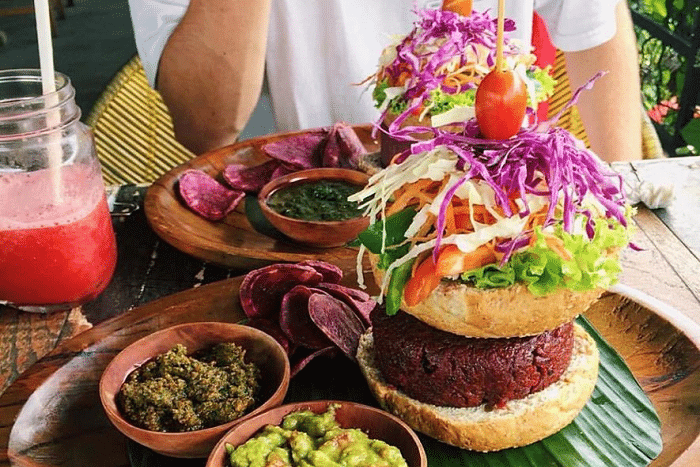 Omburger is Uluwatu's resident healthy option, with supersized burgers packed full of superfoods, fresh veg, black rice and organic sweet potato. Sink your teeth into a sensational Uluwatu Beef Burger with second-storey sea views, or build your own mega-creations. It gets pretty crowded by evening though, so be prepared to wait.
Omburger is located at Jl Melasti No. 432, Padang Padang Beach, p. +62 812 3913 617. Open daily 7.30am-10pm. 
Pizza Burger Liquour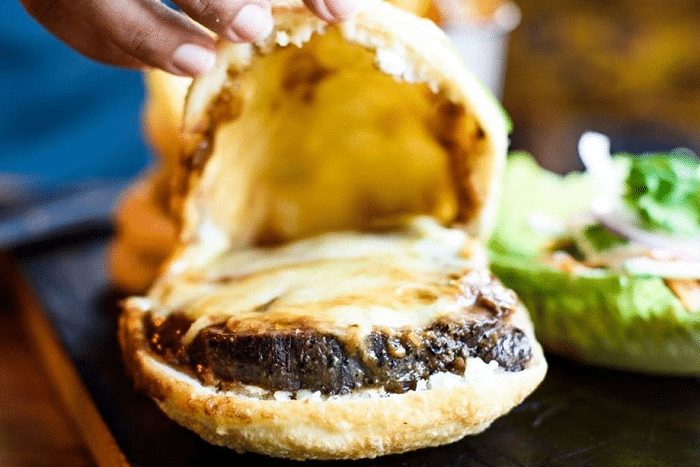 What makes a balanced meal? You'll have to cut a slice of PBL's chunky pies and take a bite of their juicy burgers to know. Ubud's littlest gem is currently undergoing a major facelift till January, and we can't wait to see what they come up with next. All we can say is, we hope they bring the Aussie Boy (129,000RP), a smoking hot giant filled with beef, bacon, egg, pineapple, beetroot, and caramelised onions.
Pizza Burger Liquor is located at Jl Sriwedari No.11, Ubud, p. +62 811 3807 770. Open daily 10am-12am.
Street Boi Bali
Taking a turn for the unusual yet nostalgic is Street Boi Bali; they stray away from the conventional buttered potato bun and go instead for fluffy, steamed bao-like buns. Oven-fresh and uber soft, they're the perfect way to savour every drop of glaze, apple slaw and asian verde in the Porky-Pork Bao (75,000RP). But our favourite? A Korean-inspired fried chicken KFC Bao (70,000RP), with ginger caramel and gochujang mayo, washed down with an ice-cold beer.
Street Boi Bali is located at Jl Petitenget No. 18AA, Kerobokan Kelod, Bali, p. +62 0812 3676 8665. Open daily, 12pm-12am.
Top Image: BB52 Burgers