Private Island Review: Paradise Found at Bawah Reserve in Indonesia's Remote Anambas Archipelago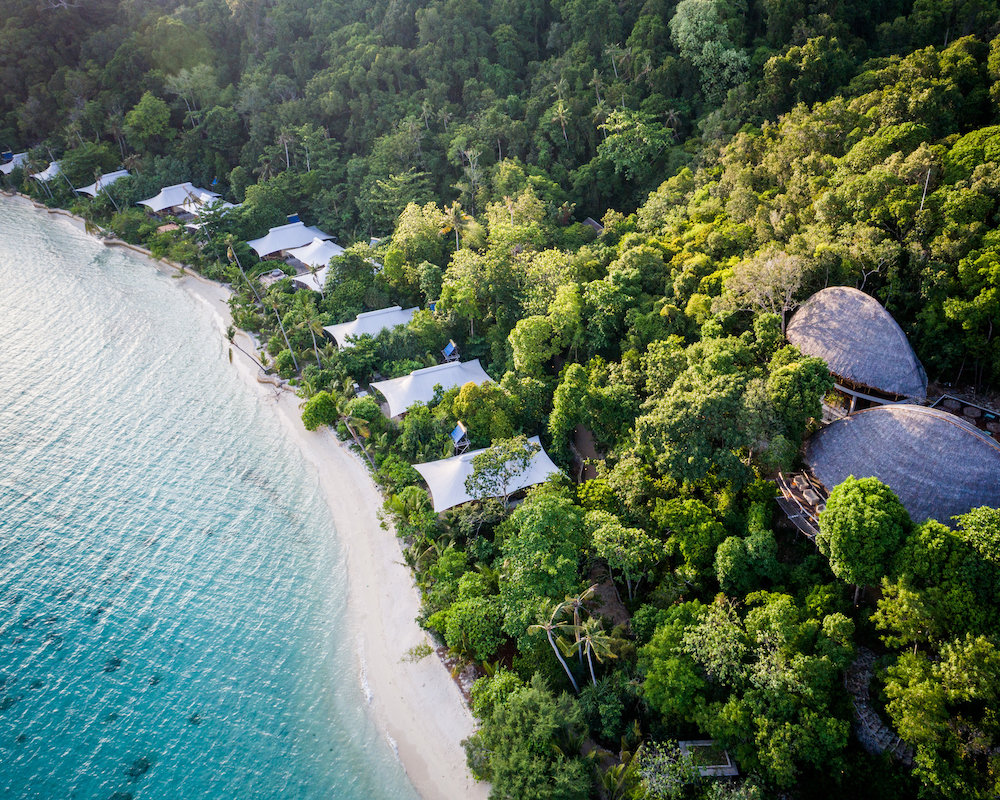 PUBLISHED December 10th, 2019 03:00 pm | UPDATED May 18th, 2020 07:21 pm
With effects of climate change making themselves increasingly evident, it's hard not to be conscious of our own consumption – particularly when it comes to travelling, what with the flight shaming movement taking off. And from what we can tell, luxury private islands might actually be the most eco-unfriendly option, since guests, supplies and staff travel longer journeys to reach island paradise. But Bawah Reserve in Indonesia's Anambas Islands showed us that if there's a will, there are many ways.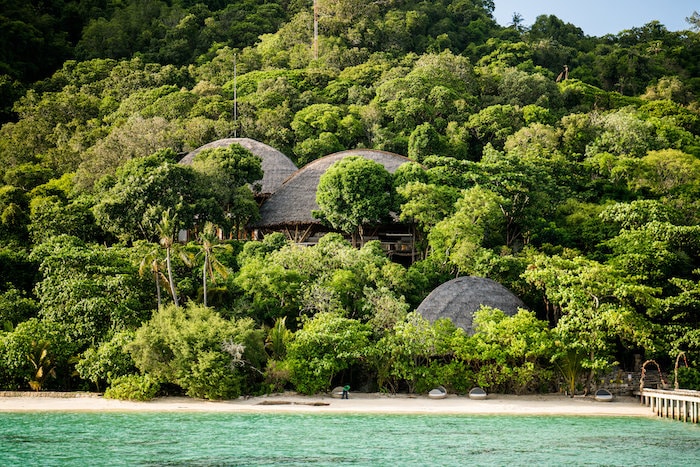 Not only do they have multiple organic farm sites growing everything from bok choy to passionfruit across the six islands, there's a recycling plant. Staff are taught to separate waste, and this education is passed on to locals on other islands under the banner of their Bawah Anambas Foundation, which also does critical work in preserving coral reefs in the region. Water is recycled as well, and an intriguing way of controlling the mosquito population by establishing 'hotels' – the eggs of the insect are destroyed after being laid and are thus unable to multiply exponentially.
Location
Situated in Indonesia's remote Anambas Archipelago, 300km northeast of Singapore, Bawah Reserve takes its name of the island (Pulau Bawah) and its status as a marine conservation area gazetted by the government. Surrounded by clear turquoise waters and coral reefs, it spans six islands and 13 white sand beaches and was previously uninhabited before owner Tim Hartnoll came across it in 2012. The resort took six years to build as all construction was carried out with sustainability in mind; for instance, no heavy equipment was used, and all stone used was sourced from the island itself.
Getting There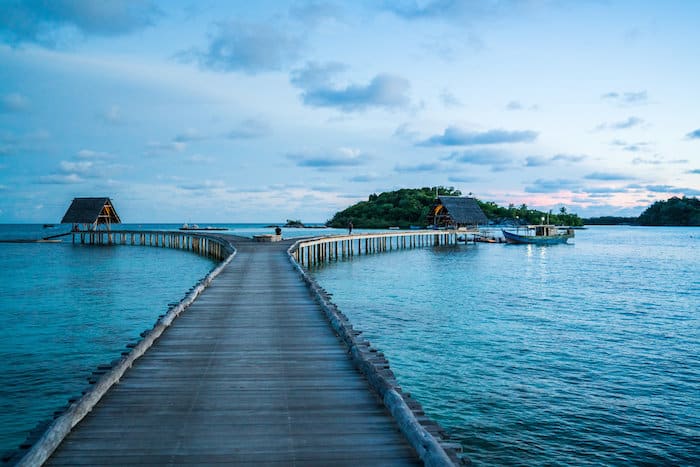 It takes about five hours from Singapore. We were picked up bright and early in a comfortable Toyota Alphard and headed for Tanah Merah Ferry Terminal to board the 8.15am Majestic Ferry. After a short 30-minute ride across the Singapore Strait to Batam Centre and being fast tracked through Indonesia's customs, we were whisked into another vehicle, this time bound for Batam's Hung Nadim Airport. Upon clearing security, we get a Starbucks pit stop with complimentary refreshments before the final leg of the journey – an 80-minute flight on one of their two amphibious sea planes – and, at the risk of sounding greedy, arriving just in time for lunch.
We very much appreciate that there always was a member of the staff from Bawah Reserve (thank you Laurence and Vio!) present throughout, assisting with procedures and making a long trip a lot easier. It's a lovely prelude to one of the best island resorts we have ever been to. In fact, we didn't even have to check in; each party is picked up at the end of the jetty by a member of the staff, who explains the resort's layout and features while escorting guests to their room.
Rooms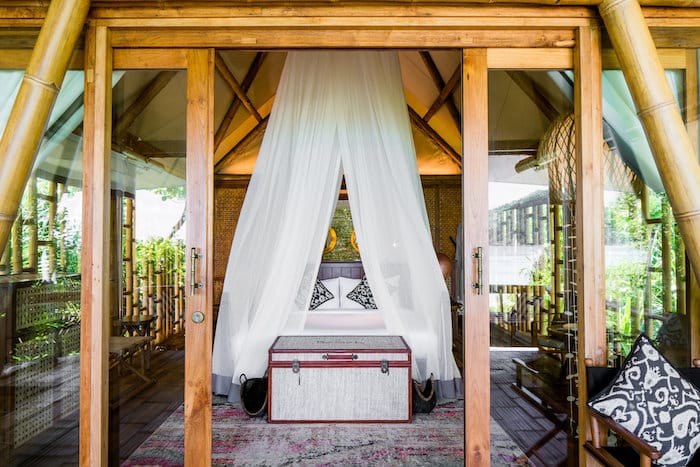 With couples making up 80% of the clientele – the resort welcomes kids aged five and up – it makes sense that most of their 35 rooms have one-bedroom layouts. While honeymooners will undoubtedly enjoy the privacy afforded by the Overwater Bungalows, we like the outside-in feel of the Beach Suite. Constructed mostly of natural materials, the safari-style suite features a tented ceiling and a canopy that can be rolled up if you prefer not to be in air conditioning.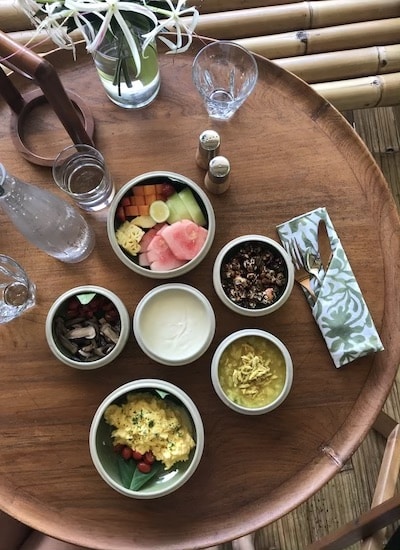 The private veranda that triple functions as a lounge and dining pavilion is one of the highlights. One of my best moments here was having a breakfast of burbur ayam (Indonesian chicken congee), granola, yogurt, and fresh fruit with a glorious view and skin-kissing sea breeze.
Food is included in the daily rate and guests will find separate breakfast and all-day dining menus catering to those who want to stay in, and not having to fork out extra for it.
If you haven't guessed already, Bawah Reserve is the kind of place that doesn't provide televisions – thought there are movie nights by the pool with all the popcorn you can eat – and to honest, there's no need. The staff leave books of different genres from the library in the suite for your reading pleasure.
Upon arrival, guests will also find a care bag filled with Bawah's own line of eco-friendly products like reef friendly sunblock and vegan mosquito repellant on the canopied bed. The bathroom is equally lovely with a walk-in wardrobe, as well as separate toilet, shower, copper bathtub; hot water supply was definitely not an issue. Did we mention that laundry service is included too?
The well-designed pantry stand has bottles of still and sparkling water courtesy of the island's water filtration systems, as well as a variety of teas and Indonesian coffee.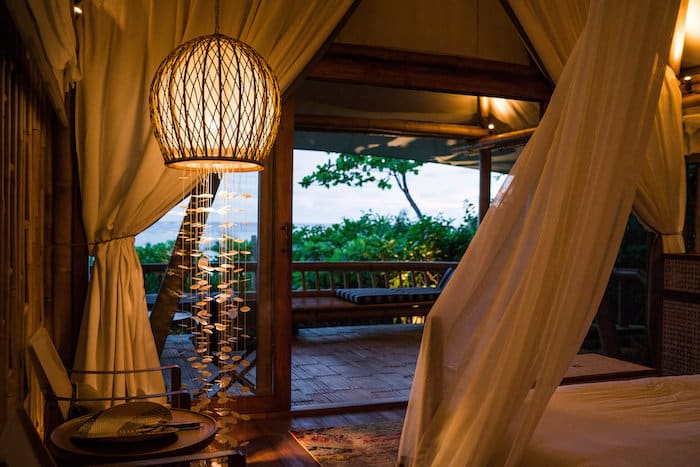 Facilities and Activities
All land activities and water activities (except diving) are complimentary, and we highly recommend the snorkelling with the crystal clear waters and corals making themselves home so close to the beach. We took snorkelling gear, issued to every room upon arrival, to our private beach picnic. Two members of the team dropped us off at Coconut Beach, 10 minutes from the main island by boat, with a picnic basket full of goodies. We spent four magnificent hours eating, drinking, and just being in nature, and we're not surprised this is one of the most popular experiences at Bawah Reserve either.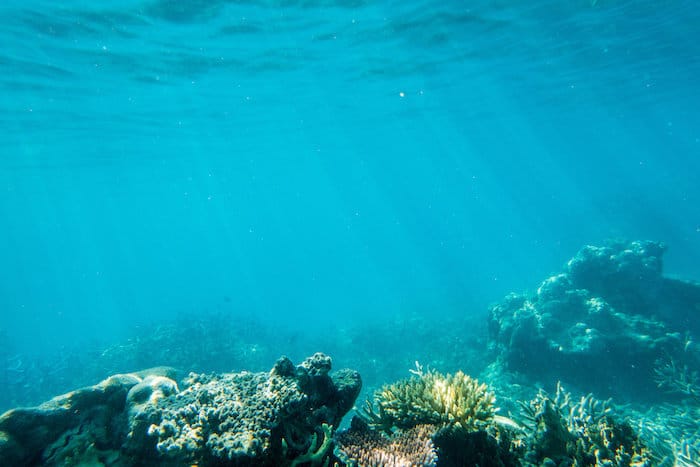 Love time at the spa? Then look forward to a one-hour treatment at Aura Spa for each full day on the island, and 30 minutes on arrival and departure dates. Whether you opt for Restore Essence, a personalised massage tailor made to the needs of the body, or the gentler Tropical Escape rubdown designed for rebalancing and reconnecting, expect the use of high quality oils that blend lavender and jasmine, ylang ylang and lemongrass, and ginger blossom. Aura also hosts some of the complimentary movement, yoga, and Pilates classes available to any guest.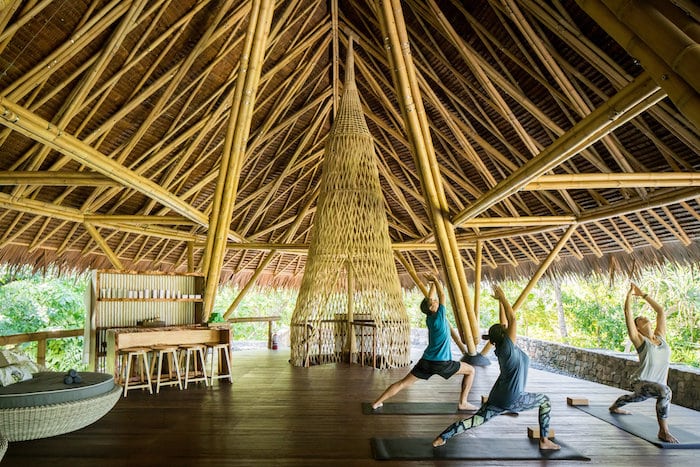 Other activities we enjoyed include the sundowner six island boat cruise, the sunset hike, and the eye-opening permaculture walk that showed us how much Bawah Reserve is doing to be more self-sufficient and self-sustaining.
Food and Drink
Those who love to eat will be glad to know that the food and beverage programme at Bawah Reserve is well-planned and well-executed. All-day dining restaurant Tree Tops offers breathtaking views of the lagoon, stunning bamboo architecture to behold, and at night, an impressive lighting installation representing a bloom of jellyfish comes to life. Lunch or dinner, the menu is large enough to cater to any whim and fancy. Try their local tuna tataki paired with refreshing sambal matah made with plenty of shallots and pineapple, chicken satay, and the perennial favourite, nasi goreng.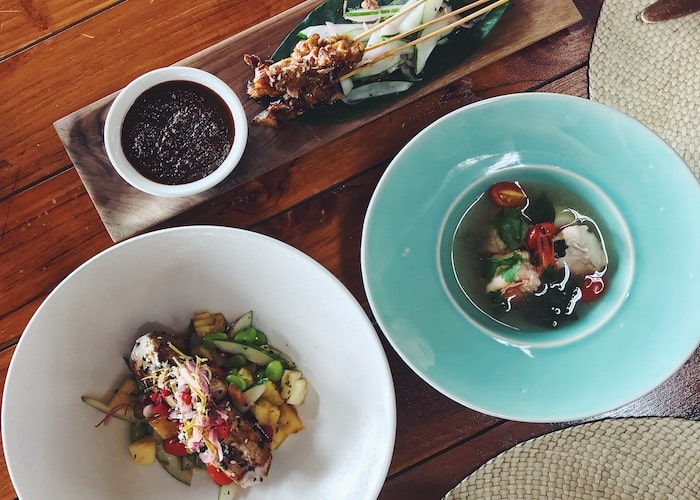 On the other end of the island, The Boat House is spectacular at night as that's where regular star gazing sessions are held. It was also hosting "Indonesian Flavour Night" the day we arrived, so we got to enjoy a culinary and cultural journey across the country, since members of the staff were putting on dances from various parts of Indonesia while we indulged in Balinese minced prawn skewers, sautéed beef with eggplant in spicy balado sauce, and bumbu kuning grilled fish.
For more information and reservations, please see Bawah Reserve's website. Rates start from US$1980 per room (based on two people sharing) per night in the Garden Suite, all-inclusive except diving, alcohol, and transportation (US$700 per person round trip from Singapore). There is a minimum stay of three night per booking.