The Waku Ghin Bar Experience: Japanese-Style Bartending and Food Deserving Of Its Michelin Stars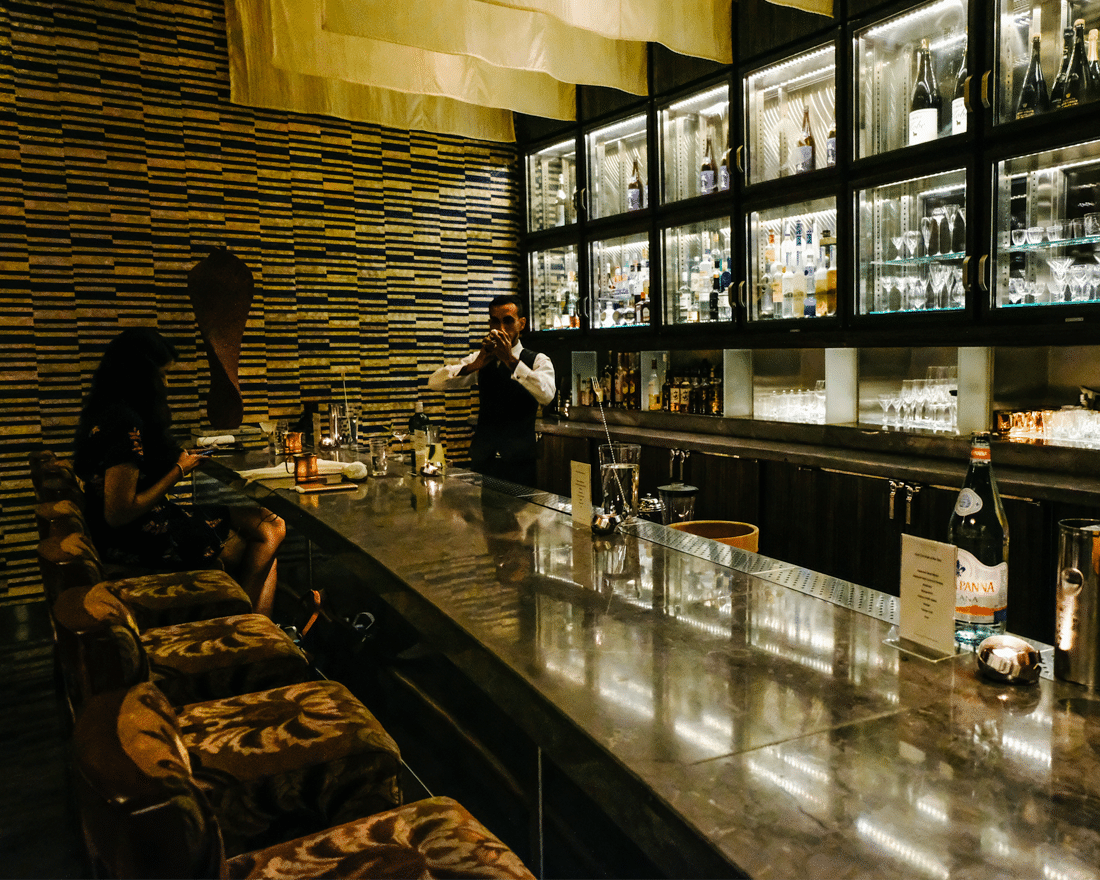 PUBLISHED June 21st, 2018 06:00 am
We'd be kidding ourselves if we said a meal at Waku Ghin wasn't intimidating. The award-winning Marina Bay Sands restaurant in Singapore is poised and expensive – yes, let's get it out of the way early – with a full dinner costing upwards of $450 per head excluding taxes. Though in all fairness, the fine dining establishment is helmed by the Japanese-born Australian celebrity chef Tetsuya Wakuda. Did we mention the two Michelin stars as well?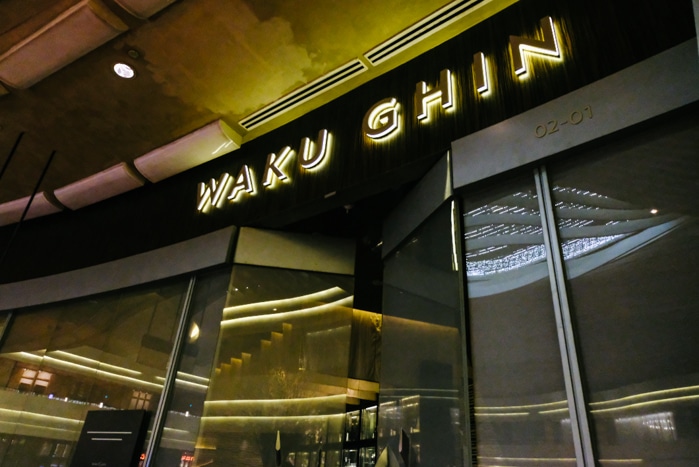 To describe Waku Ghin as simply a Japanese restaurant doesn't quite do it. What Chef Tetsuya does here cannot be found anywhere else – unparalleled ingredients and culinary magic that fuse with renowned Japanese sensibilities. And as it turns out, you don't have to scrimp too much to eat and drink well at The Bar at Waku Ghin. The stylish lounge by the entrance might not be in the spotlight as much as the restaurant, but it still deserves your full attention. The cosy space is decked out with mother-of-pearl laminate walls, Taiwanese orchids, and a particularly riveting sculpture by internationally acclaimed ceramist Mitsuo Shoji.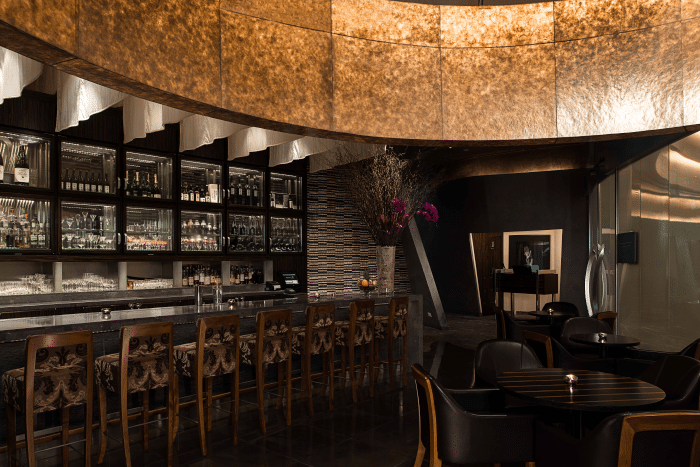 We had cocktails prepared for us by Assistant Bar Manager Logen Selvam, who mixes solid drinks with the grace and precision of a mixologist from Ginza. Try something from his 'Fruit Cocktail of the Day' menu, which sees some eight refreshing concoctions at any given time depending on the season. At the moment, the Musk Melon and New Summer Orange, or hyūganatsu (a juicy sweet and tangy yuzu-pomelo hybrid of sorts), are huge hits, and we're told that Chef Tetsuya personally reaches out to specialised farms in Japan for them. The musk melons that he use in particular, are from a farmer who also supplies to the Japanese imperial family. It's an incredibly juicy and sweet fruit that can easily cost more than 10,000 yen ($120) for a small melon.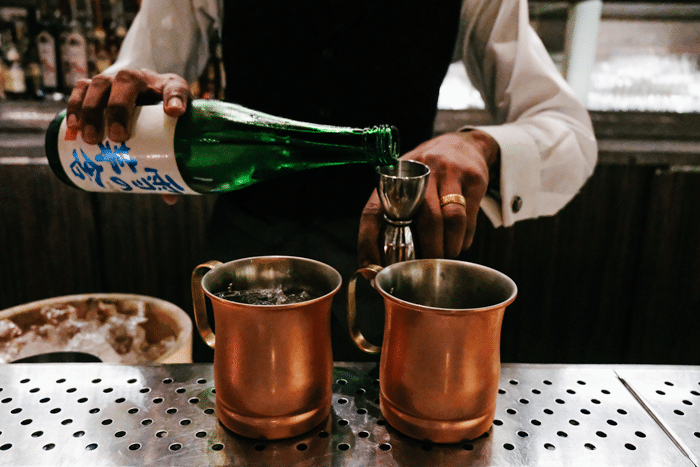 Rather than try to overshadow the restaurant's degustation menu, what the food menu offers is a taste of Waku Ghin. It might be tempting to order dishes like the freshly-shucked Gillardeau oysters from La Rochelle France, there are so many other places in Singapore for that. Instead, start with the Vegetable Salad with Bagna Càuda ($20), a fridge-cold vegetable platter loaded with the season's peak produce: yellow and red peppers, cherry tomatoes, asparagus, ginger flower, and endives, sourced from boutique farms in Shizuoka and brimming with natural sweetness. They come together with a warm Piemontese anchovy dip made with anchovies, garlic, butter, and olive oil – bagna càuda.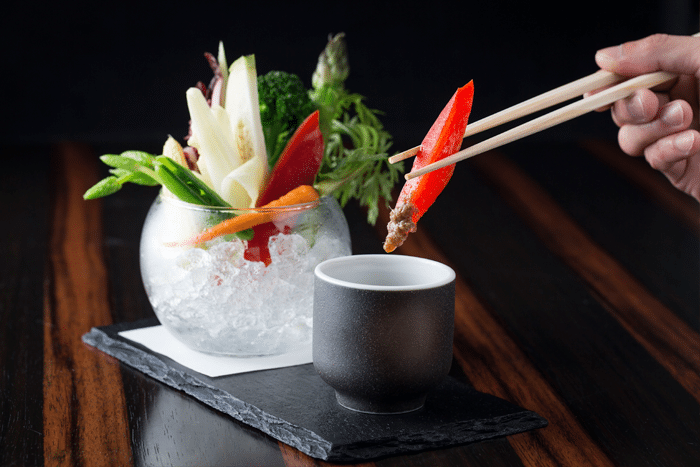 There's also the chef's WG Marinated Fried Chicken ($20), which we're told is one of his favourite foods to snack on. Prepared karaage-style with juicy chicken thigh, the amazing crispiness is the same as that we've come to expect from speciality shops in Tokyo.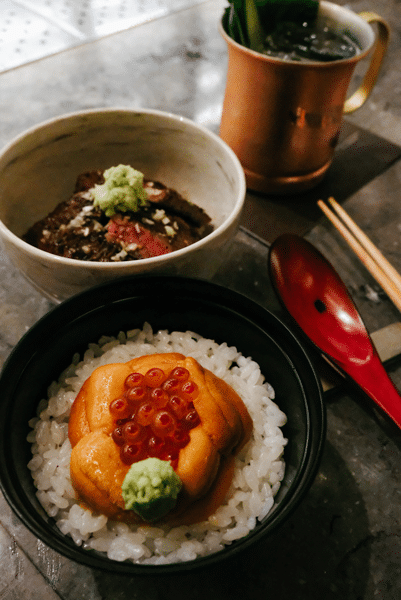 At this point, we get our second cocktail of the night, a more aromatic take on the Moscow Mule that Logen calls the Samurai Mule ($25). A hat tip to Japanese aesthetics and flavours, he utilises fruity Junmai sake instead of vodka and shiso and cucumber garnish for extra freshness. The result? A light libation with a tinge of sweet fruitiness perfect for a hot day.
On request, we try an Ayu (sweet fish) dish that's not in the menu. The prized summer fish from Japan has a soft texture accentuated by a mild sweet taste, and Chef Tetsuya pan fries this for a crisp exterior accompanied with a bitter tade herb and vinegar sauce, as it is traditionally done. Whatever the case, you will want to make space for the Sea Urchin and Salmon Roe Set on Rice ($38), a flavour bomb of a rice bowl that dreams are made of, from the stark deliciousness of creamy Murasaki urchin (in season now) to the copious amounts of savoury ikura and freshly-grated wasabi of the highest grade – certainly none of that coloured horseradish nonsense.
It's a worthy alternative to Chef Tetsuya's famed botan shrimp with sea urchin and Oscietra caviar, if ever. He also does a fabulous Grilled Ohmi Wagyu Beef Set on Rice ($30) aka Wagu Ghin's 'yakiniku don', and a Spaghetti with Spanner Crab and Mizuna ($26).
Logen makes us a spectacular Mont Blanc ($30) – not the French dessert, but a drink named after it, and we start wondering why we hadn't ordered a cocktail with all our desserts in the past. Think Ron Zacapa Solera 23 rum blended up with ice, chestnut puree, cream, vanilla syrup, and chocolate bitters, completed by a dessert of your choice from Patisserie Platine, Waku Ghin's pastry line. We choose the Tiramisu Choux, a regal puff pastry that stands tall above an aerated pillow of light tiramisu cream.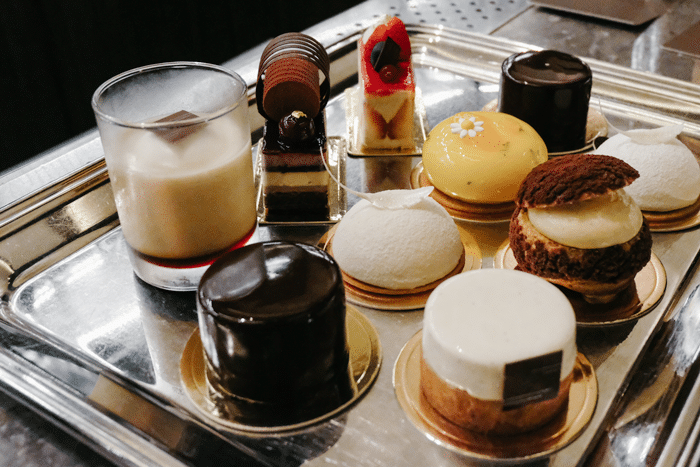 It's worth noting that Chef Tetsuya is the first person to be appointed 'sake samurai' outside of Japan, an ambassadorial title that marks his selection as the best in the world, including an aromatic Bunraku Rin Junmai ($78, 720ml) from Saitama and a soft, fruity Yuki No Bosha Junmai Ginjo ($88, 720ml) from Akita. It's a small selection, but it is one that's assured and not especially expensive. Even then, at a place like Waku Ghin, it's an expense that feels justified.
The Bar at Waku Ghin is located at The Shoppes at Marina Bay Sands, Level 2 Dining, L2-01, 2 Bayfront Avenue, Singapore 018956, p. +65 6688 8507. Open daily 5.30pm – late, no reservations required.