Where to Eat Street Food in Bangkok: Inner City Neighbourhoods with Local Food Hubs to Check Out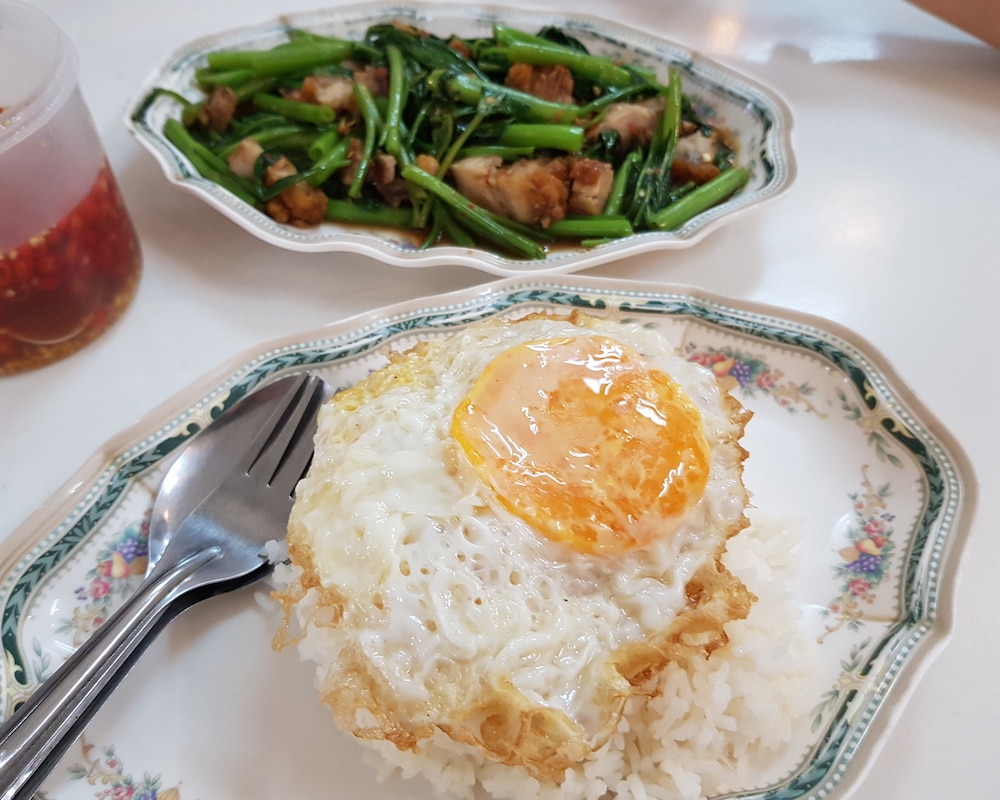 PUBLISHED April 28th, 2018 06:00 am | UPDATED May 18th, 2020 07:10 pm
Bangkok has seen a lot of change since last year's street cleanup, but the ban on sidewalk peddlers has not put an end to this foodie paradise just yet. From Chinatown to Thonglor, here are six street hubs in Bangkok's inner city that're worth checking out.
Sukhumvit 38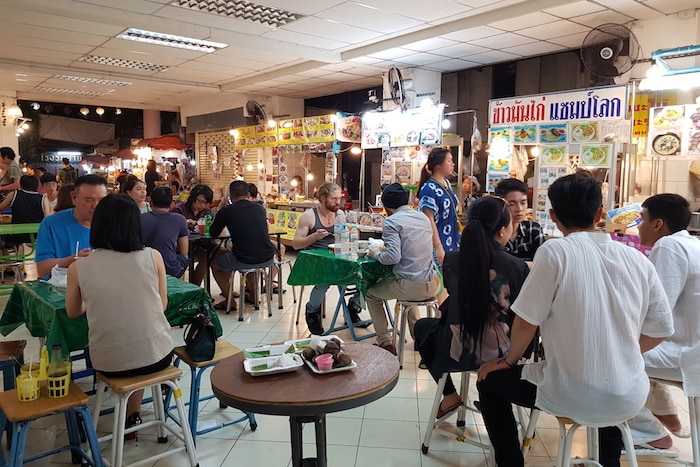 Located opposite from Thonglor, Sukhumvit 38 is one of the top choices when it comes to late night feasting among citizens of mid Sukhumvit, travelers, and night-time wanderers. Although the land eviction in 2017 has forced many of the stalls to leave, this famous alley still hosts a good lineup of local's favorites under one roof. You will find the classic dishes like pad thai, tom yum soup, and kao moo daeng (barbecue pork with rice and sweet gravy), as well as spicy Isaan cuisine. We highly recommend the egg noodles soup with wonton and crispy pork and the satay skewers.
Best Hours: Tuesday-Sunday, 5pm-2am.
Getting There: BTS Thong Lor Exit 4.
Sala Daeng-Convent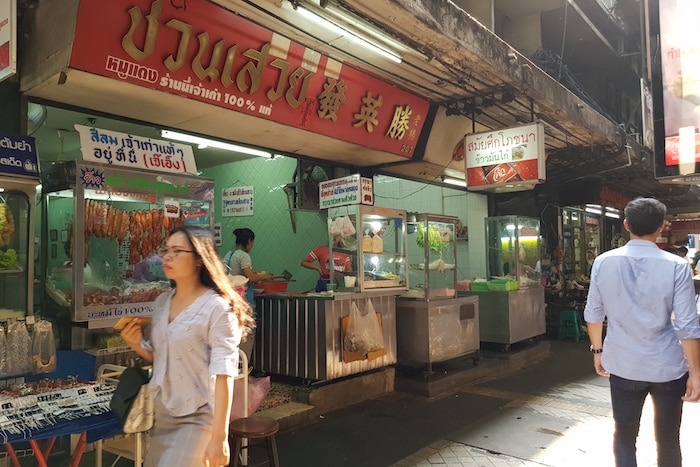 It might be true that many of the historic shophouses have undergone a facelift to house modern cafes and restaurants, but the neighborhood still has some great old noodles and rice shops that have been around for decades, like Chuan Savoey and Samai Suek Pochana. Those who visit enough may also notice that some food carts in Soi Saladaeng and Soi Convent rotate their spots during the days; so be it breakfast, lunch, or dinner, thre's bound to be something different to eat. Highlights include kao moo dang moo grob (barbecue and crispy pork with rice in sweet gravy sauce) from Chuan Savoey, Thai-Hainanese chicken rice from Bandit Kim, and yentafo noodles from the Michelin's Bib Gourmand, Yentafo Convent.
Best Hours: Tuesday-Friday, 8am-8pm.
Getting There: BTS Sala Daeng Exit 2 or 4, MRT Si Lom Exit 2.
Yaowarat (Chinatown)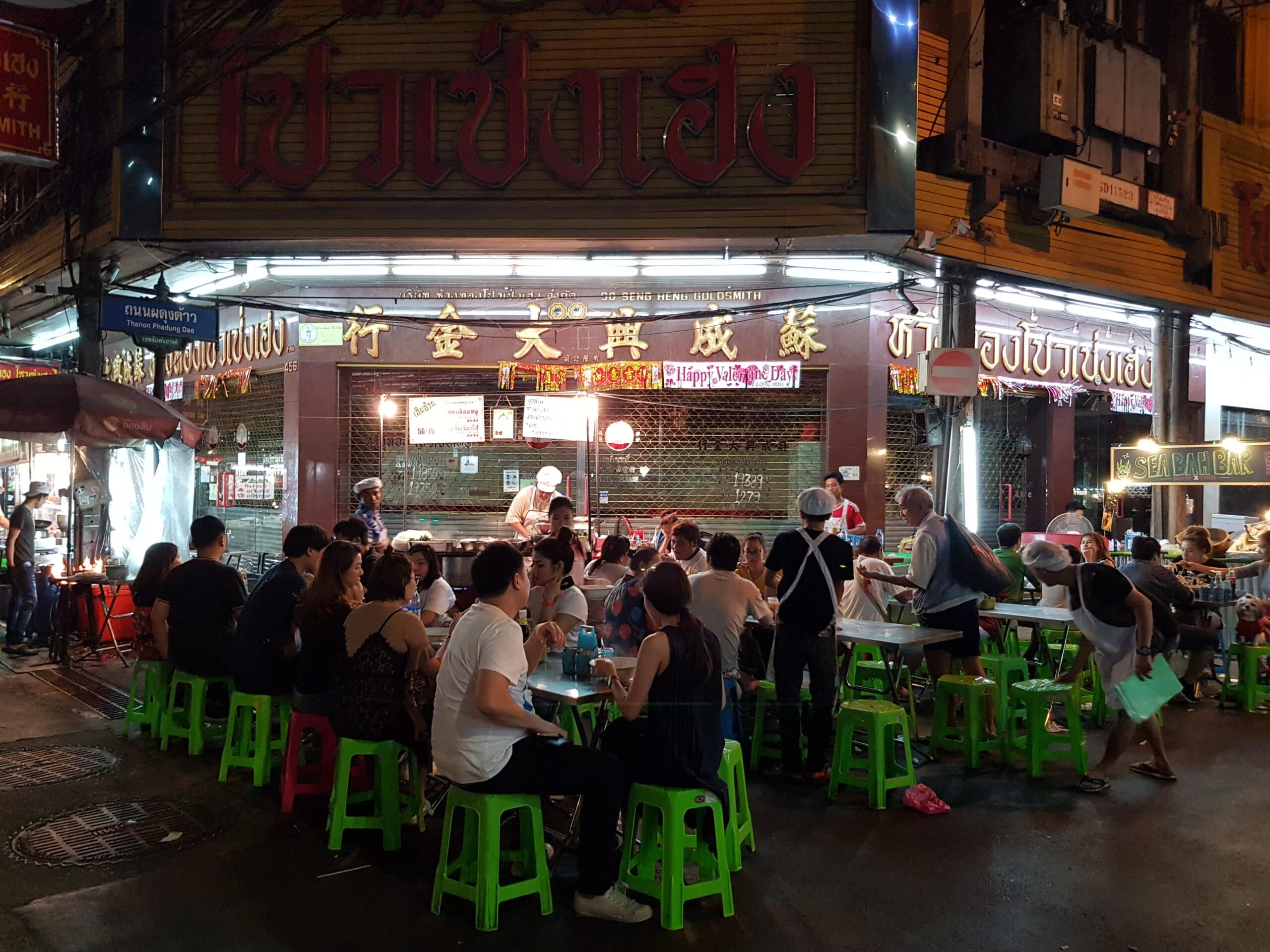 This chaotic 600-metre road is host to hundreds of street food hawkers almost every day at sundown (less vendors show up on Monday) and are patronised by tourists and locals alike. Not only will visitors get to enjoy the eclectic scene, but also the Thai-Chinese delicacies such as kuay chap nam sai (rolled rice noodles in hot soup with sliced pork and offal), egg noodles soup with crabmeat, and oyster or mussel omelets with sriracha. If you're looking to snack, get the famous toast buns with sang ka ya (flavored coconut cream), roasted chestnuts, and fresh fruit.
Best Hours: Tuesday-Sunday, 6pm-12am.
Getting There: MRT Hua Lamphong Exit 1, and another 10-15 minutes tuk-tuk or taxi ride to Yaowarat.
Samyan Market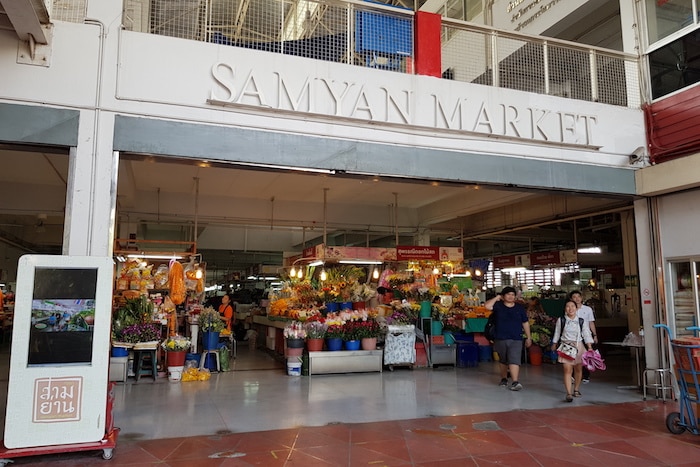 The original market was demolished in 2008, leading the vendors to move to the new spot, which is also more hygienic and organised. You'll find over 40 stalls selling fresh local produce like meat, seafood, fruits, vegetables, and Thai desserts on the first floor, while the second floor boasts an array of kitchen counters selling street fare made to order like ka pow (wok fried meat with holy basil), fried rice, and curries. Students from the nearby Chulalongkorn University come for Thai-style western food, and many stalls do offer freshly cooked seafood platters appetizing, and most importantly, inexpensive.
Best Hours: Cooked food market daily 1pm-12am, wet market opens daily 5am-5pm.
Getting There: MRT Samyan Exit 1, and another 5-10 minutes tuk-tuk or taxi ride to Ta Lad Samyan.
Saphan Leung (Yellow Bridge)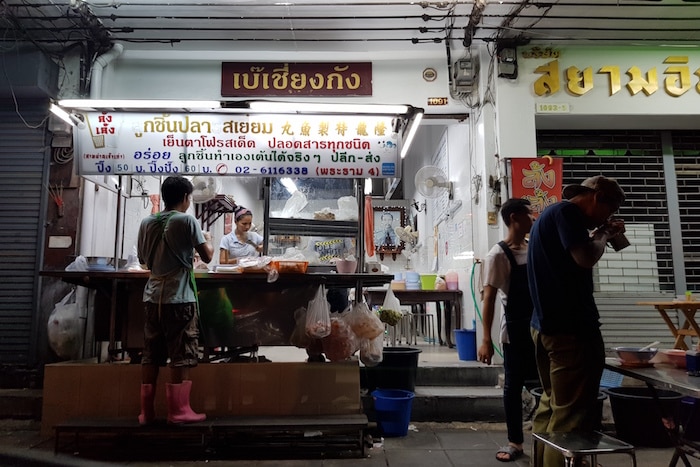 Just minutes away from Samyan market, Saphan Leung is a fantastic place for simple, yet satisfying and wholesome meals. Its wide array of selection of up to 30 food carts and stalls is similar to what you may see in Yaowarat, but with more authentic flavors, being under the tourist radar for now. The egg noodles with wonton and the steamed duck noodles from Tang Sui Heng are highly recommended. Other highlights include fish boiled rice from Kao Tom Pla Sa Phan Leung, giant boiled cockles with seafood sauce from Jae Sri, and Thai-Chinese style dessert from the infamous Cheng Sim E.
Best Hours: Tuesday-Sunday, 18.00-22.30pm
Getting There: MRT Samyan Exit 1, or MRT Hua Lum Pong Exit 4.
Soi Yotse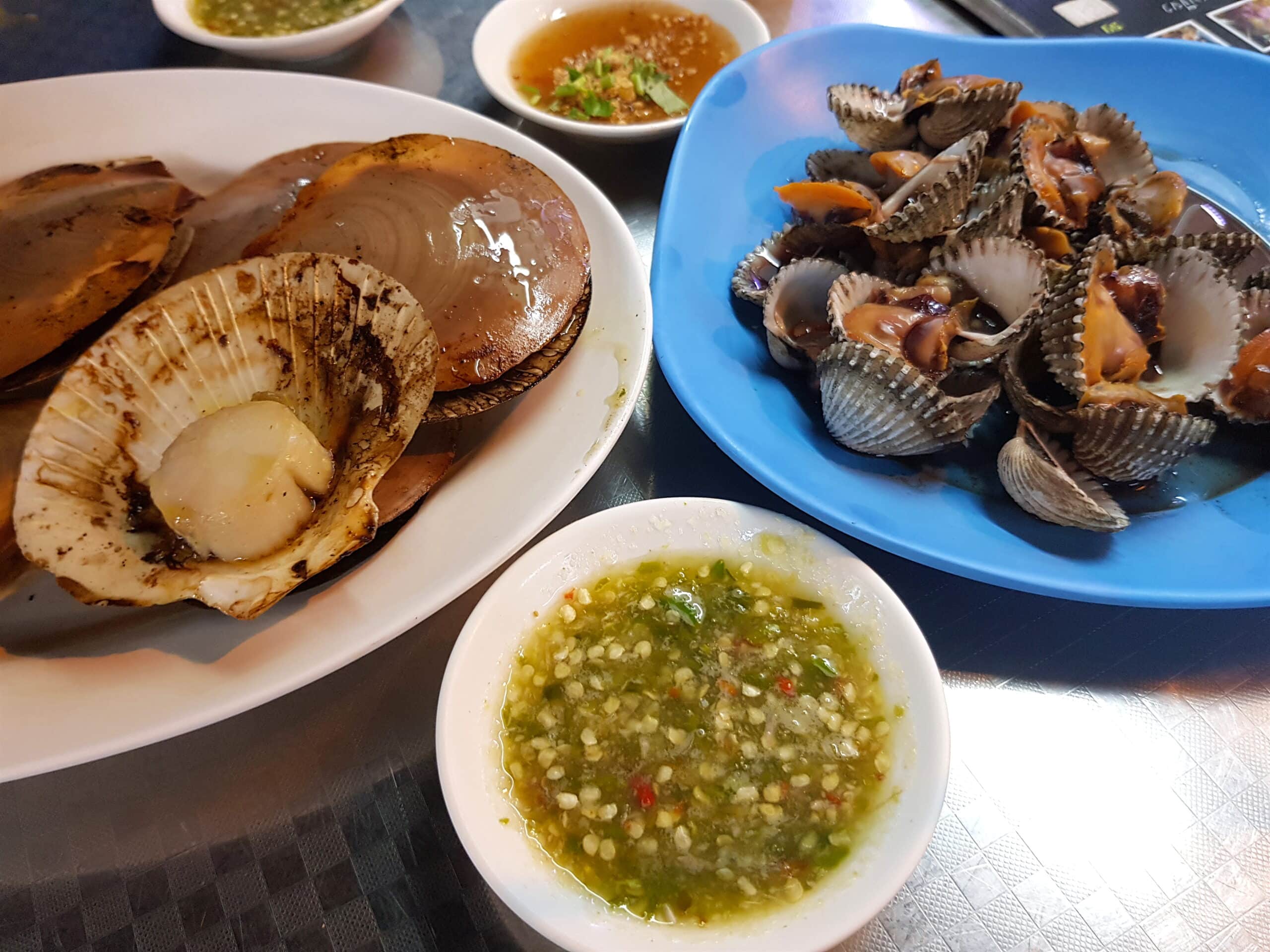 If you're starving, Soi Yotse is where you need to be right now. This trick to this little foodie alley is to get there early and head to Elvis Suki for their famed 30-year-old recipe dry sukiyaki with beef, which is cooked in their secret sauce. Other outstanding dishes to enjoy include the roasted scallops, grilled squid, and boiled cockles, excellent with the spicy seafood sauce. While waiting for the food to be ready, take a quick walk outside to order other dishes like pork skewers, deep fried prawns, guay tiew kua gai (wok fried rice noodles with chicken and eggs), and rad na (stir fried rice noodles with gravy sauce and choice of meat).
For dessert, move over to Tongue Fun ice cream shop for some unique homemade flavors like vodka redbull, cookie monster, and draft beer, served in frozen hot pot.
Best Hours: Daily, 5pm-11pm.
Getting There: BTS National Stadium Exit 2, or MRT Hua Lam Phong, and another 15-20 minute taxi ride.