Best Ramen In Singapore: Where To Get Your Noodle Fix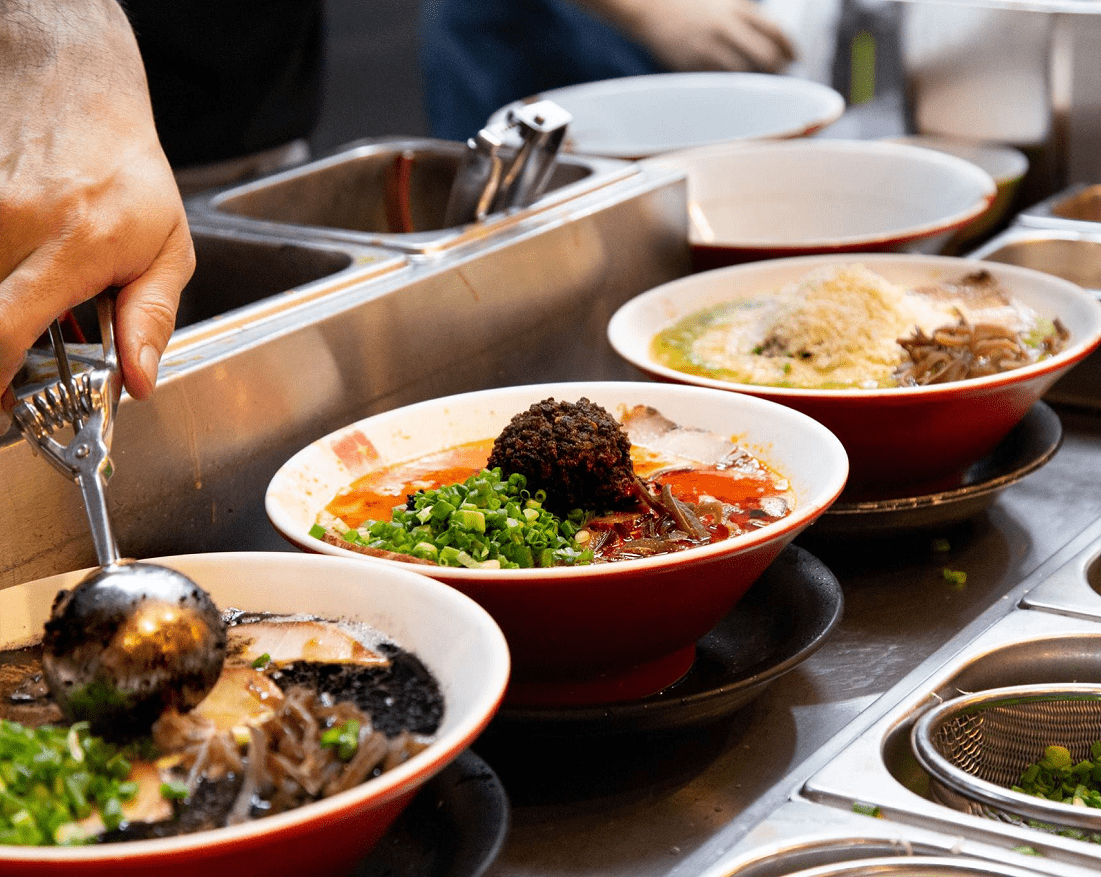 PUBLISHED February 18th, 2019 07:00 am | UPDATED October 22nd, 2019 08:27 pm
Singaporeans sure love their Japanese food – particularly ramen. With Ramen Bari Uma and Tonkotsu Kazan setting up more shops in recent years (not to mention Keisuke with their 17th concept), it's an opinion that's hard to refute. Travelling across Japan for ramen is expensive, but you can still eat your way through, from Nagoya's mazesoba to Hokkaido-style noodles.
Ramen Nagi
Having won Ramen of the Year back in Tokyo, Ramen Nagi takes customised ramen bowls to a new standard with Chef Satoshi Ikuta holding the reigns. From the firmness of your noodles to the amount of garlic and type of special sauce used, this shop is one for picky eaters. Try the Black King ($15.90) for its sweet and syrupy black garlic goodness, or the Red King ($15.90) with maximum chilli for a major sweat sesh.
Ramen Nagi is located at Suntec City Tower 2, North Wing, #01-512/513, Singapore 038989, p. +65 9144 7482. Open Mon-Fri 11am – 3pm, 5pm –10pm, Sat-Sun 11am – 10pm.
Hakata Ikkousha
Helmed by famed ramen expert Kosuke Yoshimura, Hakata Ikkousha is the place to find authentic Hakata-style ramen. Originating from Fukuoka Prefecture, Ikkousha takes their commitment to the craft seriously by ensuring that each bowl served has ample bubbles – a sign of a well-simmered broth. Umami-lovers can get their fix with the Bonito Ramen ($14), while those craving some heat can opt for God Fire ($14).
Hakata Ikkousha is located at 7 Tanjong Pagar Plaza #01-104B and 30 Victoria Street #F1-07 Chijmes. See here for more details.
Ramen Masturi
Unlike many ramen joints that pride themselves on authentic tonkotsu broth, Ramen Matsuri is a great alternative for those who prefer chicken over pork. Their signature chicken-based stock condenses 400 grams worth of chicken over six hours into a single serving. They also serve dry ramen (mazesoba) here, as well as izakaya dishes if the rest of your group isn't feeling up for a hearty meal. Try the Torikoku Special ($18.30) for its rich chicken broth or the Mazesoba Nagoya Style ($12.80), laden with spicy minced pork and runny egg.
Ramen Matsuri is located at 7 North Canal Rd, Singapore 048820, p. +65 6533 0845. Open Mon-Thu & Sat 11.30am – 3pm, 5.30pm –10.30pm, Fri 5.30pm –11pm. Closed Sun.
Ramen Keisuke
The biggest ramen chain in Singapore continues to boom with overwhelming popularity. With more than 10 unique outlets dedicated to different types of ramen, expect to visit Keisuke more than once. Lobster King in Clarke Quay brings you decadent options such as Lobster Broth Ramen ($13.90), and other outlet specials include the classic pork bone broth at Ramen Keisuke Tonkotsu King, chicken ramen at Tanjong Pagar's Ramen Keisuke Tori King, and the all-encompassing Keisuke Tokyo Ramen Dining in the city.
Ramen Keisuke is located at Suntec City Mall, Orchid Hotel, 100AM, Bugis Village, Parkway Parade, Clarke Quay, Cathay Cineleisure, and International Plaza, among others. See here for more details.
Ippudo Singapore
Committed to producing the ultimate soup broth, Ippudo is a firm favourite of many in Singapore. Their incredibly soup is a result of the patience put into something called a 'double maturation process'. All outlets – including the original at Mandarin Gallery – continues to serve up popular dishes like the Hakata-style Shiromaru Motoaji ($15), and Bonito Tonkotsu ($17) made with special-blended fish and pork broth.
Ippudo Singapore is located at Mandarin Gallery, UE Square, Marina Bay Sands, Tanjong Pagar Square, Star Vista, Westgate and Shaw Centre. See here for more details.
Ramen Bari Uma
Once a quiet hole-in-the-wall at Tanglin Shopping Centre, Ramen Bari Uma has been raking in praise, and now has a second outlet at United Square Shopping Mall. The folks here use special soup bases (touted for their enticing aroma and viscosity) sourced directly from Japan, fresh noodles made daily, and thick slices of pork grilled to perfection. Those who want something with a kick can opt for the Kara-Uma Ramen ($16) bathed in fiery red broth and topped with Japanese mustard sauce. Many will agree that the Gyoza ($6.90 for five) here's also a highlight.
Ramen Bari Uma is located at #B1-01/02 Tanglin Shopping Centre and #B1-08 United Square. See here for more details.
Hokkaido Ramen Santouka

In recent ramen news: Santouka has put its Cuppage Terrace outlet to rest. But not to worry, a spanking new store has opened in Don Don Donki City Square's food court. The Tokusen Toroniku ($17) continues to be the shop's original speciality, showcasing the classic textures and flavours you like: thick milky broth, tender pork cheek, and springy Hokkaido-style noodles.
Hokkaido Ramen Santouka is located at B2F City Square Mall, 180 Kitchener Rd, Singapore 208539, p. +65 6235 1059. Open daily 11am – 9.45pm.
Marutama Ramen
Marutama serves up no-nonsense ramen with delectable chicken paitan broth and free-flow fried garlic toppings. Their noodles come straight from a local factory, so freshness is guaranteed. Having won awards for their aji tamago (ramen egg) back in Japan, the eggs here stand out in a sea of endless ramen restaurants out there. On top of that, their aosa seaweed topping that comes on variants like the Zenbu Nose Ramen ($19) boosts each bowl that Marutama pumps out.
Marutama Ramen is located at The Central, Liang Court Shopping Centre, 75 Killiney Road, Downtown Gallery, and Kallang. See here for more details.
Nantsuttei

The ramen at Nantsuttei is known for having an extra rich and dark broth topped with homemade Kumamoto-style roasted garlic oil and sesame oil. Generous mountains of crisp bean sprouts provide a crunch and freshness, so tau geh lovers should definitely swoop by for a bite. With regular updates on Happy Hour prices and discounts, affordability is definitely a plus. Try their Nanstuttei Tonkotsu Ramen ($10.80/$12) for a start.
Nantsuttei is located at Orchard Central, 181 Orchard Rd, #07-12/13 Singapore 238896, p. +65 6337 7166. Open daily 11am – 10.30pm.
Sapporo Ramen Miharu
Sapporo Ramen Miharu serves up ramen in the style of Japan's famous island – think yellow noodles that are thicker and springier than usual, served in salty miso-based broth and topped with buttered corn. The average bowl such as Miso Tonkotsu Ramen starts at a mere $14.80, and you can also ask for extra clear broth if the soup is too salty for you. Come here for casual dining in an extra cosy setting that's reminiscent of Hokkaido.
Sapporo Ramen Miharu is located at #01-06 Millenia Walk, Singapore 039596, p. +65 6733 8464. Open Mon-Fri 11.30am – 2.30pm, 6pm – 10pm, Sat-Sun 12pm – 3pm, 6pm – 10pm.
Menya Sakura

No ramen roundup is complete without including the tsukemen (dipping style ramen) from Menya Sakura, which specialises in Nagoya-style noodles, characterised by hearty soups brewed from meat and seafood. Having amassed a pretty strong following over the years, the brand continues to serve up quality ramen at its Orchid Hotel branch. Our pick? The basic Tonkotsu Tsukemen ($12.90) that comes pretty affordable.
Menya Sakura is located at 1 Tras Link #01-07, Singapore 078867, p. +65 9469 3366. Open Mon-Sat 11.30pm –  10pm. See here for more details.
Tonkotsu Kazan
With two outlets to choose from, you can now relish Tonkotsu Kazan's signature Volcano Ramen at Liang Court and Novena. Served in a piping hot 300-degree stone bowl with a funkan (funnel bowl cover), this is undoubtedly one of the more Insta-worthy instances of ramen. Plus, the whole spiel keeps your noodles hot throughout, giving you ample time to savour the thick pork broth that's simmered for over 10 hours. Try the Kazan Karamiso ($15/$18) in two different levels of heat!
Tonkotsu Kazan is located at Liang Court and Novena. See here for more details.
Top Image: Ramen Nagi