Film of the Month: Chadwick Boseman & Viola Davis Present An Unflinching Portrayal of Race in Ma Rainey's Black Bottom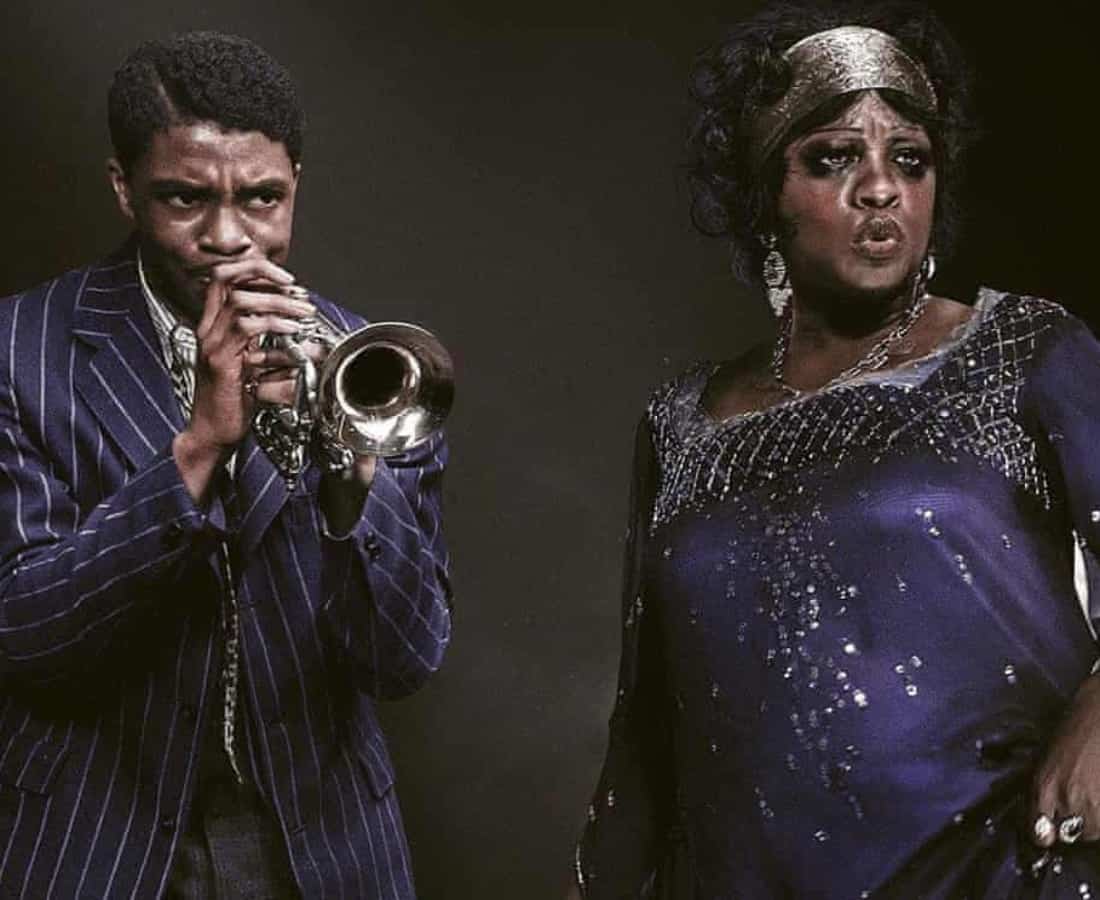 PUBLISHED January 12th, 2021 05:30 am | UPDATED January 30th, 2021 09:36 am
What happens when an unstoppable force meets an immovable object? Well, a lot more than you might expect, if Ma Rainey's Black Bottom is to be believed. The strong-willed veteran singer Gertrude "Ma" Rainey, a legendary blues singer in early 20th century America, locks horns with upstart horn player Levee Green over the course of a tense, dramatic recording session in 1927 Chicago. Adapted from August Wilson's play of the same name, the film presents the joys, tensions, and tragedies within a single moment in time and space.
It becomes apparent early on that this is more a film of big personalities than big sets. Ma Rainey — played by the inimitable Viola Davis — makes her first appearance clad in a shimmering red dress and opulent jewellery, complete with scarlet cheeks and sweat-smeared smokey eye. But beyond this assertive first glimpse, we see almost nothing of Ma herself for the first twenty minutes; instead, the character of Levee — featuring the late Chadwick Boseman in his swan song — takes center stage, in a fun back-and-forth with the band members in a dilapidated practice room that illustrates his character's cocksure personality and ambitions.
The old adage well known to thespians everywhere of there being no small parts, only small actors, rings true in this film. Each character is custodian to an emotionally significant moment, from keys player Toledo's (Glynn Turman) impassioned speech using food as a metaphor to describe the racial makeup of America and Cutler's (Colman Domingo) heartbreaking recount of a black preacher abused by white men to Ma Rainey's sombre but accurate statement that being a black musician is to have your body and voice objectified but your humanity ignored.
But in our opinion, none brought more laughs, cringes, sobs, and horrors than Levee Green. From young and cocky to angry and grieving, Boseman's layered performance of Levee's mercurial nature is the tense underwire stringing the entire performance together. His resentment and rage — often hiding behind a veneer of overconfidence — is unveiled to stem from the childhood trauma of witnessing his mother's gang rape by eight or nine white men as a child. These oft subdued emotions, exacerbated by his annoyance at Ma and his bandmembers, seem to come to a boiling point as he questions religion and the cruelty of a God who would leave black people to their suffering, eventually brandishing a knife at Cutler.
While this is quickly resolved to continue recording, the tension abruptly comes roaring back in full force when Toledo steps on Levee's brand new shoes (a pair of admittedly fashionable yellow brogues), which sends him into a rage so great he unwittingly stabs Toledo, sobbing under his blood-soaked corpse as Cutler (and the audience) look on in disbelief.
The immense emotional weight of this film is carried not just by the spectacular acting, but also the exquisite cinematography, helmed by Tobias A. Schliessler. It isn't an easy thing to translate the intimacy and vulnerability of a play into the medium of film, but Schliessler does it impeccably with long takes that beautifully capture the emotional depth of the monologues.
We must also applaud Ruben Santiago-Hudson's screenplay, which adapts Wilson's play while losing none of the impact. One ingenious addition is the final scene, where a vibrant song penned by Levee is taken by the producer and given to a white band that renders it dry and unfeeling, a soulless parody of the blues, grimly nodding to Ma's proclamation: "They don't care nothing about me. All they want is my voice."
Ma Rainey's Black Bottom is available on Netflix.