5 Things To Do In Singapore This Week: 20th To 26th May 2019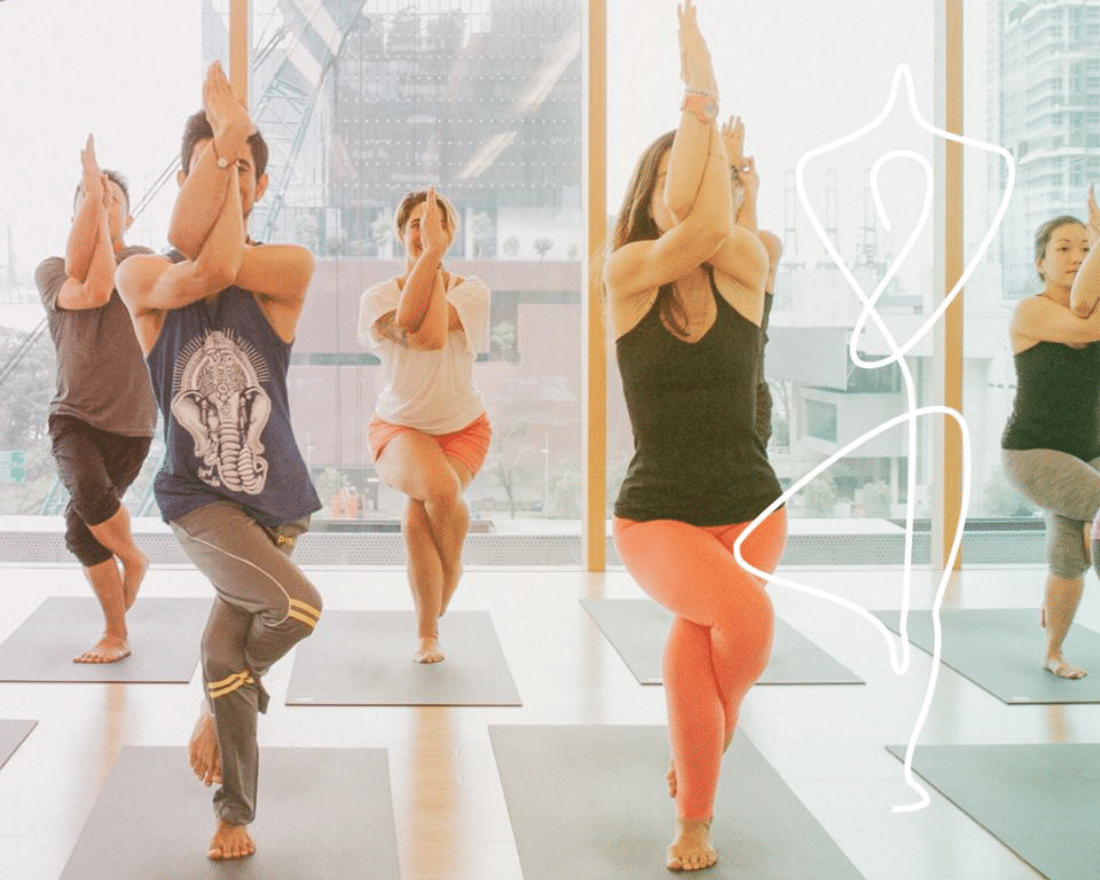 PUBLISHED May 19th, 2019 06:00 am | UPDATED June 3rd, 2020 12:15 am
It's the last weekend before we head into June, which also means we have powered through almost half of 2019 in a blink! So we've got you the lowdown for chilling this weekend, whether you're feeling outdoorsy, dreamy, or warm-hearted. Let your hair down at the AIA Glow Festival, snuggle up watching Italian films, or revisit those New Year Resolutions by showing your support for migrant workers and cat welfare.
WeWork X Obey Equal Work Equal Rights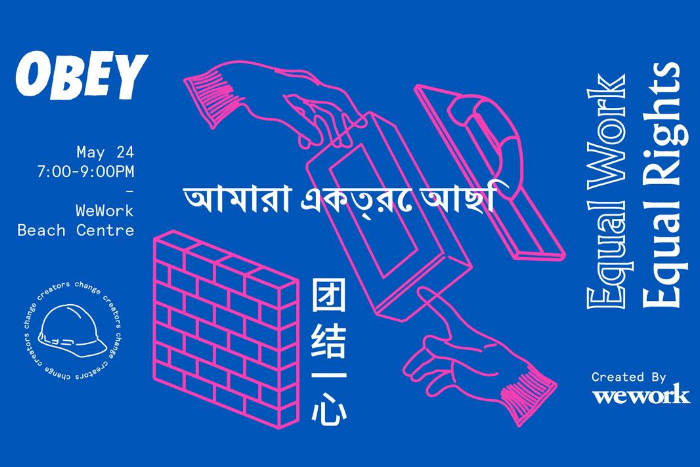 Join WeWork and Obey – a clothing brand by street artist and illustrator Shepard Fairey as an extension to his work in activism) – for Equal Work Equal Rights. Besides a thought-provoking panel discussion with experts from four different NGOs – TWC2, HOME, HealthServe, and Migrant x Me – there will be artworks and literature workscreated by HOME residential migrant workers on their experiences (courtesy of SamaSama) on display.
Limited edition WeWork x OBEY Equal Work Equal Rights t-shirts will also be sold to raise funds for the four organisations at S$50 each (cash only). Just note that each attendee is limited to a one t-shirt purchase.
Show your support on 24 May, 7-9pm at WeWork Beach Centre, 15 Beach Road, Singapore 189677. Admission is free of charge, RSVP here. Check out their Facebook event page here for more details.
Ode to Mykonos: White Party
Who can say no to brunch and uninhibited dancing? 1880 Singapore presents Ode to Mykonos for a fun-filled Satur-date! Greek-inspired beach food will accompany the exciting line-up of DJs to keep your feet moving, including DJs JNR, Matty, and Krishan, as well as Orio's eclectic beats and hip hop from 2Sweet. Don't forget to wear white – it's called a White Party for a reason.
Groove away in white on 25 May, 12noon-9pm, at Ode to Mykonos: White Party, 1 Nanson Road, Singapore 238909. Tickets are priced at $48 for guests of members, and free of charge for members (registration required). Visit their event page for more details and RSVP here.
Italian Film Festival 2019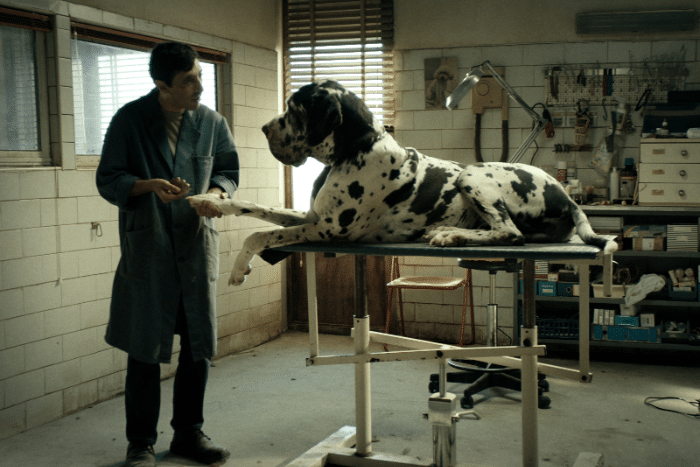 Look forward to the cream of the crop of Italian cinema at this year's Italian Film Festival from 23 May to 7 June. The lineup of films is available here, and their trailers are so good, you will be sold to watch every single film. Sympathise with the protagonist in "Dogman" as he faces bullying head-on as an adult and father. Watch Bendetta fight for her liberation in "The Disappearance of My Mother", or hold your breath as Detective Vogel tries to unravel the mysterious disappearance of Anna Lou ("The Girl in the Fog"). We reckon it's the best (and most cost-effective) way to get transported into the land of love and beauty, don't you think?
Italian Film Festival will be ongoing from 23-25 May at the Projector, and 26 May- 7 June at GV Plaza. Visit their events page for tickets and more information. Tickets are priced at $11.50+ for The Projector.
AIA Glow Festival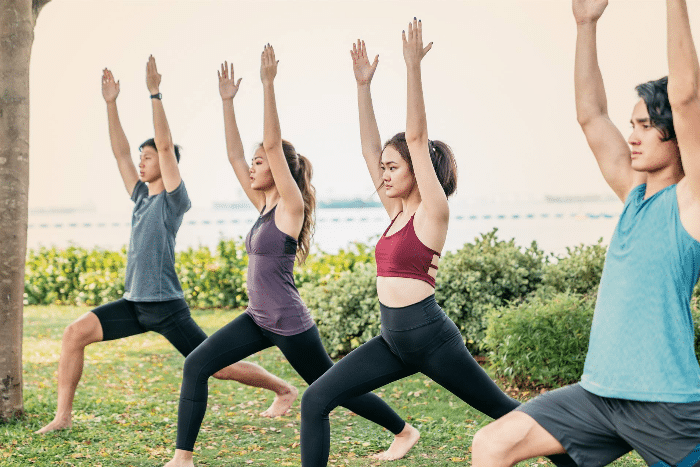 All of us need our "me time" to recharge our social bars, or just a break from whatever rotten eggs gets thrown our way. GLOW presents the ultimate solution in a neat 3R fashion – Reset, Refresh, Recharge – that has nothing to do with the Singapore government. Activities include yoga classes (all 30 of them!), a charity fun run filled with surprises, or simply soak up the atmosphere with performances from Lost Frequencies, Rudimental, Nina Nesbitt and The Sam Willows. Pick one, pick some, or just do them all for the heck of it.
Feel good this 25 May, 7am-11pm at AIA Glow Festival, Palawan Green, Sentosa Island, Siloso Beach Walk. Tickets start from S$19 for yoga classes can be purchased here, visit their Facebook event page or official event page for more details.
Dance For A Cause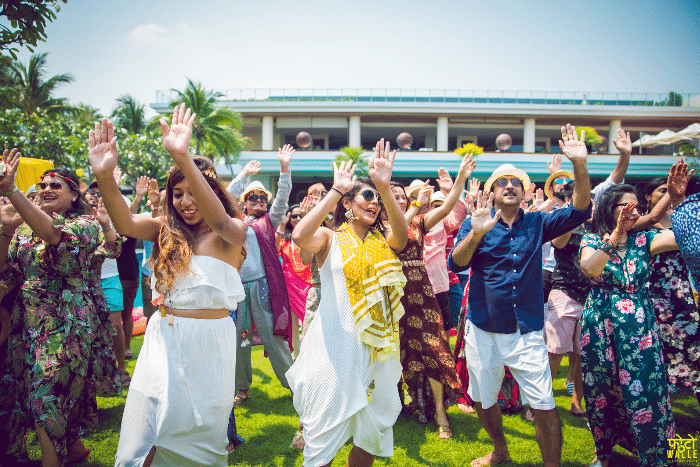 Animal-lovers, this one's for you. Dance & Tonic is partnering Project LUNI – which helps street cats in Singapore with a trap, neuter, and return programme, as well as fostering and rehoming of kittens – for a power session, Dance for a Cause. Working out to the latest Bollywood and Latin beats with your friends and helping Singapore's stray cats? We're sold.
Shake a leg this 26 May, 11am-12noon, at Dance on Us, 8 Claymore Hill, #01-03, Singapore 229572 (Register by 10.45am). Tickets are priced at $32.50 and can be bought here. For more information, visit their event page or Facebook page.