6 Lifestyle Hotel Chains for Millennials That You've Never Heard About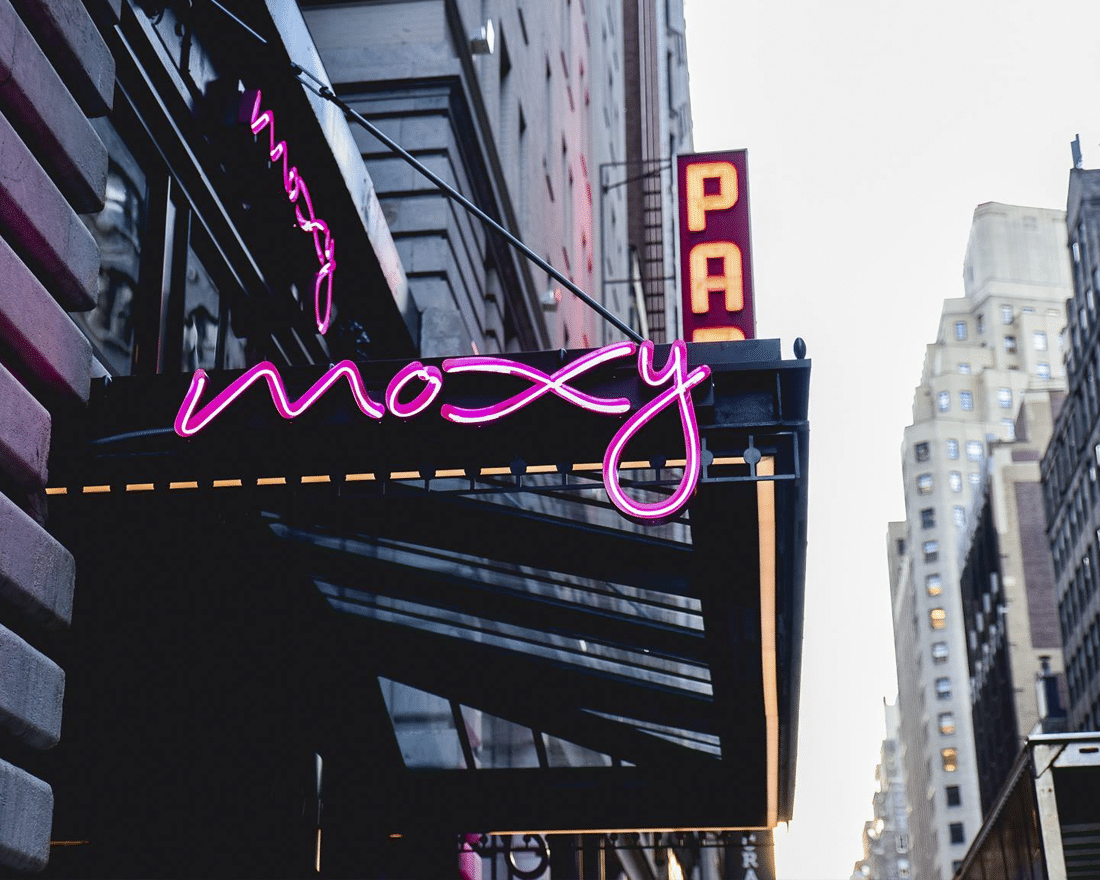 PUBLISHED April 18th, 2018 07:00 am
The new buzzword in the travel industry? Millennials. These young road warriors, who would range between ages 22 to 35 today, are dominating the market – and it's no wonder that hotels worldwide are scrambling to create new brands that cater to their stereotypical wants. While Wi-Fi is a given in most properties nowadays, how about a buzzy social lobby with craft cocktails, pool tables, and local artwork on the walls? Or customisable healthy meals that can be ordered with an iPad right in the room? These are the six coolest hotel chains for millennials – where chocolates on your pillow and stiff bellboys are a thing of the past.
Moxy Hotels
The first Moxy hotel was launched by Marriott in Milan back in 2014, and since then, it's already expanded to nearly 30 properties in the US, Europe, and Asia. Moxy takes on a younger and edgier approach, with pops of colour in the all the right places. Not afraid to push boundaries, check-in is done at the bar (with a complimentary cocktail thrown in) instead of the traditional front desk. Whether it's the property in Tokyo or the one in NYC Times Square, you can expect open concept lobbies equipped with contemporary furnishings, from social media video walls and board games to crafted cocktails and grab-and-go bites.
Every Moxy boasts cosy rooms with flexible configurations, immersive social spaces, a bustling bar that is always open, and regular game nights and events, proving that affordability doesn't mean sacrificing style or some cheeky fun. In fact, we heard a crazy party went on at one of their properties, which might or might not have included whips. Now, if you'll excuse us, we think there's someone at the bar that wants your number.
Number of properties: 28, including cities like Bandung, Osaka, Vienna, Oslo, New York, Amsterdam
Find out more about Moxy here.
Canopy by Hilton
Hilton is a name that's sometimes associated with stuffy luxuriousness, but we can assure you the millennial-focused Canopy brand, which launched in 2016, is anything but that. While there are only three Canopy properties at the time of writing, it's expected to open a great deal more by the end of 2019 in major cities around the US, as well as in China and Canada. What's the buzz about? For one, check- in with your mobile device and head straight to your room; welcome each day with an artisanal breakfast made with fresh local produce; and participate in neighbourhood art and music programmes with the local talents. Oh, like to drink? Every evening sees sampling sessions of local wines, beers, and spirits – on the house, of course.
Number of properties: 3 (with 17 more slated to open by 2019), including cities like Reykjavik, Washington DC, Bethesda, Chengdu, Kuala Lumpur, Toronto
Find out more about Canopy hotels here.
Aloft Hotels
At Aloft Hotels, it's all about the tech, and that includes using your phone to unlock your room (SPG keyless) and smartly-dressed robots that double as a bellhop (aptly named "Botlr"). With the largest number of properties on this list, majority of which are located in the States, it surely won't be long before we see more of this brand in Asia. Small, stylish, and located in urban vicinities, Aloft uses technology and design to enhance your travel experience. Hungry? Order customisable meals through digital kiosks with just a few clicks.
With hotel-wide Wi-Fi and working areas near the poolside or signature W XYZ bar, you tech-savvy millennials will never be disconnected. For the music lovers, look forward to live acoustic performances several times a week at most properties, along with events like Project Aloft Star, an annual hunt for emerging singer-songwriters.
Number of properties: 140, including cities like Bangkok, Silicon Valley, Los Angeles, Taipei, Seoul, Perth
Find out more about Aloft hotels here.
W Hotels
Stepping into a W Hotel is like entering a world of fashion, design, and music, complete with cutting-edge design and contemporary luxury. Part of the Starwood Group, you can think of W as a place to work or play by day and mingle in their sensorial spaces at night, each with its own personality depending on which part of the world you're in.
Besides a signature restaurant at each property (like SKIRT in W Singapore and FIRE in W Seminyak Bali), the brand's large outdoor pools are a common feature across the boat. Combine that with bright vibrant colours, quirky furnishings, and happening parties, and you've got a magnet for Instagram-loving millennials and young families alike. Recently, W has also launched a programme called Fuel Weekends, a wellness getaway that gives guests all they need to detox … at least until they retox again.
One thing's for sure, this is not your everyday hotel experience.
Number of properties: 80, including cities like Singapore, Costa Rica, Dubai, Taipei, Morocco, Mexico City
Find out more about W Hotels here.
Indigo Hotels
Will IHG's Indigo brand soon cover nearly every continent? We think so. The upscale boutique chain is famous for reflecting interesting neighbourhoods and heritage with oversized murals, artworks, and onsite restaurants that dish out the local cuisine. After all, young travellers are all about experiencing the local culture, many of them preferring to stay in a place surrounded with authentic everyday experiences rather than up in a metal skyscraper. Hotel Indigo Kensington in London was once four Victorian mansion houses, and in Singapore, the room design for Hotel Indigo Katong is heavily inspired by its immediate surroundings, which boasts a rich Peranakan heritage. And just like how no two neighbourhoods are alike, neither are two Indigo hotels.
Number of properties: 100, including cities like Singapore, Berlin, Paris, Shanghai, Barcelona, Glasgow
Find out more about Indigo Hotels here.
Hotels G
Hotels G is the lifestyle hotel brand of GCP Hospitality, which operates hotels primarily in Asia, along with several in the States. Attitude and design identity is key, which means you don't see two of the same properties anywhere. These alternative designer hotels are the perfect base for anyone who wants to be in the city's best – Hotel G San Francisco is located just steps away from Union Square's shopping and dining, while the super chic Hotel G Singapore is conveniently situated near Orchard Road and art museums. Plus, each Hotel G comes with at least one cutting-edge restaurant, from Scarlett in Bangkok and Hong Kong to Babett in Yangon. Young companies looking to set up can also look forward to the brand's creative MICE facilities, because who wouldn't want a meeting room set up to look like a superhero-themed party?
Number of properties: 12, including cities like Singapore, Hong Kong, Pattaya, San Francisco, Yangon, Macau
Find our more about Hotels G here.