A Beginner's Guide to Skiing in Japan: Best Resorts in Hokkaido and Nagano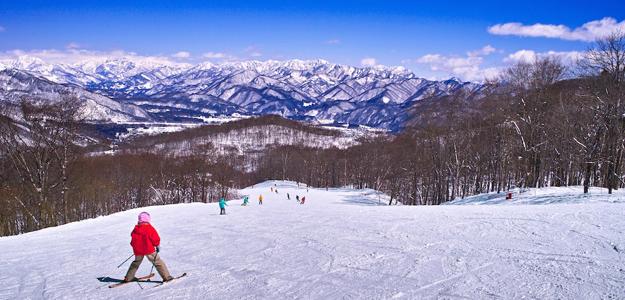 PUBLISHED April 23rd, 2015 04:00 pm | UPDATED June 8th, 2020 08:39 pm
Skiing is one of the most fun sports there. Full stop. And whilst we live in the terminal summer of Singapore, some of the world's best ski slopes for those that want a cold blast of beauty is only a 7 hour flight away – amongst the pristine mountains of Japan.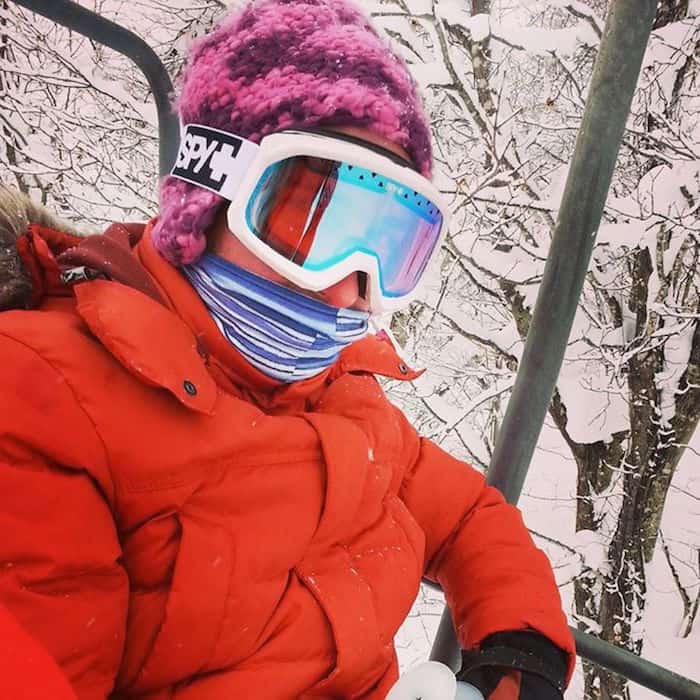 Despite freezing my butt (and face) off Niseko, I was super grateful for the amazing snow
Having been to the famed Niseko over Chinese New Year 2014, myself and some brave compadres headed this year (2015) to one of Japan's other well known ski spots, the Japanese Alps near Nagano (specifically, Shiga Kogen).
From talking with Singaporean friends who have never been skiing, it's a total minefield when it comes to the prospect of planning a winter vacation – where do you even begin? Where? How? What? Price? Booking? Language issues? Too many questions, arghh!
So being your friendly neighbourhood Nomad, I've decided to compose a brief guide to skiing in Japan for beginners. Hope it helps, and as always, please leave your recommendations and comments below!
Where to Go?
Japan has literally dozens of ski resorts around its beautiful countryside, some are quite large while some are composed of just a few slopes. However, to break it down, the two main 'general' areas are Hokkaido and Nagano.
On Hokkaido, the best known and developed resort areas are Niseko and Rusutsu.
Both have a variety of lodgings ranging from backpacker to 5 star hotels. In Niseko, I would highly recommend The Green Leaf Hotel ($250-300 SGD per night – based on bed & breakfast/ 2 ppl sharing). The staff speak English, and the restaurant on-site is awesome. But most importantly, it's ski-in, ski-out. For you noobs out there, it means that you don't have to trek anywhere to ski. You literally step outside the backdoor and start skiing.
Oh, and did I mention the outdoor onsen? Let's just say, sitting naked in a warm pool surrounded by lush scenery covered in fluffy snow is a spectacular experience.
In Nagano, the best resorts are often considered to be Shiga Kogen, Nozawa Onsen, Hakuba, and Myoko Kogen.
What makes Shiga, Hakuba and Myoko interesting is that they are actually 10 resorts interconnected each, which essentially means the overall ski area is massive and great for exploring. Nozawa Onsen, although smaller, is well-known for its onsen (natural bath springs), so if you're looking to spend a lot of time bathing, this is a great spot for you.
When to Go?
Ski season is relatively long in Japan; it goes from mid December to mid April. Having said that, it's better to go January – April to maximise of snow.
How to Get There?
It's easier than you'd think.
Niseko or Rusutsu: catch a flight to Sapporo Chitose Airport. Unfortunately there's no direct flights from Singapore so you'll probably end up going via either Shanghai (China Eastern Airlines) or Tokyo Narita or Haneda (Japan Airlines or All Nippon Air). Once you arrive at at Chitose, there's a direct bus which goes to both Niseko and Rusutsu. It will either drop you off at your hotel, or at least, very close to it. To book, visit Goodsports.co.jp. You can buy tickets online and the site is in English.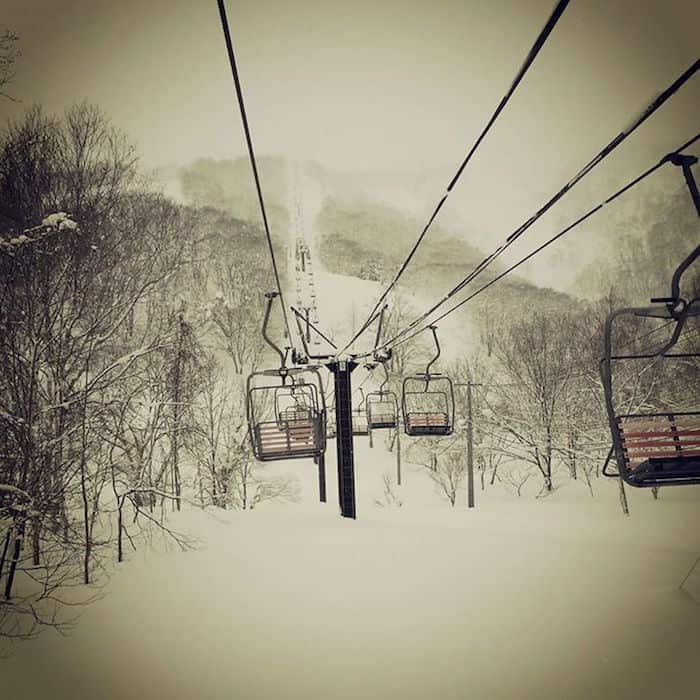 Visibility when it snows might not be great but the 'powder' makes skiing insanely good
Shiga Kogen, Nozawa Onsen, Hakuba and Myoko Kogen: There's a few options here, but the fastest is to head to Tokyo central Shinkansen station and hop on a bullet train to Nagano, and then take a bus to the ski area. To check shinkansen times, Hyperdia is a super useful site to know as it tells you all the train times and prices (in English). Unfortunately, there aren't any particularly good online resources in English for local bus timetables (as I found out the hard way) so what I would suggest is booking a night's stay in Nagano if you know you'll be arriving late as the last public buses leave Nagano to the ski areas at around 6pm and start in the morning around 6-7pm. The plus side is that the buses leave from just outside the JR/Shinkansen station.
What (else) Can I Do There?
It goes without saying that skiing is the principle activity. It's crazy fun and not just for adrenaline junkies. As long as you have a basic sense of balance and aren't a total wuss you should be fine 😉 For instance, my girlfriend (a complete beginner) was successfully going down red (intermediate) runs by the end of the week.
Best advice I can give is to enrol is some group classes if you have enough people, or better yet, get private lessons. After a few days you should be just fine.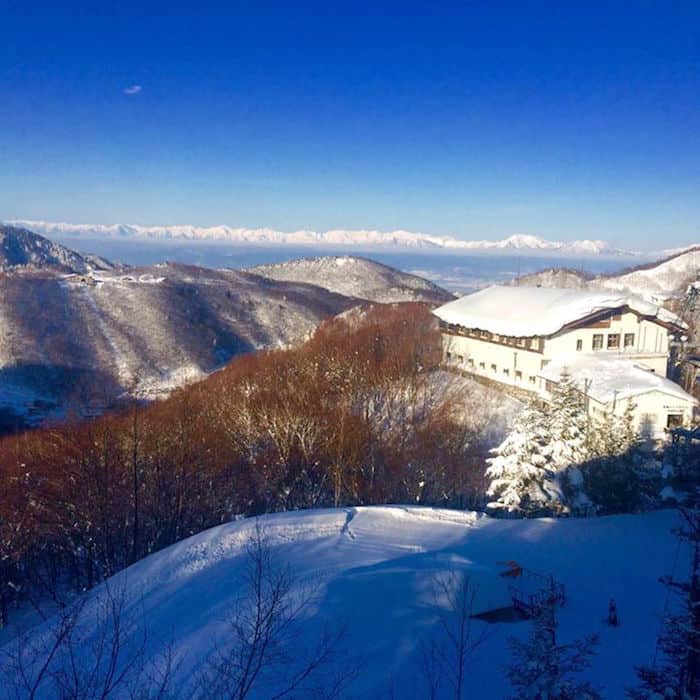 The view from up high in Shiga Kogen
However, if the thought of hurtling down a mountain at breakneck speed isn't for you, then here's some other activities you engage in…
Hokkaido: Niseko especially is one of the most westernised resorts in Japan. Everyone speaks English more or less and Hirafu village has shops, an excellent range of restaurants, and even some decent bars. Aside from the skiing, there isn't much else going on here. This applies even more to Rusutsu which doesn't much nightlife going on aside from a few decent restaurants.
Nagano: The fact that one of the resorts is called Nozawa Onsen should be a dead giveaway about one of the activities. There's loads of onsen about and it's a great way to soak your muscles after a hard day skiing.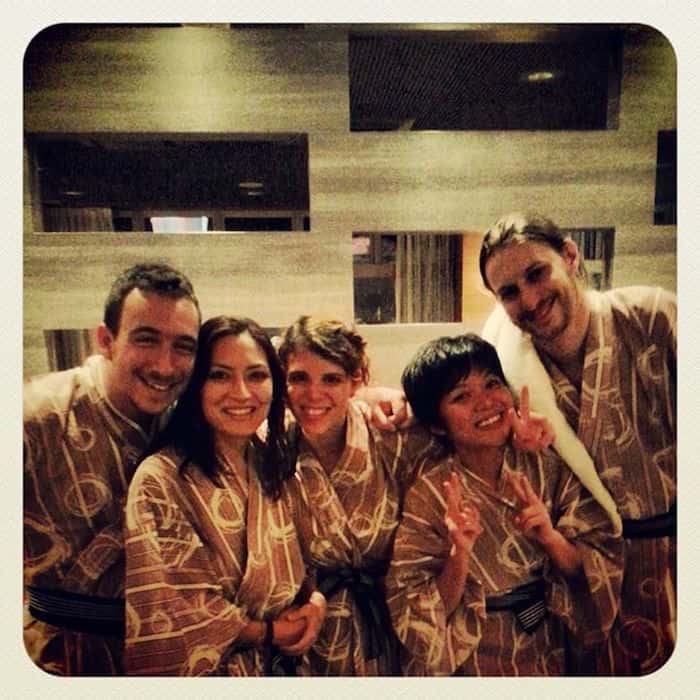 After a long day of skiing, you can tell we're happy it's onsen time!
You might also want to visit the famous Jigokudani Snow Monkeys – a short journey away from the ski resorts. These entertaining primates essentially hang out in hot springs all day. Not a bad life, I reckon.  Sadly nightlife around these ski areas is pretty sparse (particuarly Shiga Kogen), but Nozawa Onsen does have some great sake bars. Just don't expect dance clubs.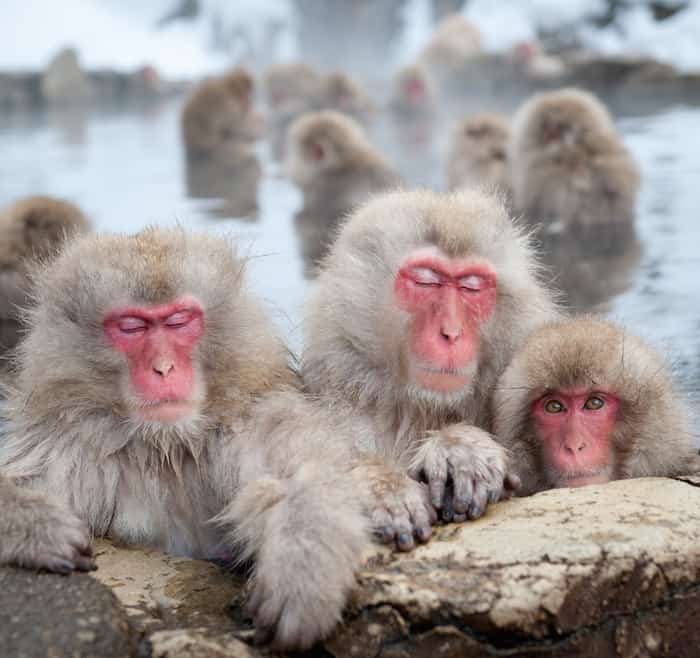 Jigokudani monkeys having a nap
If you happen to visit Nozawa on the 15th January, check out the Dosijin Fire Festival. This festival involves lots of booze, fireworks and fire – a wonderful highlight.
Cost
A ski trip anywhere is going to expensive. It's an expensive hobby, so get used to it.
To give you an rough idea on cost you can more or less bank on the following for 1 week of skiing:
Flights per person: $550 – 800 SGD.
Accommodation (based on a twin sharing per room): 6 nights at $125 SGD per person = $750 SGD.
Ski rental (assuming you have all the clothing and just need to rent skis, poles and boots) and passes for 6 days: Ski passes aren't cheap. For 6 days it will likely cost you $250-350 SGD. As for equipment, 6 days will set you back about $250-300 SGD.
Food and drink: Food in Japan actually offers incredible value for money. I would estimate a budget of $50 would actually be enough for decent meals, but $100 is even better is you like a few kanpai. So $500-600 SGD should do nicely.
All in all, you're looking at $2,500 – $3,000 SGD.
Final Thoughts
Buying ski clothing – DON'T BUY IN SINGAPORE! Unless of course you have some unexplained desire to pay 4x the price you can get it online. Before you go skiing, you'll need the following: Ski pants (sapalets/snow pants), ski jacket, ski socks, thermal underwear (top and bottom), ski goggles, helmet or warm ski hat.
For the thermal stuff, Uniqlo offers surprisingly good value and quality stuff. However, for the actual ski gear, order it from Amazon, as long as you select filter items that are sold from Amazon itself (not third parties), they deliver to Singapore and its super cheap. You can thank me later ;).
Aside from that, just have fun! Go with great people who have a sense of adventure and you'll have a blast. Oh, and if you have time, check out Sapporo (Hokkaido skiing) or Tokyo (Nagano skiing). Both just incredible cities to visit. Though I will admit, winter in Sapporo is absolutely freezing!
Happy Trails!