Restaurant Review: Burger & Lobster's First Halal Restaurant at Genting Highlands, Malaysia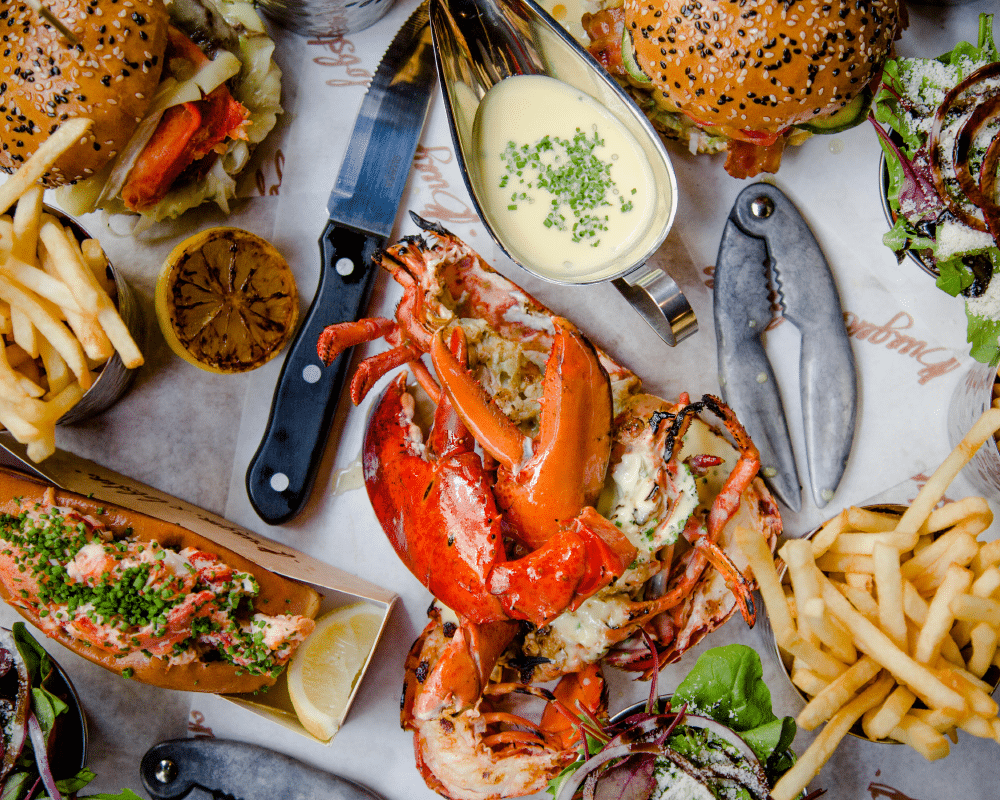 PUBLISHED March 16th, 2017 04:00 am | UPDATED March 26th, 2019 12:27 pm
Burgers, fries, lobsters – if we were ranking food that taste better when eaten with hands rather than utensils, these would rank amongst the top three (the order however, is another story for another day). And ain't it grand that you get all three at Burger & Lobster, who has made its Asian debut at Genting Highlands, Malaysia, which also the first halal outlet worldwide.
Barely five years later, it has expanded to 10 cities around the world. The original outlet was an Irish pub in Mayfair, an affluent neighbourhood in London's West End.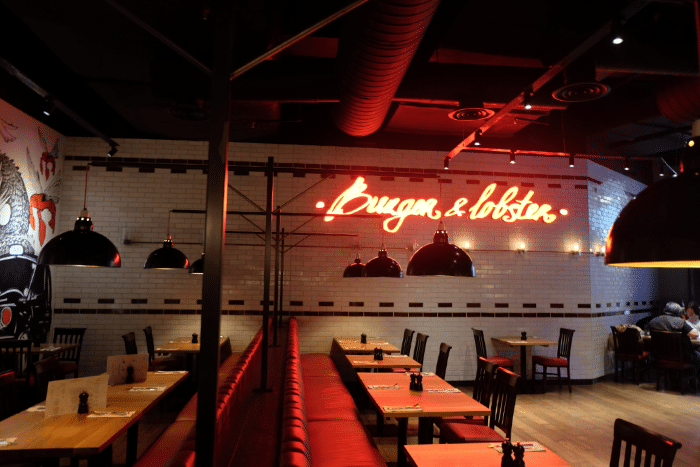 As things are at the original gastropub, Malaysia's version looks and feels pretty much the same – mellow incandescent lighting, wooden chairs and tables, and red leather booth seats. Even the salt and pepper shakers are a carbon copy. The walls are layered with vitreous ceramic Portuguese tiles, a muralled wall on one side and a large neon sign (red for lobster) on another. The vibe is chill and casual, it's by no means serious dining affair.
Those familiar with the chain will know that there are only three things on the stripped menu: burger, lobster and lobster roll. Specialising in 650g – 700g fresh lobsters from Nova Scotia, Canada, these are delivered to the hilltop weekly for optimum plumpness and flavour.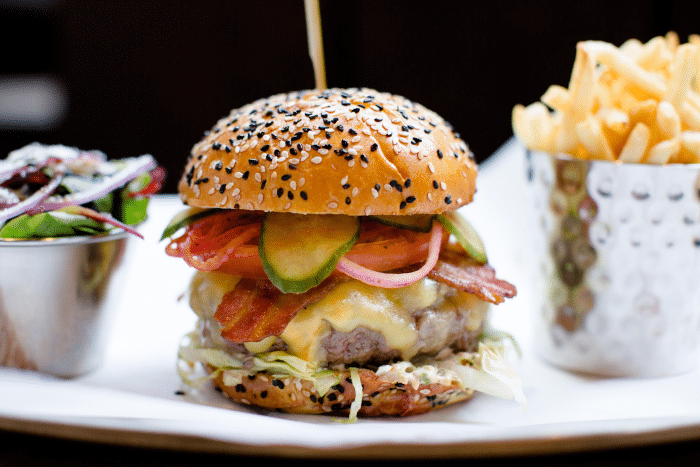 It's difficult to compare the B&L Burger (RM153) with any regular burger on the market, because it's not. Comprising 168g of premium halal-grade beef from Stanbroke, Australia, the juicy and tender patty (cooked to medium) is accompanied by succulent lobster chunks (and we really mean chunks) before being wrapped with a specially-made squid ink brioche bun that's firm to the bite. Admittedly, it's been over a week, and we still can't get over how sensational this burger was.
If you prefer just one type of protein on your burger, go for the Mayfair (RM73, 168g of beef) or the larger Original, featuring 224g of glorious beef – both served with chips, beef bacon, cheese, and in-house pickles.
Alternatively, the wonderful lobster rolls are available in a special Chilli sauce (RM105), Seven Samurai-style (RM105) with seven spices sauce, and of course, in its Original glory (RM153) with Japanese mayo. Whichever you choose, expect a satisfying burst of flavour and texture in every bite, thanks to the generous amounts of fresh lobster meat and the signature toasted brioche roll – which tastes a little like French toast.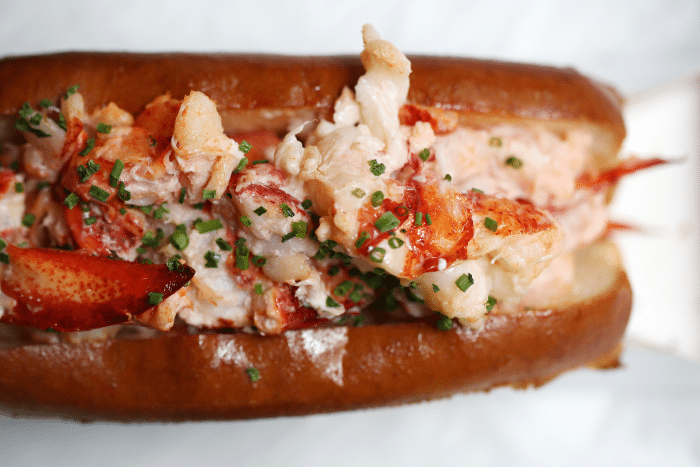 Still, we think the most enjoyable way to enjoy these hunky crustaceans are tackling them whole, Grilled or Steamed (RM153 – the meat of the former is more aromatic while the latter is sweeter and more tender) paired with the restaurant's famous lemon garlic butter dip.  That way, you'll be able to crack the shells, suck on the claws, and savour each moment slowly. Even better still, go for the incredible Big Boys steamed or baked, at a stunning 1.9kg in weight.
Most interestingly, a signature Chilli Lobster (RM173) is available only in the Malaysia outlet, served in a clay pot full of sauce not unlike that of the colloquial chilli crab, together with toasted brioche. But be warned: there is a spicy kick.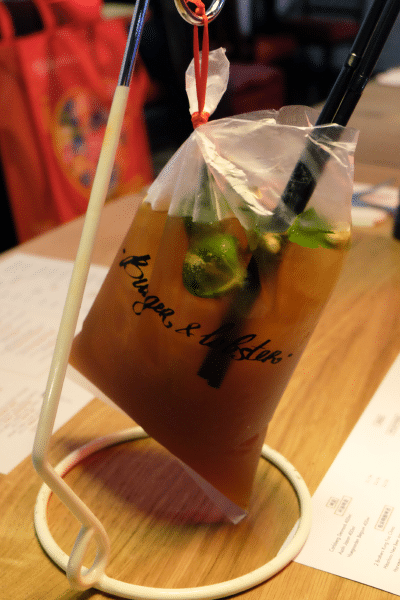 The drinks here are generally fun and decent; think tall cocktail or mocktail towers, and beverages served in plastic takeaway bags. It's not extensive, but the list includes ruby coolers, bellinis, and gin fizzs.
Burger & Lobster succeeded elsewhere with the winning formula of good vibes, fun atmosphere, an unpretentious crowd, and a curated but excellent menu – the Genting outlet is not much different. It's certainly not cheap compared to neighbouring restaurants in the area, but hey, it's lobster right?
Pro-tip: Genting members save quite a bit on restaurants at Genting Highlands, including Burger & Lobster.
Now the question is, will this spark a lobster trend in Kuala Lumpur, or other parts of Malaysia? Maybe; there are local lobster suppliers. But for now, it's worth tucking in your seat belts and driving up to Genting for a brilliant meal.
Do it quickly though, because judging from the growing queues on weekends, it's not about to stay quiet for long.
Burger & Lobster is located at L1 SkyAvenue, Resorts World Genting, Pahang, Malaysia, p. +60 3-6105 9186. Open daily Sun-Thu 11am – 10pm, Fri-Sat 11am – 12am.