Cafe Review: Green Common Gives Chicken Rice and Spam Fries A Meatless Makeover in VivoCity, Singapore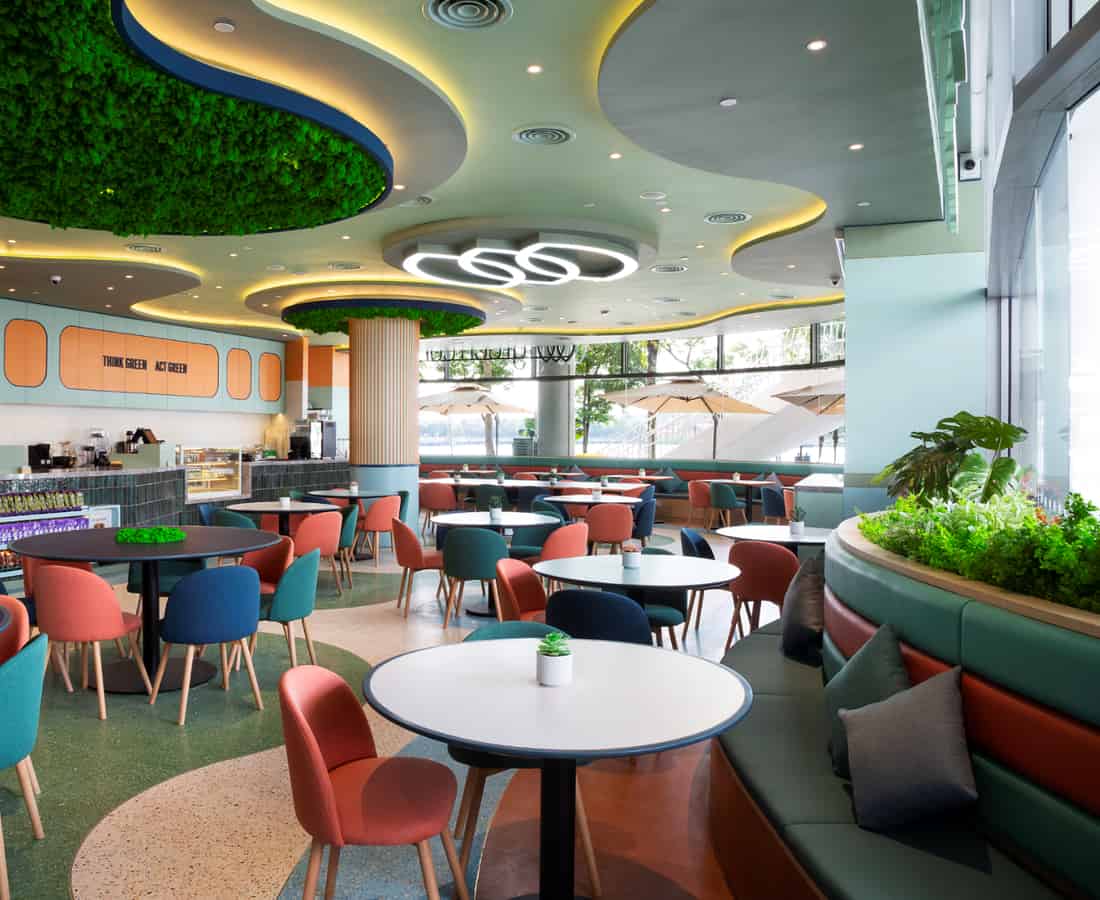 PUBLISHED January 28th, 2021 05:00 am | UPDATED February 4th, 2021 11:09 am

Plant-based meats are sprouting up on many a menu these days, from hotel restaurants all the way down to KFC. If you love your (meatless) meats but want to step up your vegan game, though, you're probably itching for a menu with a little more choice – especially one that isn't basically a sandwich (read: burgers, sandos, hotdog buns). Enter Green Common, a plant-based café-slash-grocery in VivoCity where all sorts of familiar dishes get a meatless makeover.
Green Common has its roots in Hong Kong, where sustainability-focused social venture Green Monday Group first launched it as the world's first plant-based concept store. Six years on, it's sprouted into nine outlets in Hong Kong and another in Shanghai, with the 3000-square-foot Singapore branch freshly opened this January.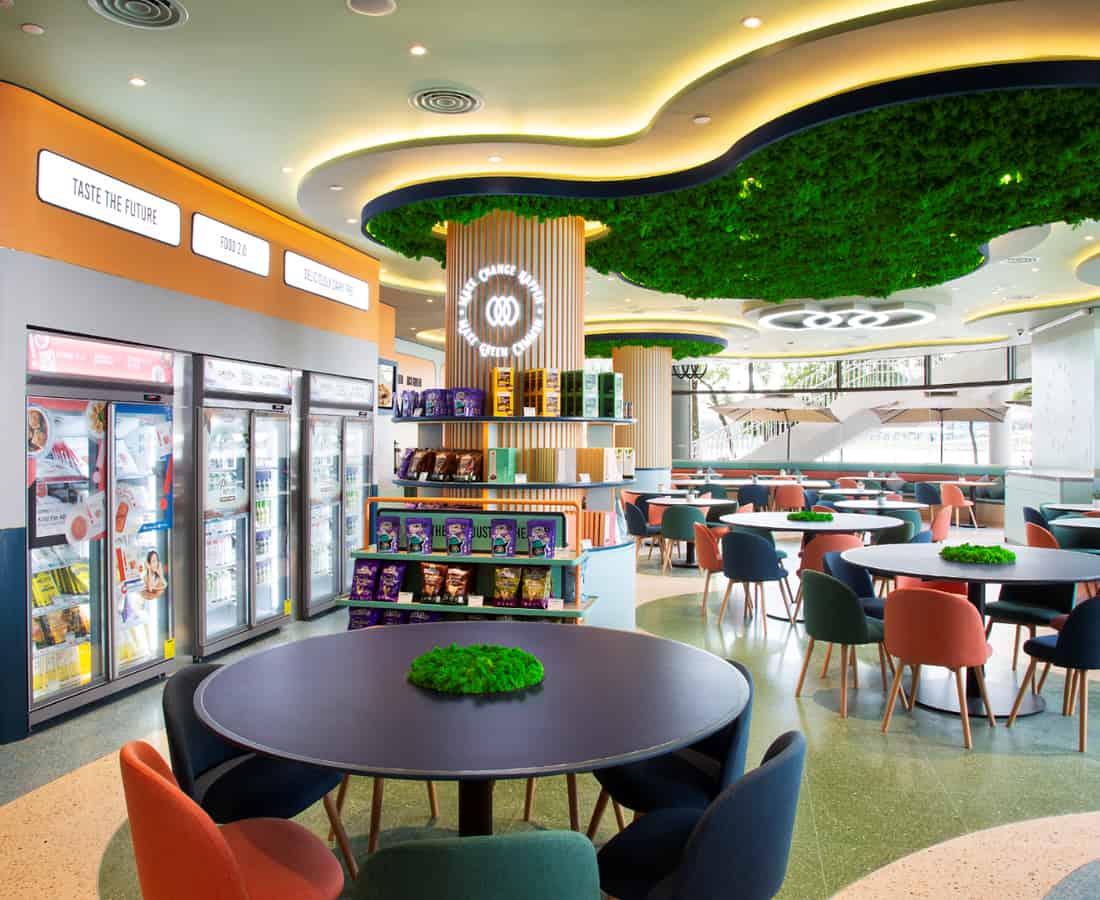 Even if you're not vegan-curious, you might be drawn into Green Common Singapore by the space alone – a calm, airy oasis of teals, burnt oranges, and deep blues. Wall-to-wall windows flood the space with natural light, and from the ceiling sprouts a lush carpet of living moss. Just by the entrance, a wonderland of plant-based products awaits – a row of fridges fully loaded with all the meat alternatives your pantry might need.
You'll find Beyond Meat in this grocery section, of course, but there's a smorgasbord of alternative brands as well. For Asian staples, snag a pack of Green Monday's very own OmniMeat luncheon meat or its freshly launched range of OmniEat frozen meals – think MSG-free siu mai, crystal dumplings, and even truffle gyozas. To switch up your diet, there's soy-based chicken by Spain's Heura Foods, Korean sliced beef from Unlimeat, chicken nuggets from USA-based Alpha Foods, and Gardein's fishless fillets. Craving an omelette? Pick up JUST Egg, a mung bean-based egg replacement, and complete your breakfast with Califia Farms' planet-friendly plant milks.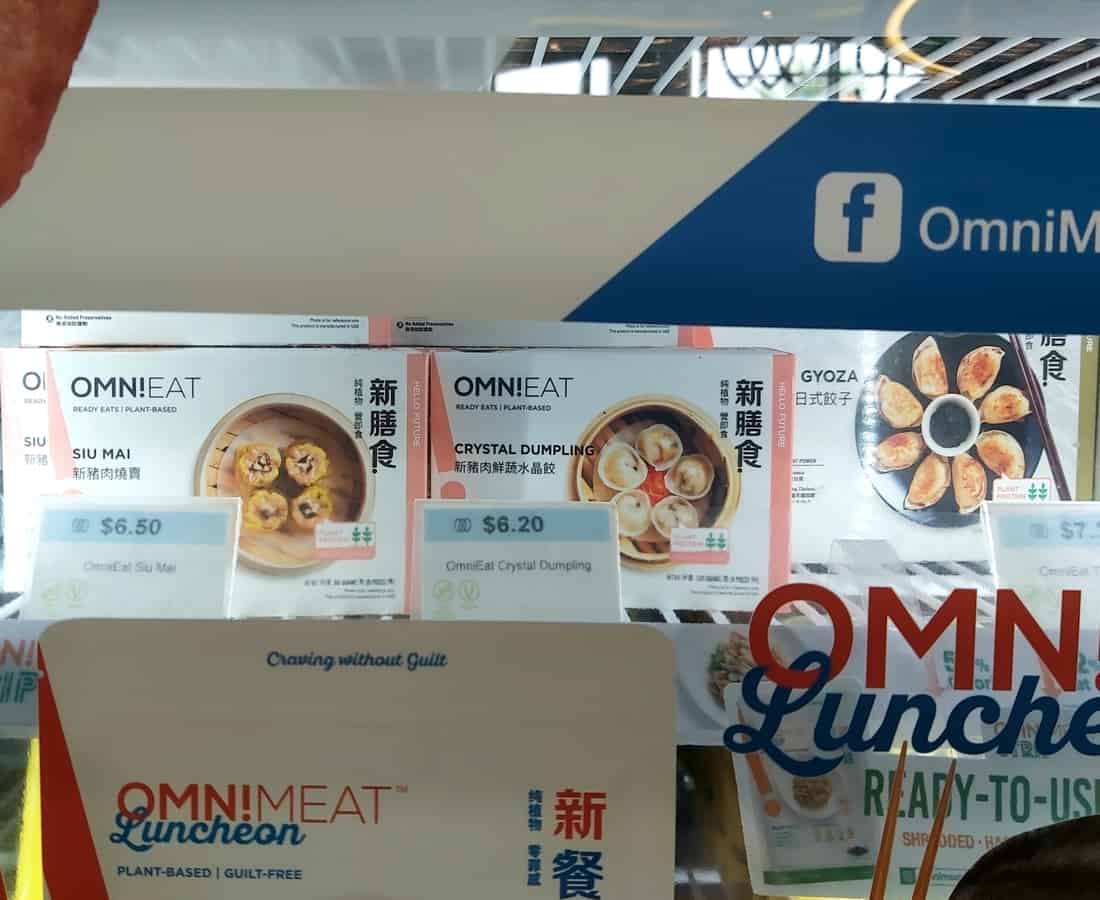 Many of these products find their way into the café's kitchen, where veteran chef Louie Moong (previously Head Chef at PizzaExpress and Refinery Concepts) turns them into vegan-friendly comfort food. You'll spot a couple of salads and smoothies on the café's sprawling menu, but make no mistake: Green Common isn't for the health junkies. Its appeal lies, rather, in its greening up of familiar café fuel – we're talking fried bites like Spam fries, local hawker grub like laksa, and Western staples.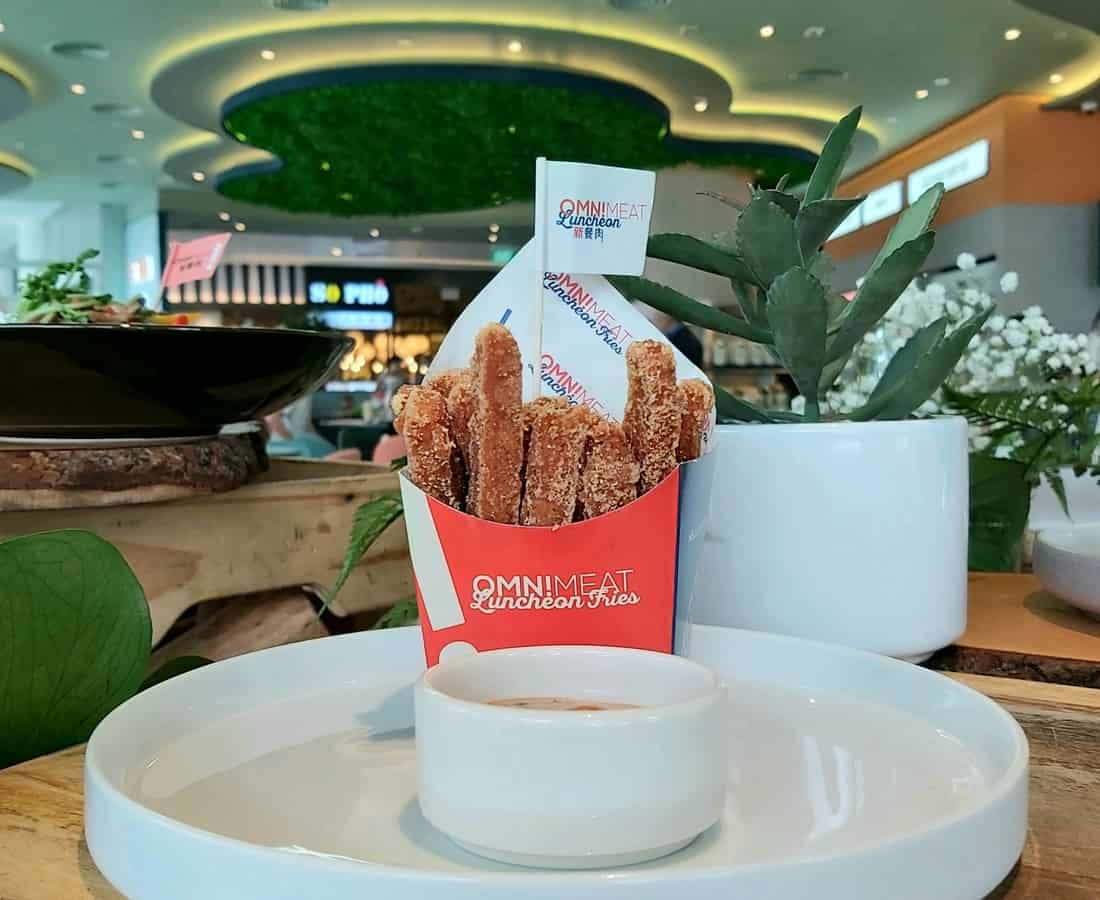 If you're having an eco-friendly cheat day, there's plenty at Green Common to hit the spot. Featuring Gardein's zero-cholesterol crabless cakes, the Gardein Crab Cake (S$10) comes fried to a golden crunch, with a satisfyingly flaky texture and delicate flavour from wheat protein. The Omni Luncheon Fries (S$8) makes for guilt-free yet sinfully good snacking – a crispy, carcinogen-free take on Spam fries best dipped in Thai chili. Don't miss out on the Meatless Meatballs (S$10) either – hand-rolled with a blend of OmniMeat and Beyond Meat, these hefty meatballs come spice-laden and nicely poised between firm and tender.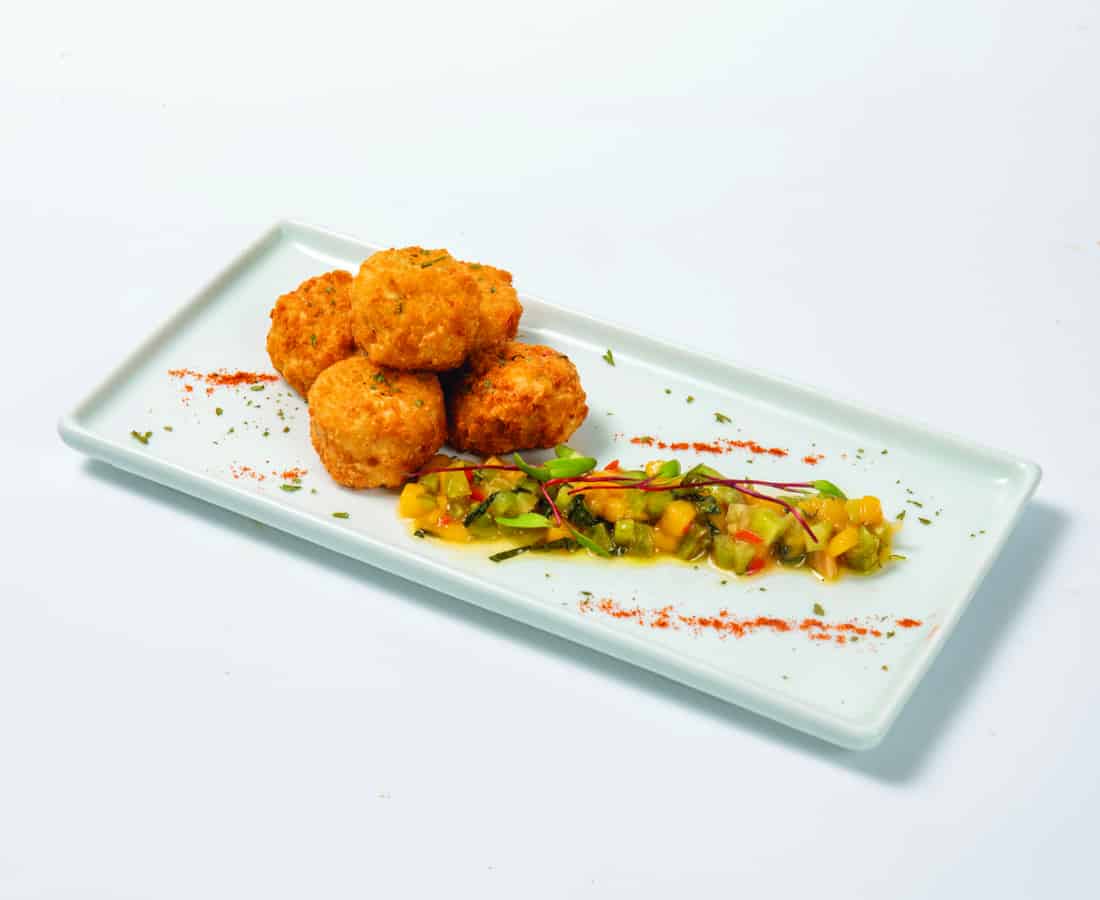 The unanimous favourite at our table, though, was the Alpha Nuggets (S$8) – one chicken nugget connoisseur even proclaimed them 'better than McDonald's'. We wouldn't disagree either. Crafted by Alpha Foods from soy and wheat protein, these bouncy, juicy nuggets pack plenty of flavour on the inside and serious crunch on the outside. No wonder they've already made a splash in KFC Hong Kong.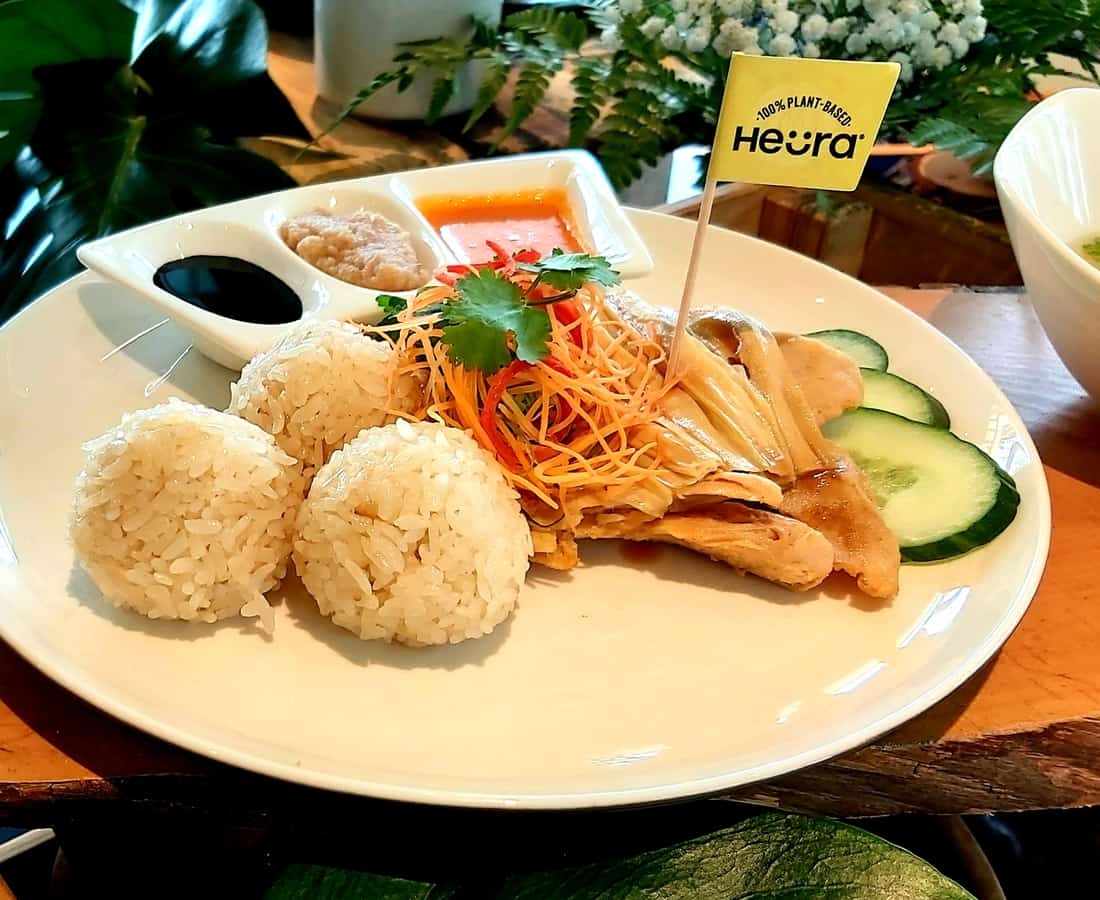 Unfortunately, many of our mains fell flat, more on the part of the overall dish than the meat substitute. Part of what makes Green Common stand out is its meatless takes on local dishes – it's no mean feat, for one, to take on Singapore's beloved chicken rice. The Hainanese Trick'en Rice (S$16), though, might not win over the vegan-curious on taste alone, with slices of somewhat rubbery Heura chicken that reminded us of beancurd skin. And while it's the carbs that make or break any plate of chicken rice, the rice here was bland and a tad dry, only saved by ginger paste on the side.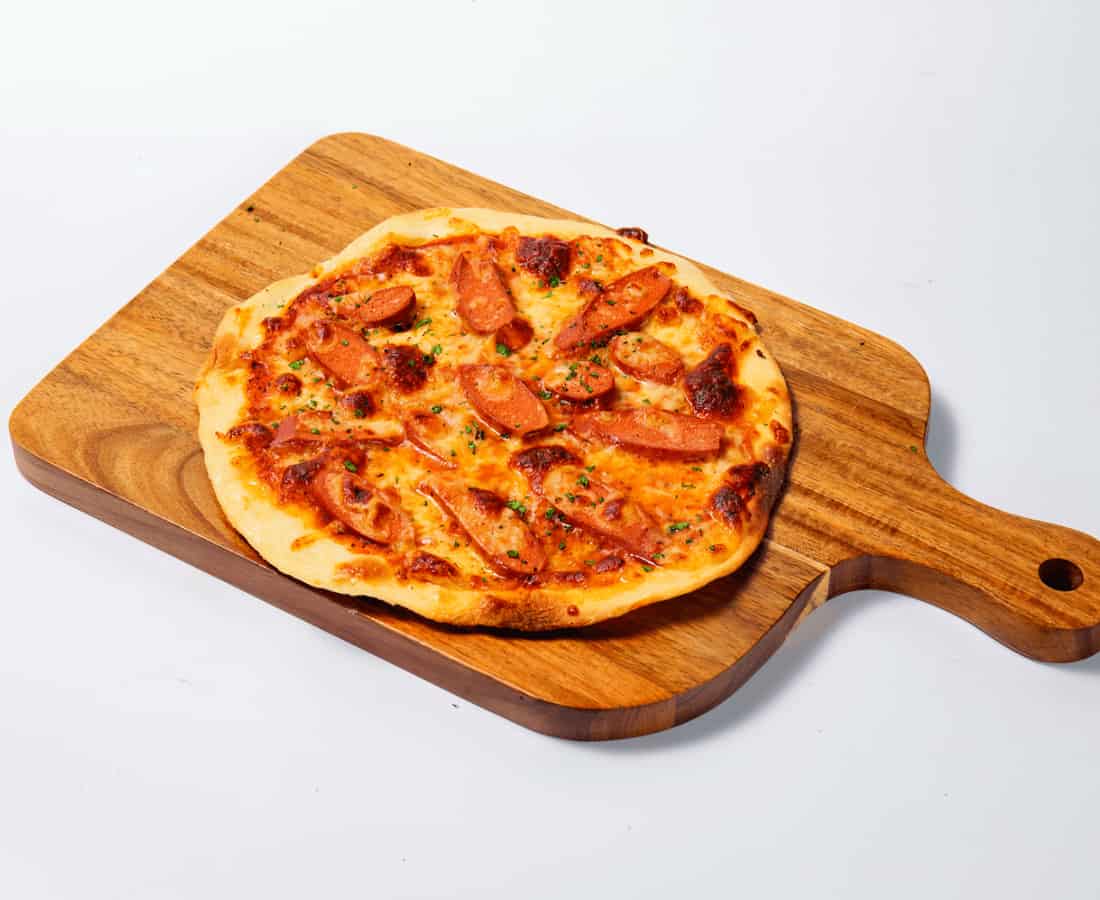 Other Asian options include the Omni Trio (S$13) – stir-fried Shanghainese noodles that lean towards mushy, tossed with OmniMeat pork strips that add a protein-packed chew. For Western feasting, the Meat Lovers Pizza (S$19) is a surprisingly solid choice. Think a gratifyingly gooey blanket of Daiya Mozzarella Cheese – made with a complex blend of tapioca flour, pea protein, and coconut oil – topped with hearty slices of Moving Mountains Hot Dog and Beyond Sausage.
If you're a meat-lover turning flexitarian or just taking a walk on the green side, Green Common is a fabulous way to ease into things. While the dishes here might be a little hit-and-miss, plant-based dining and cooking has never been more accessible. And that's a huge step for the planet already.

Green Common is located at 1 HarbourFront Walk, VivoCity #01-169/170, Singapore 098585, p. +65 6513 5808. Open daily 11am–2pm and 6pm–10pm.