Courtyard Hotels in Beijing, China: Know Soul of the City When you Stay in Its Hutongs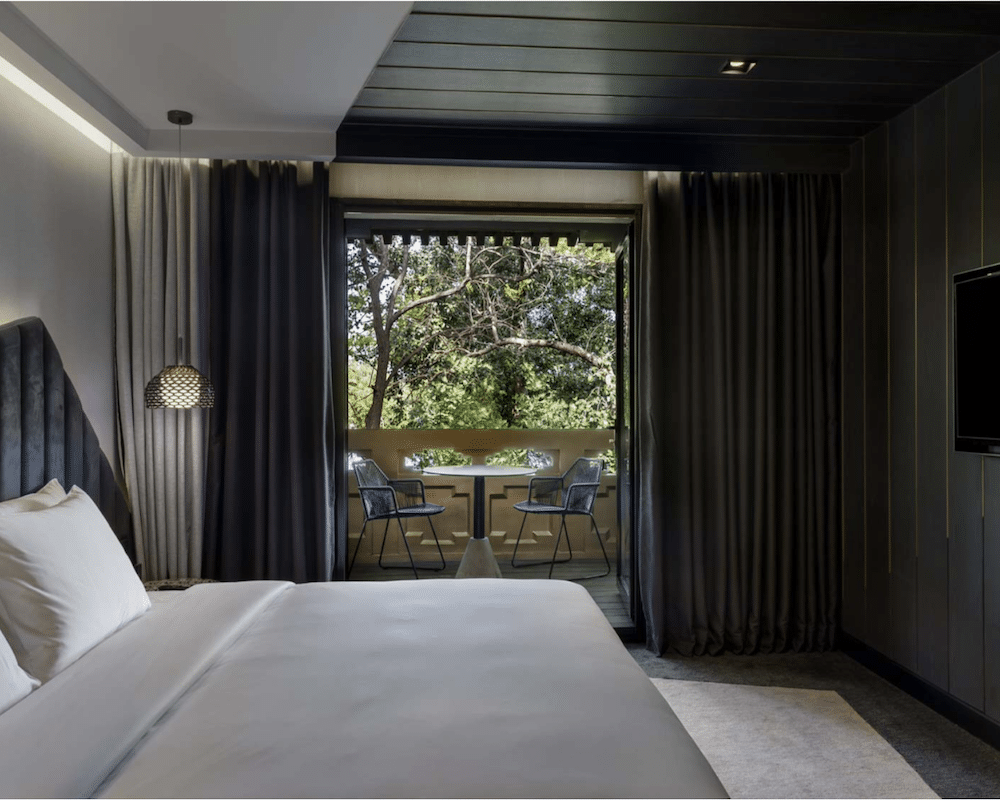 PUBLISHED July 8th, 2019 06:00 am
Hutongs, dynasty-era labyrinthine lanes outside of the Forbidden City, define the residential soul of traditional Beijing. They are where old school "Beijingers" came of age, playing in the narrow alleyways as children, and where hip expats outdo each other to lay claim to the most authentic Chinese experience. Beijing's hutongs today still see courtyards of  grey brick walls, red and green painted wooden beams, and glazed tile roofs bumping up against each other.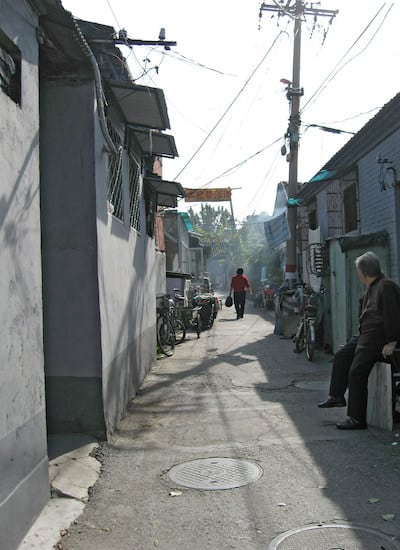 On your next visit to Beijing, consider waking up in one of these boutiques hutong properties for a more textured experience of China's capital – and they're typically near attractions like Bell and Drum Towers and Nanluoguxiang.
And although these unassuming tenements are likely worth millions of dollars on Beijing hyper-inflated real estate market, you won't find any fancy airs with your neighbours, who double as your local butcher, hair stylist and cigarette merchant.
Here are four hutong hotels that we recommend for a slice of Beijing life:
The Orchid
A tastefully appointed boutique hotel birthed to combine its locale with refined expectations of the well-heeled, this diamond-in-the-rough is a bed and breakfast complex of eight satellite, residential apartments. Nestled in the bustling Baochao Hutong, it's a stone's throw from the main property building, which also sports nine well-appointed rooms.
The Orchid is an inviting sanctuary with Scandinavian aesthetic – think solid wood beams framed against white walls that are bathed in natural light. Most rooms feature a sun deck that let you comfortably exhale to the Beijing night sky after a day of touring, and private courtyard residences are furnished with kitchens for guests who'll want to spend nights in.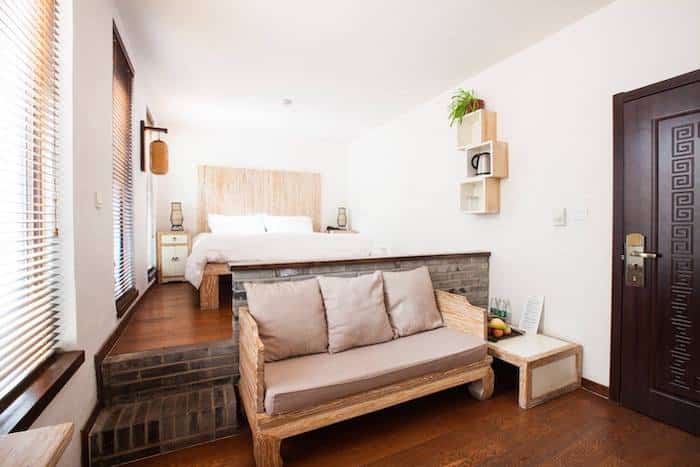 Locally owned and managed, the staff executes a crisp professionalism on par with that of five-star, international offerings. Not only is the hotel an institution for seasoned expats who host their families on return visits, it is a top destination for Beijing's Sunday brunch crowd, all thanks to its well-maintained garden terrace café, Toast (which also provides breakfast to staying guests).
The Orchid is located at 65 Baochao Hutong, Dongcheng District, 100009 Beijing, China. 北京市东城区鼓楼东大街宝钞胡同65号.
Vue Hotel 
Northwest of the Forbidden City, the Beijing hutongs coalesce around Shichahai, a trio of lakes forming an historic and scenic area. The Vue Hotel lies on the picturesque tapestry of one of these lakes, Houhai (meaning Back Sea), but stands distinctly beautiful apart from the raucous, neon-lit bars that dominate the lakefront.
The acclaimed, Singaporean-based Ministry of Design re-imagined a cluster of '50s era government buildings into a sultry, dark charcoal complex of 80 rooms – the biggest hotel on this list. Gilded, golden accents and impromptu art installations of wildlife curiosities are abundant in the compound. It is fitting that the Vue is a member of the Design Hotels portfolio. Guests will find full-service amenities including a gym, rooftop pool, terrace bar, and a tapas restaurant.
VUE Hotel is located at 9 Yangfang Hutong, Xicheng District, 100009 Beijing, China. 西城区羊房胡同9号.
Layering Courtyard Hotel Qianmen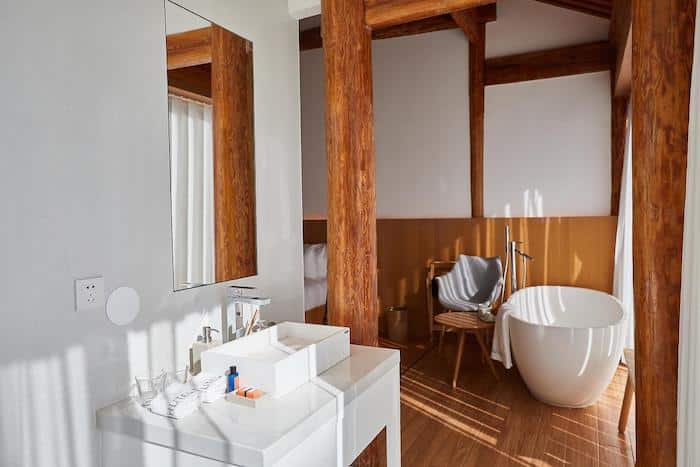 Located in the revamped Qianmen district, which is within walking distance to many attractions, Layering Courtyard delivers a unique interpretation of the traditional, quadrangle siheyuan-style architecture. Fashioning itself as a "Hutel" – a playful portmanteau of "hotel" and "hutong" – it boasts a "multiple, layering courtyard" format that allows guests a quiet, poetic experience in a bustling neighborhood.
With only seven rooms spaced out across two levels, it offers the most privacy amongst all the hutong hotels. Although there's minimal partitions between bed and bath spaces in the rooms, the mandatory private bamboo courtyards attached to every room is more than enough compensation. Pro tip: Book an upstairs room to enjoy a window-facing bath tub with idyllic views.
While there's no gym or pool, guests won't have any problems logging in extra steps each day with the nearby walking and shopping district, which includes the new Beijing Fun complex.
Layering Courtyard Hotel Qianmen is located at 159 Qianmen West Heyan Street, Xicheng District, Beijing, China. 北京市北京市西城区西河沿街159号.
Beijing 161 Lezainanluo Boutique Hotel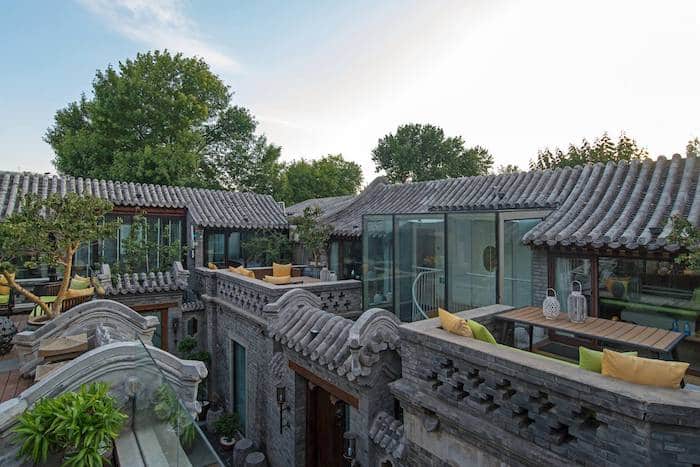 The locally-owned, Beijing 161 chain of boutique hotels promises guests an authentic Beijinger experience. Opened in 2014 and renovated in 2016, their Nanluoguxiang location is in the middle of the historic area – a vibrant 800-meter alleyway of shops and restaurants that remain a perennial tourist favourite.
The 12-room courtyard hotel embodies quintessential, modern Hutong living with a traditional, charcoal brick shell and glazed tile roof encased around individually-designed, contemporary rooms. Guests can enjoy a stunning, rooftop terrace outfitted with comfortable deck furniture and lush greenery, above the fray of the pulsating hutong life below. Whilst distance to the main road might be a problem, the dazzling array of shops and eateries around the hotel will ensure you will have an unforgettable time in the historical alleyways.
Beijing 161 Lezainanluo Boutique Hotel is located at 3 Shajing Hutong, Dongcheng District, 100009 Beijing, China. 南锣鼓巷沙井胡同3号.
Top Image: VUE Hotel