Get Your Hot Pot Fix in Beijing, China: Five Styles of Hot Pot and the Best Places to Go for Them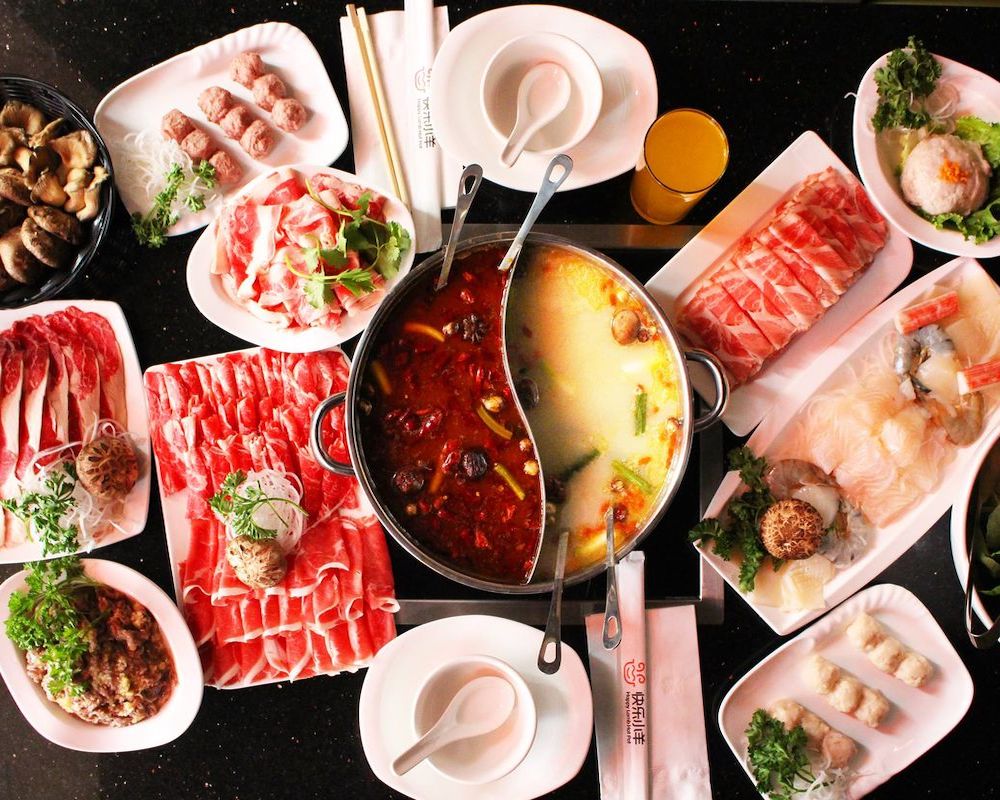 PUBLISHED May 20th, 2019 07:00 pm | UPDATED February 6th, 2020 08:46 pm
More of a fun communal experience than a dish, there's something addictive about the whole process of eating hot pot. You team up with some friends to cook an array of ingredients – thinly sliced meats, mushrooms, fresh vegetables, noodles, and more – in a single pot of bubbling, seasoned broth heated on an induction burner. Once cooked to your liking, you dip the ingredients in your own concocted sauce and eat it, along with copious amount of cold beer.  Rinse and repeat until you lapse into a food coma.
It's believed to have been introduced to East Asia by the Mongolians, which featured non-spicy soup served with horse meat and mutton. Thankfully, as cuisines always do, hot pot culture evolved differently in different parts of China. And Beijing – the Chinese capital is a confluence point of regional cultures – is a great place to experience the distinctly varied styles. We recommend booking our recommended spots in advance.
Traditional Beijing Hot Pot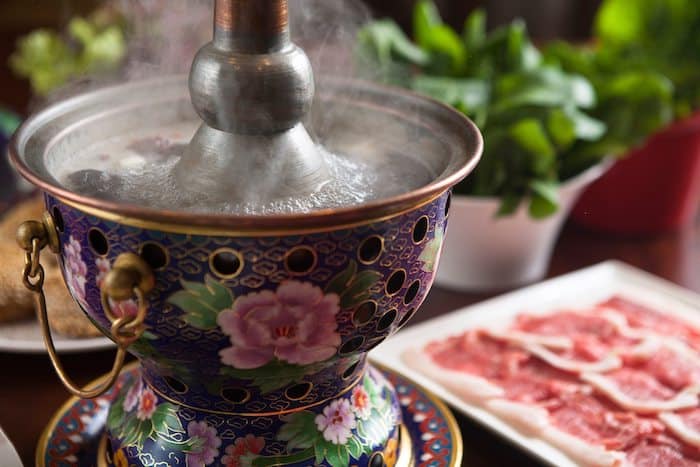 A must-have in the capital city, the Beijing hot pot has a rich history of using marbled paper-thin slices of meat in traditional Mongolian copper pots with what looks like a chimney stack in the middle.  This style of hot pot is deemed simple and focuses on the quality of the ingredients – fresh, tender meat and fresh, leafy vegetables cooked in clear water or lightly flavored broth, with sliced scallions, goji berries, and ginger.  To add flavor, the cooked meat is dipped in rich and creamy peanut or sesame sauce.
Where to go
Ritan Shuanrou 日坛涮肉
9 East Ritan Road 日坛东路9号, p. +86 10 85625558. Open 11am to 10pm daily.
Yang Da Ye Shuanrou Fang 杨大爷涮肉坊
39 West Maizidian Street 麦子店西街39号,p. +86 10 65006268. Open 10am to 10pm daily.
Chongqing Mala Hot Pot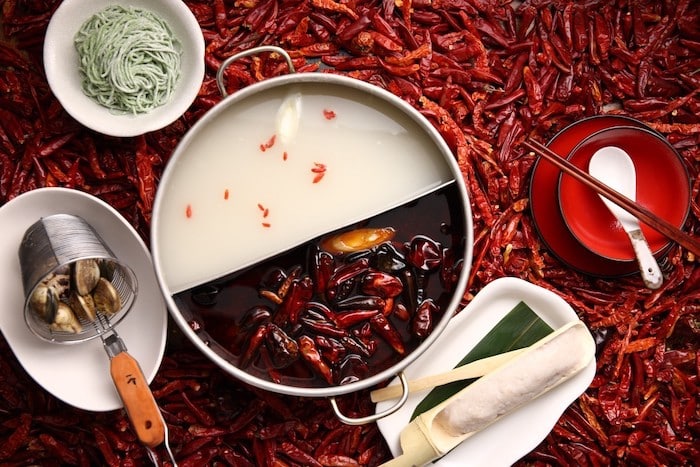 Distinguished by its extreme heat, the star ingredients are the numbing Sichuan peppers and red hot chilis that are added liberally to the butter broth.  It can be almost impossibly spicy for some unwitting first-timers but past the first try, most still return for more, thanks to its fragrant, natural spice oils that add rich flavor to the meat and vegetables.  Ingredients are usually dipped in a mix of sesame oil and minced garlic, which is believed to help combat some of the heat.
Where to go
Yang Jia Huo Guo 杨家火锅
88 Jianguolu 建国路88 号 (SOHO现代), p. +86 10 85895957.  Open 10am to 12 midnight daily.
Haidilao Smart Hot Pot 海底捞火锅智慧餐厅
Level B1-04, Block E, Zhongjun Building中骏世界E座负一层, p. +86 10 65018449. Open 10am to 7am on the next day, daily.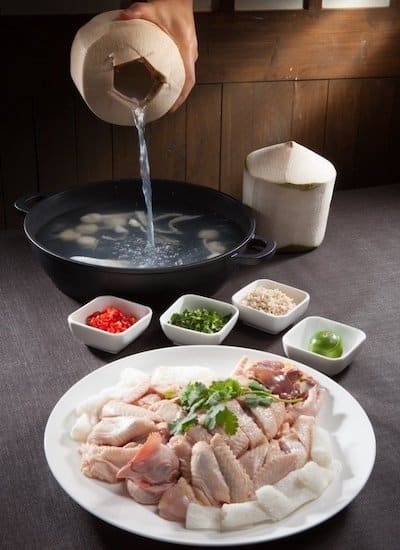 Coconut Chicken Hot Pot
This trendy hot pot style uses a base broth of Hainanese chicken boiled with pure coconut water to create a rich, slightly sweet and meaty broth.  Since the broth is not made with additional oils or seasoning, this is regarded as a healthier option, but nevertheless, a tasty choice.
The other highlight of this hot pot style, besides the wholesome, comforting soup, is the ultra addictive and zingy dipping sauce concocted with soy sauce, fresh lime juice, red chili peppers, and ginger.
Where to go
Pengran Siji Coconut Chicken 烹然四季椰子鸡火锅
Level 2, Borui Dasha, 26A Dongsanhuan Beilu 东三环北路甲26号博瑞大厦2楼, p. +86 10 65167211. Opens 11am to 2am the next day, daily.
Yiyuan Siji Yeziji 怡园四季椰子鸡
Level 3, Block E, Zhongjun Building, Chaowai Street朝外大街中骏世界E座3楼,p. +86 10 65680988. Open 10am to 3am on the next day, daily.
Congee Hot Pot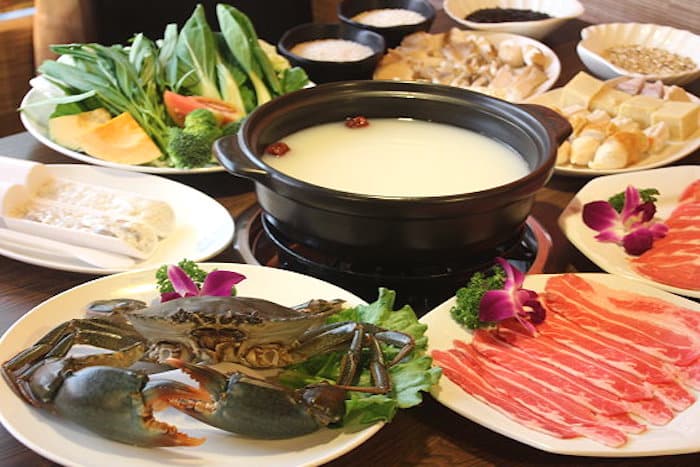 Congee is a staple in the Cantonese community and can be found in most of China, so it was natural that congee made its way into the hot pot. This style uses plain or flavoured congee and soup broth. Seafood features highly on congee hot pot menus as it highlights the freshness of the ingredients, but meat and vegetables can be added as well. Extra care and attention is put into the base congee broth so expect a long dinner of sipping comforting, nutritious rice soup base with elevated flavors over time.
Where to go
Zhenziwei 珍兹味港式粥火锅
Level 2, Block 3, China View, Gongti Dong Lu 工人体育场东路丙2号中国红街3号楼2层, p. +86 10 85871789. Open 11.30am to 2am the next day, daily.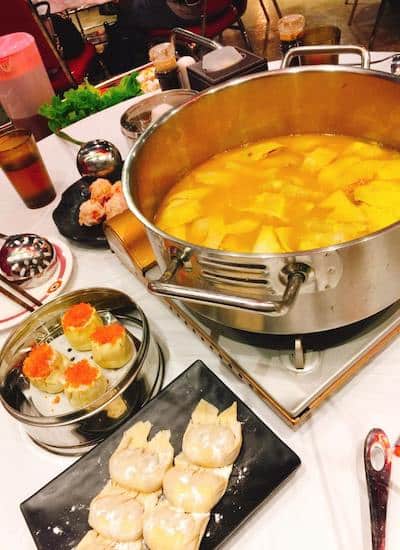 Hong Kong Hot Pot
Compared to the first four, Hong Kong hot pot might not claim as much attention but the lines of people outside these restaurants are never any shorter.
Popular for its simmering, rich and thick soup base that usually features one key protein such as chicken or pork, the hot pot style emphasises on quality and freshness of ingredients dipped in the soup such as seafood, leafy vegetables and handmade fish or meat balls.
Where to go
Having Luck Hot Pot 幸运打边炉
工人体育场北路15号, p. +86 10 85895957. Open 11.30am to 2pm and 5pm to 2am, daily.
Top image courtesy of Happy Lamb Hot Pot