Hotel Review: Peak CBD Living in Admiralty at the JW Marriott Hong Kong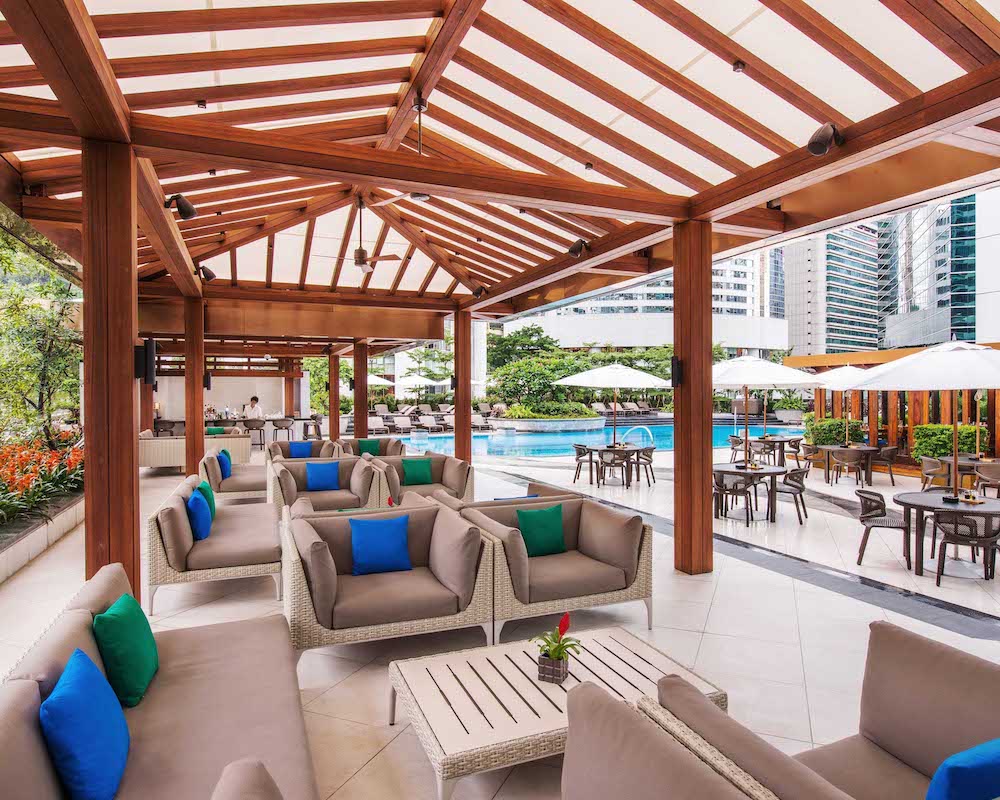 PUBLISHED January 1st, 2020 10:00 am | UPDATED March 26th, 2020 03:22 pm
Despite the recent turbulent times, Hong Kong is still a financial hub of Asia, with business travellers constantly dropping in and out. In fact, some leisure travellers are even taking advantage of the drop in tourists, which make getting a table at award-winning and Michelin-starred restaurants a lot easier. And whether you're travelling for business for pleasure, one of the many hotels sitting in the middle of it all is the JW Marriott Hong Kong.
Location and Design
Taking up 35 stories of Pacific Place, an integrated commercial, shopping and entertainment complex, JW Marriott Hong Kong wears its age well in the heart of Hong Kong Island. It was the first Asian flagship property of Marriott International when it opened in February 1989.
Interiors and exteriors look sleek and well-maintained. This is due to Pacific Place's major contemporisation project in the early 2010s, which is led by British designer Thomas Heatherwick (the architect of the UK Pavilion at the Shanghai Expo in 2010), as well as the refurbishment of the guest rooms by the JW Marriott management that were completed in September 2018. 
Buses and trams are available within walking distance, and it is directly connected via underground to Admiralty MTR, an interchange for the Island, Tsuen Wan, and the South Island lines.
Rooms
Each of the 609 well-appointed rooms and suites offers a panorama of the city and mountains, or the much sought after harbour view. At 31 square metres (348 square feet), the Harbour View King, is certainly spacious in this land-starved city. Guests might not need the 55" ultra-high-definition LED television with that eye-catching backdrop, but will surely appreciate the better-than-home comforts like a JBL audio system, a pillow menu, and silky 300-thread count cotton sheets with a medium weight down comforter. Getting the New York Times delivered in time for breakfast was a great perk too.
Given how modern the rest of the room is, the retro air-conditioning control panel and marbled bathroom stocked with bath toiletries of Aromatherapy Associates are slightly incongruous. With a layout and colours that harken back to old-school hospitality, it offers separate shower stall from the bath tub. It was an extremely comfortable two nights; my nitpicking extends to the lack of USB ports by the bedside, though different charging cables already attached to the control panel and an international adaptor already available in the room make up for it. A welcome drink of Chinese tea (variety rotated monthly) upon arrival was much appreciated though guests can expect a Nespresso coffee machine and TWG tea bags rounding out the facilities.
[button color="red" size="normal" alignment="none" rel="follow" openin="samewindow" url="https://accesstra.de/000pvo000ao5″]Find accommodations in Hong Kong from S$50/night[/button]
Executive Club and Facilities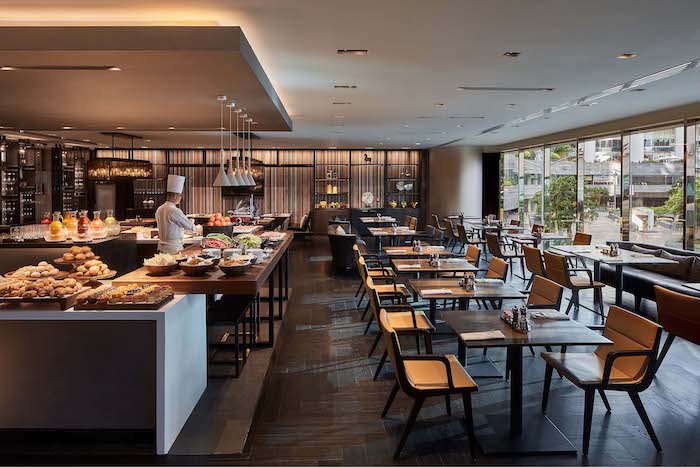 If I, as digital nomad, had to choose between a harbour view and access to JW Marriott Hong Kong's Executive Lounge on level five, it would be the latter hands down. In the mornings, it's a quiet but international breakfast and lingering over yogurt while clearing emails, and returning post-meetings in the afternoon for complimentary cocktails (5pm) and canapes (6pm, and an understatement as it was more like an antipasti buffet). In fact, the space where the lounge is used to be a steakhouse and seafood bar called Flint, and in the afternoons, the lounge sees a brief stint as Flint, dishing out lobster bisque and flatiron steak like a pro.
We've noticed an uptick in Marriott properties offering a well-stocked DIY bar to make one's own cocktails, and in the case of JW Marriott Hong Kong, there were even recipes cards on making sangria. Red wines are also decanted half an hour to an hour before happy hours kicks off, and it's the little details like these that make our hotel experience a better one. Not to mention, even though I was technically registered for one, the staff members at the lounge graciously allowed my husband to hang out over a glass of wine before he had to leave for the airport. And all the food you get, be it breakfast, afternoon tea, or late night snacks, are substantial and high quality stuff.
Dining and Wining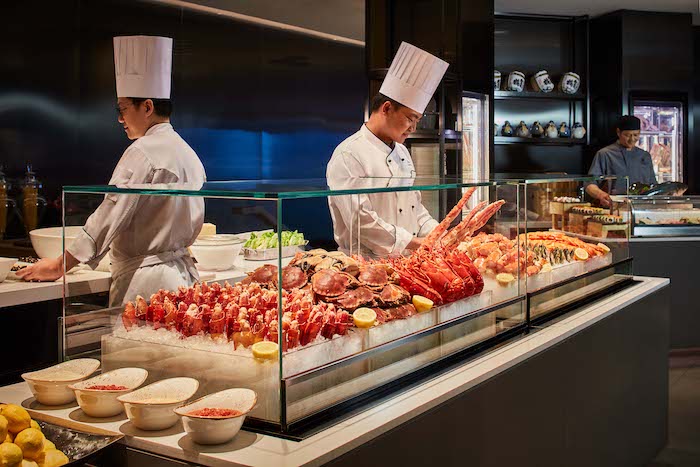 Speaking of food, I've discovered that Hong Kongers and Singaporeans are alike in one way – we love our buffets. The line-up at JW Cafe is purportedly one of the best in Hong Kong, and I can attest after a gut busting dinner (from HK$778+ per person). Seafood was the theme and there was everything from braised fish maw to typhoon shelter crabs, freshly battered prawn tempura and spiny lobster  to stir fried razor clams. The variety and the quality is top notch, and it's easy to see why they'd be at 85% capacity on a Monday night.
Those up for some bar talk, though, should head over to Bar Q88, where Bar Manager Bryson Rivera has an intriguing menu of cocktails inspired by American pin-up models (think Brigitte Bardot, Bettie Page, and Dita Von Teese). He manages to pull off a cocktail with pink gin with aplomb so trust us when we say, go sit at the bar for a pre- or post- dinner tipple, live music most nights included.
JW Marriott Hong Kong is located at Pacific Place, 88 Queensway Hong Kong, p. +852 2810 8366.
Top image: Pool Lounge