Netflix And No Chill: Best Pandemic Films And Series To Binge During The COVID-19 Outbreak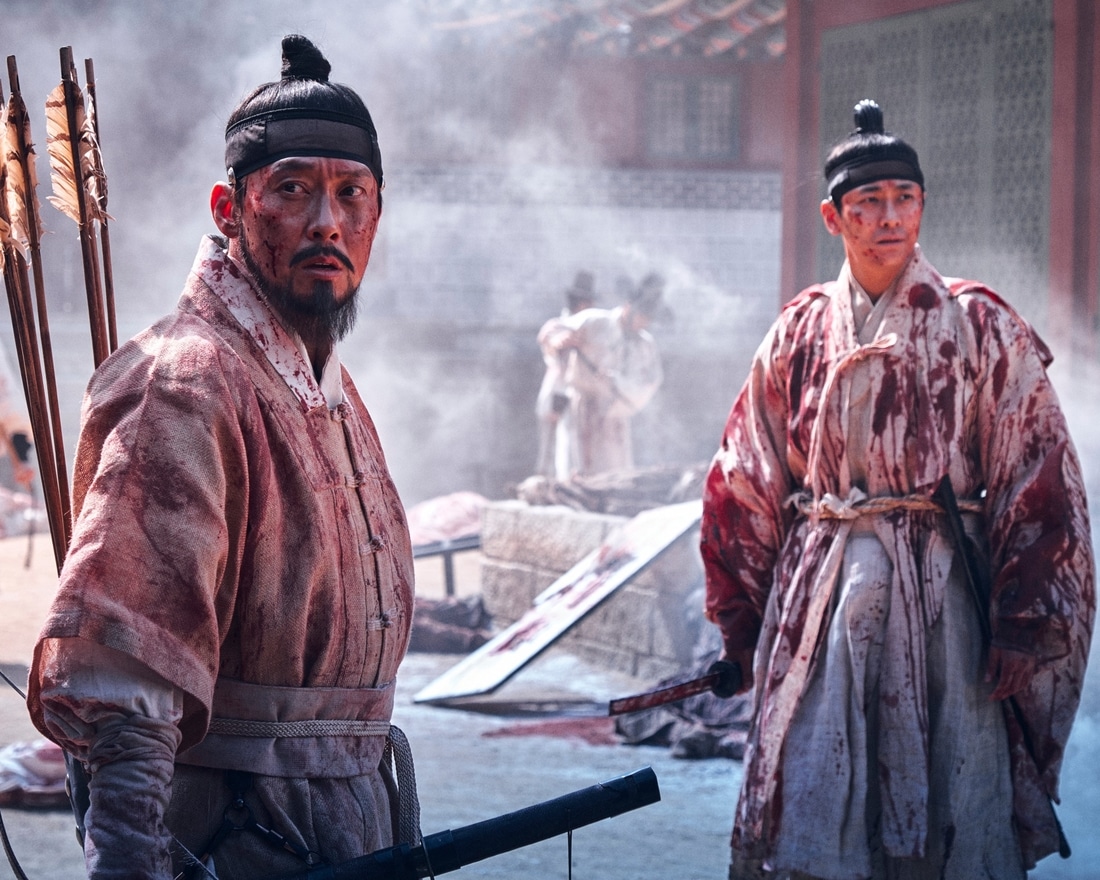 PUBLISHED March 26th, 2020 06:15 am | UPDATED June 3rd, 2020 12:15 am
So you've Marie Kondo-ed your house, opened your fridge for the twentieth time, and you're about to start counting the toilet paper rolls you stockpiled out of sheer boredom. If staying in all week is driving you kooky, fear not – it's Netflix and chill to the rescue. Pandemic flicks have been spiking in views on streaming services everywhere, and we totally get it – there's something cathartic about seeing our fears play out to dramatic music. From medieval zombie plagues to time travel thrillers, here're nine infectiously good films and series to catch while you self-quarantine.
Kingdom, Seasons 1 & 2 (2019–2020)
Zombie flicks and Korean period dramas are both a dime a dozen, but bring the two together and you've got the masterpiece that is Kingdom. Directed by thriller virtuoso Kim Seong-hun, this 15th-century Joseon saga centres around an undead plague that has ravaged the provinces – and infected the king himself. With not only zombies but political plots and power-hungry ministers lurking in the shadows, Crown Prince Yi Chang must set out to uncover the truth of the disease and take back his throne. Expect lush palace intrigue, terrifying twists, and plenty of gore.
Catch Kingdom on Netflix.
Contagion (2011)
Contagion has been going viral (pun intended) in recent weeks, and no wonder – its premise is eerily similar to the pandemic we're living through. In Steven Soderbergh's action thriller, the fictional MEV-1 virus spreads from a bat to a pig slaughtered at a Chinese market, eventually infecting patient zero Beth (Gwyneth Paltrow). As patients die by the millions worldwide, disease control scientists must race against time to develop a vaccine. From quacks who cash in on people's fears, to bureaucrats who fail to act fast till it's too late, this film is a spot-on study of how society responds to crisis.
Catch Contagion on Amazon Prime. 
Pandemic: How to Prevent an Outbreak (2020)
Released just this January – right on the cusp of the coronavirus outbreak – Pandemic is an uncannily prescient docu-series about the healthcare heroes on the frontlines. The first episode kicks off with the bold theory that we're due for a a new, fast-moving deadly virus – and with eight billion people in the world today, the ensuing chaos could be nothing short of carnage. The wide-ranging series follows public health experts around the globe as they work to ward off the next viral outbreak, battling everything from seasonal flu and Ebola to budget cuts and anti-vaxxers. This inspiring documentary will leave you with plenty to chew on.
Catch Pandemic on Netflix.
Cargo (2018)
You'll need your stockpile of tissues for this one. A full-length take on their hit 2013 short, Ben Howling and Yolanda Ramke's drama Cargo opens in a world already wiped out by a zombie virus, which turns infected humans into brain-eaters after 48 hours. When Andy (Martin Freeman) is bitten by his own wife-turned-undead, he has only two days to find a safe haven for their baby daughter, Rosie. Their journey across the Australian outback is fraught with peril, but also heartrending moments of courage and grace. It's one of your rare zombie flicks with scares and soul.
Catch Cargo on Netflix.  
World War Z (2013)
If tidal waves of zombies and helicopter hijinks get your heart thumping, this big-budget joyride is a must-watch. In World War Z, Brad Pitt plays an ex-United Nations investigator on a mission to trace the origins of an undead plague that has overrun the world. There're kooky moments of social satire – Israel builds a giant wall around Jerusalem, while North Korea's solution is to pull out all its people's teeth – mixed in with stunning globe-trotting action and, of course, lightning-fast zombies. You'll be holding your breath throughout.
Catch World War Z on Netflix. 
Flu (2013)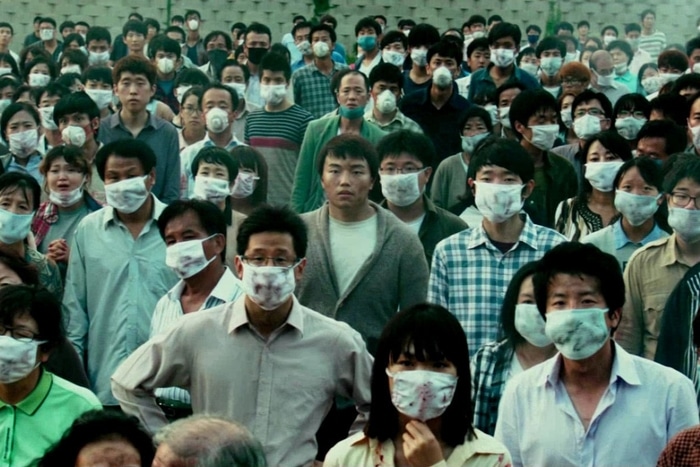 You might have seen hoarding hysteria at your local supermarket, but Flu takes scenes of mass panic to a frightening new level. This South Korean disaster film features a deadly flu strain dubbed H5N1, arisen from illegal immigrants crammed in a shipping container. Unscrupulous politicians order ruthless lockdowns and flee the city, leaving the people to rot – and riot. Packed with nightmarish shots of military violence and mobs overrunning hospitals, it's hard not to be infected by Flu's sheer primal fear. With a romance subplot woven in, it's not shy about pulling at your heartstrings either.
Catch Flu on Amazon Prime. 
28 Days Later (2003)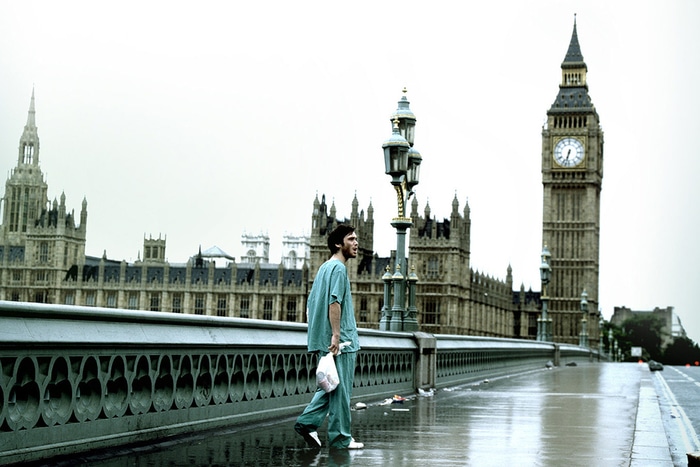 A group of animal rights activists sets free chimpanzees from a Cambridge lab; too late do they learn that they've unleashed a lethal 'rage' virus upon the world. 28 days later, a man awakens from a coma to find that most of humanity has been transformed into frothing, flesh-hungry monsters. What sets Danny Boyle's chilling film apart is that the horror truly begins when the ragtag band of uninfected survivors reach a military retreat – only to find that the real brutes might be civilised men after all.
Catch 28 Days Later on Amazon Prime.
The Rain (2018–2019)
Going crazy after staying in for two weeks? Try being buried in an underground bunker for six years. Two-season Danish series The Rain begins as rain threatens to fall over Scandinavia – but instead of cats and dogs, it's raining water-borne viruses. Bundled into a bunker by their scientist father (who seems to know more than he should), siblings Simone and Rasmus wait out the storm for six lonely years till they're forced into the open once more. In a post-apocalyptic world, they try to unravel what really happened, and exactly what role Apollon – the shadowy mega-corporation for which their father worked – had to play.
Catch The Rain on Netflix. 
12 Monkeys (1995)
Time travel and viral conspiracies come together in one mind-boggling package in 12 Monkeys. This neo-noir sci-fi flick hops in dizzying style between 1996 – where a deadly virus is about to be let loose on the world – and 2035, where humanity huddles in squalid underground tunnels. Here, prisoner James Cole is tasked to go back in time to stop the ecological group behind the pandemic – but upon returning to the past, he is promptly hospitalized for insanity. Bleak and bewilderingly brilliant, this film raises the question of what power those with knowledge have to change things.
Catch 12 Monkeys on Amazon Prime. 
Top Image: Kingdom