Resort Review: Cassia Bintan Has Chic Apartments For a Home Away From Home Experience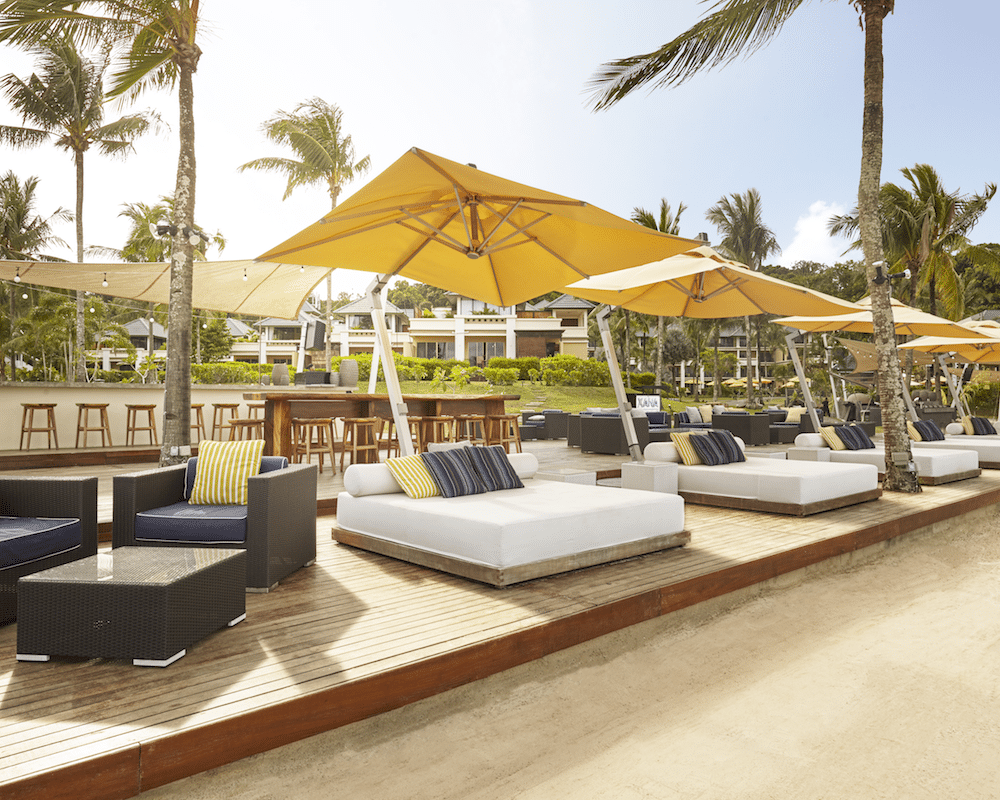 PUBLISHED June 22nd, 2018 07:00 am | UPDATED March 26th, 2020 03:21 pm
Lucky us in Singapore; besides stellar hotels for staycations when we need a break, there are plenty of islands with prime beaches and luxury resorts just a few hours away. One of the closest is the resort island of Bintan, and the newly opened Cassia Bintan offers a change of scenery for that rejuvenating weekend away.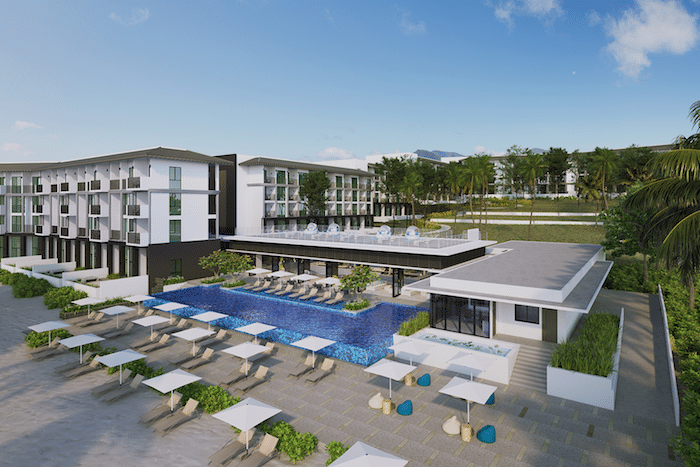 We've explored several properties in Bintan, from luxe villas at The Sanchaya to glamping at Canopi Resort, but never one quite like Cassia Bintan. Joining sister properties Banyan Tree Bintan and Angsana Bintan Resorts in Lagoi Bay, Cassia delivers an affordable 'home away from home' experience.
The first thing you'll notice is Cassia Bintan is big on colour. From the bright neon polo shirts the staff don to the colourful apartments, the vibrant colour palette lends itself to the overall theme of excitement and youthful energy. The hotel lobby, known as  'The Meeting Place', is reminiscent of a modern-day bachelor pad. The open concept with Market 23, cafe, and games room (think darts and foosball table) is tied together by the quirky and colourful street art inspired murals of Indonesian artist Adi Dharma from Jakarta. They're dotted around the rest of the property, adding a whimsical touch to the place.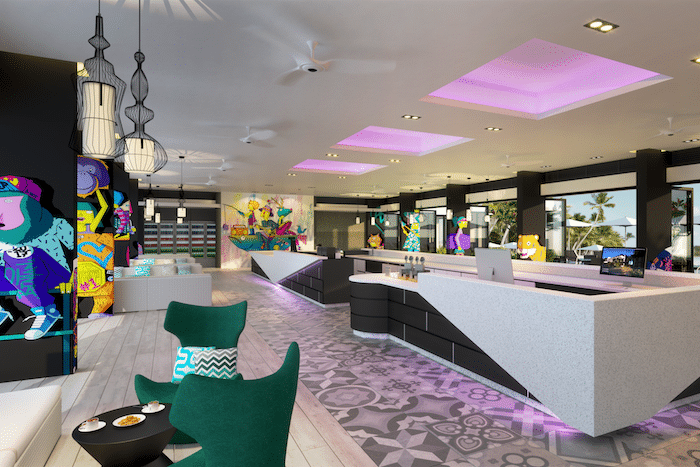 Market 23 offers a D-I-Y Mookata dining option where you can choose to either eat there or in your room. With a wide selection of ingredients and condiments to choose from, sets like the Meat Lover (IDR 420,000++) or Seafood Platter (IDR 420,000++) or a Combo option (IDR 480,000++) are available if you can't decide. And why not throw in an ice-cold bucket of thirst quenching Bintang beer while you're at it?
Cassia Bintan comprises five low-rise buildings with rooms offering two different views; the garden view or the more desirable ocean view. Upon checking into the two bedroom apartment with the ocean view, I was greeted with an immaculately clean and ultra modern apartment adorned with adorable animal-inspired wallpaper in shades of aquamarine.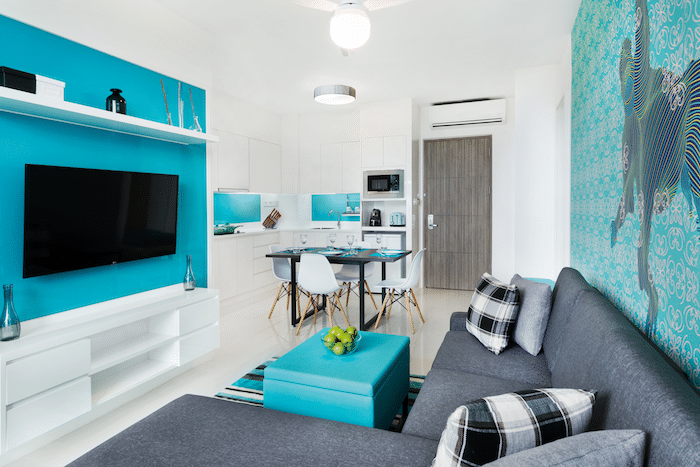 The two bedroom apartment can comfortably accommodate four with a queen size bed in the master, a single in the other bedroom and a wide sectional in the living room. You don't have to compete for the bathroom with an ensuite in the master and another one adjacent to the other bedroom. You'll also find a fully equipped kitchen with the works – a stove, toaster, even an oven along with all utensils and cutlery you'd need – and a substantial living area in both one-bedroom or two-bedroom units. The spacious balcony is great for taking meals with the fam or have a drink with the pals with the South China Sea in the background.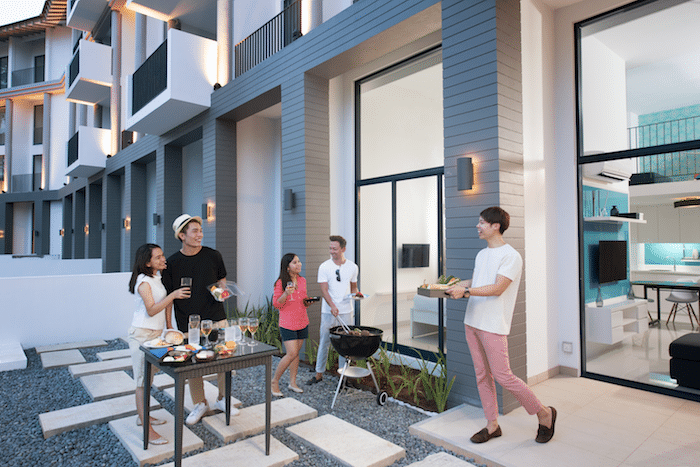 For larger groups, a loft can accommodate one extra person or act as another indoor hangout area with beanbags. The best thing about the loft rooms has to be the patio that comes with a BBQ pit you can hire and grill away amidst the beautiful sunset – probably the epitome of idyllic beachfront living. Think chalet living…massively upgraded.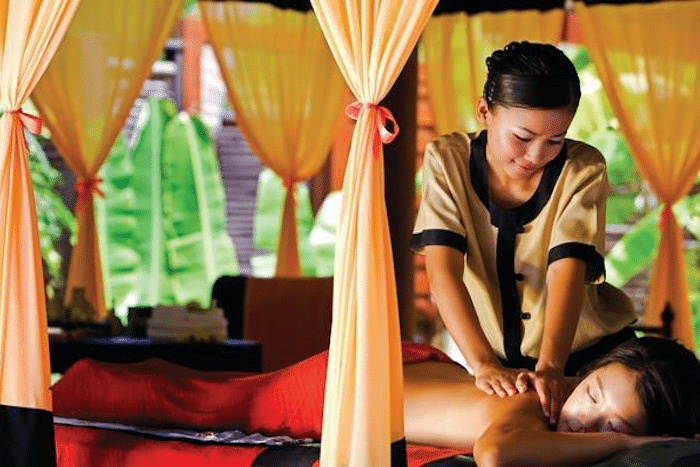 A relaxing resort vacay is never complete without a massage. Good thing the nearest one is less than a 5-minute walk away over at the Angsana Spa. I got a sublime Javanese 60-minute treatment (IDR 750,000), an oil-based body massage by my therapist Vita, a professional masseur. For additional pampering, opt for the luxurious Purify Touch Treatment – 30-minute ginger body polish, 30-minute vitality mud mask and a 60-minute body massage of your choice. From now till 30 June 2018 get it at IDR 1,500,00o instead of the standard price of IDR 2,160,000.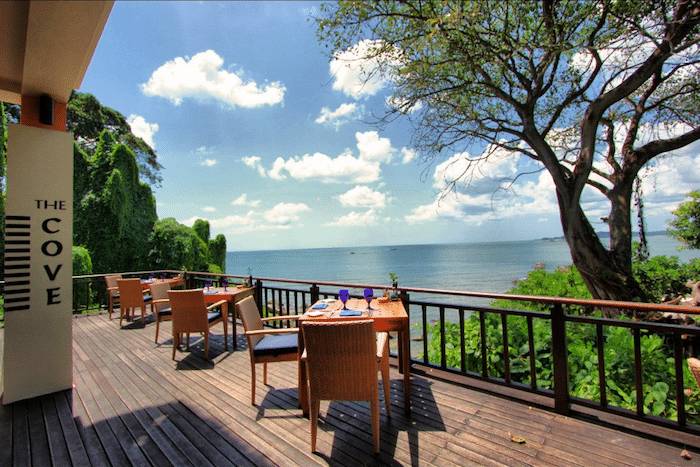 While Cassia Bintan does not have any restaurants, guests can still dine out at the five stellar dining establishments at Banyan Tree and Angsana. Treat yourself to a delectable Mediterranean dining experience at The Cove with a stunning view of the South China Sea, which is great for a romantic dinner or a a treat yo'self lunch. I had the signature rum-based cocktail, the Banyan A Go Go (IDR225, 000). A refreshing treat after a day out in the sun, I also enjoyed The Linguini Prawn (IDR 410, 000) in a richly buttered cream sauce and three sizeable fresh prawns.
Boredom is impossible with a variety of outdoor activities available for resort guests like jetskis (IDR 738,000 for 30mins), snorkelling (IDR 374,000), wakeboarding (IDR 281,000), and even ATVs (IDR 590,000 for 30mins). There are also various educational activities that promote conservation and environmental sustainability. I went on the Ranger Trail Tour, a one hour hike through the jungle with a professional guide, Adlan.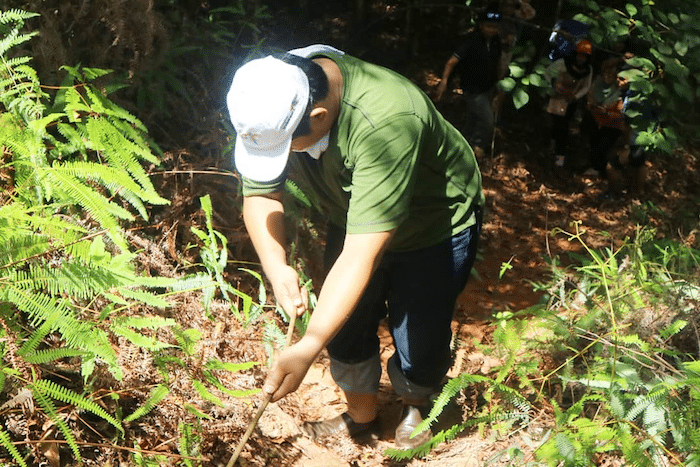 The physical hike definitely had its merits, such as learning more about the interesting flora and fauna of Bintan and discovering One Tree Hill, a secluded spot with a breathtaking view of the sea. The brief respite from other human beings and the feeling of being utterly immersed in nature was very much welcomed. The terrain is a little rough and the mosquitos in the jungle are relentless despite Adlan generously preparing us with sachets of repellent. But I'd do it again in a heartbeat.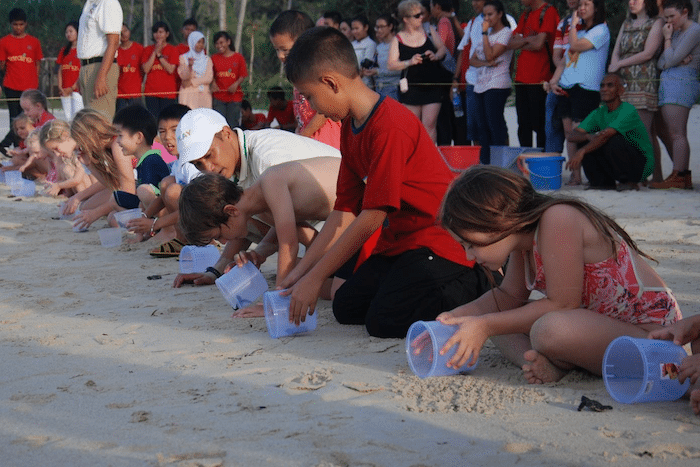 If you are lucky, your trip, like mine might coincide with the release date of turtle hatchlings back into the sea. Resort guests can come and see different species of baby Sea Turtles as they take to the water for the first time as part of the Sea Turtle Conservation Project. This is an adorable activity for both kids and adults alike.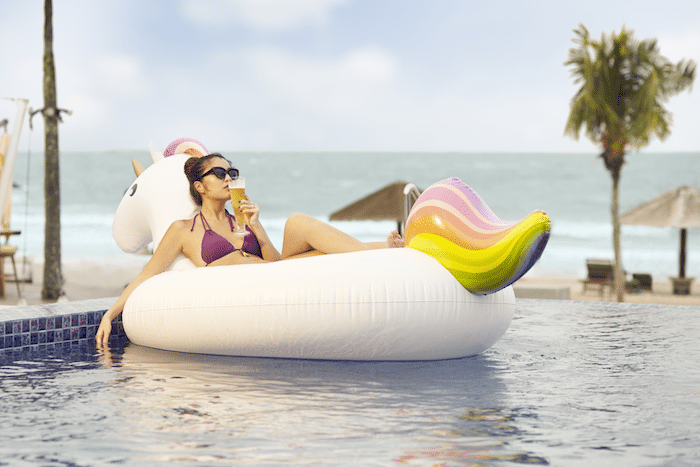 Bintan's first ever beach club, XANA Beach Club is the perfect place to party pool-side. On Saturdays from 3pm-7pm they do a lit foam party, which makes a pretty picture with cute unicorn and dolphin floats. There are tropical cocktails and other cold beverages to enjoy along with a delicious barbecue buffet dinner. Their resident DJ Dikamello drops some sick beats at the beach club monthly too; who knew dancing barefoot on a sandy beach could be so fun? The pool is great for cool dips while numerous lounge chairs, bean bags and beds are primed for suntanning or cuddling up to catch the sunrise or sunset over the beach.
Cassia Bintan is located at Jalan Teluk Berembang, Laguna Bintan, Lagoi 29155, Bintan Resorts Indonesia, p.+65 6849 5888, e. [email protected]  
Top image courtesy of Cassia Bintan