Restaurant Review: 51 Soho Is A New All-Day Social Dining Space In Telok Ayer, Singapore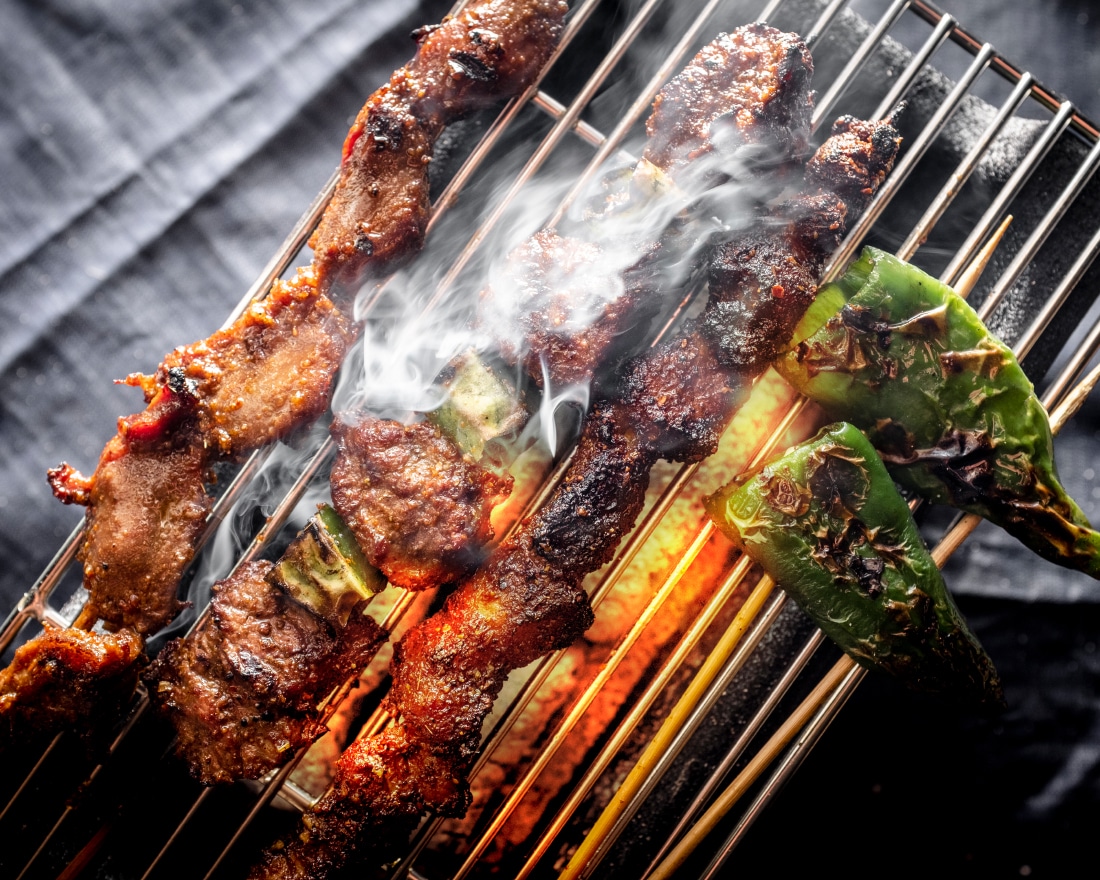 PUBLISHED April 6th, 2019 06:00 am | UPDATED April 17th, 2019 05:39 pm
The airy 51 Soho, along Telok Ayer Street, is a light-filled space with a long street-facing window. There is no glass separating the inside from the alfresco area, which makes the whole place somewhat inviting — like a fancy kopitiam that happens to own a custom-built bar. Like its counterparts in the CBD, it has the advantage of high foot traffic at most times of the day, and the owners clearly know that.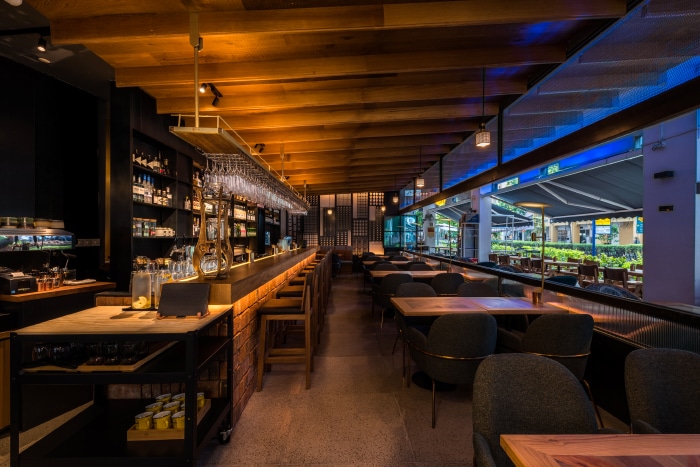 This all-day venue evolves through the hours: early-risers will appreciate things like overnight oats with fruits and granola, or a maple chili mayo chicken sandwich. The gruesome crowd that's unleashed during lunchtime is one of the reasons I never want to work downtown, but at least, there are tasty grain bowls that start from $15.90. Feel like splurging? You can even picks pan-roasted half lobster and wagyu shoulder tender as toppings. But it's for neither of this that we paid a visit.
You see, 51 Soho is the latest concept by the people behind the Sichuan-influenced joint Birds of a Feather and its somewhat healthier sibling Halcyon & Crane at Orchard Paragon. Friendly service and sophisticated interior design aside, you'll find that particular peppering of Sichuan flavours on a cuisine that's a cross of European and Asian cooking to be quite familiar.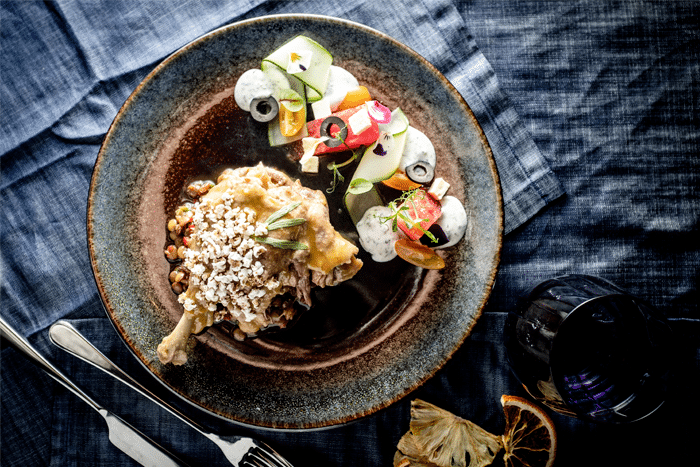 We start with the skewers, and you should too. Inspired by those served in Sichuan drinking houses but elevated with premium meats and vegetables, these are grilled over charcoal fire and dusted with a mala spice blend — part numbing and part spicy. The meats are marinated overnight with things like sesame oil, soy sauce, cumin, and the all-important Sichuan pepper powder, to great effect. The Pork Belly ($7.50/two) is juicy and fatty, and the Beef ($11/two) tender and full of flavour, but it's the Duck Gizzard ($6/two) that has my heart. If you're vegetarian, get the Padron Pepper ($8) stuffed with halloumi cheese for a beautiful smokey combination.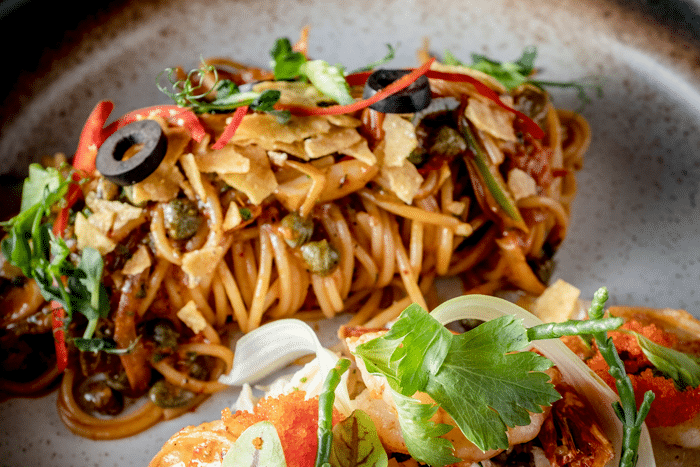 Consider ordering the Spice de Canard ($30), the kitchen's playful take on Asian braised duck. A duck leg is slowly braised, then glazed in a reduction of pickled ginger, chilli, and butter. The whole thing is garnished with popped sorghum, a type of earth cereal crop. There are salads, and the best one is Green & Nutty ($18) — broccolini, broccoli florets, romanesco served with a herby, nutty dressing of couscous, almonds, chervil, and lemon vinaigrette. There are a lot of things going on, but it's surprisingly harmonious.
Sloppy Sichuan noodles are replaced by Our Spicy Pasta ($24), a hot and sour spaghetti that's tossed in a no-holds-barred sauce combination: Sichuan Liu Po, Lao Gan Ma, Dou Ban Jiang. Even if you don't recognised those names, just know that they all pack a hot punch. Soaking up all that yummy are tiger prawns and a generous helping of sautéed crab meat. Get the Salmon & Pearl ($28), which puts the spotlight on nutty pearl couscous that's been cooked with sour vegetables, pickled ginger, and chilli; the salmon is flaky and deliciously juicy.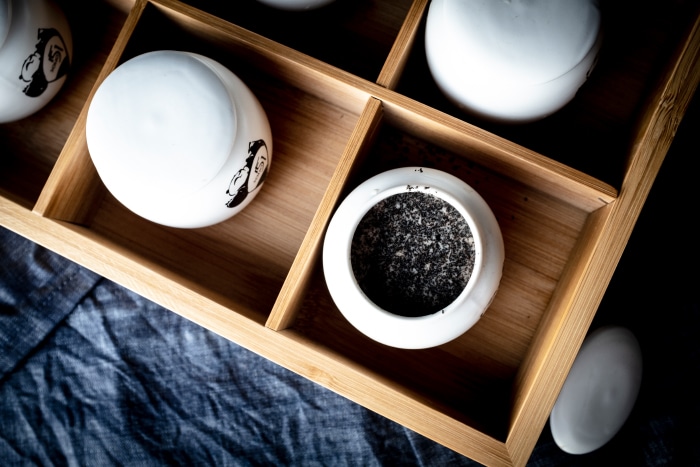 Drinking at 51 Soho is quite the experience, mimicking the sort of lively ambience and heritage you'd see in old Chinese drinking houses centuries ago. Chinese rice wine, plum wine, and bamboo wine form the base of the cocktails here, with the addition of cucumber, snow fungus, and goji berries in Dancing in The Moonlight ($88 for nine cups), and rock melon and white chocolate liqueur in the fruitier Prosperity Cup ($88 for nine cups). It's nice that almost all the drinks are served in customised ceramic cups and bottles, then presented to us on trays with a flourish without being gimmicky.
I don't feel like I'm suddenly transported back to the olden days of China, but that sense of welcome and belonging? It's real.

51 Soho is located at 51 Telok Ayer St, #01-01, Singapore 048441, p. +65 9755 1058. Open Mon-Fri 8am – 11am, 11.30am – 2.30pm, 5.30pm – 10pm. Sat-Sun 10am – 2.30pm, 11.30am – 2.30pm, 5.30pm – 10pm.