Restaurant Review: Cloudstreet by Chef Rishi Naleendra on Amoy Street, Singapore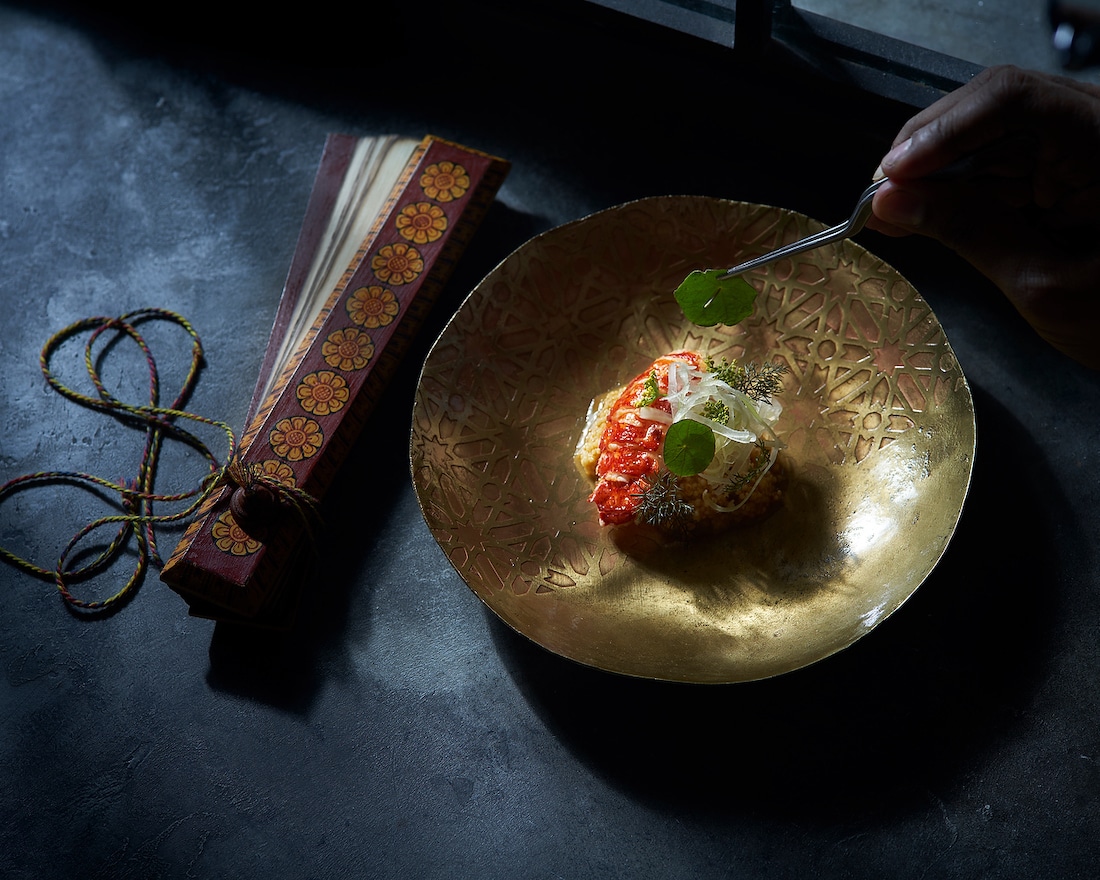 PUBLISHED September 1st, 2019 07:00 am

The last six months or so has been a busy period for Chef Rishi Naleendra. His Michelin-starred restaurant Cheek by Jowl closed at the end of February this year, and was reincarnated at the same location over a month later as Cheek Bistro, headed by Chef Jay Teo. Now? You'll find them just a couple of blocks away at his new Amoy Street playground and one of the most anticipated restaurant openings of the year – Cloudstreet.
Some have likened the lavishly decorated space to a house. This is especially true the private dining that seats up to eight – filled with books about food and an unassuming scroll of ancient Sri Lankan script – that requires a $2000++ minimum spent. What truly makes a statement is the large open kitchen backed by dark emerald tiles built under a windowed ceiling that fills the restaurant with natural light in the daytime. And this is where Naleendra and his team prepare contemporary plates that are largely inspired by his heritage and culinary journey thus far.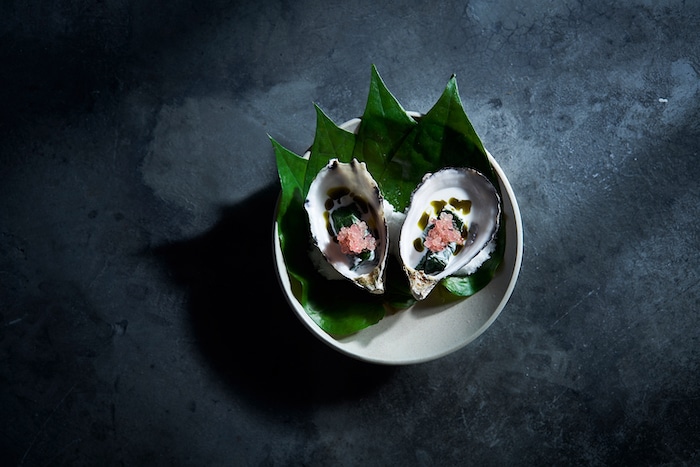 Our seven-course tasting menu ($198++ per person) starts with a quartet of snacks. A couple you can pick off with your fingers – pickled beetroot with goats cheese in puffed rice ball and mussel mousse in between crackers cleverly made to look like mussel shells – but it is the plated dishes that raise one's appetite and expectations. Gently grilled over binchotan, betel-leaf wrapped Coffin Bay oysters arrive in their shells in a pool of fresh-pressed coconut milk and finished with betal leaf oil and tart, pink fingerlime. Last comes a play on temperatures and a novel pairing of caviar and chilled fresh pea sorbet, bridged by a warm broth of smoked eel.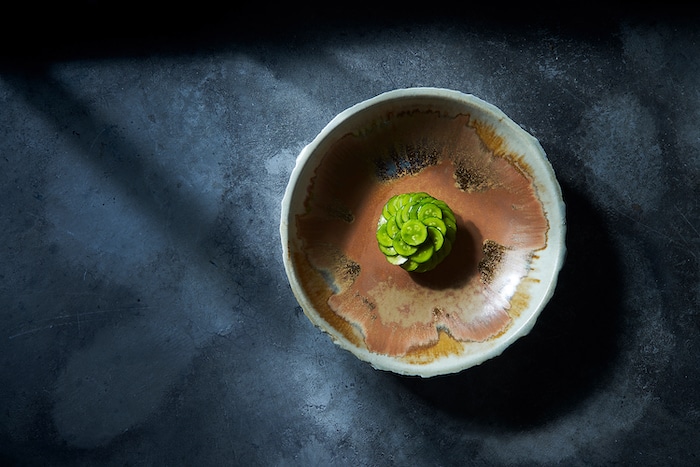 The courses make an official start with Hokkaido scallop rolled with kohlrabi and nori – certainly a departure from the Carpaccio style favoured by most fine dining joints. Sitting in slightly spicy kohlrabi juice and under a heavy dusting of sour cream snow, it preps the palate for the luscious venison tartare. Under a layer of finely slice baby zucchini, charred venison is given a lift by fermented plum. It doesn't sit too heavy in the stomach, so it's easy to see why Naleendra has held on to this dish from the Cheek by Jowl days.
I have a great love for Marron after having it in Margaret River, and its pairing with Sri Lankan yellow curry millet at Cloudstreet doesn't disappoint. Grilled with a glaze marron head butter, the freshness and creaminess of the crustacean is highlighted all the more by a mild, and rather restrained but well-spiced curry. When it comes to the barbecued French Turbot however, it's the topping of fermented bell pepper cooked with black garlic, pickled onions, and Tuscan kale that seals the deal.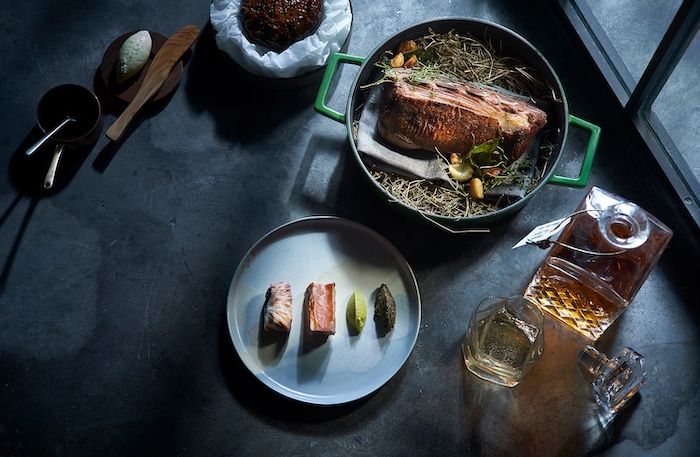 We then get what's bound to become a signature at Cloudstreet – the Singapore Stout and Liquorice Bread made with rye. Glazed with molasses, the dense, almost cake-like bun is perfect, but the accompanying house-whipped French butter and salt will pretty much ensure you polish off every crumb.
The last savoury course might also be the most self-identifying for Naleendra. The grilled lamb saddle hails from Australia (where he cut honed his culinary chops), but the concept is very much borrowed from his heritage. He explains, "[W]hen they eat in Sri Lanka, they eat like six different things". And it is the only dish where all the components – a smoky, meaty parcel of roasted young jackfruit, spring onion chutney, and mint-coconut chutney – sit separate on the plate.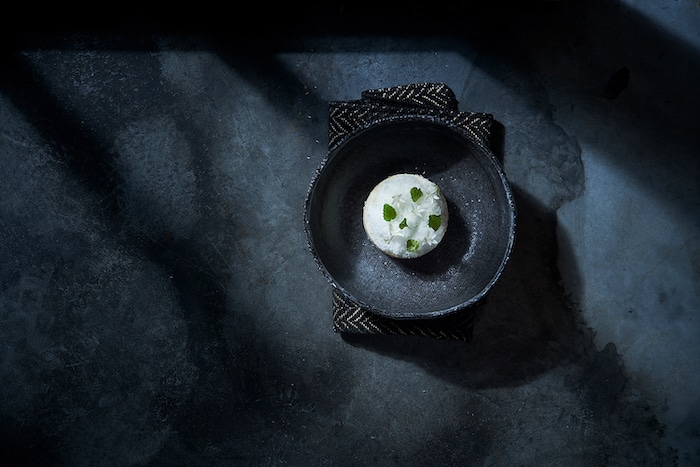 The two desserts cannot be more contrasting either. The mascarpone parfait with pickled honeydew rind, and white grape granita was light, refreshing, and nostalgic (anyone remembers the Qoo white grape drink?), particularly when textures of white grape come with a bite reminiscent of nata de coco. On the other end, the Mushroom goes dark with porcini and milk ice cream, and caramelised milk skin with shavings of cacao nib truffle served tableside. Intriguing, but perhaps too overwhelming for me after over three hours of savoury food and drinks.
Speaking of drinks, be sure to have a look at Sommelier Vinodhan Veloo's wine list featuring 350 labels of natural and classic style wines. Lured from Odette, he's gone to great lengths to ensure that diners can understand what they're drinking – if they want to – with helpful notes on the wine jargon on the margins.Veloo offers both alcoholic and non-alcoholic pairings; our favourites have to be the blue pea and compressed apple juice with the first course of Hokkaido scallops and the La Castellada, Pinot Grigio 2011 with the barbecued Turbot.

Cloudstreet is located at 84 Amoy Street, Singapore 969903, p. +65 6513 7868. Open Mon 6pm-10pm, Tue-Fri 12pm-1.30pm & 6pm-10pm, Sat 6pm-10pm. Closed Sun. Lunch starts from $68++ per person for three courses.
Top Image: Western Australian Marron, Sri Lankan Yellow Curry