Restaurant Review: FOC Sentosa is Your New Hangout on Sentosa's Tanjong Beach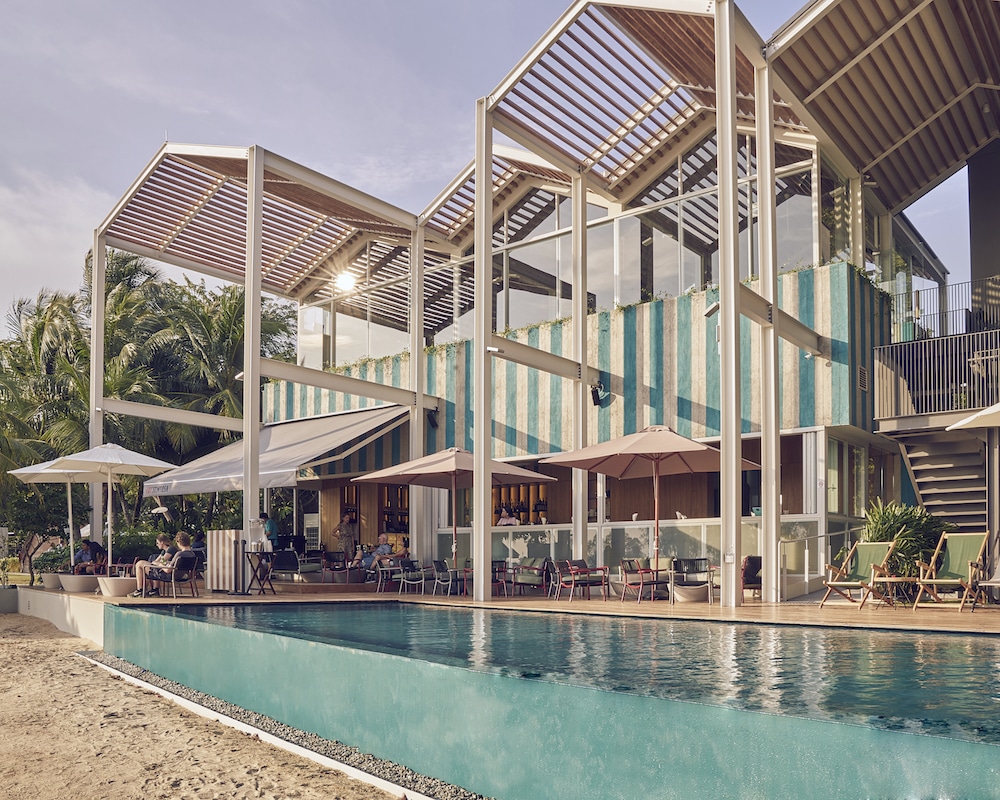 PUBLISHED December 24th, 2016 07:00 am | UPDATED December 17th, 2018 11:17 am
Let's be honest, we all enjoy Tanjong Beach Club in one way or another, but it's about time that we had another place to hang out on Sentosa's least crowded strip of sand. Inspired by Barcelona's colourful beach culture, FOC Sentosa is designed by famed Spanish design firm Lagranja. The award-winning Spanish restaurant's second outlet brings a touch of the Mediterranean to the island with its floor-to-ceiling windows and vibrant colours like turquoise, orange, and yellow. The breezy al fresco terrace and pool deck, as well as the pooch-friendly beachfront equipped with sunbeds, are perfect for lounging the day away.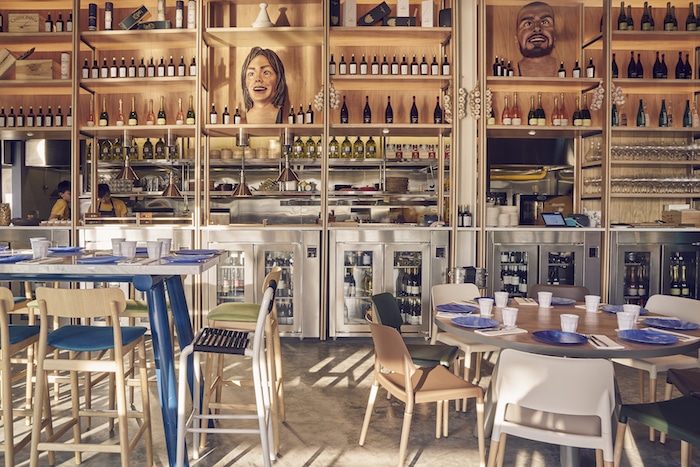 Drinks here are definitely made to beat the heat. Created by FOC's Group Creative Beverage Director Dario Knox (also the man behind The Other Room), the bar program features a wide range of Spanish and international wines, as well as easy-drinking cocktails like Sexual Healing ($20), a cheeky combination of tequila, agave, citrus, mint, coriander, and vinegar.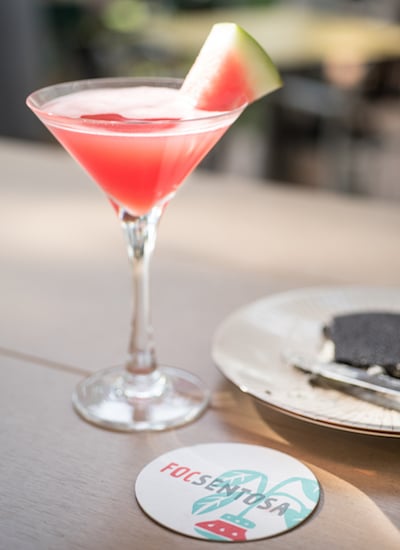 It's normal to want to share good stuff, especially summery, boozy libations, so you can choose to upsize certain cocktails like the Never Ending Summer ($16, vodka, watermelon juice, and raspberry) to four serves ($56), and the cava based Sangria & Bubbles ($22) to 16 serves ($248).
While the beachside concept and the bar programme are big draws, the main attraction at FOC Sentosa is undoubtedly the food menu conceptualized by celebrated Chef Nandu Jubany, who's also the main creative culinary force at FOC HongKong Street. The extensive tapas menu spans cold and hot dishes, as well as the more substantial Spanish rice and food from the grill. We started by nibbling on some Bread with Tomato ($10) and Anchovies in Olive Oil ($16).
Tip: place an anchovy atop the toasted bread spread with a thick tomato paste. The simplicity of the dishes are not to be underestimated; the tangy and slightly garlicky tomato paste pairs brilliantly with the salty anchovies from the Basque region in the north of Spain.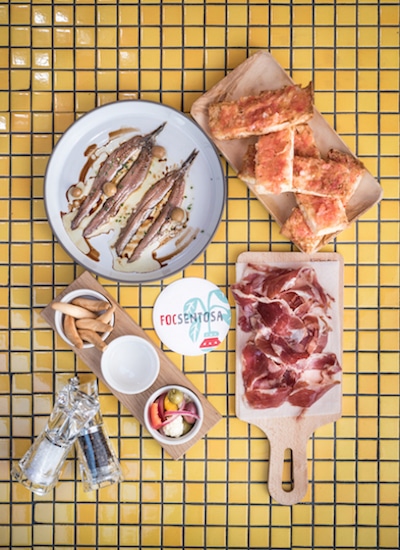 From the chilled tapas section of the menu, the King Crab Cannelloni ($22) reimagines a classic by replacing pasta with zucchini ribbons, which encase Alaskan king crab meat. The cold delicacy of the dish is balanced by a layer of warmth that is Sriracha mayo.
The Eggplant with Sobrassada ($12) is a must-order for folks who love textures in their food – think Parmesan shavings, mashed eggplant, sobrassada (a cured, spiced pork sausage), and crunchy sunflower seeds.
Hot small plates that we tried included the Fish & Chips FOC Style ($16) and the Chicken Wings Sandwich ($9). The former features locally sourced seabass – flaky yet firm – and potato slices that are frozen before going into the fryer to maintain their elegant shape while the latter sees triple-cooked deboned chicken wings sandwiched between buttery brioche buns and topped with a luscious avocado sauce.
Next up, something relatively new to me, was the Cod Fish and Spinach Caldoso Rice ($36-$72). Literally meaning "brothy rice", Caldoso could be mistaken for paella but the former is more similar to Italian risotto, leaving more liquid in the rice than the paella we know. Cooked over a low fire on an enamel cast iron pan, you'll find that the creamy consistency of "brothy rice", the gelatinous texture of cod trip, the zinginess of fresh sour cream, and the additional depth of flavouring by the spinach play off exceedingly well on your palate.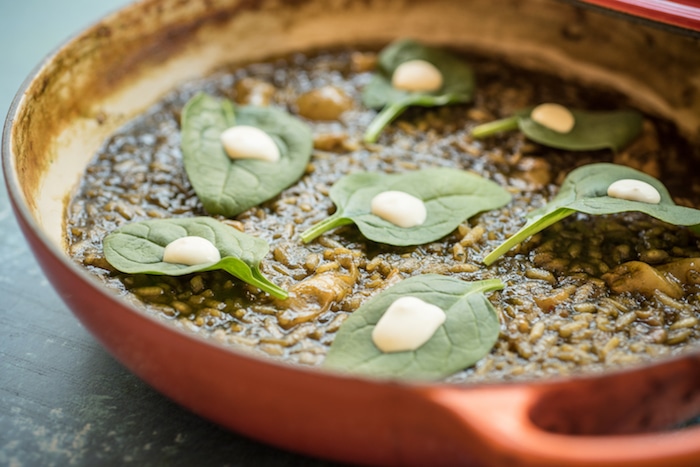 Diners who need a serious dose of protein can opt for the Baby Lamb Rack ($48); the juicy meat was cooked to a perfectly tender medium rare.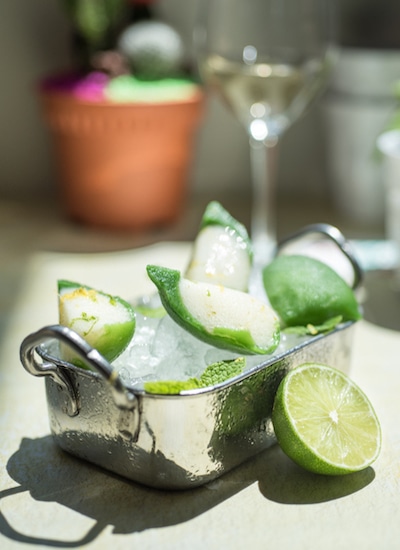 However, as some baby lamb racks go, the gamey flavour is not as strong as we'd like, but those who prefer their lamb milder will be more than happy.
After that generous feast, dessert just had to be light and refreshing, which we found in the Lime Gin & Tonic ($10).
Looking pretty as it arrives, the 'lime' is actually gin and tonic sorbet covered in a delicate layer of green lime sorbet, so it actually looks like wedges of lime when cut.
Compared to FOC HongKong Street, the menu at FOC Sentosa is heavier on the seafood offerings to complement the seaside location – though regulars of the OG might be amused that there are still giant papier mache heads looking down at diners.
We also love the private event space on the second floor, which affords an elevated vantage point of Tanjong Beach, Palawan Beach, and the Dolphin Lagoon. Perfect for daytime lazy (and boozy) brunches and – even though they are quite child friendly – romantic dinners.

FOC Sentosa is located at 110 Tanjong Beach Walk, Sentosa, Singapore 098943, p. +65 6100 1102. Open Tue-Sun 11.30am-11pm. Closed Mon.