Restaurant Review: JAAN Presents Its Quintessential British Summer Menu Atop Swissôtel Stamford, Singapore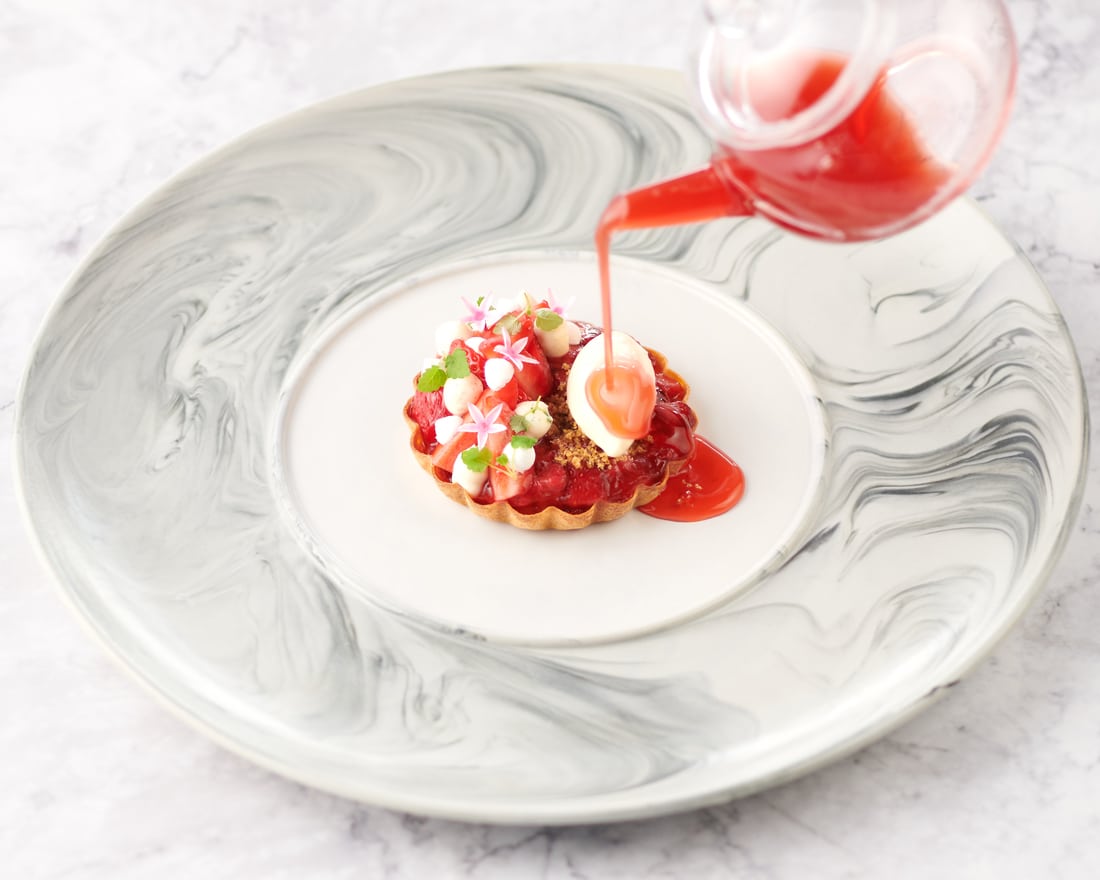 PUBLISHED September 10th, 2019 06:00 am | UPDATED September 23rd, 2019 05:36 pm
High up on the 70th floor of the iconic Swissotel Stamford, you could say JAAN is the epitome of fine dining with a view. Internationally celebrated in guides around the world, this restaurant is a pioneering gastronomic platform that delivers a particularly refined dining experience.
Facing the Marina Bay waterfront, JAAN also gives an unbridled, breathtaking view of the city's coastline, as well as the Riau Islands far behind. With just 40 seats, it's the kind of intimate dining affair we love.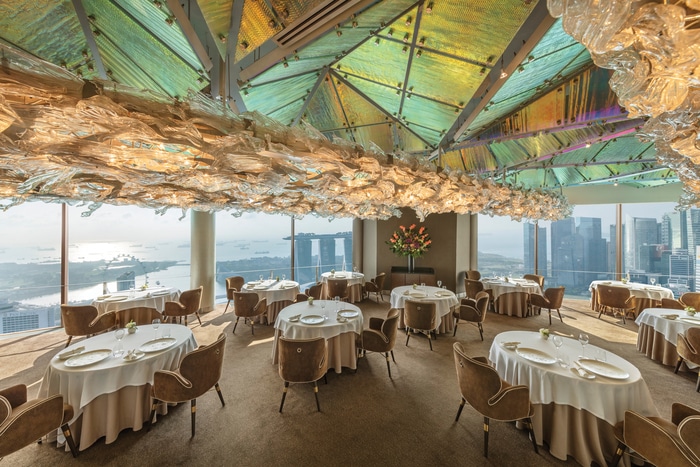 With a Michelin Star under his belt and being recently appointed as Krug's first Singapore ambassador, Executive Chef Kirk Westaway has channeled his deeply rooted passion for natural flavours into a perpetually-evolving menu, showcasing British dining in a modern, refreshing light. This season, he's introduced a new summer menu inspired by the idyllic countryside of his hometown Devonshire in the UK.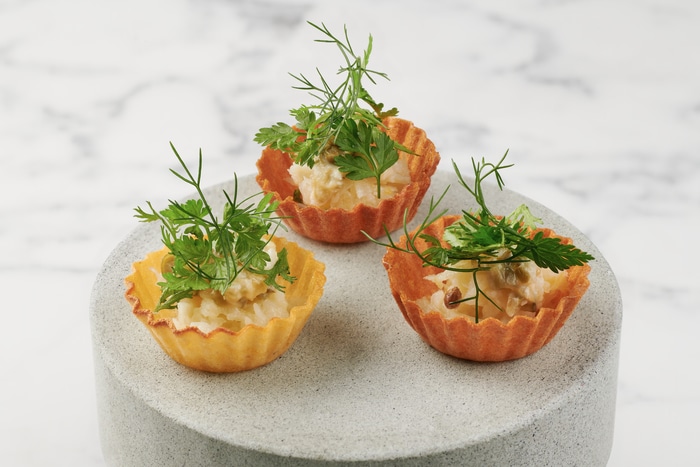 Presented on meticulously-crafted plates and bowls sourced from the finest artisans in Ubud, the lineup kicks off with a selection of appetisers in increasing levels of intensity. From the Beetroot Meringue to the Duck Sausage Roll, every dish is crafted with the finest attention to detail. The highlight, though, is the Fish and Chips Tartlet, made with cod fish from the Atlantic that's cured with salt and fennel seeds before being poached in milk. Served on a tartlet base made from thinly-sliced Australian potatoes, it's a clear showcase of Chef Westaway's creativity and innovation.
Before moving onto the heavier mains, the Summer Beans Salad with Quinoa perks diners up with its medley of crisp sweet beans served atop a quinoa and burrata cheese salad. A combination of herbs, flowers, and Joselito ham blends with the sweet beans for a nutty yet not-too-sweet mouthfeel, and the light cheese dressing adds a creamy taste to an already superb salad. As we transition to more hearty offerings, Chef Westaway makes an appearance as he goes around the tables introducing himself and does some light mingling, adding a personal touch to meal.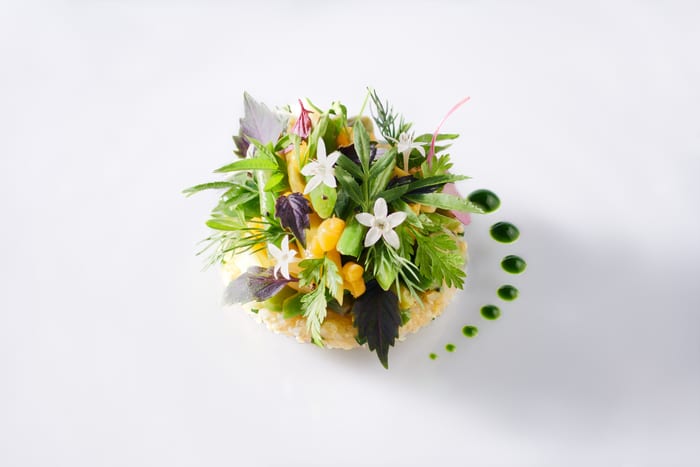 The British-inspired dishes like Roasted Langoustine with Violin Courgette and Shepherd's Pie are great and all, the star would undoubtedly be the Salt Marsh Lamb, sourced from the sea-swept fields of Northern Wales. Young lambs would feed on minerals, sea succulents, and clovers, and the beautifully marbled meat is accompanied with a flavourful aubergine garnish made with Violette de Firenze. The spectacularly presented dish is tender and juicy, and the slight hint of sweetness from honey caramel sauce balances the saltiness from the lamb's salt marsh diet, resulting in a taste that I can't get enough of.
With such heavy and intense flavours, I was pleased to be served the Pimm's in the Park as a segue into dessert. Chef Westaway extracts the best of the staple summer drink Pimm's, injecting the quintessential elements into a refreshing palate cleanser. Pimm's-infused pomelo tossed with fresh oranges, diced cucumbers, lemon granite, and a lemonade foam is served in a bowl of specially grown wheatgrass, complete with a poem penned by the chef himself. This palate cleanser excellently paints the portrait of a sunny, English afternoon spent sipping on Pimm's.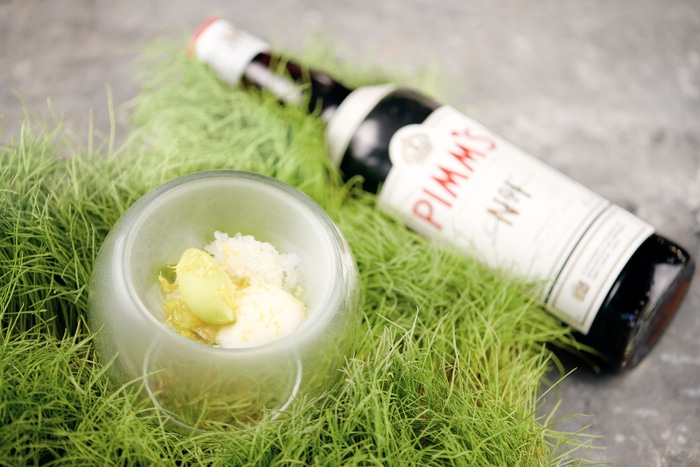 Dessert appears in the form of the Strawberry Pancake, an elegant array of the season's finest strawberries showcasing a beautiful assortment of colours, sizes and flavours. Housed in a thin tart made from pancake mix and paired with a thick, clotted cream, this is a lovely way to close off lunch.
JAAN is located at Level 70, Swissôtel The Stamford, 2 Stamford Rd, Singapore 178882, p. +65 6837 3322. Open Mon-Sat 11.45am – 1pm, 6.45pm – 8pm. Closed Sun and PH.