Restaurant Review: South American Grill House Carne Is A Cut Above The Rest In Bangkok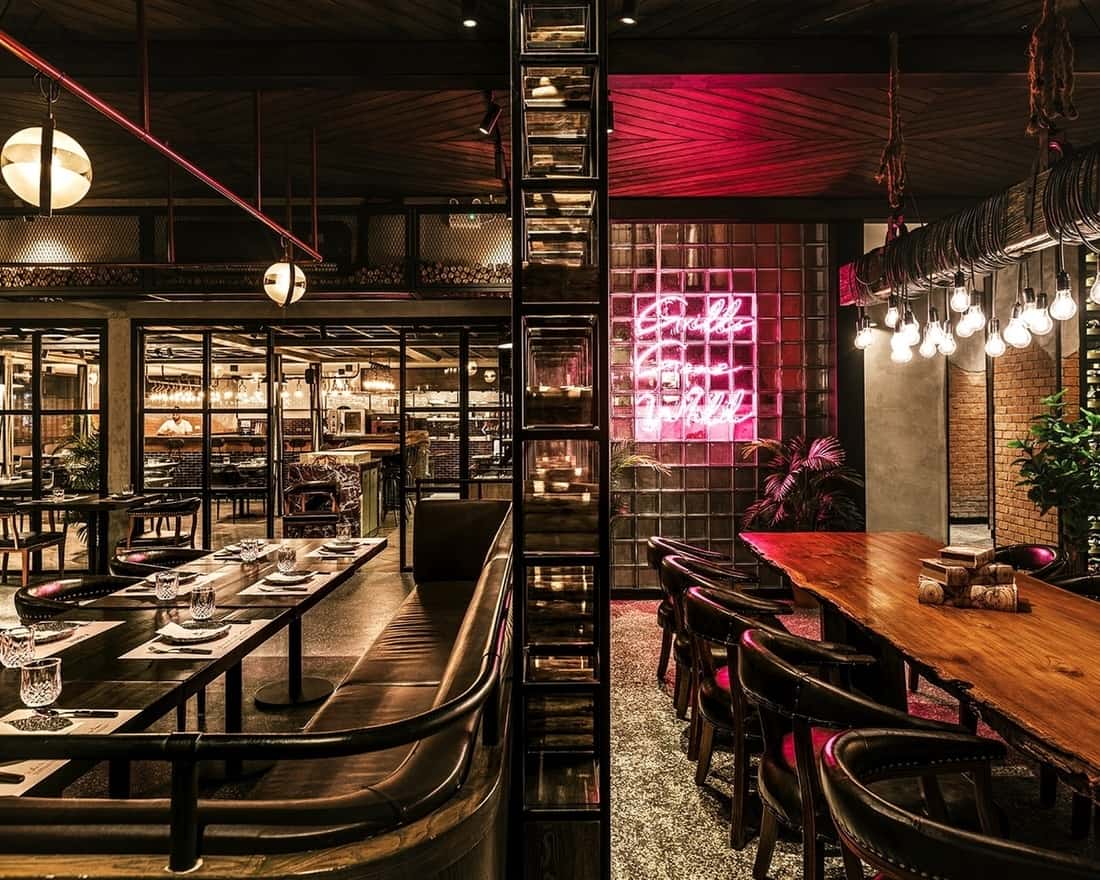 PUBLISHED May 9th, 2020 05:00 am | UPDATED May 19th, 2020 12:13 am

**During Bangkok's COVID-19 shutdown, Carne is operating with a delivery menu available via LINE @Carnebkk. You can also purchase dining vouchers for future use here. 
If the name didn't clue you in that this is a carnivore's haven, the massive iron bull out front certainly would. Staking out a corner spot on buzzy Sukhumvit 23, Carne is driven by the marriage of two things: meat and flame. In a city packed cheek by jowl with steakhouses, though, it takes something more to fire up Bangkok's gourmands – and this one is carving out a bold niche with its secondary cuts and South American flavours.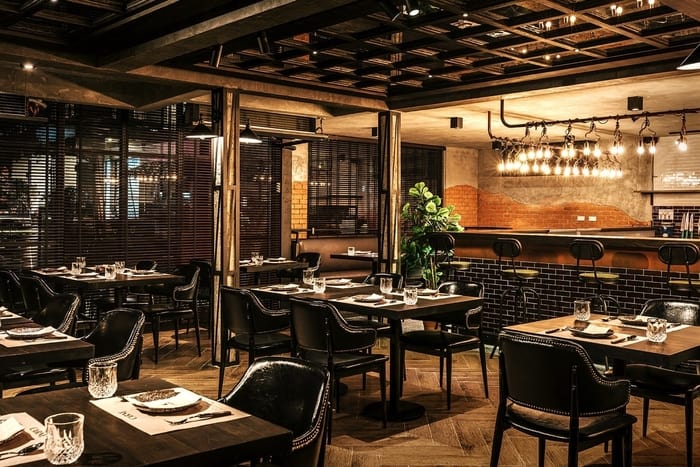 Launched in late 2019, Carne is the latest venture of the group behind Bib Gourmand Thai restaurant The Local and seafood joint Crab and Claw. Past the giant bull guarding the entrance, you'll find a sprawling space with pure grill house vibes – heavy on dark wood, offset bricks, and studded leather chairs. An eye-catching show kitchen runs the breadth of the dining room, where Head Chef Mateo Roberson and team sizzles up smoke-kissed gems on the open fire and josper grills.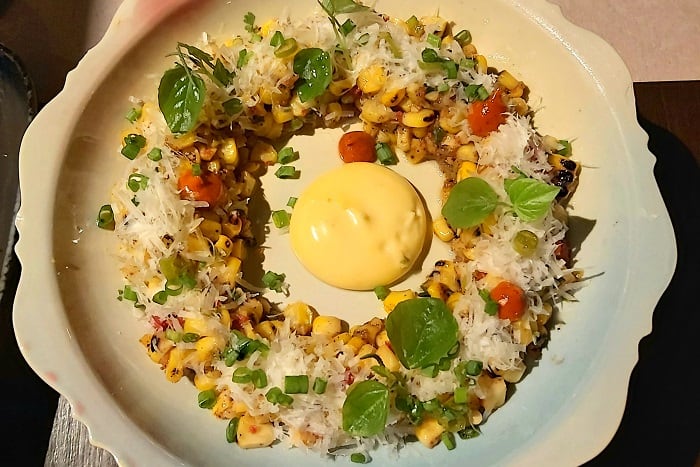 A Texan native with Latino roots, Chef Mateo's menu reflects the flavours of his South American heritage – not without some inspired twists. His Ceviche (THB320), for instance, features superbly fresh local sea bass, sprinkled with sesame and purple yam crisps that impart nutty shades to the piquant tiger's milk. Another summery starter, the Sweet Corn Succotash (THB150) spices up the Southern classic with a spot of fermented chili. Smoked mayo dials up this simple corn-cecina mix into creamy, tangy decadence.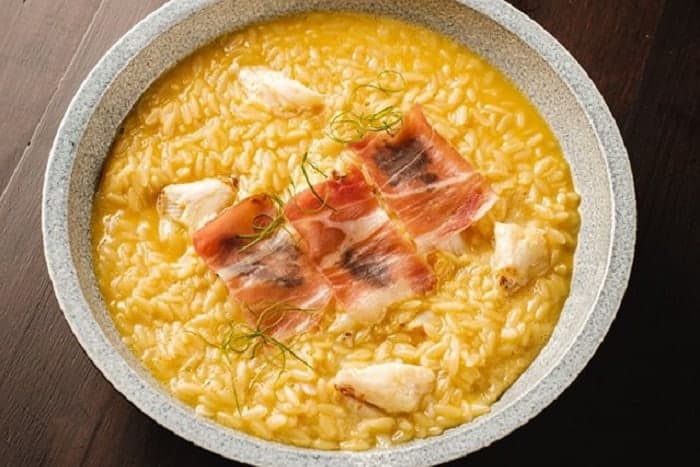 By now, it's clear that Carne does a lot more than meat, and does it well. Witness the lovely Calamar al Pil Pil (THB350) – squid braised for four hours to tender sweetness, drizzled with a heady pil pil sauce emulsified with white wine and fish stock, and nestled on fluffy squid ink tortillas. And really, it's hard to describe the Risi (THB480) without resorting to superlatives – a luxuriantly creamy pasta laced with umami-rich kani miso, then generously studded with blue swimmer crab and black truffle.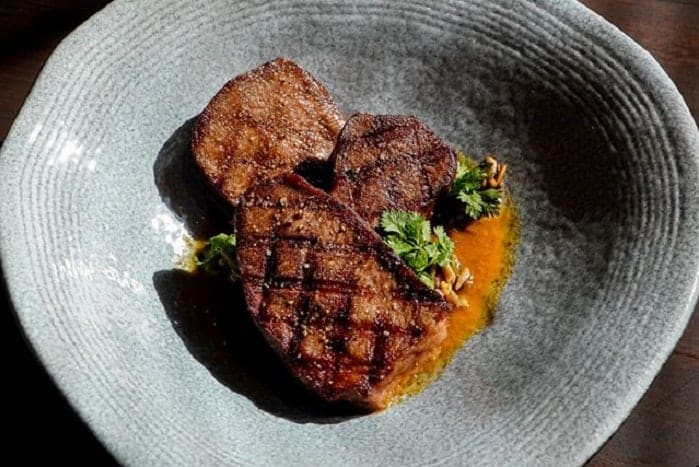 But of course, it's the meat we came for, and Carne more than delivers. Secondary cuts are a highlight here, so you'll spot off-cuts like tongue, flank, and spider steak with pocket-friendly prices and big flavours. Our Wagyu Beef Tongue (THB390) arrived satisfyingly tender and moist, with a nice char on the outside and a distinctive springiness within. Served with a potent salsa molcajete (tomatoes, onions, garlic, and green chiles pounded in a mortar), it's a dish we might just turn down ribeye for.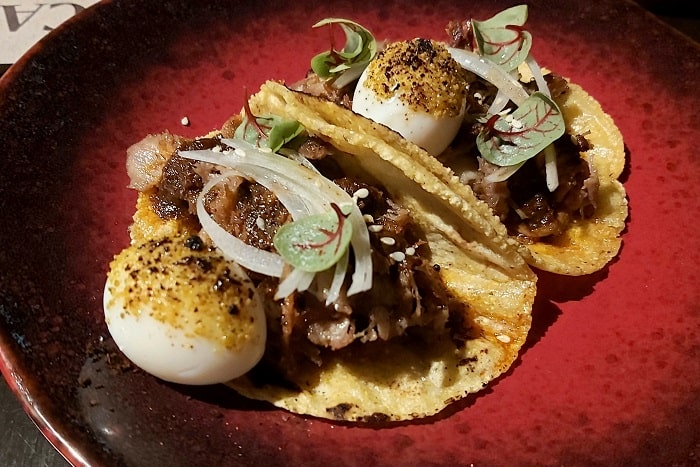 Other meats on the menu don't disappoint, particularly the Carnitas (THB300). Chef Mateo uses barbary duck over the more common pulled pork, topped with roasted chili salsa. It's melt-in-the-mouth tender, and the quail egg plopped alongside is one great, oozy bonus. And while the Benja Chicken Roulade (THB480) looks dry, it turned out sufficiently succulent, with an earthiness accented by mushroom puree.
For a palate-cleanser after all those meats, look no further than the zesty Passionfruit & Makrud Sorbet (THB150). Poured over with chamoy sauce – that quintessential Mexican explosion of sweet-salty-tangy-spicy flavours – this stellar dessert once again proves Carne's excellence as an all-rounder. We might have come for the meats, but we'd happily return for everything else too.

Carne is located at Soi Sukhumvit 23, Klong Toey Nue, Bangkok, Thailand, p. +66 66 069 2288. Open daily 5.30pm–10.30pm.