Designs On Asia: This Resort-Inspired Apartment In Singapore Brings Home The Bali Vibes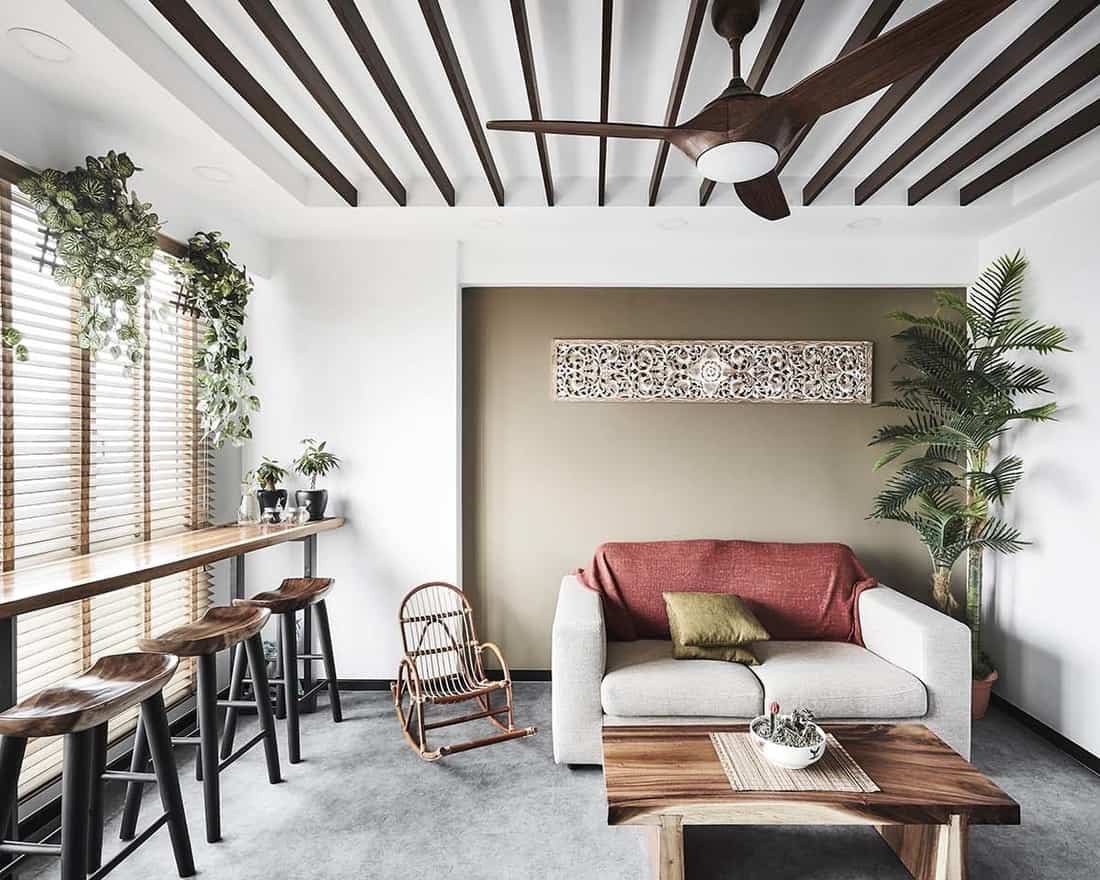 PUBLISHED May 8th, 2020 06:00 am | UPDATED May 27th, 2020 09:18 am
If we had a penny for every time we've dreamt of Bali during this home quarantine, we'd fund our first-class flight over in three days flat. What happens, though, when home is a resort – or at least, designed to capture the rustic peace of one? At one build-to-order apartment in Skyline @ Bukit Batok, a breath of laidback Bali steals into the bustle of urban Singapore.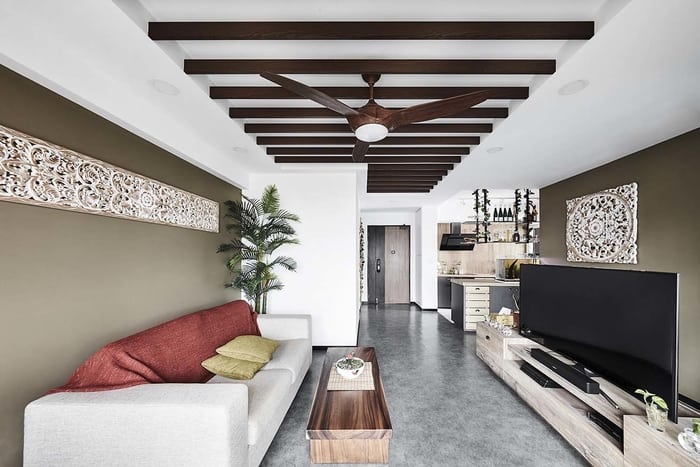 It's no mean feat to transform your standard space-starved four-roomer into a resort sanctuary, but local studio Design Zage pulls it off through a careful eye for materials. "We made no major reconfiguration for this house," shares designer Zhuo Jinhai. "It's the use of materials that made all the difference." Echoing the woodsy charm of a Balinese villa, this flat comes cloaked in a palette of warm browns and bronzes, with plenty of earthy texture conferred by timber and stone elements. Walk in and the first impression is airiness and space – thanks to its open layout, you'd hardly know the flat clocks in at just 93 sqm.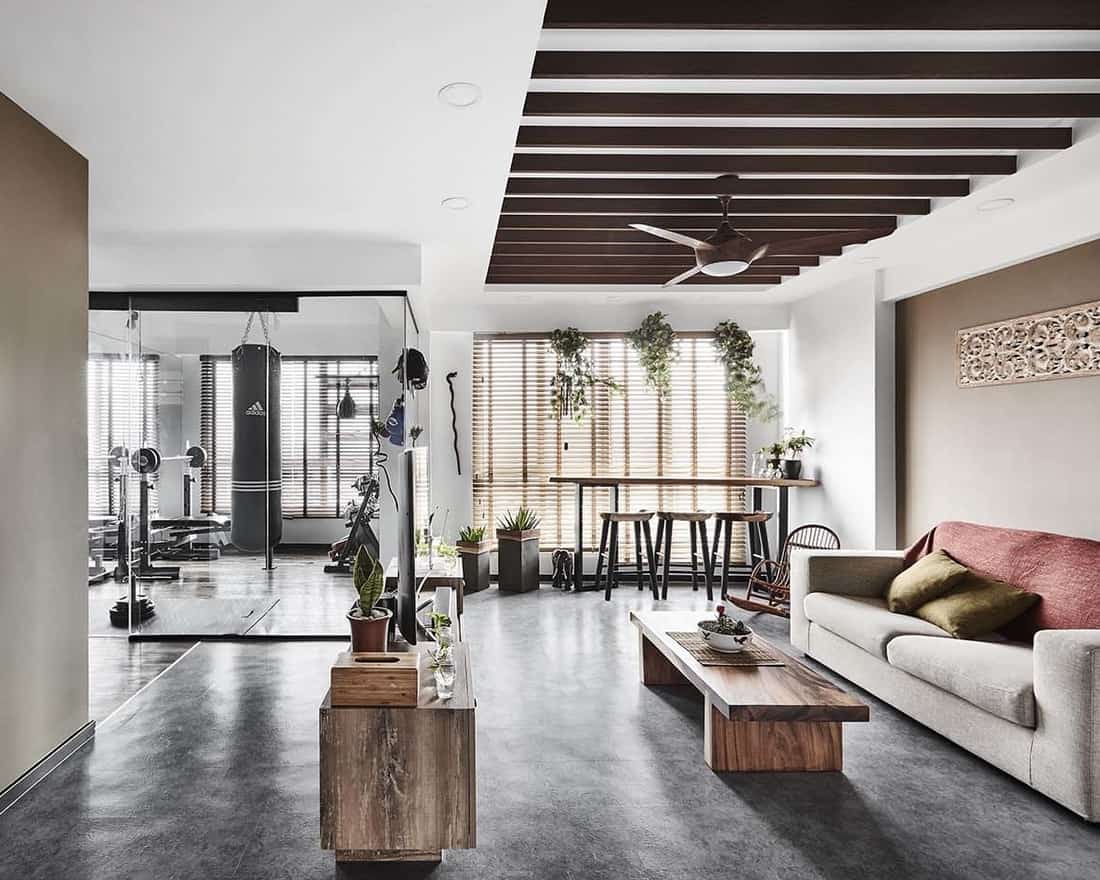 While the rustic resort inspiration is clear to see, these touches are subtly adapted and grounded in their urban setting. The raftered ceiling brings to mind the beams of a poolside gazebo, juxtaposed by the sleek concrete feel of vinyl flooring underfoot. Striking wall hangings frame the couch and the pale wood TV console, carved in Balinese-style floral motifs. Then there're the lush traces of the rainforest – tall ferns sway beside the sofa, while small potted plants sprout stylishly on almost every available surface.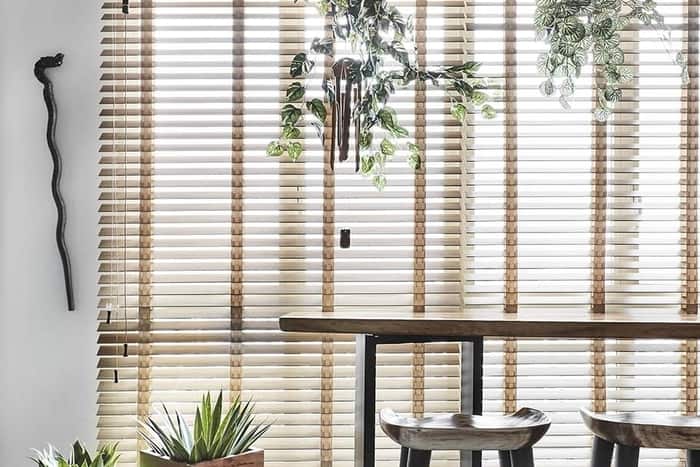 Dining with a view reaches new heights at this 36th-floor apartment, with a counter-style Suar wood table set alongside the full-length windows. "The homeowners didn't like conventional-style dining areas," Jinhai explains, "so we went with a sky dining concept." Timber-look Venetian blinds soften the natural light entering the apartment, while ivy leaves cascade from an ingenious trellis overhead. Come sunset, we reckon it's a marvellous spot to perch while knocking back a tropical cocktail.
An open kitchen heightens the spacious feel of the flat, with the kitchen wall knocked down and replaced with an island counter. Here, the timber-and-foliage look carries on seamlessly, with even the hanging bar shelf entwined with greenery.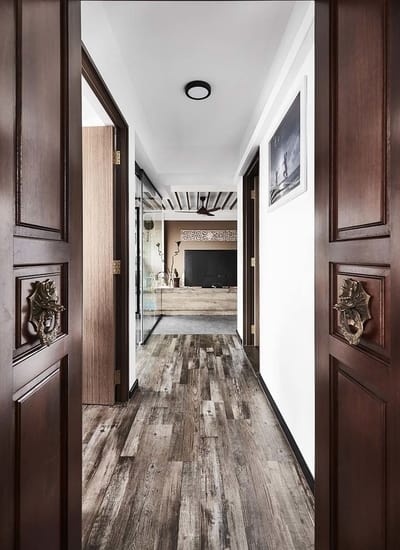 On the other side of the living room sits the gym, which similarly features hacked-down walls. A gleaming cube of full-length glass and mirrors, it's the perfect showroom for the owners' impressive arsenal of equipment.
The resort aesthetic doesn't stop at the outer spaces of this home. Guarding your way to the master bedroom is an imposing pair of double doors, carved of solid nyatoh wood and complete with lion-head handles that evoke a Chinese temple.
This tranquility reaches a peak at perhaps the most important room of the house – the bathroom. Doorless and lined with white pebbles, the walk-in bathroom oozes zen vibes. A stately stone basin, mounted with a copper tap boasting waterfall effects, complete our sense of being close to nature. At this point, it's the nearest we might get to a resort vacay.
This residential apartment is located at Skyline @ Bukit Batok, West Avenue 6, Singapore. Check out more of Design Zage's projects here. 
All images courtesy of Design Zage