Restaurant Review: The Lo & Behold Group's ESORA Blends Japanese Kappo Dining With Tea, Singapore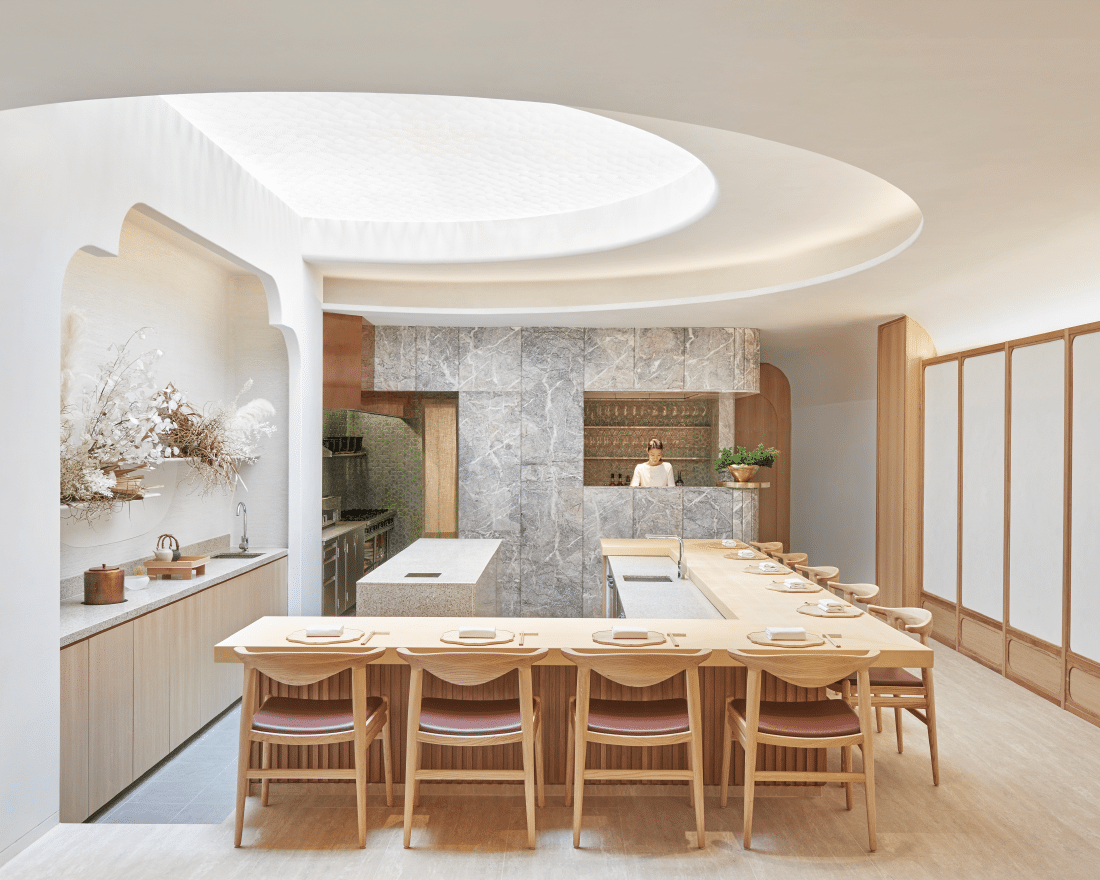 PUBLISHED December 7th, 2018 07:00 am | UPDATED December 17th, 2018 10:35 am
Dashi. The savoury broth made with kombu and katsuobushi is  fundamental in Japanese cuisine, and it's the simplicity that draws Chef Shigeru Koizumi in. At ESORA, the latest dining concept by The Lo & Behold Group, he tosses in a light dusting of yuzu zest to complete his harmony of flavours. The result? A tangy essence of the sea.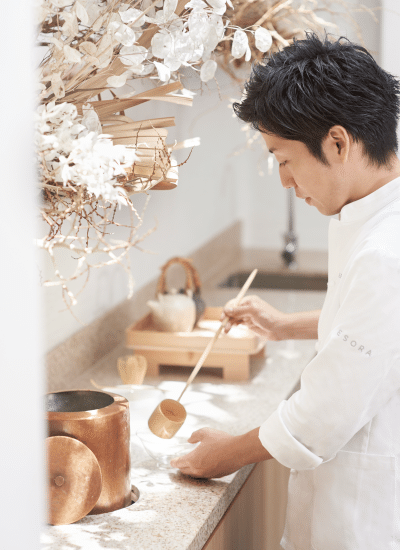 Growing up in the mountainside town of Nasu, Koizumi's interest in food started from helping his mother in the kitchen. He has cut his teeth at stellar dining institutions in both Japan and Singapore, including three-Michelin-starred Nihonryori RyuGin in Tokyo and two-Michelin starred Odette at National Gallery Singapore. Only now, thirteen years later, has he opened his own place, an intimate 26-seater kappo-style establishment with a penchant for nature and micro-seasonality.
As most restaurants by The Lo & Behold Group are, it's quite the sight: restrained but interesting colour palette, plenty of marble, copper, and wood elements with hints of Japanese aesthetics, including a single minimalist abstract painting and grid screens with a translucent shoji paper effect.
ESORA's seven- and nine-course seasonal menus are priced at $218 and $278 respectively, while a customised Chef's Menu based on your preferences is available at $348. A five-course lunch menu is also on offer on select days at $128 – worth it when you consider the premium ingredients. An amuse-bouche of Monaka wafers, traditionally a red bean dessert, is packed with exclusive Maison Mitteault foie gras torchon and layers of shaved myoga, mikan, roasted peanuts, and kaffir lime zest.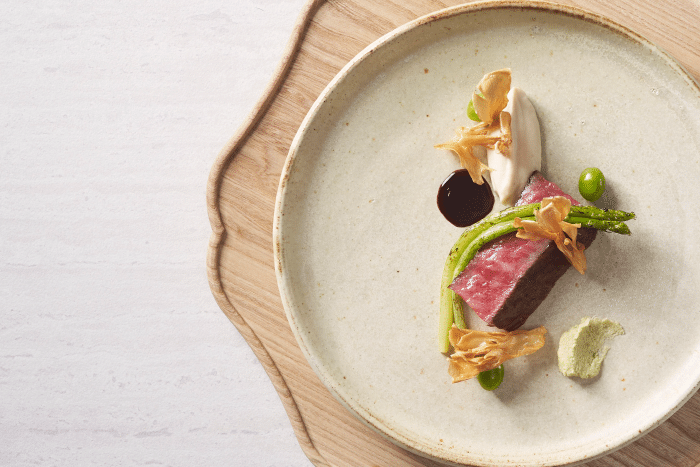 Koizumi uncovers the best of his ingredients with a fervent attention to detail. Hokkaido Scallop is encased in filo pastry and fried, then topped with leek, nori, and caviar. The bite is crispy and firm, and the taste so sweet and delicate. A picture-perfect Sashimi spread presented on a tray of maple leaves showcase autumn's best catch, from an intensely savoury ankimo (monkfish liver) covered in leek terrine to slices of smoked bonito, buttery tuna chutoro, and lean flounder.
What clearly stands out is the Omi Wagyu, served with a sweet earthy puree that Koizumi makes with nameko mushroom and sautéed onions, and a wrinkly grilled amanaga pepper. This particular cut of sirloin is from the famed Okaki farm in Shiga, a prefecture known for producing one of Japan's most respected brands of beef. On the side, some aged akazu vinegar – naturally sweet and refreshing – to dip. Every Japanese kappo needs a rice dish, and here it is the Kegani Donabe – hairy crab from Hokkaido cooked with rice and egg inside a black earthenware pot. Koizumi shows us the crab — a particularly meaty one that day — and explains that everything, including the dreamy and fluffy rice, is cooked in fish dashi.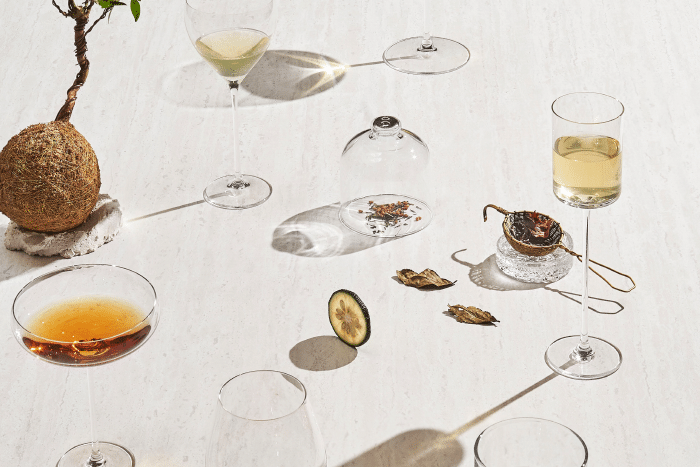 Koizumi's affinity for ingredients doesn't stop at food either. It's equally pronounced with tea, leading him to curate a unique tea-pairing programme at ESORA. Personally hand-blended and complemented with each dish, his tea creations are served both cold and warm, like a genmaicha with shiso leaf or a blend of Wenshan Baochung and Taiwanese Jinxuan Oolong. And really, it's only with his pairings that you get the full perspective of Koizumi's skill.
The Wagashi, or Japanese confections served to round off the evening is thoughtful, and as it turns out, inspired by Koizumi's childhood snacks, from rockmelon mochi with a juicy center to jellied Kyoho grapes and a banana-red bean cream puff. It's also autumn truffle season, so of course there is White Truffle Ice Cream. And with steamed chestnut paste and kuromitsu (a Japanese sugar syrup), it's like an elevated Mont Blanc that's really, really, good.
ESORA is located at 15 Mohamed Sultan Rd, Singapore 238964, p. +65 6365 1266. Open Thu-Fri 12pm – 2pm, Tue-Sat 7pm – 9pm, reservations recommended. Closed Sun-Mon.