Restaurant Review: Zui Hong Lou Presents Progressive Yet Affordable Chinese Fare and Cocktails on Club Street, Singapore
PUBLISHED April 30th, 2018 06:00 am | UPDATED May 18th, 2020 04:24 pm

The gastronomic inquisitiveness of Club Street diners has long been challenged. The savvy stalwarts know their booze-loving clientele, and serve up straightforward cuisines that take all the guesswork out of a meal. Touting their dishes as "progressive rich people Chinese food", Establishment Group's Zui Hong Lou (醉红楼 aka Drunken Red House) reopened a month ago in the space previously occupied by open concept kitchen :pluck after a short stint on Ann Siang Hill in 2013. We're glad that this ex-dim sum bar got a second lease of life as a modern Asia diner, because the quality of the food is top notch and exceedingly value for money.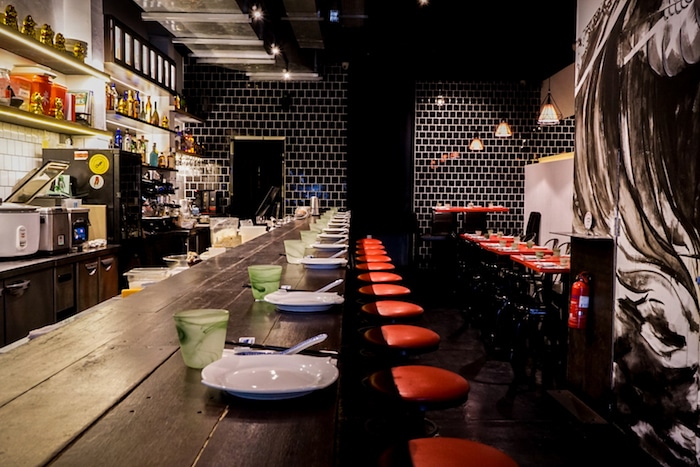 Given a fresh coat of paint by local graffiti artist Rajesh Kumar, the kitchen is helmed by the young Chef Clement Goh, whose previous stints include Izy Dining and one-Michelin starred Bacchanalia. His team serves up a variety of small plates and big plates effortlessly; we were quickly started off with a duo of Braised Pork Belly Bao ($9 for a pair) served with lotus root chips. The meat to fat ratio of the pork belly slice was on point while the acidity of the pickled cabbage and texture of crushed peanuts help with the spices in the braise.x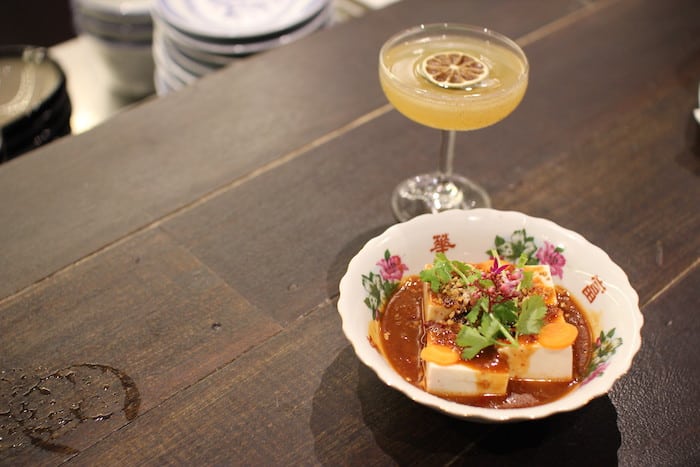 Amongst the large plates, the Soupy Clams ($16) and Whole Fish Asian Style ($28) stood out in terms of flavor. The use of Sichuan fermented black beans and Chinese herbs in the cured pork broth that the New Zealand white clams are cooked in was a stroke of genius, making for one umami spoonful after the other. The whole deep fried sea bass was light and crisp, with moist and flaky flesh that contrasts well with the classic ginger and scallion jus.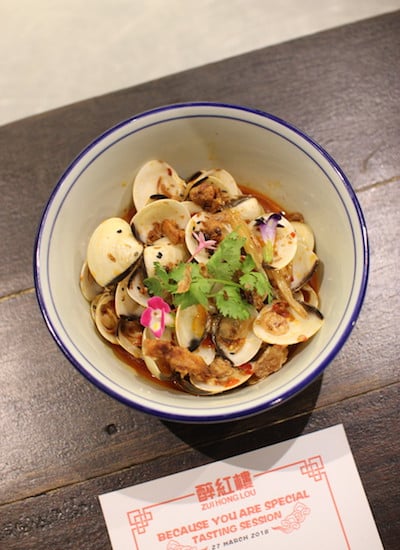 If you're still hungry, fill up on the Yang Zhou Fried Rice ($5). The saccharinity of the fried rice is due to the Hong Kong lap cheong (preserved sausage) drippings that is used to fry the rice. We might not be a fan of the sweetness but we do enjoy the texture of each and every grain.
For dessert, the Peanut Paste Soup ($8) is one of thickest of its kind that we've ever had. Instead of just putting the black sesame and peanut glutinous rice balls in the soup, they roll it in crushed peanuts for textural contrast.
The thirsty will find an 18-cocktail strong menu courtesy of Head Bartender Sufi Hizrian, formerly of  sister establishment Nutmeg & Clove. Those who need perking up can opt for the Kopi Gin Tonic ($15) while the Nanhai Magarita ($16) of smoked plum, Cointreau-infused roasted green tea, and a Sichuan salt rim pairs compliments the Asian flavours. For a dessert cocktail, diners will do alright with the Breakfast Club ($16), a shaken cocktail of dark rum, Averna-infused coffee, kaya oat milk, evaporated milk, and egg yolk.

Zui Hong Lou is located at 90 Club Street, Singapore 069458, p. +65 8181 0572. Open Mon-Thu 12pm-2.30pm, 6pm-1am, Fri 12pm-2.30pm, 6pm-2am, Sat 6pm-1am. Closed Sun.
All food images courtesy of Sylvester Fedor.