Traditional Coffeeshops and Kopitiams in Singapore to Visit Before They Disappear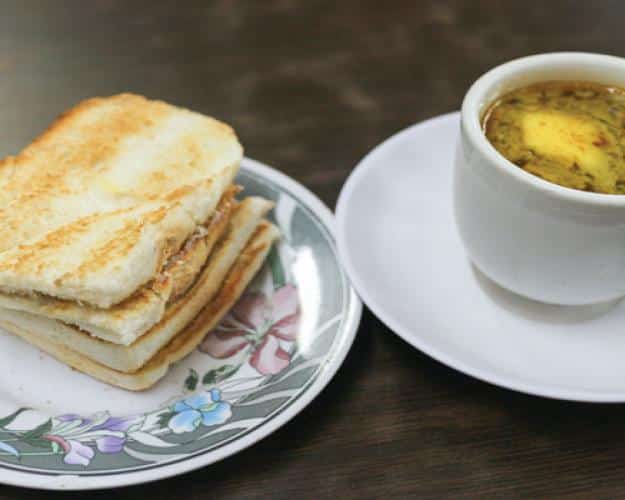 PUBLISHED June 16th, 2015 04:00 pm | UPDATED May 18th, 2020 06:58 pm
Let's face it: old school coffeeshops in Singapore, or 'kopitiams' as we know it, are a dying breed. Those of us born here before the 1980s would remember these age-old establishments at their peak, where throngs of Singaporeans, young and old, would gather to read newspapers with freshly brewed kopi and, of course, the local gossip of the day. Thankfully, the few that remain are still chock-full of nostalgia with their antique ceramic tiles, marble-top tables, and old metal cabinets.
---
Check out more traditional grub at No Foolin' Around with Fu Lin Yong Tau Foo Bar & Kitchen and WANTON Seng's Noodle Bar – Bespoke Wonton Mee with a Twist: Review.
---
We've identified 5 traditional coffeeshops that all local and foreigners alike should visit at least once. Enjoy them now because while they're still standing today, we can expect them to be gone in as soon as five to ten years!
Hua Bee Mee Pok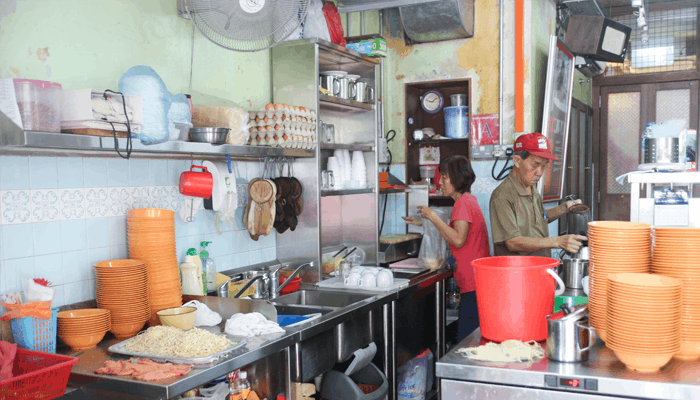 Tucked away in the hipster enclave of Tiong Bahru, some would recognise Hua Bee Mee Pok as the setting for filmmaker Eric Khoo's acclaimed Mee Pok Man. Having said that, this tiny shop with some eight tables is so retro that with a bit of concentration, you might transport yourself back decades, since Hua Bee is over 70 years old. As you can probably guess, the entire stall sells only traditional fish ball 'mee pok' – flat yellow noodles tossed in a special sauce and served with a tasty bowl of broth containing fish cake slices, fish balls, minced meat, and 'geow' (a small dumpling made with fish paste). A great atmosphere for reminiscing the past, head to Hua Bee if the surrounding hipster cafes are making you dizzy.
Hua Bee Mee Pok is located at Blk 78 Moh Guan Terrace, #01-19, Singapore 162078. Open 7.30am – 2.30pm daily.
Tong Ah Eating House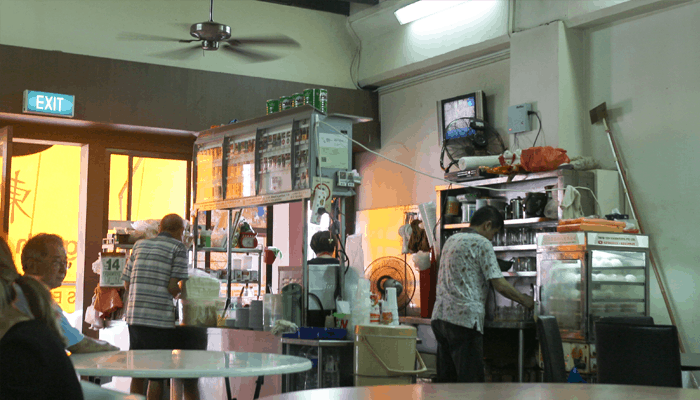 Tong Ah Eating House has been sitting on the same street for nearly eight decades, sort of. After a 76 year-long tenure at the iconic triangular building that now houses Potato Head Folk, the legendary business relocated in 2013 to… a few stalls down the road. Since part of the old school charm is provided by its Keong Saik Road location, we decided to include the new air-conditioned space as it still offers the familiar service and flavours that has satisfied generations of Singaporeans.
Their breakfast menu is all about traditional Singaporean fare: super crispy kaya toast (made with traditional white bread toasted twice!), soft-boiled eggs, and char siew pau (steamed pork bun). When afternoon hits, they start serving up delicious *zi char* dishes like fried pork ribs, clay-pot tofu, and Chinese omelettes. And why not try their 'kopi gu you' (coffee with condensed milk and a dollop of butter)? We kid you not.
Tong Ah Eating House is located at 35 Keong Saik Road, Singapore 089143. Open 6.30am – 10pm daily, closed on alternate Wednesdays.
Chin Mee Chin Confectionery
Established way back in the 60s, barely anything has changed at the Chin Mee Chin Confectionary, located in Katong, of today. Dazzling array of warm baked goods displayed in aluminium cabinets, check; marble-top tables and beautiful floor tiles, check; elderly owners and aunty-uncle veterans, check. This small place serves as both a coffeeshop and bakery, peddling nostalgic favourites like half-boiled eggs, egg tarts, cream puffs, and cupcakes. But one thing everybody should try is Chin Mee Chin's unorthodox kaya toasts, which is prepared with round buns instead of traditional white bread. Rather than a completely crispy bite, their lightly toasted buns are slightly crispy outside and fluffy inside.
Chin Mee Chin Confectionery is located at 204 East Coast Rd, Singapore 428903. Open Tue-Sun 8.30am – 4pm.
Seng Hong Coffeeshop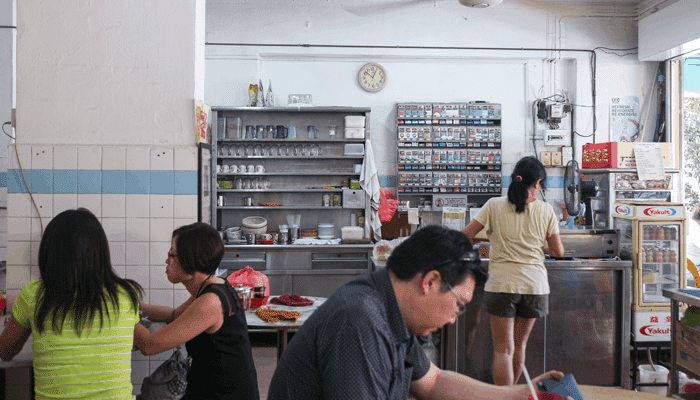 Located under a block of flats in the Bukit Merah neighbourhood, Seng Hong Coffeeshop is quickly identified by its antique 40-year-old black sign. Two stalls operate here: one peddling piping hot 'kuey teow thng' (flat rice noodle soup) and fishbowl noodles, while the drinks stall offers incredibly soft steamed white bread in your choice of spread: sweet brown kaya or creamy peanut butter. One caveat though: business is extremely busy at lunchtime, so you'll want to come earlier in the morning or later in the afternoon to enjoy the charming and tranquil atmosphere it otherwise offers.
Seng Hong Coffeeshop is located at Blk 58 Lengkok Bahru, Singapore 150058. Open 6am – 6pm daily, closed on alternate Sundays.
Heap Seng Leong
Stepping into Heap Seng Leong, you'll first notice an elderly uncle in pyjama pants behind the counter 'pulling' black coffee into heavy cups. Next would be all the old heartland folk seated in red plastic chairs, chatting away about the latest happenings in between bites of toasted kaya toast and sips of thick kopi – a stark contrast compared to the rest of the city. If you're tired of skyscrapers and the glare of sleek modern architecture, here you can take a trip back to the 80s as you savour in the air of the past along with unbelievably cheap toast. I mean, seriously, 50 cents for a slice?
Heap Seng Leong is located at Blk 10 North Bridge Road, #01-5109, Singapore 190010. Open 4am – 8pm daily.