A Weekend Feast at Osteria Mozza: Review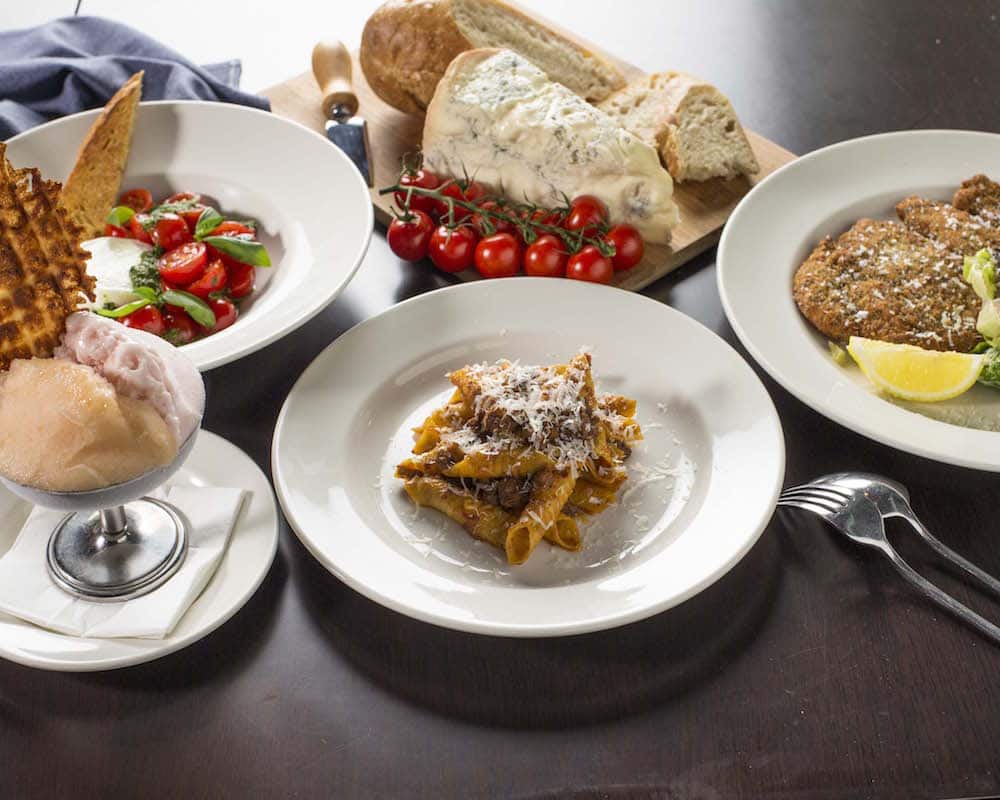 PUBLISHED September 30th, 2016 09:48 pm | UPDATED May 23rd, 2017 04:56 pm
In Italy, the dining table sets the stage for gatherings and celebrations – so it makes perfect sense for Osteria Mozza to (finally) launch a weekend lunch menu perfect for a hearty and heartfelt meal with the family.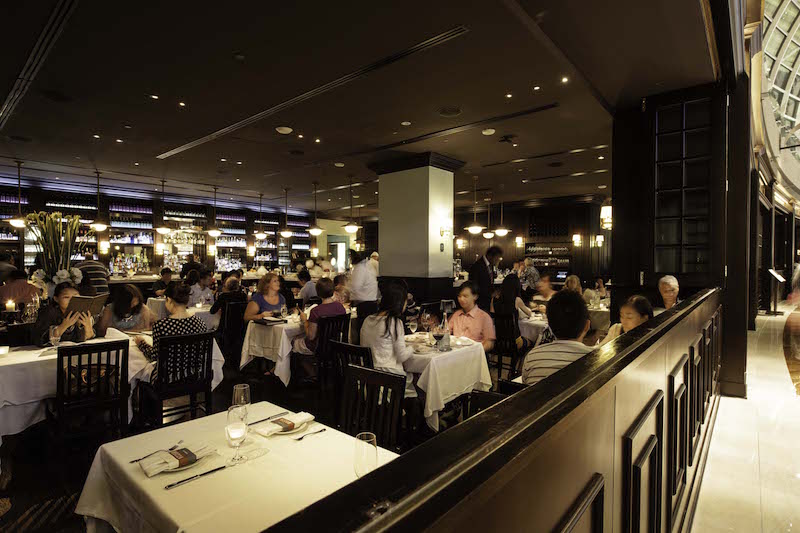 Opened by celebrity chefs Mario Batali and Nancy Silverton in partnership with Marina Bay Sands, Osteria Mozza has long been known as one of the best Italian fine dining restaurants in town. What if we told you that you could eat, and eat well, here for just $48++ per person for a three-course lunch during the weekend?
Alongside their set lunch – a choice of starter, pasta, and dessert of the day – they're also serving up a full a la carte menu, which we dove straight into, starting with a salad of toasted hazelnuts, crispy bacon, slices of hard boiled egg and Gorgonzola Dolce layered between leaves of Butter Lettuce ($21). Even if you're not a fan of greens, the salty, spreadable cheese (a younger version of aged gorgonzola) from North Italy, the zesty vinaigrette dressing, and the bacon, will have you wanting a second helping.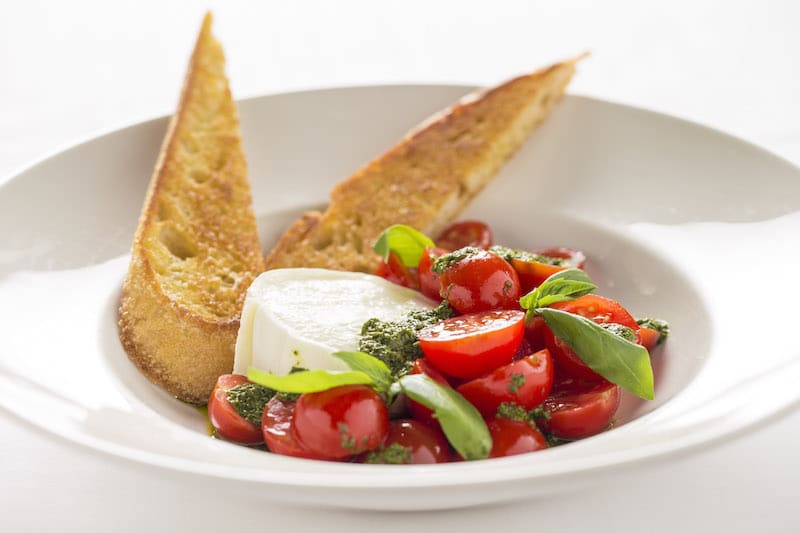 A new dish on the menu is the hand cut Wagyu Beef Tartare ($28). Think chopped hanger steak dressed with balsamic vinegar served with toast drizzled with beef fat drippings, and topped with fried rosemary and garlic chips for a nice, herby crunch.
You can't eat at Osteria Mozza without ordering something from their Mozzarella Bar. Simplicity is best, and we recommend enjoying the handpulled, fresh Bufala Mozzarella ($28) with either vine ripened tomatoes and basil pesto or with slices of prosciutto.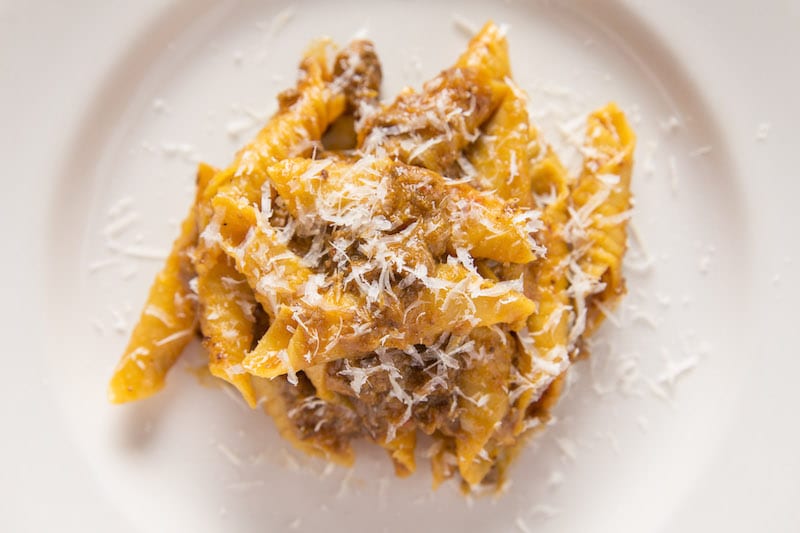 Sticking to the Italian meal structure, we were anticipating the pastas next, since all the different types of pasta are made in house. Our expectations were met (if not exceeded) by the nutty, flavourful, bow-shaped Farfalle ($23). Tossed with wild mushrooms, asparagus, butter, garlic, and a medley of herbs, we liked the touch of grated walnuts to finish the dish.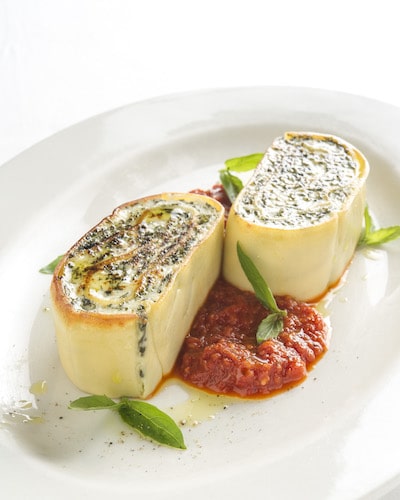 The tubular, ridged Garganelli ($24). Served in a juicy ragù Bolognese – which packed a punch with a complex list of ingredients like pork, veal, pancetta, white wine, nutmeg, and carrots – this is one comfort dish we would order again.
The next pasta is quite uncommon in Singapore. To make the Rotolo ($24), pasta sheets are covered in ricotta, spinach, Parmesan, and pecorino before being rolled and tied. After 45 minutes of poaching, they're pan-seared and served with a chunky tomato sauce. Classic flavour combination and a great way to eat spinach; the serving is pretty big though, so if you don't like veggies you might want to share this.
We've finally eaten our way to the meats…which was off to a good start with the Tuscan Roast Pork ($30). Topped with arugula and salsa verde, the crackling is crispy and brittle – in other words, perfect. The tender meat was rolled and roasted after deboning and being seasoned with herbs like fennel pollen and sage. Contrasted with the perfectly cooked Kingfish Spiedini ($35), which is also marinated with herbs and pan roasted, it's hard to say which main we prefer.
Although it's lunch and NOT brunch, the folks at Osteria Mozza have decided to cater to our weekend fixation with eggs. Enter the Eggs and Polpette ($24), pair of poached eggs, shaved parmesan, basil, and olive oil sit on a duo of meatballs. The latter are hand rolled with minced pork shoulder, breadcrumbs, milk, garlic, onion, parsley, fennel seed, and pecorino. Pan seared and baked before serving with ricotta and tomato sauce, this is one more reason for you to roll out of bed.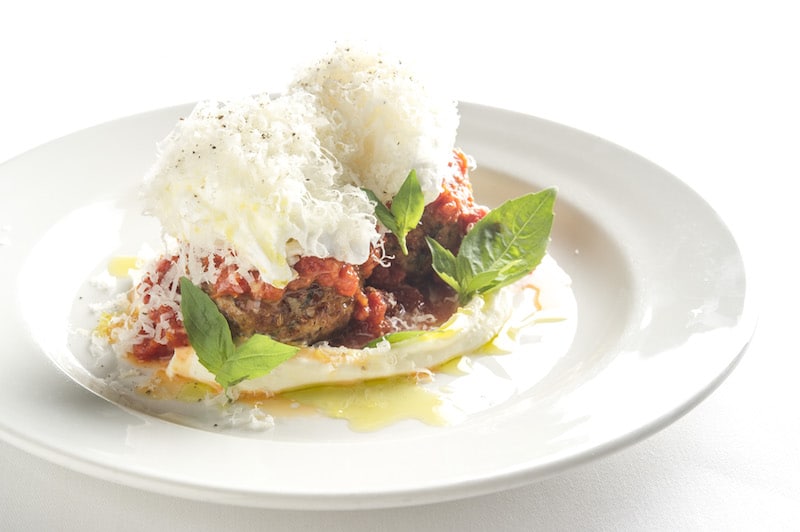 As you can imagine, we were properly stuffed at this point, but how do you turn down dessert in the form of chocolate? Paired with olive oil gelato, a sprinkling of Maldon sea salt, and olive oil croutons, the rich chocolate ganache is rich, smooth, and creamy – the dream of every chocoholic ever. For those looking for a fruitier sort of sweet treat, the Vanilla Panna Cotta ($18) is a classic served with mixed berry compote and almond hazelnut biscotti. Yes, it wobbles – like all good panna cotta should.
Osteria Mozza is located at #B1-42, Galleria Level, The Shoppes at Marina Bay Sands, 2 Bayfront Avenue, Singapore 018956, p. +65 6688 8868. Open Mon-Fri 5pm-11pm, Sat-Sun 12pm-2.30pm, 5pm-11pm.
Get your Italian food fix at Garibaldi Italian Restaurant & Bar: Timeless Fine Dining on Purvis Street and Bottomless Brunch of the Month: An Italian Feast by the bay at Monti