Best Florists in Singapore: The Loveliest Flower Bouquets in Town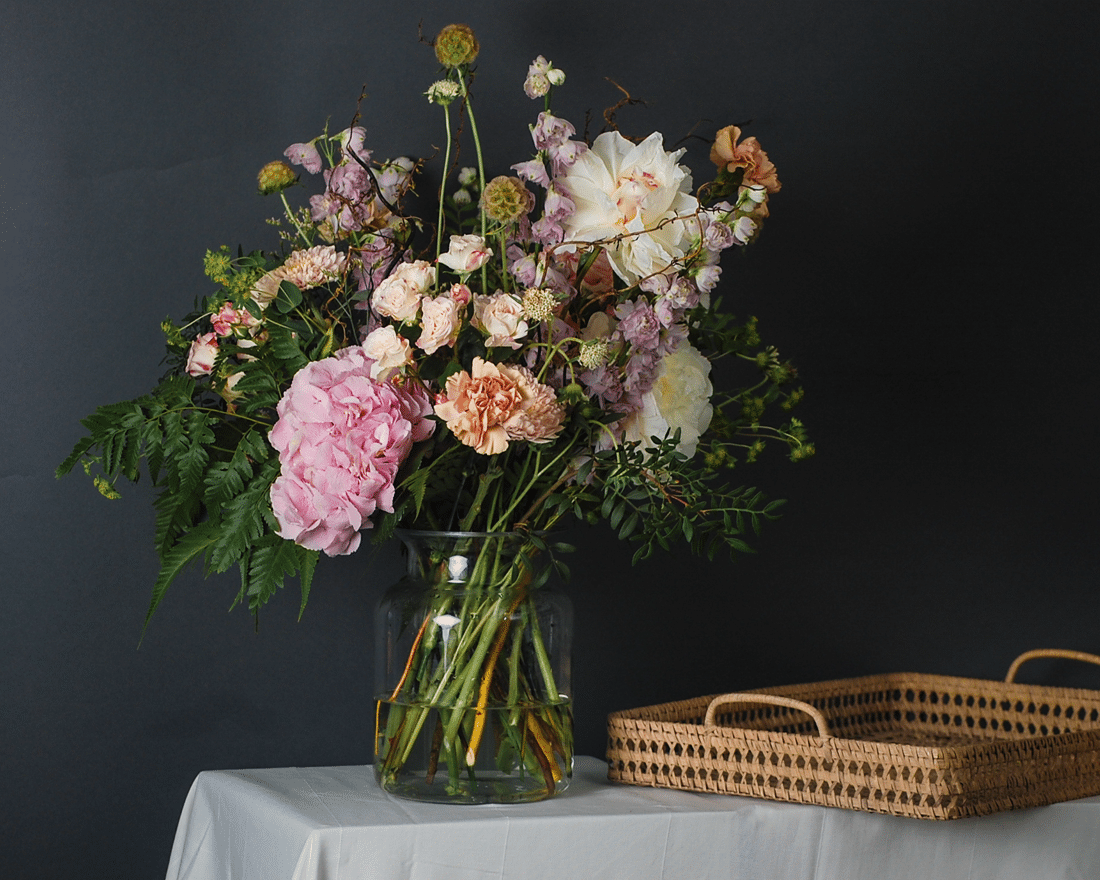 PUBLISHED July 19th, 2018 05:00 pm | UPDATED August 23rd, 2018 10:20 pm
Some people might feel that giving flowers is senseless as they eventually die, but really, it's always satisfying knowing that you spent money on something that will yield a bit of bliss for your loved ones. Does it have to be an anniversary or Valentine? Not, really because the deliriously-rich fragrance from fresh bouquets will fill your heart any time of the year. Whatever the occasion, here are our top picks for the sweetest bunches in Singapore.
Charlotte Puxley Flowers

For floral artisan Charlotte Puxley, home is where the heart is. Before starting her modest studio in Tiong Bahru, Charlotte worked with established industry experts Jane Packer and Scarlet & Violet in London. Leaving did not stop her from bringing the watercolour leaves and sombre tones of the English countryside here either. With an appreciation for nature's shapes, colours, and textures, she's always finding the most unique flowers in local markets to give each creation its own special character.
Need a vase to go along with her fabulous creations? Charlotte has a stunning array of vases that she's collected over the year, available for loan of course.
Charlotte Puxley Flowers is located at Block 79, 79 Chay Yan St, #01-02, Singapore 160079, p. +65 6904 4980. Open Mon-Fri 9am – 5pm, Sat 9am – 12pm. Closed Sun.
Poppy Flora Studio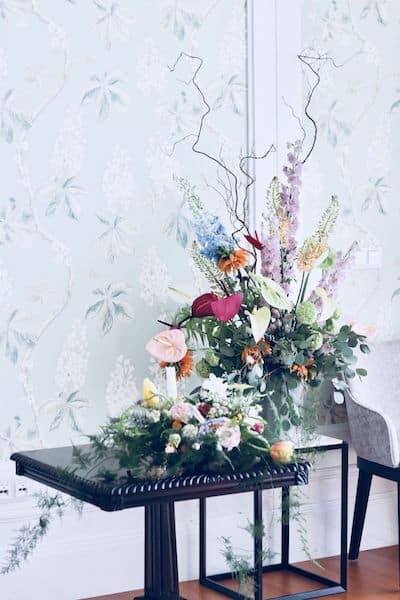 Upon leaving the lucrative field of advertising 18 years ago, Sarah Lim plunged into the deep end and kickstarted her adventure in floristry in the form of Poppy Flora Studio. Now one of Singapore's most established florists and with its own flower school, Poppy facilitates artisanal floral workshops for you to discover your very own signature style. Above all, the flora whizz offers rich, jewel-toned flowers intended to inspire and redefine expectations of what a good bouquet should be.
If you're the kind to buy flowers regularly, how about trying out their Weekly Floral Subscription (from $300 for four weeks), prepared with the best seasonal flowers?
Poppy Flora Studio is located at 3 Park Ln, The Summerhouse, #01-03, Singapore 798387, p. +65 9188 1247. Open daily 10am – 5pm. 
Triceratops

Can you imagine walking down the aisle with an unsatisfactory wedding bouquet? The day before her wedding, Ching took matters into her own hands and refashioned her own bouquet, discovering her innate skill for floral arrangement concurrently. For a fun and imaginative way of finding your perfect flower bunch, select your budget, style, hobbies, and preferred colours on their website. Then, sit back as Triceratops does the rest!
Triceratops is located at 2 Kallang Ave, #07-10 Singapore 339407, p. +65 6444 7848. Open Mon-Fri 10am – 5pm. 
Roses Only

"Roses are red, violets are blue". Contrary to the popular nursery rhyme, Roses Only – the popular Aussie brand that arrived here in 2013 – brings you more than just roses in one colour. Their eye-catching offerings include Geraldine Pink, Limbo Green, Versilia Peach, and Cool Water Purple. Fickle minds can consider their 18 Bright Roses Gift Box ($149.95), comprising fine long-stemmed roses in shades of red, pink, and cherry brandy.
Roses Only is located at 565 Thomson Rd, Singapore 298184, p.+65 6256 1818. Open Mon-Fri 8am – 5pm, Sat 9am – 12pm. Closed Sun. 
The Floral Tease

For a flowery bespoke experience, consider made-to-tease bouquets handcrafted to your preference and tailored to your senses. From rustic- vintage tones to sweet-pastel hues, The Floral Tease ensures a complementary mix of flowers and greens in their arrangements. Ultimately, their bespoke creations adds a splash of colour to any setting, no matter the occasion.
Shop The Floral Tease online.
One Olive

By specifically using seasonal blooms, One Olive's creations are consistently fresh and vibrant. Fall in love all over again with their dainty petite selections and preserved forever-flowers. The Zante Bolero ($280), for one, is an impressive bouquet with clusters of stark calla lilies and phalaenopsis orchids. From bridal bouquets to wedding corsages, these looks are striking yet incredibly tasteful and exquisite.
One Olive is located at 61 Seng Poh Ln, #01-01, Singapore 160061, p. +65 6779 3543. Open Mon-Sat 11.30am – 7pm, Sun 11.30am – 3pm. 
The Bloom Box

For a quick fix when words are simply not enough, these fresh boxes of blooms surprises you with new flower arrangements every day. Bundled together in their signature bloom box, these creations are hassle free and affordable, priced at $35 with free delivery islandwide. On the whole, The Bloom Box is perfect for those "thinking of you" and "just because" kinds of gifts.
Shop The Bloom Box online.
Petit Fleur

Using premium blooms that last longer than the average flower, Petit Fleur effortlessly designs bouquets that are both artsy and graceful. From hydrangeas to carnations and orchids, this florist never fails to perform with its dramatic display of lush blooms. Want to amp up the dramatic factor? Check out their signature mini hot air balloon ($148) that's held over fresh flowers. This arrangement is one you're guaranteed to be smitten by.
See the list of Petite Fleur outlets here.
Windflower Florist

Launched in 1997, this small and quaint florist ironically creates large, blossoming bouquets dressed in elegant French wraps. Their popularity and high demand perhaps springs from their wallet-friendly prices – from a mere $33. Or it could just be their innovative dried bouquet vending machines stationed at locations like Raffles City, Tiong Bahru Plaza, and the Singapore University of Social Sciences. From working adults to university kids, Windflower Florist has got you covered with the perfect gift to make any day special, on demand.
Windflower Florist is located at Primax, 22 New Industrial Rd, #02-27/28, Singapore 536208, p. +65 9785 2570. Open Mon – Fri 9am – 6pm, Sat 9am – 5pm, Sun 9am – 2pm.
Far East Flora
Chilled at -10°C, how about stepping into an icy-cold fridge filled with nearly a hundred floral varietals, including carnations, lilies, and chrysanthemums? Situated along Thomson Road for as long as we can remember, this fresh-cut wholesaler offers imported flower species at cutthroat prices. Let your imagination run wild by mixing and matching flowers, as well picking out your own decorative wrapping. As pioneers of the e-commerce flower business in Singapore, you may want to skip the crowds and utilise their user-friendly website.
Far East Flora is located at 555 Thomson Rd, Singapore 298140, p. +65 6254 6662. Open Mon-Sat 8am – 9pm, Sun 8am – 7pm. Click here for details of its other outlets.
Top Image: Charlotte Puxley Flowers