Say It With Flowers: The Best Florists In Singapore For Bespoke Blooms And Fuss-Free Delivery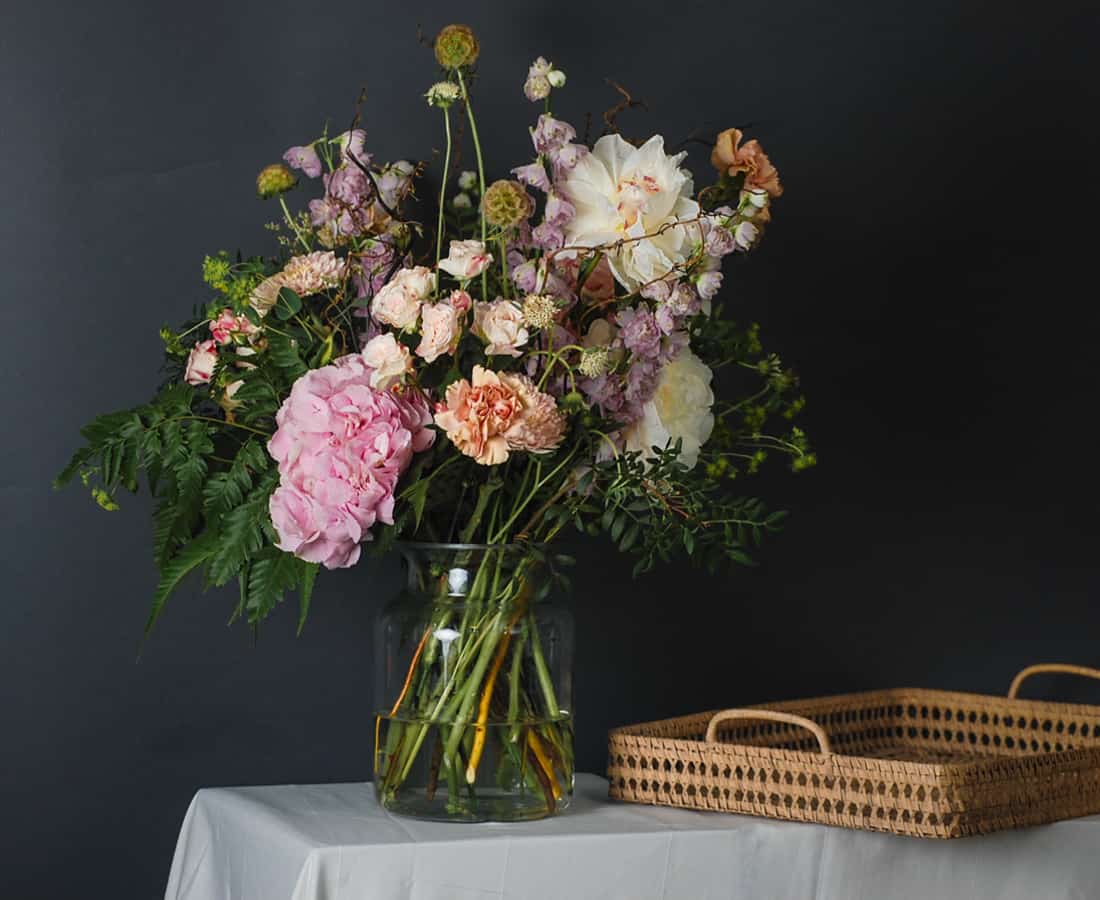 PUBLISHED July 19th, 2018 05:00 pm | UPDATED April 16th, 2021 12:37 pm
Few sights can make our smiles bloom like flowers – these fragrant bunches of joy have a way of getting our feel-good juices flowing. Whether you're surprising that special someone or beautifying your home, we've picked out the best florists in Singapore who're creating poetry in a vase. From bespoke blossoms to make your loved one feel special, to round-the-clock delivery for those last-minute surprises, these florists have got you covered.
Little Flower Hut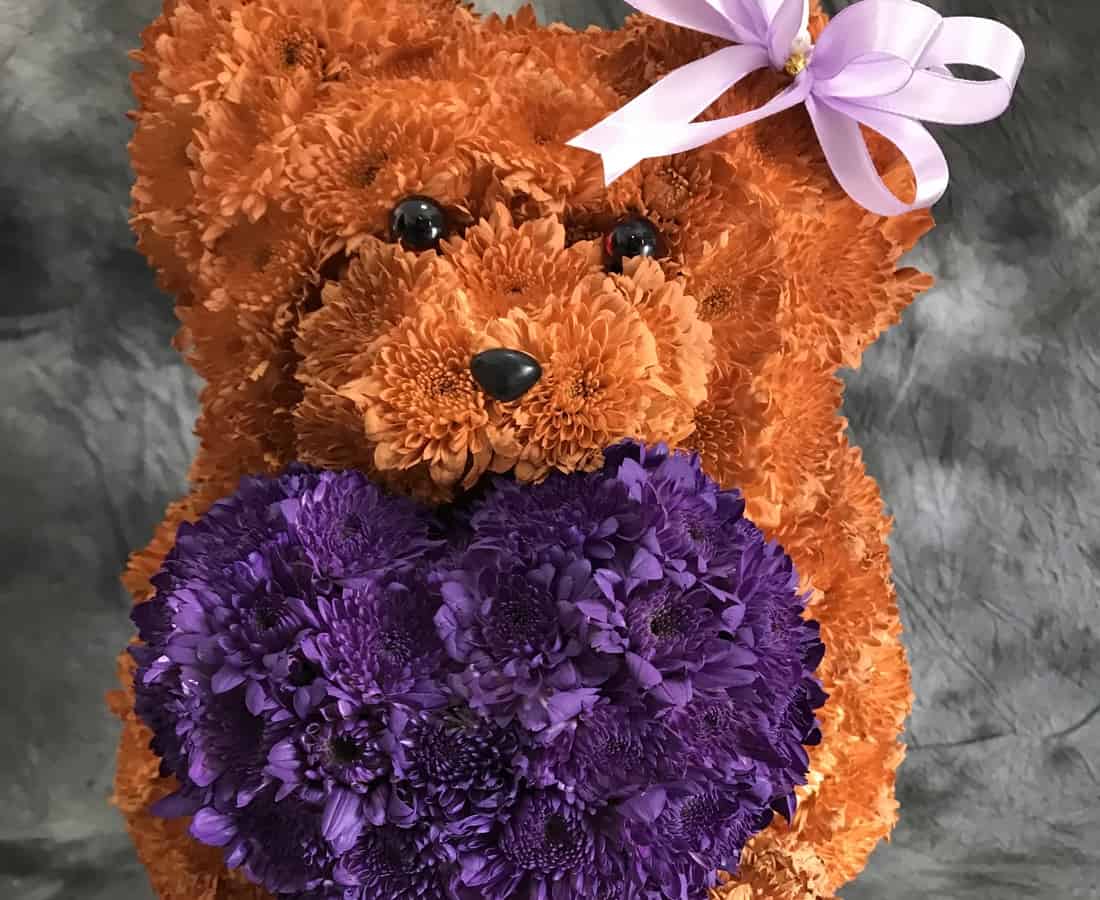 Need some blooms for the booze lover in your life? Little Flower Hut's quirky Happy Hour-themed collections are sure to have them drunk on love. From the candy-pink Margarita Sweetest (S$129.90) to the cheerful Martini Summer (S$119.90), each bouquet comes arranged in a cocktail glass and decked out with garnishes. For something more cuddly, their hand-crafted Teddy Bears are another unusual option – think aww-worthy, bear-shaped floral arrangements in sizes of up to a metre. Flower bouquets here start from a budget-friendly S$29.90, including free delivery. With 24/7 customer service and same-day delivery for orders before 5pm, getting your floral needs sorted here is a breeze.
Little Flower Hut is located at 25 Jalan Chegar, Singapore 578483, p. +65 6503 9750, e. [email protected]. Open daily 24/7.
Flowers and Kisses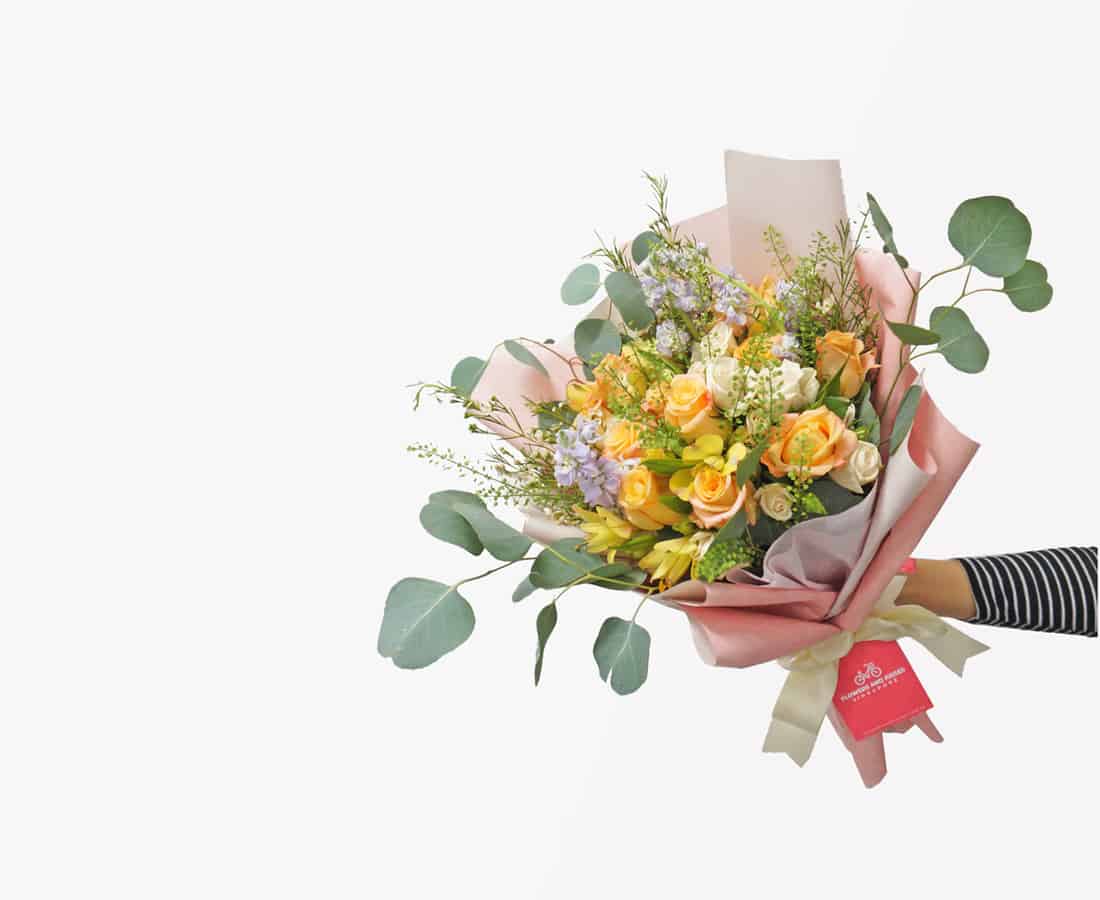 If your love for that special someone is beyond words, let Flowers and Kisses do the talking instead. Using fresh blooms handpicked from the market each morning, this online florist crafts eloquent, made-to-order bouquets for all occasions. The Uniquely Made hand bouquet (S$48++) makes for a truly customised gift – simply give a description of your recipient and occasion, and the florists will do the rest – while their preserved bouquets in seasonal themes, from dainty pink Spring to elegant blue Winter (S$69) will no doubt express the timelessness of your love. What's more, order before 4pm and you're guaranteed free same-day delivery – how's that for fuss-free gifting?
Shop Flowers and Kisses online here. 
FARM Florist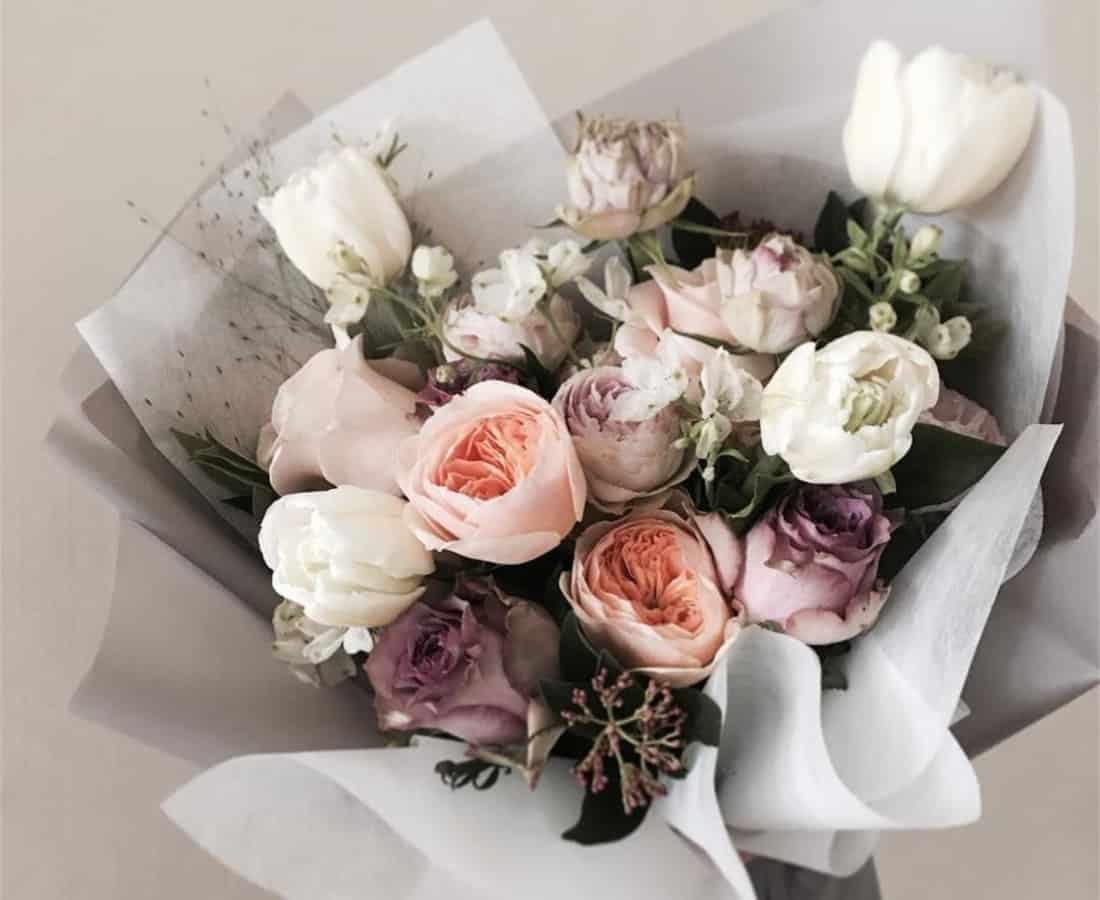 Who says bespoke blooms need to be heavy on your wallet? E-commerce store FARM Florist is changing the game with their quality, farm-fresh flowers, boasting pocket-friendly price tags starting from S$25. If you aren't quite sure how to express your feelings with flowers, let their Surprise Bouquet (S$29++) do the talking. This freestyle bouquet is crafted to the inspiration of their experienced florists – all you need to do is customize the number of main flowers you'd like, along with the occasion, age, and gender of your giftee. Take your pick of add-on gifts like heart-shaped balloons and huggable plush toys, then sit back and wait for your free delivery of floral goodness (same-day and one-hour delivery at an additional S$10).
Shop FARM Florist here.
Flower Chimp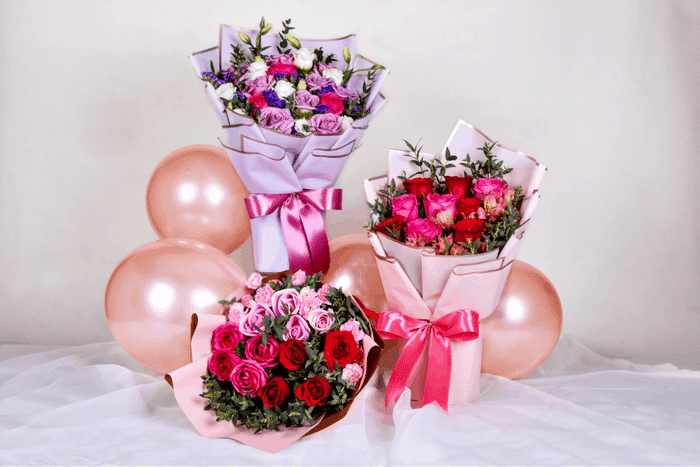 With its free and speedy delivery service, it's no wonder Flower Chimp is Southeast Asia's bouquet queen. This regional online florist boasts a sprawling range of blooms for all budgets, from charming bunches below S$50 to the jaw-droppingly romantic 99 Roses (S$224.90). If your loved one has a sweet tooth, a Trinity Box (from S$84.90) of chocolates and blossoms is guaranteed to win them over. Best of all, you don't need to fret about last-minute surprises – just get your order in before 1pm and enjoy same-day delivery islandwide!
Shop Flower Chimp online here.
Charlotte Puxley Flowers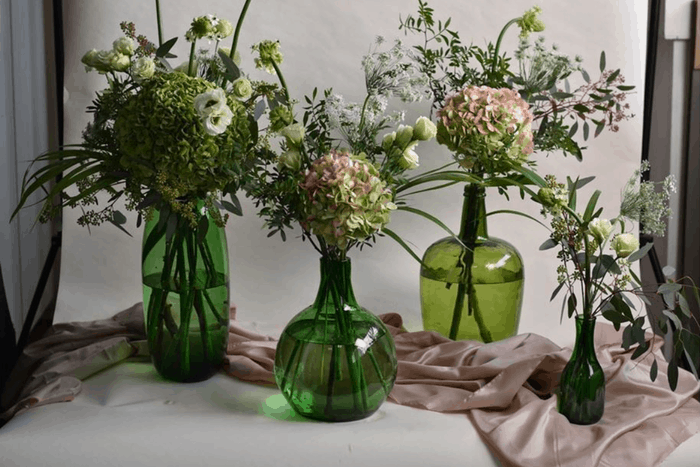 For British florist Charlotte Puxley, home is where the heart is. Before starting her modest studio in Singapore, Charlotte worked with celebrated industry experts Jane Packer and Scarlet & Violet in London. She's brought all the wild beauty of the English countryside to our sunny shores, from Clean and Green classics to luxuriant Ruby Reds (from S$110). Each bouquet is lovingly tailored to customers' needs, so you can be sure of enjoying creations with their own special charm. Set off your gorgeous blooms with her stunning array of handblown pickle vases, specially sourced from Hungary.
Charlotte Puxley Flowers is located at 315 Outram Rd, #08-07 Tan Boon Liat Building, Singapore 169074, p. +65 6904 4980. Open Mon-Fri 9am – 5pm, Sat 9am – 12pm. Closed Sun.
Poppy Flora Studio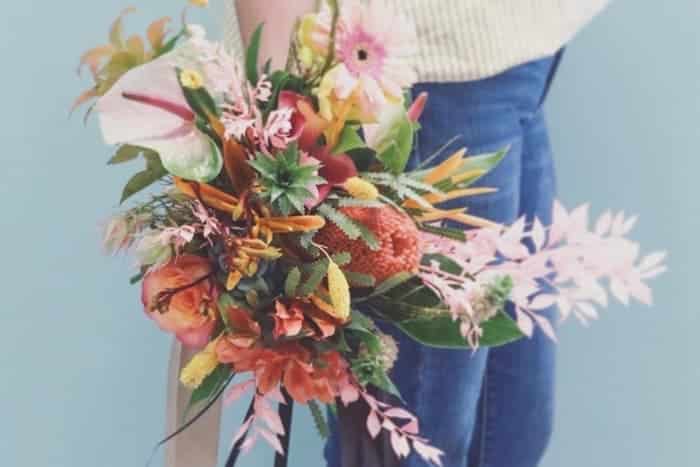 20 years ago, advertising executive Sarah Lim took the plunge and dove into the wild field of floristry. Now one of Singapore's leading floral designers, Poppy Flora Studio creates textured, jewel-toned arrangements that 'dance' rather than staying in uniform bundles. With inspired bunches like Claude Monet (from S$189) and Romeo and Juliet (from S$189), you'll certainly make the art buff in your life swoon. And if you're up for making your own fragrant live art, Poppy's floral arrangement workshops (from S$180) will get your inner florist blooming.
Poppy Flora Studio is located at 9A Dempsey Road, Singapore 247698, p. +65 9188 1247. Open daily 10am – 5pm. 
Ask A French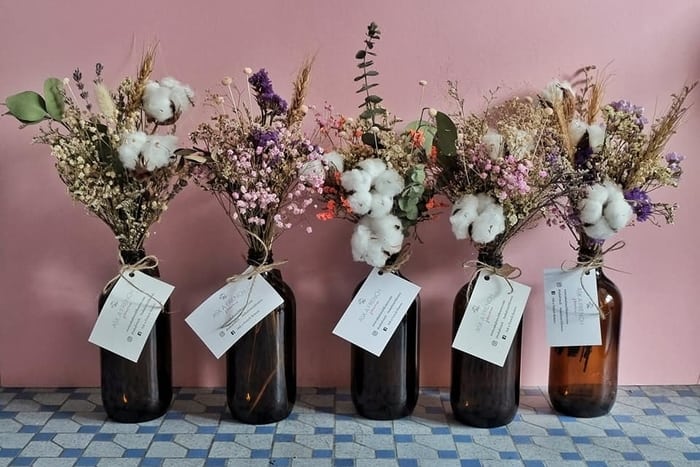 Ask A French – in this case, Paris-born fleuriste Aude Giraud – and you're sure to receive floral chic in spades. Counting fashion icons like Chanel, Repetto, and Bvlgari among her past clients, this journalist-turned-florist is known for her poetic creations inspired by classic still-life paintings. Each of her Surprise Bouquets (from S$68) are crafted with the freshest flowers of the day and entirely unique – just as unique as the loved one you're pampering, of course!
Shop Ask A French online here. 
The Floral Atelier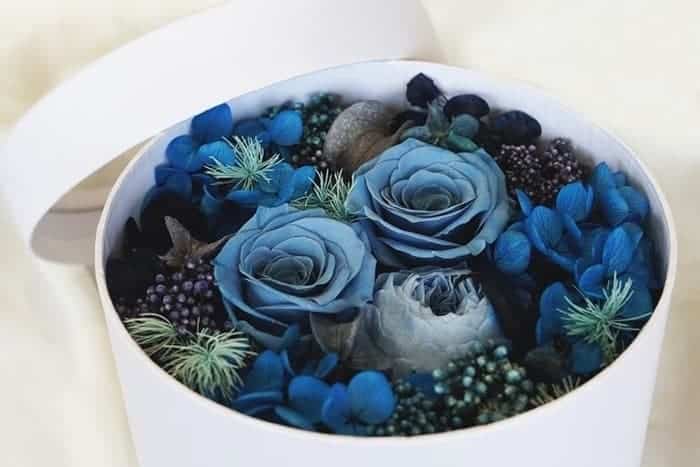 If you can't get enough of the natural perfume of flowers, feast your nose on The Floral Atelier's complementary scents. Each elegant bouquet and bloom box comes with the option to add scents from Seoul-based brand Soohyang (from S$35), in the form of candles, diffusers, home sprays, and more. Pair their striking Dreamer Bloom Box with romantic wafts of La Vie en Rose, or spice up your bouquets with some fruity Champagne Supernova.
The Floral Atelier has outlets in Alexandra Road and Paragon. For more location info, see here. 
Roses Only

'Roses are red, violets are blue' – Roses Only proves this nursery rhyme just isn't true. This popular Aussie brand brings us roses in every shade of the rainbow, from  delicate mauve purple to sunshine yellow to swirls of cherry brandy orange. To symbolize your lasting love, get your special someone a box of Infinity Roses (from S$119) – real blooms treated with an eco-friendly solution to preserve their fresh colours for a whole year.
Roses Only is located at 565 Thomson Road, Singapore 298184, p. +65 6256 1818. Open Mon-Fri 8am – 5pm, Sat 9am – 12pm. Closed Sun. 
The Bloom Box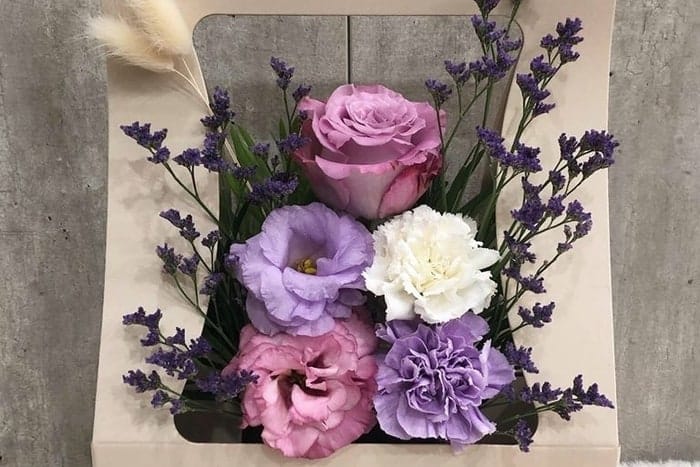 Who says flowers should be a luxury only for special occasions? Rooted in the belief that blooms can bring everyday joy, The Bloom Box surprises you with fresh new arrangements every day. Sitting pretty in their signature bloom box (S$35), these wallet-friendly creations come with free islandwide delivery and self-collection options. Perfect for those 'thinking of you' and 'just because' kinds of gifts.
The Bloom Box is located at CT Hub, 2 Kallang Ave #05-03, Singapore 339407, e. [email protected] Open Mon-Fri, delivery timing 10am – 6pm and self-collection 10am – 2pm.  
Petite Fleur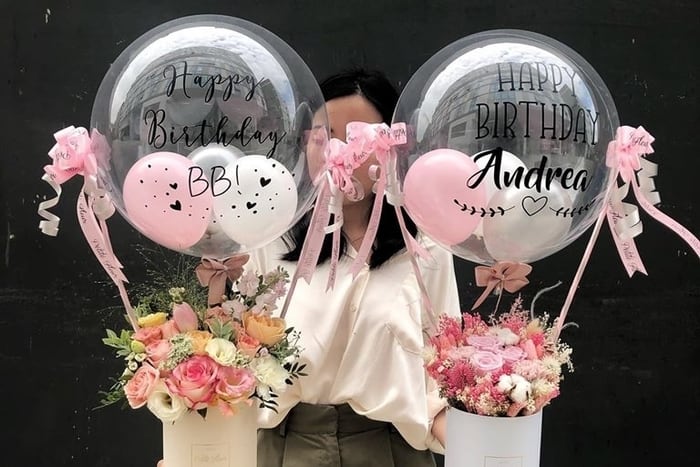 Using premium blooms that last longer than the average flower, Petite Fleur effortlessly crafts bouquets that are both graceful and whimsical. With quirky designs like the Fancy Floral Teacup (S$78) and the fairy-light-filled Glass Dome Arrangement (S$129), your special someone can't help but be smitten. Want to amp up the dramatic factor? Check out their signature hot air balloons (from $148) festooned with ribbons and customizable wishes.
Petite Fleur is located at 22 New Industrial Road #03-18/19, Primax Building, Singapore 536208, p. +65 9270 8473. Open 8am – 5pm daily, by appointment only.
Windflower Florist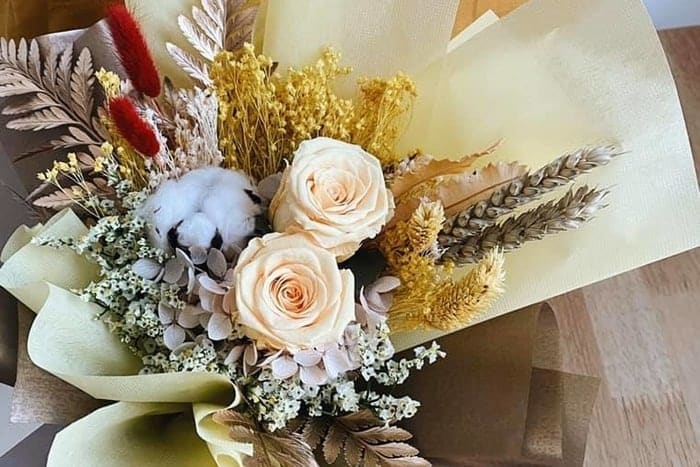 This small family florist has been bringing Singapore big blooms and huge smiles since 1997. Their Rustic series (from S$33) will brighten anyone's day with a dose of pastoral idyll, from wild mixes of eryngium and wheat to lovely lavender bunches. For special occasions, their bouquet-and-cheesecake bundles make celebration sweet yet fuss-free. And speaking of convenience, they've got on-demand dried flowers in vending machines across Singapore, including Raffles City and Tiong Bahru Plaza.
Windflower Florist is located at Primax, 22 New Industrial Rd, #02-27/28, Singapore 536208, p. +65 9785 2570. Open Mon-Fri 9am – 7pm, Sat 9am – 5pm, Sun 9am – 2pm.
One Olive

Bespoke blooms at pocket-friendly prices are the name of the game at One Olive. All you need to do is choose your budget, bouquet shape, and floral colours, then fall in love with the petite bouquets (from S$90) and custom arrangements (from S$200) they'll put together for you. Their range of ready-made florals are equally enchanting, though our favourite bouquet has to be the Zante Bolero (S$280) – a dramatic cascade of calla lilies and elegant phaleanopsis orchids.
One Olive is located at 61 Seng Poh Lane, #01-01, Singapore 160061, p. +65 6779 3543. Open Tues-Sat 11.30am – 7pm, Sun 11.30am – 4pm. Closed Mon. 
Wonderland Botanicals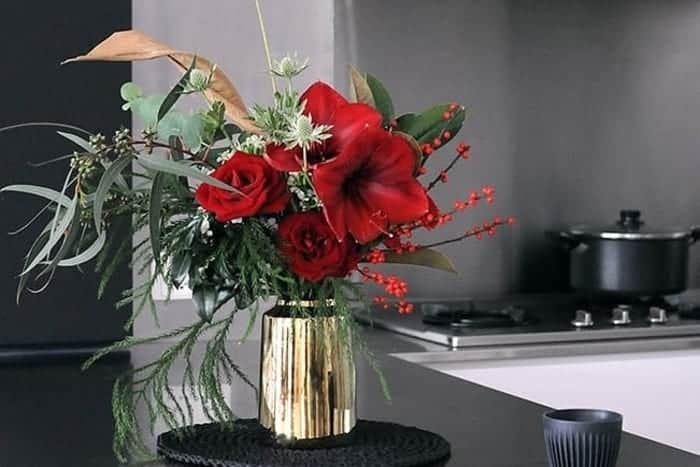 If you love to stop and smell the flowers, keep your home well-supplied with Wonderland Botanicals' subscription service. Flowers for the Home delivers weekly blossoms to your door, based on your floral style and type of room you're planning to adorn. From muted hues inspired by Scandinavian minimalism, to eye-catching arrangements in jewel tones, their range of fresh blooms will match your interior decor in style.
Shop Wonderland Botanicals online here. 
Triceratops

Can you imagine walking down the aisle on your big day with a lackluster wedding bouquet? The day before her wedding, Ching took matters into her own hands and refashioned her florist's unsatisfactory bouquet, discovering her talent for floral arrangement in the process. Now, her studio Triceratops makes ordering flowers fun and fuss-free. Simply enter your budget along with your recipient's age, style, favourite colours, and hobbies, and await your lush surprise at your door!
Triceratops is located at 2 Kallang Ave, #07-10, Singapore 339407, p. +65 6444 7848. Open Mon-Fri 10am – 5pm. 
Top Image: Charlotte Puxley Flowers