Singapore's Most Fabulous Gay Bars: Karaoke Bars, Classy Lounges, and Dance Clubs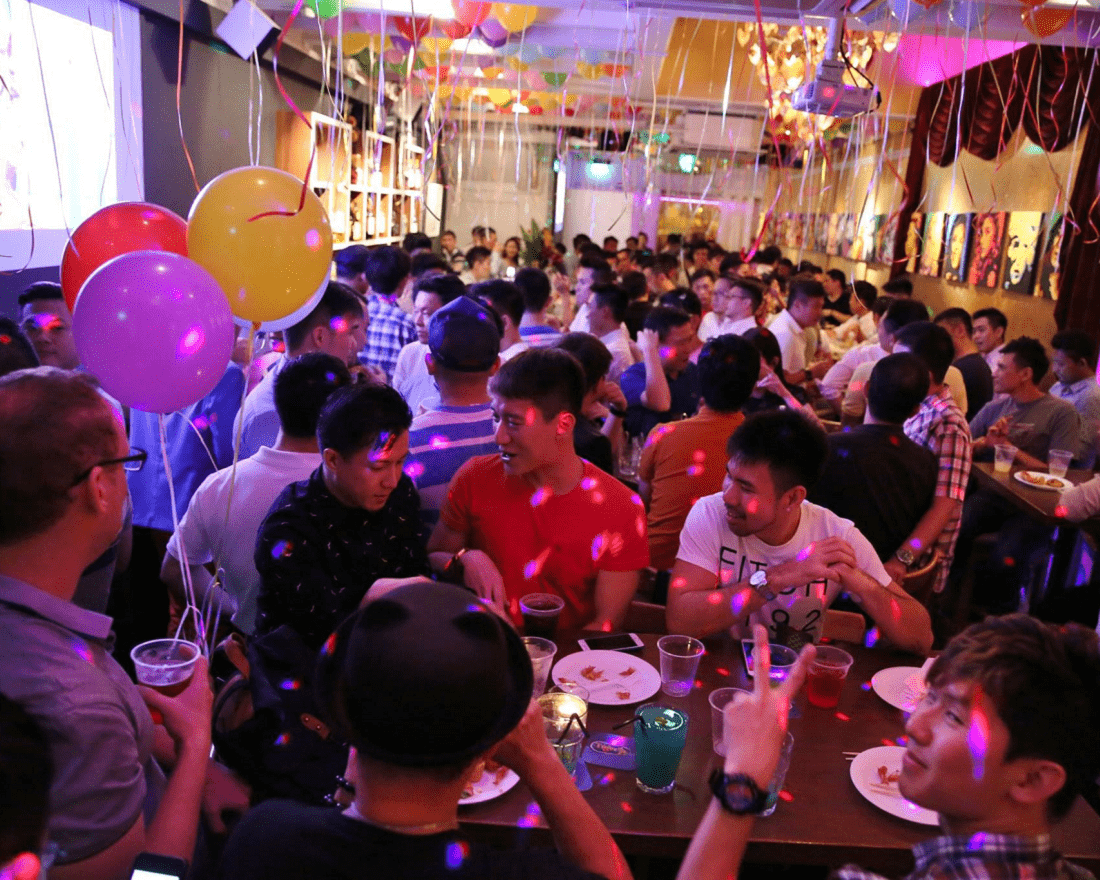 PUBLISHED June 25th, 2019 05:44 pm | UPDATED May 18th, 2020 06:52 pm
While we'd love for more queer-friendly spaces that don't revolve around alcohol and late nights, it hasn't been easy. The losses of popular LGBTQ+ hangouts like Ladies District, Peaches and Cows and Coolies only further the fact that keeping the scene alive is tough, and gay bars around town may need a little more lovin'. Regardless of sexual orientation, everyone needs a quiet place to kick back for a drink. From boisterous karaoke bars along Neil Road to Chinatown's laid-back classics, we're bringing you a habitat for every occasion.
Tantric Bar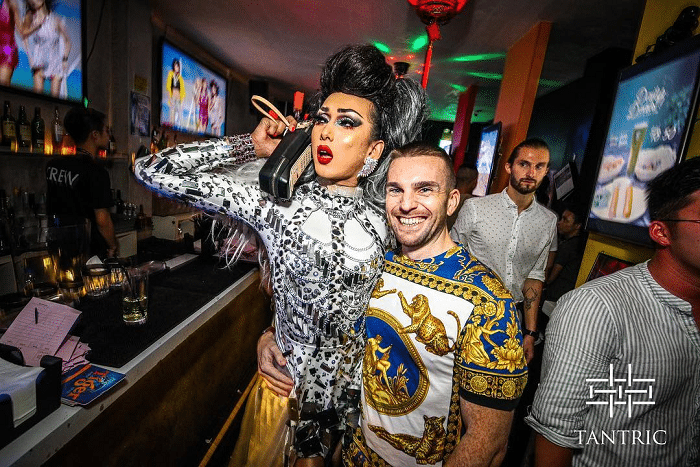 One of the four bars under the same ZIP code, Tantric approaches its 13th year on the lot. There's both an indoor and outdoor space, with a predominantly pop playlist for easy listening/dancing along. With a healthy weekend crowd of gay singles ready to mingle, the cocktails here go for a relatively affordable S$14 a pop, alongside S$12 double shots.​ Weeknights host a calmer crowd of friend groups and regulars, here to enjoy a nice tall pitcher of their signature Blue Spin (S$20/S$60).
Tantric Bar is located at 78 Neil Road, Singapore 088842, p. +65 6423 9232. Opens Sun-Fri 8pm-3am, Sat 8pm-4am.
May Wong's Cafe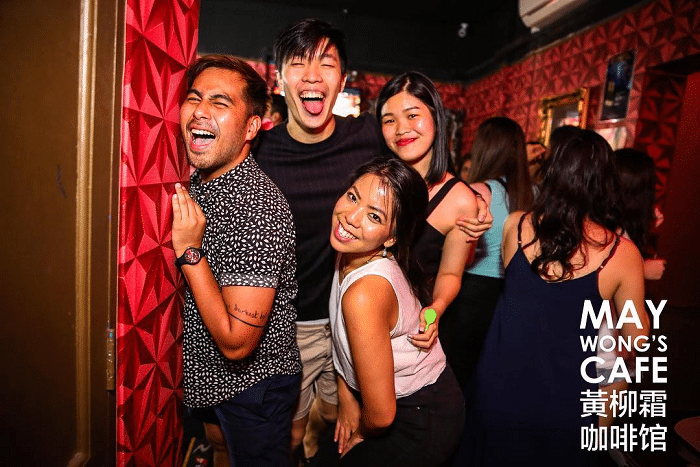 Right above Tantric's popping scene is the cooler and classier May Wong's Cafe, filled with cushy seating and table seats. Inspired by late Hollywood starlet Anna May Wong, May Wong's Cafe reinvents her Taishanese heritage into a deluge of oriental cocktails based on coolers and tropical fruit to beat the Singapore heat. Tuck into a juicy Long Island Iced Tea (S$17/S$51), or show off your skills at the various darts machines scattered about.
 May Wong's Cafe is located at 78 Neil Road, Singapore 088842, p. +65 6423 9232. Opens Sun-Fri 8pm-3am, Sat 8pm-4am.
Flavours Bar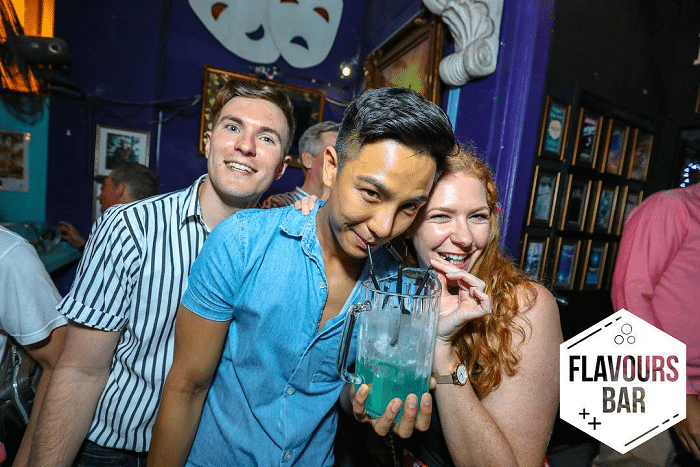 The concept of Flavours Bar is exactly as it sounds – tasty tipples that run the gamut from fun, to naughty, to outright outrageous in both name and combination. Set up right outside in the open air with bar and table seating with retro swimming-pool tile-esque tabletops, dive into a slew of creations with playful names concocted in-house for an interesting flavour trip. Start things off with a fruity Afterwork Special (S$16) to loosen things up, and when things really start to unwind, wrap up the night with a Kiss of Death (S$14). Because all four bars reside under one roof, you can also get the deadly Forbidden Fruit (S$12) from Tantric Bar.
Flavours Bar is located at 78 Neil Road, Singapore 088842, p. +65 6423 9232. Opens Sun-Fri 8pm-3am, Sat 8pm-4am.
Backstage Bar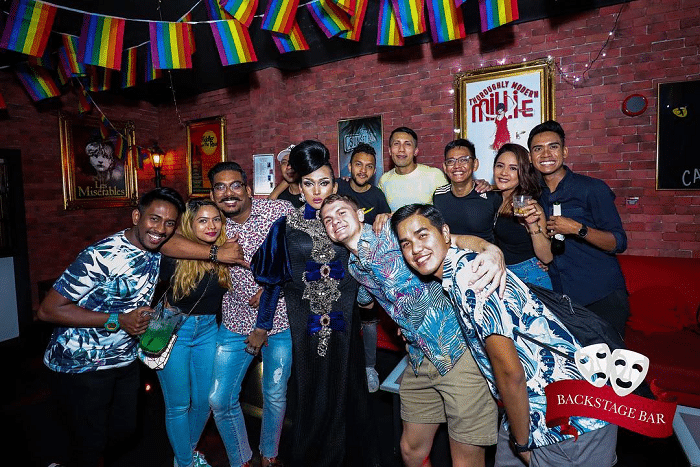 The final bar under the home of the Blue Spin Group is none other that Backstage. With more than 16 years in the biz, Backstage Bar is a staple among those who reside in Singapore's pink district. Inspired by iconic films of the silver screen, the walls are adorned with musical posters of musicals, and drinks are an homage to timeless classics such as the Golden Girls Cheesecake (S$20) and the peachy Lady Marmalade (S$20/$60). Regularly, you'll also find an assortment of characters out and about, and you just might chance upon your favourite Drag Queen having a drink by the bar.
Backstage Bar is located at 78 Neil Road, Singapore 088842, p. +65 6423 9232. Opens Sun-Fri 8pm-3am, Sat 8pm-4am.
Dorothy's Bar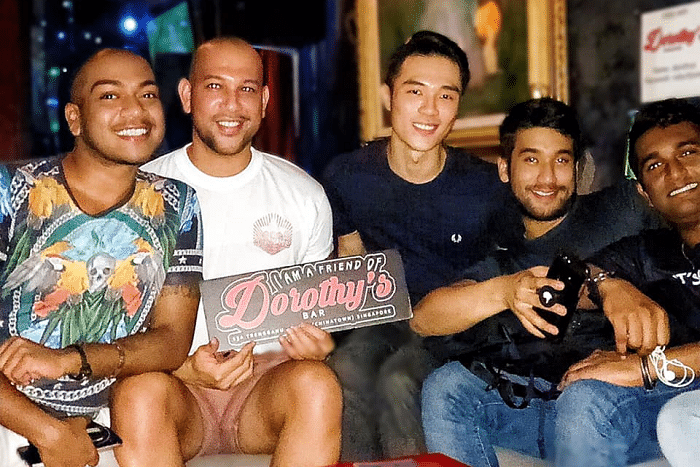 There's really no place like home. Dorothy's takes gay to the literal meaning with fabulous service and extremely friendly staff. Themed around the Wizard of Oz, this hole-in-the-wall bar isn't as flashy as the others, but makes you feel like family with a click of the heel. Created by singer Rob Collins and dancer-choreographer Andy Benjamin Cai, get whisked away into the small but cheerful space that's decked out in musical mementos and even a yellow brick road stairway, with cocktails that go for about S$14 a glass. The second-story establishment comes with a wraparound balcony that's perfect to soak in the sights and sounds of bustling Chinatown, just around the corner from the nearest MRT.
Dorothy's Bar is located at 13A Trengganu Street, Singapore 058467, p. +65 6221 6806. Opens Mon-Fri 6pm-1am, Sat 6pm-2am, Sun 6pm-1am.
Out Bar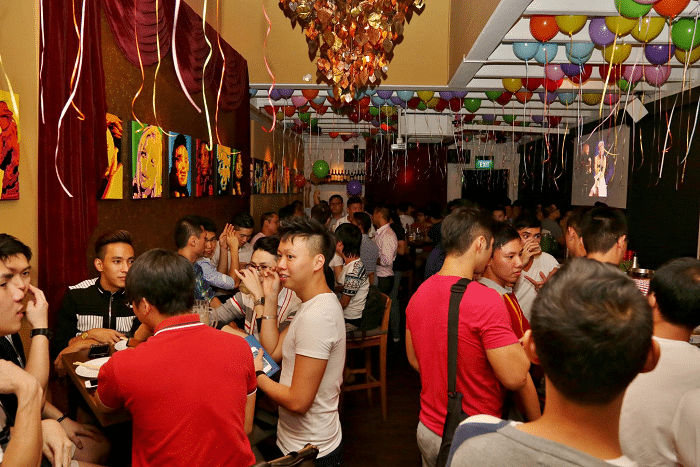 Yet another Hollywood-themed bar on the list, Out keeps things fun with an ever-changing line-up of live performances, guest DJs, and disco nights to keep guests on their feet. Looking for a place to shake your boo-thang? The dance floor gets cleared for disco nights on the regular, blasting groovy classics to dance the night away, but Canto-pop enthusiasts also get their share of hits with dedicated nights every second Saturday of the month. The focus is more on the atmosphere than drinks here, but with a fun mixed crowd and near proximity to other great bars around, it's a great pit stop on a bar hop to let your gay bar cherry pop.
Out Bar is located at 43 Neil Road, Singapore 088825, p.+65 6224 2865. Opens Mon-Thu 6pm-12am, Fri 6pm-1am, Sat 7pm-2am. Closed Sundays.
ébar
If you've been scanning this list for a karaoke bar, this is it. ébar is yet another Neil Road watering hole with an established reputation for unleashing everyone's inner Mariah. Don't worry, even if you can't Beyoncé your way through a solo, you'll probably get applause just for trying. The crowd here is pretty mixed in terms of age and orientation, but with a largely younger crowd, and drinks are also reasonably priced. When not blasting Greatest Hits at varying levels of talent, the mix here is largely house. Being just across the street from Tantric is a plus as well.
ébar is located at 57 Neil Road, Singapore 088893, p.+65 6324 2802. Opens Mon-Thu 8.30pm-1am, Fri 8.30pm-2am, Sat 8.30pm-3am. Closed Sundays.
Taboo Club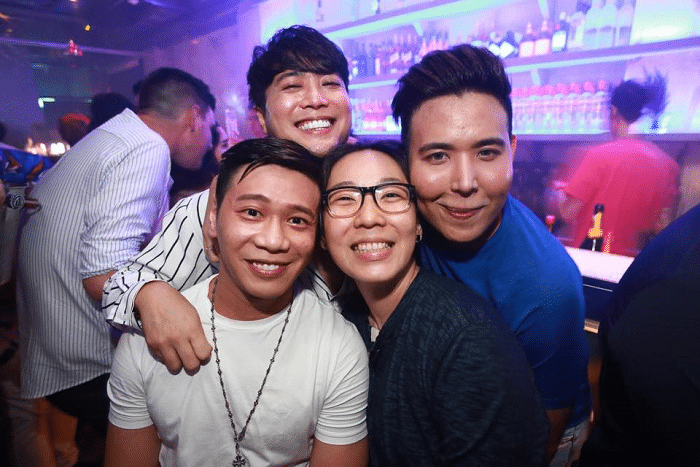 More of a club than a bar, Taboo is the only dance club on the Neil Road strip. Small but packed to the brim more often than not, entrance fees vary depending on whether you opt for their liquid buffet option (anywhere from S$25 to S$40). Music-wise, it's a combination of recent pop hits or pop classics from the 2000s! Good for a fun time, but not for those with tighter purse strings or a penchant for well-curated club music.
Taboo Bar is located at 65-67 Neil Road, Singapore 088897. Opens Wed and Fri 10pm-3am, Thu 10pm-12am, Sat 10pm-4am.
Top Image: Out Bar